Ever since the first sets of Vinylmation were released in 2008, they have been popular collector items for Disney fans of all ages. The 3-inch figures in the famous mold of Mickey Mouse have been created with themes that range from Mickey and his friends to Muppets, and much more.
A recent release features designs inspired by the first season of the popular Emmy Award®-winning Mickey Mouse shorts, and were created by a character designer on the show, Tara Billinger, a self-professed toy lover and huge Disney fan.
"I go to Disneyland at least once every other week," Billinger confessed.
She's also an active part of the online community that dedicates itself to discussing, critiquing, and simply just enjoying Disney toys. As an avid collector, Billinger finds herself shopping and interacting with fellow toy lovers on websites from all over the globe.
"A lot of people love the Mickey Mouse shorts, so I had a feeling that they would love these figures," she said. "I tried my best to make them appealing, so fans would be like, 'Oh, that one is from that episode and that one is from that episode.' When I went to Disneyland to pick up a couple boxes [of the figures], the Cast Member at the counter told me there were so many people buying these. I was so excited to hear how popular they were."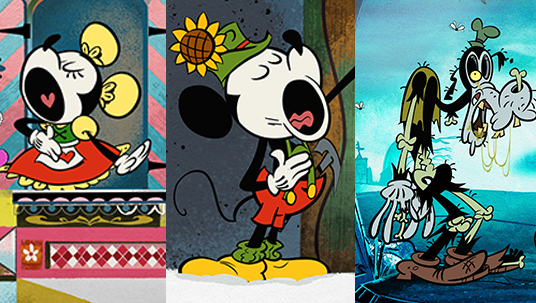 Tara's passion for toy design and creation extends into her personal life as well, making her own toys that she displays and sells at conventions across the country. One look at her desk, blanketed with toys and collectibles (mostly Disney), and there's no mistaking what makes her happy in life.
After spending some time in Southern California at a young age, Tara mostly grew up in Utah, where she dreamed of becoming an animator. The road to get to where she is wasn't easy and was peppered with naysayers, but she was ready to make her dream come true despite the obstacles in her way.
"I grew up with a single mom and couldn't afford college," she explained. "I just saved all the money I did have and decided to come out [to L.A.] to see if I could find a job [in animation], and if nothing happened then I'd move back."
Shortly after arriving, Tara got a job in Development with Disney Television Animation, where she found herself stationed near another Disney fanatic, Paul Rudish, the executive producer and supervising director of the Mickey Mouse shorts. The two would happily talk about their love of all things Disney, and formed a bond that would eventually land Tara an opportunity of a lifetime working on the show.
"I get to draw the characters in cool poses all day long," she said beaming. "I'm a big animation nut and I love the classic characters, and I'm obsessed with the history. I'm so grateful to be a part of the show."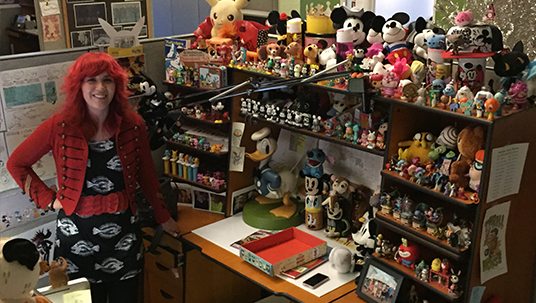 It's not often that people have the opportunity to be employed working on three of their greatest passions in life, but for Tara, she could not have dreamed of a more exciting job, where Disney, animation, and toys take center stage every day.
While only some of her Vinylmation designs have been released, rest assured, she's created designs for every season of the show, and did extensive research to ensure they are high-quality figures that all Disney toy fans will enjoy. After all, she might be the biggest one there is.