By Jim Fanning
Unfurl the flags, strike up the bands, and light the fireworks… it's time for an Independence Day salute to America on Parade, Disney's jubilee of music, emotion, and memorable moments designed to honor the American Bicentennial in style. Proclaimed as a "new achievement in Disney pageantry," this colorful tribute to the history and legacy of the United States has itself earned an honored place in the annals of Disney, for America on Parade is one of the most celebrated presentations in Disney theme park history. Intended to convey the festive feel of the Fourth of July—whethere it's the holiday or not!—this spectacular homage to America's history, people, and traditions was characterized by Disney as a "birthday party for the country." As a special Independence Day treat, here's a red, white, and blue look at this most patriotic of all Disney parades.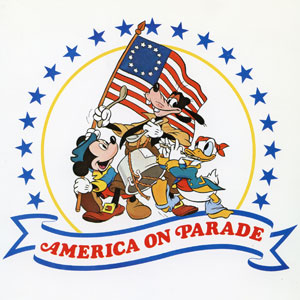 Walt Disney once said of Disneyland, "There is an American theme behind the whole park. I believe in emphasizing the story of what made America great and what will keep it great." There was no better setting than Disneyland and the then-new (as of 1971) Walt Disney World resort to salute the Bicentennial of the United States. From small towns to big cities and from each of the fifty states to the U.S. government itself—Congress had initiated planning in 1966—all of America was preparing to celebrate the U.S. Bicentennial in a big way. Companies and corporations including the major television networks all planned significant observations of the nation's first two centuries, and Disney—a symbol of American success, ingenuity, and celebration—naturally decided to join in the festivities. "Because of Disney's vast experience and expertise in producing entertainments on a grand scale," stated the America on Parade souvenir program, "it was very fitting, as America came to its 200th anniversary, that Walt Disney's company take a leading role in using Disneyland and Walt Disney World as a showcase for the best that America has been and has to offer."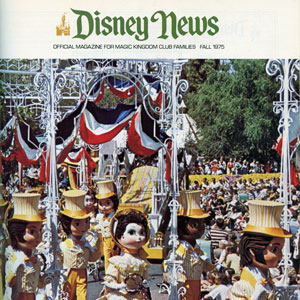 Development of what would become America on Parade began in 1974 under the direction of entertainment head, Disney Legend Bob Jani. Classic Disney inspiration came from the July 1939 Mickey Mouse Magazine cover. Attributed to Disney publicity artist Hank Porter, this specially created art was an affectionate tribute to the famous painting The Spirit of '76 , featuring Mickey Mouse as flag bearer, Donald Duck as fifer, and Goofy as drummer, all decked out in Colonial dress. The delightful artwork inspired not only the lead parade unit—the three patriotic pals heading up the grand procession on a float boasting a stylized 18-foot American Eagle—but also became the patriot-pleasing logo of the entire America on Parade pageant.
Rather than focus on America's many battles for freedom, the parade's creators concentrated on the ideals, principles and important figures that shaped the nation. The Disney creative team immersed themselves in extensive research on the accomplishments of America's leaders as well as the daily life of its citizens. The parade would also salute memorable moments (the first Thanksgiving, Sunday in the park, school days, etc.), significant American innovations, and even popular pastimes.
With an event as monumental as the 200th birthday of the land of the free and the home of the brave, the parade's designers knew that their show would have to be big indeed. The entire spectacle would be presented in larger-than-life proportions, not on mere floats, but on enormous moving "stages." According to Kevin Kidney, Disney historian, artist and co-designer of the newly launched Mickey's Soundsational Parade at Disneyland Park, intricate scale models for each of the proposed stages were hand-made by Disneyland artist/designer Clare Graham and a team of artists from the park's Entertainment department. These charming models were intricately crafted from a variety of materials including colored felt, paper, wood, wire, and illustration board, and were used as guides in the building of the parade's full-sized stages.
Ultimately, fifty fanciful units were decided upon, and the Disney team assigned some of the nation's top set design manufacturers—builders of everything from elaborate floats for the Tournament of Roses Parade to glamorous sets for movies and Las Vegas shows—to make the miniature models immense parade-ready realities. Construction began in workshops from sea to shining sea and the star-spangled stages, averaging more than twenty feet in height, with some as long as thirty feet, had to be constructed in duplicate, as this was the first parade to be simultaneously presented at both Disneyland and Walt Disney World. Before arriving in California or Florida some of the stages traveled over 3,000 miles.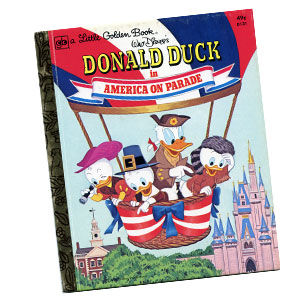 To charmingly populate the various scenes that would unfold through the vibrant stage designs, a new family of Disney characters was created. Called the People of America, these truly unique costumed characters were at first intended to be the same approximate height as Mickey Mouse and his friends, but the designers discovered the People of America needed to be taller in order to be in scale with the giant floats. At almost eight feet tall and with fancifully oversized heads, the more than 150 doll-like figures were designed to help guests of every age see America on Parade through the eyes of a child.
Historical personages such as Christopher Columbus, Ben Franklin, and Pilgrims were playfully represented, as were such familiar American figures as Miss Liberty, Uncle Sam, Tom Sawyer and Becky Thatcher. Also numbered among this whimsical cast were everyday people like teachers, shopkeepers and athletes. Most of the enormous figures were actually alike; the differences in the personalities portrayed were mainly achieved through costuming so the wardrobe for the doll-like people was of paramount importance. Researchers and costumers worked together to find accurate fabrics for these historical costumes, and to sew them as they would have been stitched fifty, a hundred, two-hundred years ago. The material also had to be bright enough to be seen clearly by spectators, tough enough to withstand hundreds of outdoor performances, and practical enough to be cleaned easily and frequently. The outsized dolls were also given oversized wigs, hats and props, all of which had to meet the same requirements met by the costumes.
Music was of course to play a central role in this processional showcase of Americana. Premier Disney tunesmiths Richard M. Sherman and Robert B. Sherman were commissioned to create a spirited Independence Day-themed anthem. "Bob Jani, Disney's great project creator, asked us to write a theme song for the Bicentennial park parade," the Shermans later reported, and the new song "The Glorious Fourth" was composed in 1974.
The main melodic narrative for the fun-filled pageant was to come from favorite American standards. Research was conducted into not only songs celebrating the United States but also U.S. tunes composed to celebrate its citizens and their all-American activities. Toe-tapping favorites such as "Yankee Doodle Dandy," "Turkey in the Straw," "Take Me Out to the Ballgame," and "In My Merry Oldsmobile" musically told the tale of a vibrant country at work and at play. The only Disney song included was the upbeat Oscar®-winner "Zip-A-Dee-Doo-Dah," while the entire spectacle was stirringly climaxed with "God Bless America."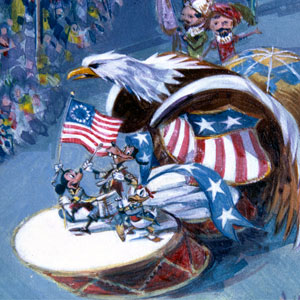 As with every entertaining element of America on Parade, the music was presented in a novel manner, offering guests a unique listening experience. The creators of this musical jamboree wanted the well-loved songs to be presented in a unique style that was still in keeping with the nostalgic spirit of the parade. Seeking a band-organ sound, they began a search two years before America on Parade's projected debut for a real mechanical music box to play the selected songs. Eventually, they found a restored 1890 band organ belonging to Paul Eakin of Sikeston, Missouri. Known as Sadie Mae, the ornate instrument worked on the same principle as a player piano, except punched-hole piano books were used instead of piano rolls. This incredible music machine had some two hundred pipes including 20 trumpets, eight trombones, 17 octave violins, 17 flageolets, 17 piccolos, 20 open flutes, 17 stopped flutes, 17 clarinets, 17 cellos, and 30 bass.
Arrangements of the songs were created by music director Jim Christensen, but the team then discovered the one man in the world capable of hand-making piano books was in Belgium. Determined to settle for nothing less than the quaintly novel sound of Sadie Mae, Disney sent the musical arrangements to Belgium and had the books made. The Sadie Mae was then carefully taken apart and shipped to Nashville, where it was painstakingly reconstructed at the Grand Ole Opry to be recorded as it played the new books. Bob Jani wanted to give the old world sound of the band organ a modern twist so the 16-track masters made in Nashville were sent to Los Angeles, where musician Don Dorsey (who went on to create music for many Disney parades) was enlisted to overlay the band organ recordings with the sounds of a Moog synthesizer. The synthesizer was of course a crowd-pleasing part of the Main Street Electrical Parade, which America on Parade supplanted for the Bicentennial celebration. America on Parade also utilized the sound system developed for the Main Street Electrical Parade, with some America on Parade units broadcasting their musical themes to the parade-watchers from their own loudspeakers while others broadcast their signals to radio receivers along the parade route; then the signals were rebroadcast through loudspeakers in fixed locations in a symphony of synchronization.
The nation's official Bicentennial Celebration kicked off in April 1975, and America on Parade first stepped off just two months later. After press previews, America on Parade debuted on June 6, 1975 at Walt Disney World and on June 12 at Disneyland. This firecracker of a procession stretched for an impressive three-quarters of a mile, that was, as the America on Parade souvenir program put it, was " a continuously moving 'stage' that captures the spirit of Americana in a grand display of colorful people and settings." After Mickey, Donald and Goofy got things off to a spirited start, the next section honored "Historical and Memorable Moments," featuring everything from Christopher Columbus' famous vessels to a quaint schoolhouse complete with teacher and pupils to one of the pageant's most popular scenes: Betsy Ross sitting atop a two-story high rocker as she sewed an enormous American flag. Next, the "Contributions and Achievements" section celebrated advancements in transportation, sports, food, inventions, and entertainment including TV, the movies and the circus. The jubilant climactic sequence was "The Celebration of Independence" the highlight of which was a "Symbols of Freedom" unit starring the Statue of Liberty and Uncle Sam. This grand finale featured a marching band from a high school or college, specially invited by Disney from all 50 states to be an integral part of this extravaganza. During the summer months and holidays, America on Parade was presented twice, and the evening parade was crowned with a blazing show in the sky consisting entirely of red, white, and blue fireworks.
Televised salutes and exclusive memorabilia proclaimed America on Parade as a major event. A specially produced televsion special was syndicated to local stations for broadcast on April 3, 1976. Monsanto Night Presents Walt Disney's America on Parade, hosted by comic televison and movie star Red Skelton, was the 16th installment of the Monsanto Night series of specials and the only one with a Disney theme. A veritable parade of collectables marched forth into the homes of fans: coins, mugs, picture and history books, plates, View-Master reels, puzzles, watches, coloring, and sticker fun books, Colorforms play sets. The America on Parade lunch box-and-thermos kit was particularly appealing. Manufactured by Aladdin Industries, creator of Disney lunch boxes since 1957, the colorful metal container featured the Mickey-Donald-Goofy art on one side and the Liberty Bell parade unit—complete with George Washington-like doll figures pulling the float—proudly parading down Main Street, U.S.A. in charming art by Aladdin artist Beverly Burge. A figural music box and a porcelain sculpture—each spotlighting the Spirit of '76 trio—were among the most popular of the theme park memorabilia. Also offered was a set of commemorative plates featuring newly created art of American Revolution scenes, humorously portraying Disney characters such as Minnie Mouse and Scrooge McDuck as historical figures. The quaintly thrilling Sadie Mae score was available in its entirety at both parks on a distinctive picture disc, A Musical Souvenir of America on Parade.
America on Parade unfolded more then twelve-hundred times, and before its final hurrah on September 6, 1976 in Florida and on September 12, 1976 in California, an estimated twenty-five million people experienced the parade, the largest audience ever to view a live performance up until that time. Spectacularly exceeding its goal of giving that pyrotechnic Fourth of July feeling every day of its 15 month run, America on Parade celebrated in unforgettable fashion what the Sherman Brothers' lyrics from "The Glorious Fourth" call "the bang-up, uproarious, flag-waving glorious fourth, the Fourth of July!"