By Mark Schirmer
Ten years ago, Imagineering Executive Creative Producer Mark Schirmer told Disney twenty-three how he and fellow Imagineers brought their Monsters, Inc. Ride & Go Seek! dark ride to light at Tokyo Disneyland. In honor of the 10-year anniversary of this innovative attraction, we look back at the story Schirmer wrote for the publication.
Our journey began at Tokyo Disneyland in 2004, as it was becoming increasingly important to find something new to replace the long-closed Meet the World attraction in Tomorrowland. We knew that the film release of Monsters, Inc. had been extremely popular in Japan, and that the Tokyo parks didn't really have any Monsters presence.
Understanding that the Japanese public had a desire to embrace the warm, friendly characters who are part of this rich story, Imagineers focused on the storytelling aspect of the film. After all, in the Magic Kingdom, it's all about storytelling. We looked to our WDI roots to find the best possible way to tell the Monsters, Inc. story, and it didn't take long for us to get inspiration from our traditional "dark ride" attractions that have immersed and entertained guests for years. (Snow White's Scary Adventures and Peter Pan's Flight are two prime dark rides at Disneyland.) We decided on the dark-ride concept, wanting to raise the bar on the experience. The pressure was on to define new and fun ways for them to become part of the story and provide another reason to return to the parks.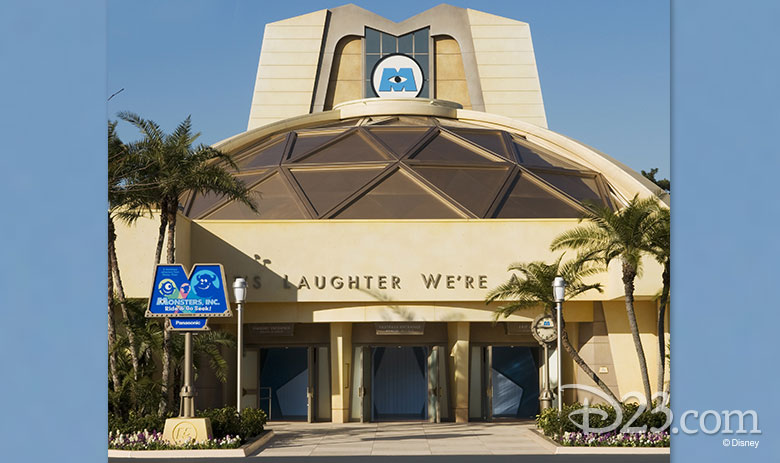 Happily Ever Laughter
Our story for Tokyo Disneyland guests begins where the Monsters, Inc. movie leaves off, with the monsters realizing that the human world is not harmful to them and that laughter is more powerful than the screams that they've been collecting. So Monsters, Inc. (the energy provider for all of Monstropolis) changes its corporate strategy and begins collecting laughs rather than screams. And, you guessed it: they turn the company "scare floor" into the "laugh floor" to get kids to laugh. We even changed the company motto in the front of the building to read, "It's Laughter We're After."
In the context of friendly laughter, we needed to find a way for Boo, the young girl from the film, to reunite with her pals Sulley and Mike. During early brainstorming sessions, we wanted Boo to return to Monstropolis to see her old friends and meet new ones. The team struggled with different ideas and reasons for Boo to return. We also were challenged to introduce an element of guest interactivity that would help set this apart from other attractions and encourage repeat visitation. Exploring different ways for guest interaction with the characters, we hit upon the idea of flashlight tag! This was the ideal solution, covering all the bases while differentiating it from the Buzz Lightyear attractions. As flashlight tag requires a darkened, nighttime environment, we again looked to the movie for cues, and decided that the point of flashlight tag was not to focus on keeping score but as a means of finding as many hidden monsters as possible.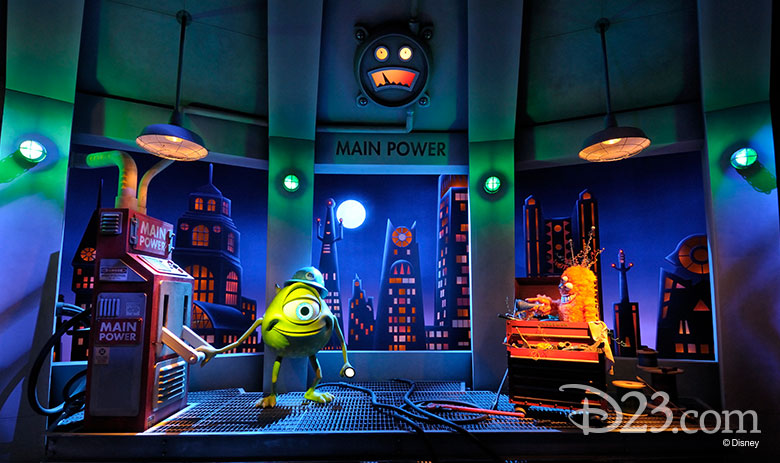 Making Monstropolis
Monsters, Inc. Ride & Go Seek! faithfully re-creates scenes from the movie, with "hyper-realistic" qualities. Looking back, our biggest challenge revolved around the idea of creating an actual city environment, complete with two-way traffic down Monstropolis' main street, which is flanked by multi-story businesses and apartment buildings. We needed to allow for a space wide enough and tall enough to make this idea believable. To do this, some of these buildings would have to be as tall as those on Disneyland's Main Street, U.S.A.! Our next concern was the placement of all the Audio-Animatronics® figures and the unique effects we were hoping to incorporate on both sides of the street.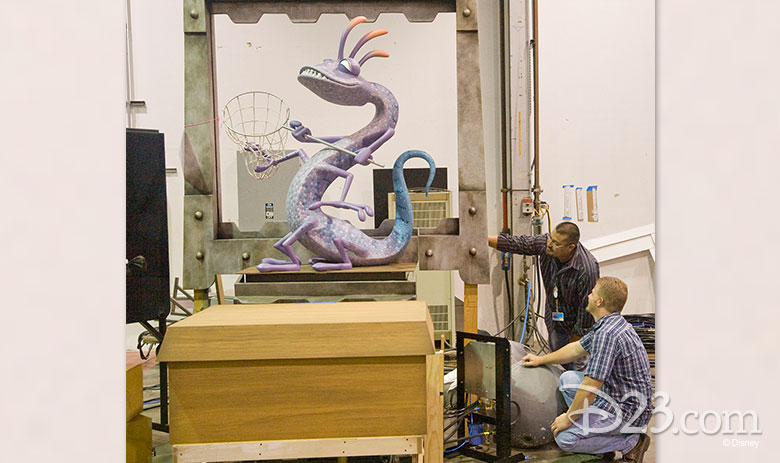 So, as part of the design process, it was decided to build a full-size mock-up of the street in one of our production facilities in North Hollywood. Not only did this give our design team the ability to view the building facades from the exact guest perspective, it allowed us to determine the appropriate rhythm for the dialogue and actions of the figures throughout the scene. Because we wanted everyone to feel they have a front-row seat, we were also able to stage the figures as close as possible to our guests.
Ultimately, there are many individual elements from the show that are quite amazing: the disappearing Randall in Monstropolis; the characters hiding in the locker room; Boo's floating door where we can actually see into her room. With flashlights in hand, they'll be able to uncover many of the fun, hidden layers throughout the attraction. There are so many cool details, and we've tried to make it a place to which guests can't wait to return, to see what else they can find. They might try to figure out how many Rockys there are, where the hidden Mickeys are, and even engage Roz in an active dialogue at the end of the show. And, as it turns out, she has a lot to say!
Can't-Miss Hidden Details
The Imagineers who created the attraction filled it to the brim with cool details, Easter eggs, and references that sharp-eyed Disney•Pixar fans should keep an eye out for. Here are five you should keep an eye out for: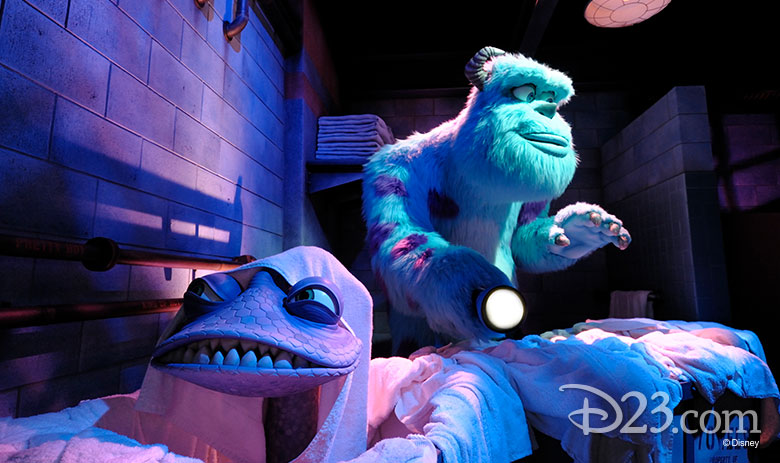 In the power room, pay close attention to the moon as Randall is always lurking. You've heard of the "hidden Mickey." We have a hidden Randall.
The clock in our locker room scene is permanently set to 10:28 p.m. This is in tribute to the film's worldwide premiere on October 28, 2001.
Rocky is the cute little reoccurring character with orange fur and a construction helmet designed specifically for this ride. Not every hard hat in the attraction is his, so the challenge is to find where he's hiding.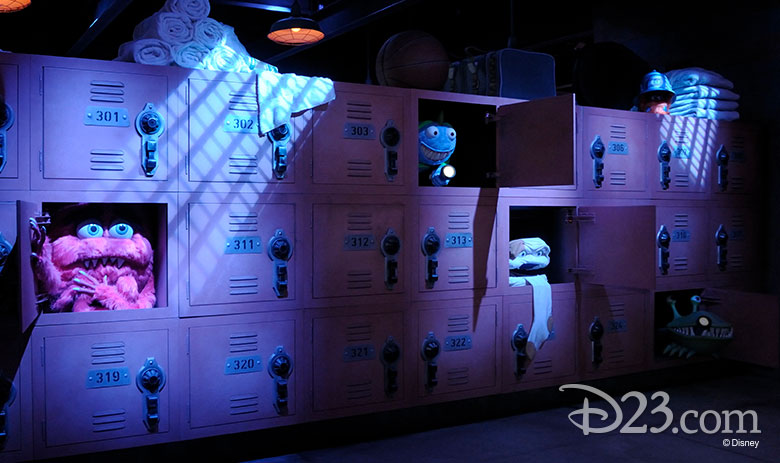 In the movie, large lovable Ted appears with Mike and Sulley walking to work. Ted is so big, all we see are his legs. This was a collaboration between our WDI show designer, Larry Nikolai, and Pixar for style reviews. This attraction finally gave us the chance to develop the rest of him. Now we can see all of him as he tries to hide behind laundry lines in Monstropolis.
We created a Japanese sushi restaurant, and it was a fun collaboration with our Japanese partners. Everyone pitched in to create appropriate details for this scene. Look for the eyeball sushi along with some funny faces made up of the individual sushi pieces.
–M.S.
This article originally appeared in a slightly different form in the Summer 2009 issue of Disney twenty-three and was modified for D23.com.