By Courtney Potter
It's almost time for our beloved Guardians to face the music.
In Marvel Studios' Guardians of the Galaxy Vol. 3, written and directed by James Gunn, the iconic band of misfits we know and love are settling into life on Knowhere. But it isn't long before their lives are upended by the echoes of Rocket's (voiced by Bradley Cooper) turbulent past. Peter Quill (Chris Pratt), still reeling from the loss of Gamora (Zoe Saldaña), must rally his team around him on a dangerous mission to save Rocket's life—a mission that, if not completed successfully, could quite possibly lead to the end of the Guardians as we know them.
To celebrate the film's approaching release, Pratt and Gunn were joined by returning stars Pom Klementieff (Mantis), Karen Gillan (Nebula), and Sean Gunn (Kraglin), as well as newcomers Maria Bakalova (who voices Cosmo), Will Poulter (Adam Warlock), and Chukwudi Iwuji (The High Evolutionary)—plus producer and Marvel Studios President Kevin Feige—for a rollicking virtual press conference on Friday, April 28, where the group shared hilarious and heartfelt stories about the making of the film... and the end of an almost decade-long era. And just who was their moderator? None other than actor (and huge Disney fan!) Nathan Fillion, who appears in the film as Master Karja. Read on for some of the morning's more memorable moments!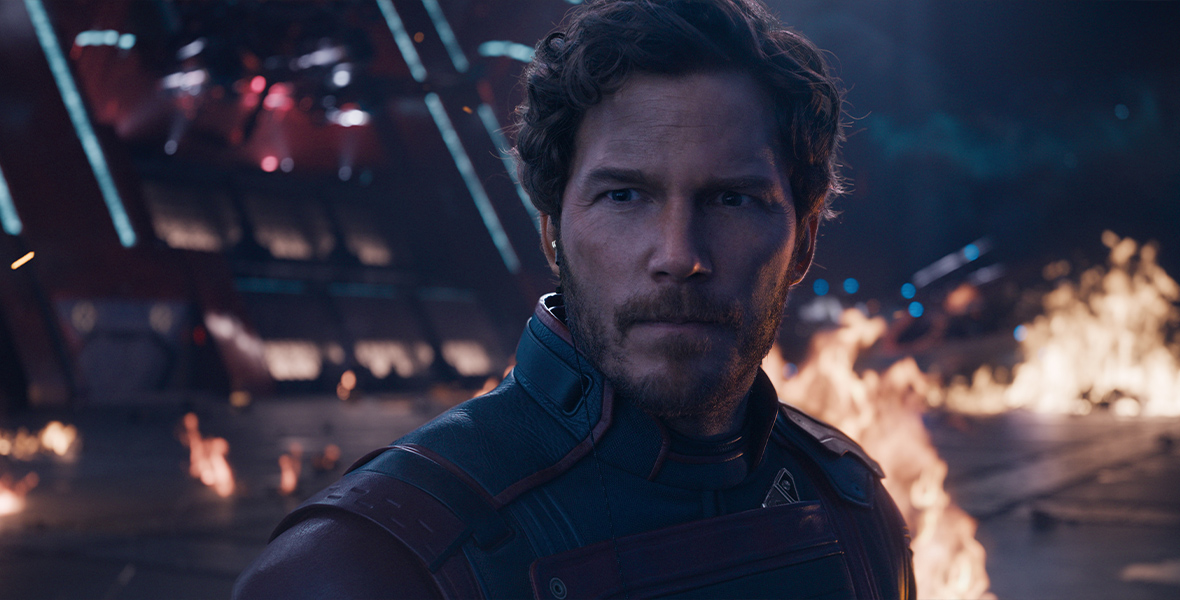 Pratt on Peter Quill aka Star-Lord's journey this time 'round:
"I think oftentimes we find ourselves in our relationships or in the affiliations we have with a team or a family or whatever," Pratt explains. "Peter's been lost. In the beginning he was running away from the death of his mother, but he got to pretend to be this character [Star-Lord] based on these pop culture icons of his childhood, of the late 1980s. So he 'found' himself there, but it was kind of [fake], you know? Then he 'found' himself with the Guardians of the Galaxy, and then he thought he could find himself with who his father was. He's a guy who's constantly been searching for who he is. Then he found it again in his relationship with Gamora. So when all that's stripped away from him, he's a guy who's realizing that all of these very various people that he's found who 'are' Quill—none of them have been the real him. And so he is lost—and that probably does mean that he's sad. But that's a beautiful quest."
Klementieff on what Mantis has brought to her, both as an actress and as a person:
"James changed my life," she says. "Mantis is an empath—so you have to have a deeper connection with everything and everyone; it's beautiful to tap into those deep, profound, layered emotions. And then I got to be super weird, which is really fun to do too. And it comes naturally to me," she adds, laughing.
She continues, "I love playing this character and I'm so grateful for James to have given me this opportunity—and to get to play with all these incredible actors. And I think, each character completes the other ones too..? And I remember James telling me that Mantis was kind of like the glue that kept the Guardians together in some ways, which I think is beautiful. And I think the world lacks a lot of empathy too—so that's a beautiful message too."
Gillan on Nebula's relationship with Gamora, and her chance to blossom within the Guardians family:
"Post-Thanos being eliminated from her life, she's starting to flourish a little bit more," admits Gillan. "And she's starting to have a lighter personality, and she's a little more willing to show vulnerability... It also changed my understanding of what it's like to be a scapegoat sibling—I'm an only child—because Nebula was definitely that. She was never the 'golden child,' so that was an interesting exploration for me. Now I just have so much respect for people that have gone through that."
"Nebula was always the kind of bitter one; so jealous of Gamora," she continues. "And then she evolved, and Gamora helped her gain some compassion along the way—and now they've kind of switched places in a way, which has been really interesting to play around with. But it's been beautiful to watch their relationship evolve."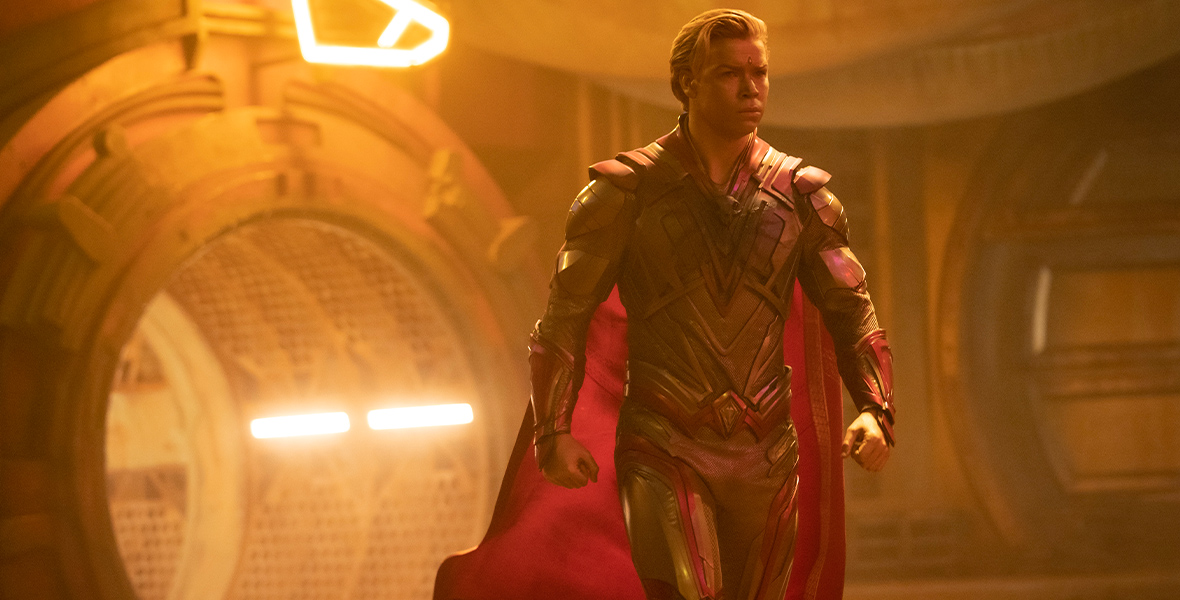 Sean Gunn on Kraglin finding his place during the course of the trilogy:
As he explains, "One thing that really impresses me about these movies is how I do feel like, in a way, the journey of the cast has mirrored the journey of the characters. For me, being there in the first movie and feeling like, 'Oh, I'm the director's brother, and Kraglin is just kind of on the peripheral, and he comes in and says his things here and there.' And then, over the course of the movies, I started feeling at home with all these people—I felt fully accepted as a full member of the cast, and of the group. And that's what happens with Kraglin himself over the course of the films. So that's really special and really cool for me... Kraglin's journey to learn why he belongs is the best. It's my favorite thing about him."
Bakalova on playing the role of Cosmo:
"When I got the call from my team that I got the job, I was on my phone and I didn't know what to do," the actress admits, "and what to expect. And I think I started jumping [up and down]. And then when I found out that I can be on set and work in a motion capture suit—[it was like I was] a child again; using my imagination to think, 'Okay, today I'm going to be a dog; tomorrow, I'll be a flower! The next day, I'm going to be a butterfly!' It's interesting; we tend to forget about imagination when we grow up. So it's been just incredible."
James Gunn adds, "Maria came, and she'd sit on set every day, all day long. She'd come and she'd do her bit as Cosmo, and then she'd sit with me all day long. So even though she's not the biggest character in the movie, I spent more time with Maria than almost anyone here! She just loves being on set and watching all the other actors. And she is an absolute joy to be around in every way."
Poulter on being the "new kid"—especially as a fan of the Guardians films:
"I couldn't have been made to feel more welcome by everybody," he explains. "I was nervous from the outside looking in, I think, because I was a really big fan of the Guardians movies and—within the Marvel Cinematic Universe—this was the trilogy, as it now is, of films that I was the biggest admirer of. So you look at something as a fan and you think it's cool to be able to appreciate that as a fan, and that's what it will always be. You don't imagine yourself being a part of it! That in itself is exciting."
He continues, "James makes a point of making set a really fun environment. He surrounds himself with really great people, across every department—and it just made the experience so, so fun, which is important, because there's pressure, and—as a new kid—I was pretty scared. So that made it easy."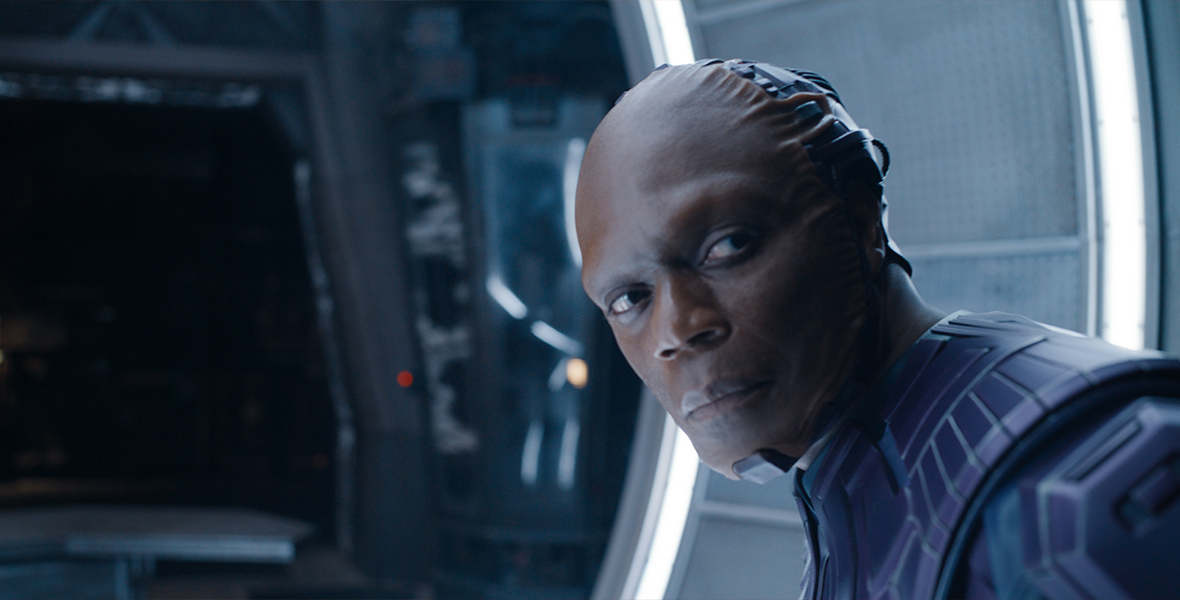 Iwuji on finding unique inspiration for his character, The High Evolutionary:
"The first thing that's written [in the script] when you meet him is him listening to space opera," says Iwuji. "So immediately I knew classical music was going to be a big part of this character. And because I didn't know where I was going to go with him, I thought I would just listen to a lot of my favorite arias and classical music—and sent them to James, and one or two of them made it into the film. So a lot of finding this guy, for me, was: If he's listening to opera, if he's [into] space opera, and he's this mad scientist sort of person—I just thought of someone that doesn't sleep. That's someone that is obsessed with it; listening to this music."
He continues, "He needs the music as he wanders through his castle at night. And I thought very deeply about [Shakespeare's] Henry the Fourth. He has a great speech: 'Heavy is the head that wears the crown. How many thousands of my poorest subjects are at this moment to sleep?' And I sent that to James. So that's why it wasn't really about specifically, 'How do I play the character written?' It's more about, 'How do I bring this guy into the room?' Because I knew that would be taken care of in the script. The motivations and the moments and stuff are impeccably written because [James] deals with character."
Feige on his "mission statement" when it comes to the Guardians:
"The goal has always been to do justice for the audience members who have loved these characters their whole lives and the audience members who've never heard of these characters—or who heard of them for the first time in the trailer, or in the poster, which for Guardians in particular was certainly the majority of the audience. Now on the flip side of that, there are people who go, 'Well, folks don't really know the Guardians, so you really have a lot of leeway to do new things,'—which you do. But James was constantly going to the comics and constantly referring to them and constantly building off of those storylines. So people who did know these characters from [either] the more recent comics run, at the time, or the early run, saw things they could get excited about. [That's] just as important as people who never heard of this crazy space band with a tree and a raccoon."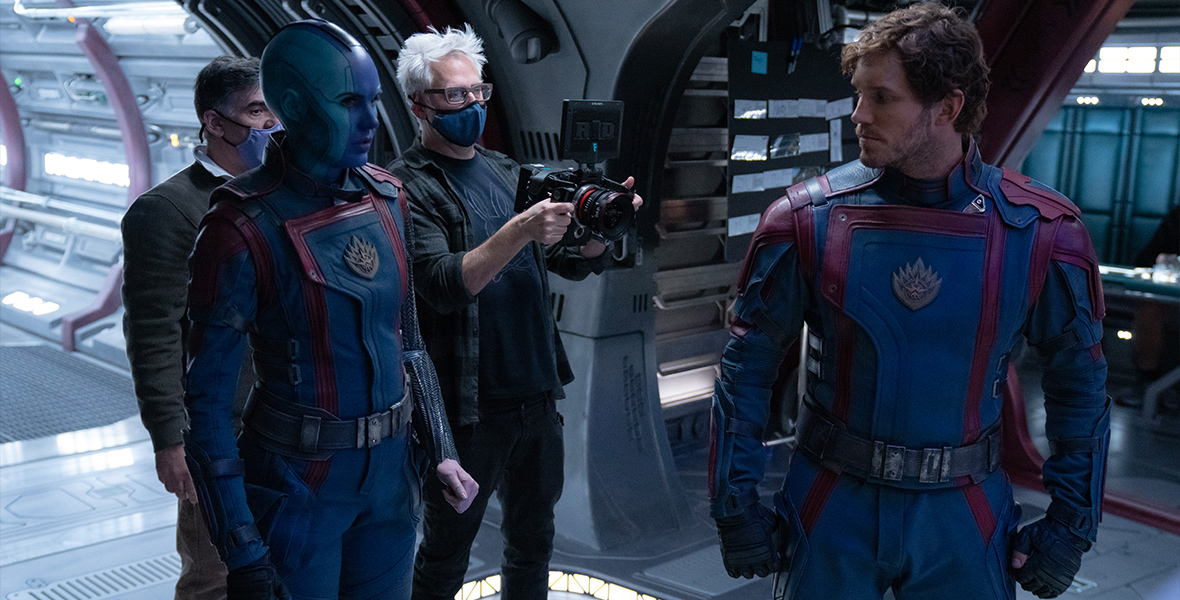 James Gunn on what he'll take away from his years-long Guardians experience:
"It's changed me in so many ways," the director admits. "I mean, everything I've learned from Kevin and Louis [D'Esposito, executive producer]. I think also in terms of just this family of people. I've been really good at hiring non-jerks—not only non-jerks, but people who are actually positive, compassionate, loving, kind people. I've just grown incredibly close to these people. I really love them, and it makes making movies a much more pleasant experience. So my main memories are not going to the premieres or going on these press junkets—they're being on set and having the little moments. It's doing bits with Chris in between setups; it's talking to Sean; it's watching Chukwudi turn in an amazing performance; it's goofing around with Pom, wondering what the hell she's talking about," he adds, laughing. "These are the moments."
"I'm going to miss the characters—that's the saddest part for me," Gunn continues. "I really, truly love these characters."
Marvel Studios' Guardians of the Galaxy Vol. 3 hurtles onto the big screen on Friday, May 5!