By Jocelyn Buhlman
Halloween season at Disneyland is a celebration full of Mickey-shaped pumpkins, villains on parade, and delicious treats we can't wait to eat. It's enough to entice even the creepiest crawlies and spookiest specters—and maybe even a boogieman! Oogie Boogie has arrived to cast a new spell—one full of villainous fun. Oogie Boogie Bash—A Disney Halloween Party is the brand-new, separate-ticket event, held on 20 select nights, and it's sure to thrill fans of Halloween and Disney villains alike. Tickets for the new Oogie Boogie Bash—A Disney Halloween Party* may be purchased online at Disneyland.com/HalloweenParty, as well as at the Disneyland Resort main gate and by phone at (714) 781-4636.
What exactly does our favorite boogieman have in store for us? Here are seven new things he's concocted to take over Disney California Adventure:
1. Ghostly Good Magic Across the Carthay Circle
What's this? New Halloween magic appears on the façade of Carthay Circle on Buena Vista Street, changing throughout the night as bats swarm, green energy pulses from within, and spellbinding moments transform the iconic tower structure. Show director Jordan Peterson hints at the transformations you might encounter: "You may see Maleficent's vines grow up and start to crack the mortar of the building, see candy corn fill up the windows, or see the shadow of Oogie Boogie himself on the façade. What's cool is that you'll get to see how it changes as you go back and forth throughout the night."
2. Explore the Mysterious Villains Grove
There is a portal inside Redwood Creek Challenge Trail where the Disney villains emerged to join our party, leaving behind traces of their magic in the grove. Peterson describes Villains Grove as a "hauntingly beautiful display of light and sound."
Guests can explore areas of the grove affected by different Disney villains. Catch a glimpse of a waterfall turned poisonous green by Maleficent, or see the Queen of Heart's garden filled with self-painting roses. Explore areas transformed by Scar, Frollo, Dr. Facilier, and more! Color, light, and sound craft the stories behind this enchanting realm. "It's gonna transport our guests to a really different world," Peterson explains. Fans of Disney villains will definitely want to explore this transformation of the Redwood Creek Challenge Trail.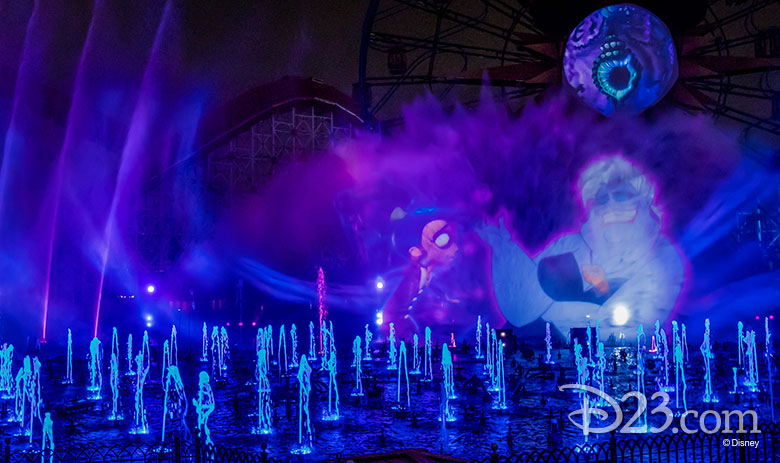 3. A World of Villains
Exclusive to the Oogie Boogie Bash, the new World of Color show, Villainous!, shares the charming, yet spooky story of a young girl named Shelley Marie. Created by Disney animator Eric Goldberg, Shelley has a tough decision to make about her Halloween costume this year—luckily for her, the magic of Disney villains is here to help guide her decisions! Throughout this twisted tale, Shelley explores the villainous side of Disney characters through fountains, lights, lasers, projections, and special effects. Villainous! shows guests that, deep down, there's a little villain in all of us.
4. Wickedly Immersive Treat Trails
Among the most beloved parts of Halloween at Disneyland are the treat trails, where guests can enjoy trick-or-treating with extra Disney magic! Now that Oogie Boogie is in charge of the celebration, Peterson explains, "Some of those have been handed over to the villains to control." While you can still enjoy regular treat trails during the party, keep an eye out for the new, immersive treat trails throughout Disney California Adventure. It's your chance to enjoy trick-or-treating under the watchful eyes of iconic Disney characters such as Dr. Facilier, Maleficent, and Oogie Boogie himself.
Each trail is transformed to match the villain. For example, Peterson describes Oogie Boogie's trail as, "A world of blacklight, a world of really cool haze, and Oogie Boogie himself will sometimes preside over the festivities and goings-on as people collect their candy."
It's not just villains who have taken over the treat trails—keep an eye out for a special trail presided over by Mad Hatter! While he's not a villain, Peterson explains, "He is a huge fan of chaos—and he would never miss a party!"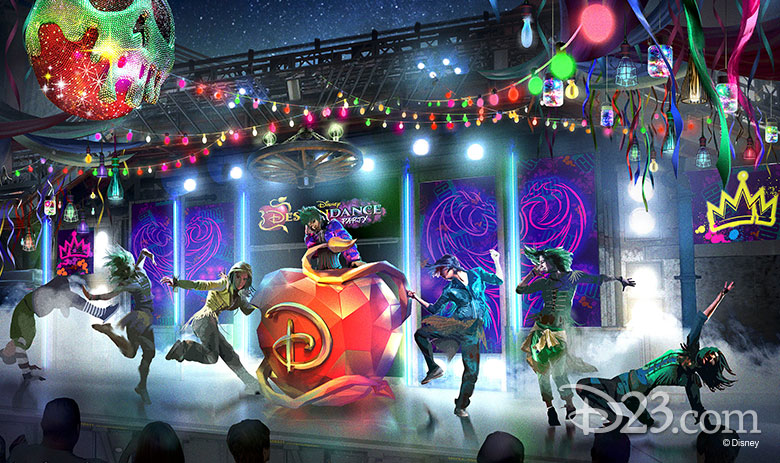 5. While The Villains Are Away, the VK's Will Play
Peterson poses an important question: "If the villains are all here, who's watching their kids? And the answer was 'nobody'… So they are going to throw a dance party!"
A portal has opened from the Isle of the Lost and our favorite VK's sent over their best dance crew to teach us how to be chillin' like a villain. The new DescenDANCE is a pulsing party in the Backlot area of Hollywood Land, inspired by the fan-favorite Descendants movie series from Disney Channel. This party combines the entertainment of a show with the interactivity of a dance party—which guarantees that there are so many ways to be wicked.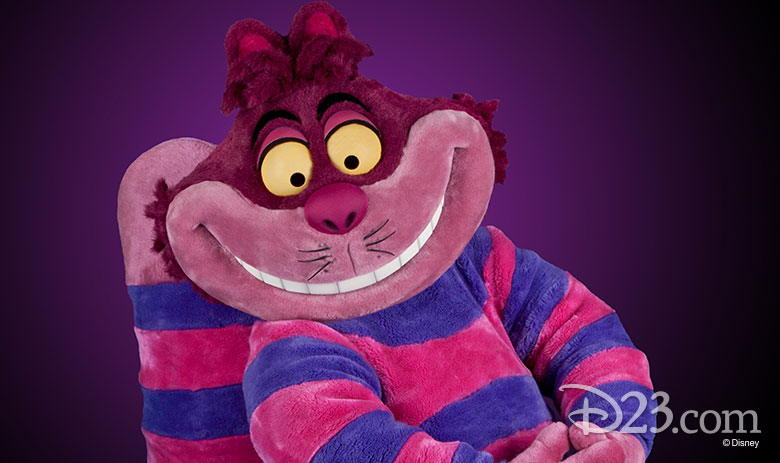 6. A Purr-fect Addition to the Frightfully Fun Parade
Making its debut in Disney California Adventure, the fan-favorite Frightfully Fun Parade is back, featuring classic spooky characters like The Headless Horseman of Sleepy Hollow, Jack Skellington, Haunted Mansion dancers, and many mischievous Disney villains who are ready to stir up some trouble along the parade route. Plus—make sure to stay till the end of the parade to see the ever-curious and whimsical Cheshire Cat mischievously smiling at all the magical mayhem. This is the first time ever the Cheshire Cat is appearing in the parade (which is definitely something worth smiling about!).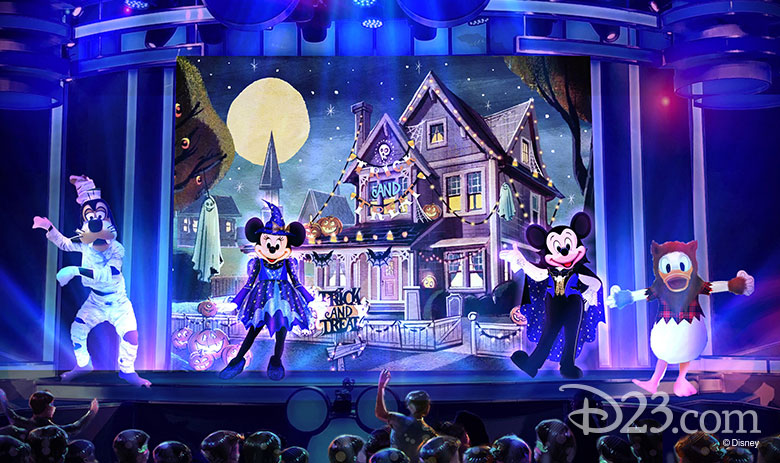 7. A Brand-New Show Starring Mickey!
This show, which Peterson describes as both "really cute" and "really adorable," brings Mickey and friends together for a Halloween celebration perfect for the young and young at heart. He explains, "This one is really meant for that family element and anyone who loves characters." Head over to the Disney Theater in Hollywood Land to check out the new, interactive stage production that includes dancing, not-so-frightening scary-tales, and (of course!) candy.
*The number of tickets available are limited and valid only for the specific event date and hours. Limit eight (8) tickets per person, per event date. Tickets not required for Guests ages 2 and under. Tickets are non-refundable and may not be resold or transferred for a commercial purpose. Costumes are subject to Disney guidelines and should not be obstructive or offensive; please check special event costume guidelines at https://disneyland.disney.go.com/faq/parks/dress for restrictions. Offer and event elements are subject to restrictions, change or cancellation without notice.