By Beth Deitchman
Hollywood's biggest names in acting and directing… Surprises at every turn… Compelling stories and sneak peeks that had us on the edge of our seats. The Hall D23 presentation from The Walt Disney Studios this morning at D23 Expo featured all of these and more!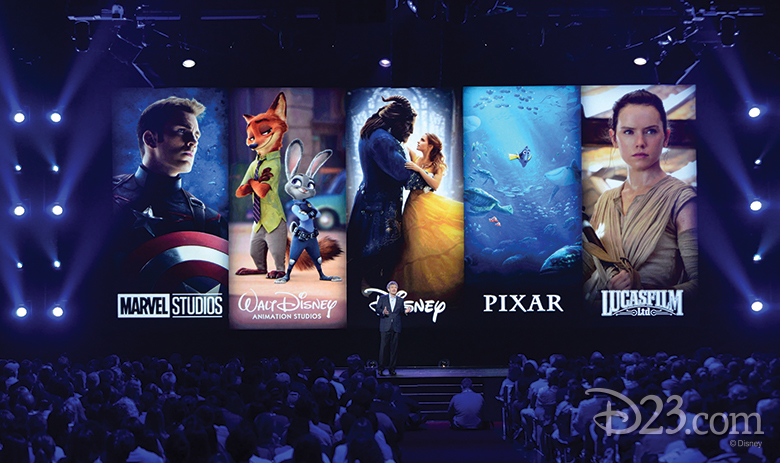 Walt Disney Studios Chairman Alan Horn greeted the 6,800 fans who had just watched a sizzle video that spotlighted some of Disney's recent hits and upcoming films. "I know those guys. They're friends from work," he joked, echoing Thor himself in the trailer for Marvel Studios' upcoming film Thor: Ragnarok. And, he added to the crowd's great delight, "We have a lot of them backstage."
Always one of the most eagerly anticipated presentations at D23 Expo, there were indeed a lot of stars and filmmakers taking the stage in Hall D23—and announcements and unexpected treats galore. Here are just a few of the moments we'll remember long after D23 Expo concludes:
"Everybody here gets a poster! Everybody here! You get a poster!"
Sure, fans were excited to learn they'd be going home with a teaser poster for The Walt Disney Studios' upcoming film A Wrinkle in Time, which opens in theaters on March 9, 2018. But to be told that news by brand-new Disney Legend Oprah Winfrey only made the gift that much more exciting.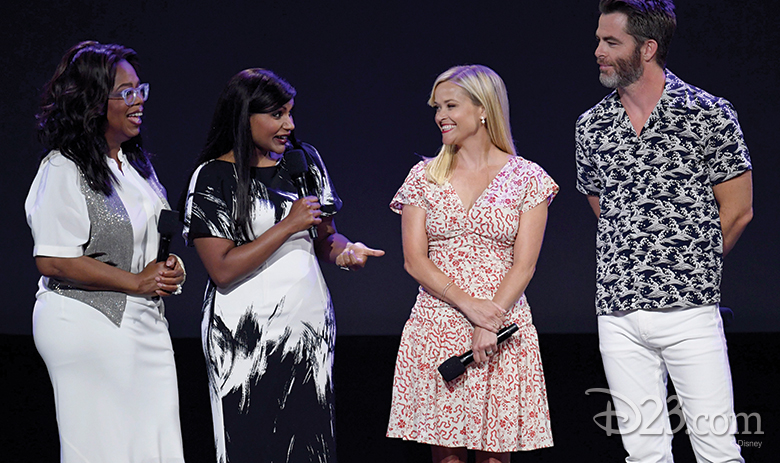 Winfrey (who plays Mrs. Which) joined director Ava DuVernay and co-stars Reese Witherspoon (Mrs. Whatsit), Mindy Kaling (Mrs. Who), Chris Pine (Mr. Murry), and newcomer Storm Reid (Meg Murry) in Hall D23. The epic adventure is based on Madeleine L'Engle's classic novel, which takes audiences across dimensions of time and space, examining the nature of darkness versus light and ultimately, the triumph of love.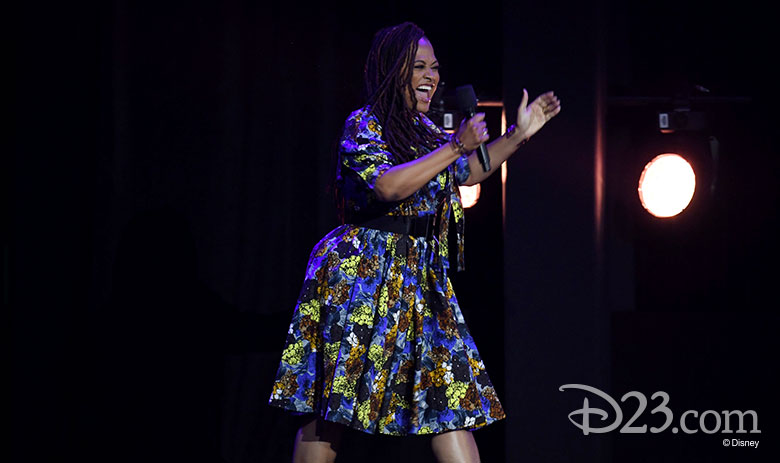 DuVernay described Disney as "the perfect place" for A Wrinkle in Time. Thrilled to attend her first D23 Expo, DuVernay told the audience, "I found my tribe—people who love movies as much as I do." She also debuted the first trailer for the film:
A First Look at The Nutcracker and the Four Realms—with an Exclusive Live Dance Performance
Sean Bailey, president of Walt Disney Studios Motion Picture Production, introduced us to The Nutcracker and the Four Realms, acclaimed director Lasse Hallström's spin on a story that has been beloved for generations. The film, which will be in theaters on November 2, 2018, stars Keira Knightley, Helen Mirren, Mackenzie Foy and Richard E. Grant, as well as Morgan Freeman in the iconic role of Drosselmeyer. Music and dance are essential to the film, Bailey stressed, and he revealed that the incredible stylings of Charles Riley, known as Lil Buck (picture below), are being used to create the film's Mouse King. The character will be made up of thousands of mice, made possible through cutting-edge CG, Bailey said. Expo guests were treated to a special performance by Lil Buck that gave us a glimpse into the hypnotic, fluid dance style we'll see from the Mouse King when the film opens next year.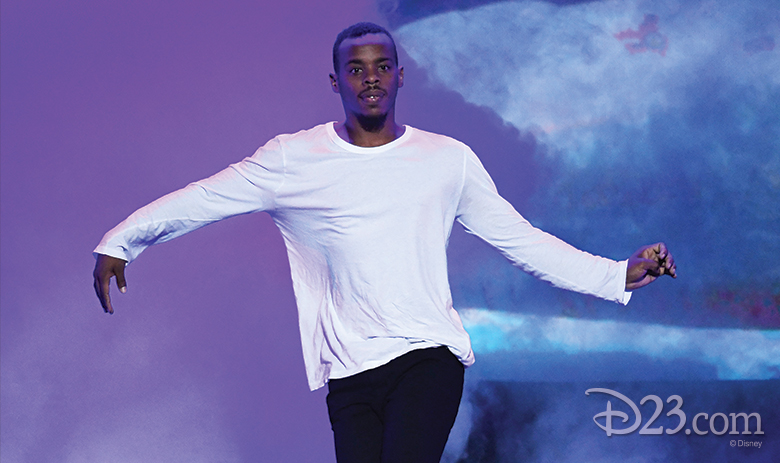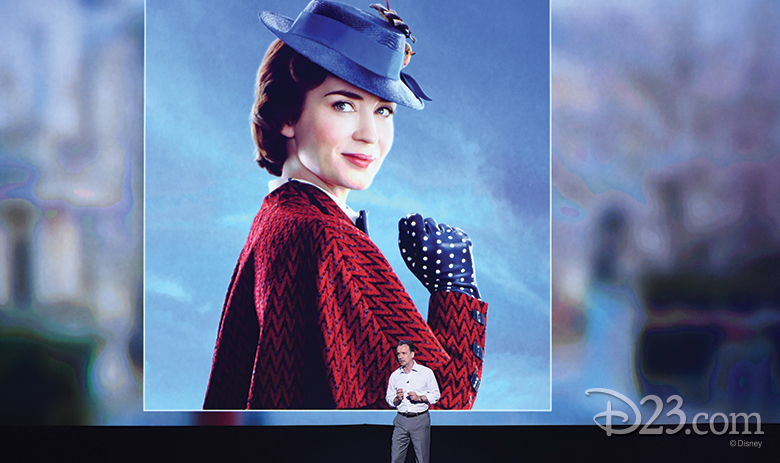 A Practically Perfect Glimpse into Mary Poppins Returns
Mary Poppins Returns director Rob Marshall and actress Emily Blunt talked about the upcoming film, which flies into theaters on December 25, 2018. Speaking reverently about the original Mary Poppins film, Marshall said, "I think it was my first film. I think it was many of our first films. There's something so amazing about it that lived with me my whole life."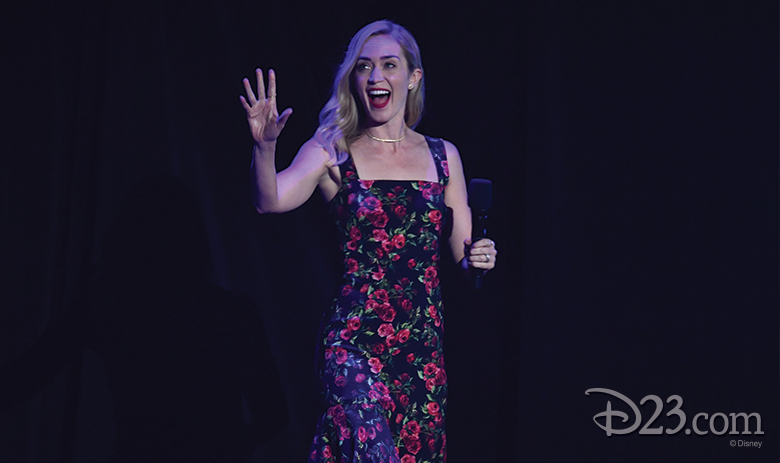 When it came to stepping into Disney Legend Julie Andrews' shoes, Blunt stressed, "No one is ever going to out-Julie Julie Andrews." To make the character her own, she explained, "I needed to try to pay homage to Julie but carve out a new space for myself. And we were very loyal to the books."
The film was shot on location in London—which Marshall characterized as a special experience—and he said that audiences will recognize Cherry Tree Lane immediately. They might also recognize a piece of furniture, Marshall noted, sharing a photo of a table that's part of the set for Mary Poppins Returns that also appeared in the original film.
Leaving fans with "a little something"—an understatement—composer Marc Shaiman led an orchestra in a performance of a piece of the original score, which played over a series of images from the film. It was a supercalifragilistic-Expo-alidocious moment, if ever there were one.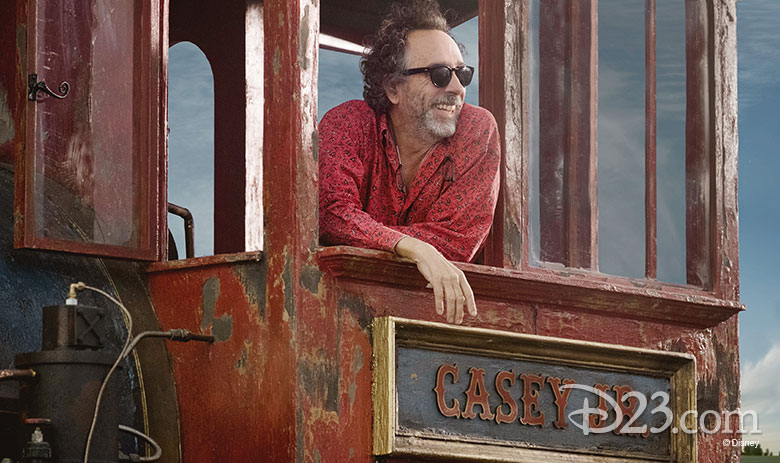 Dumbo is Coming!
Director Tim Burton sent a greeting to Disney fans from the set of Dumbo, which is currently in production in London. Additionally, Bailey showed fans a maquette that was created to help bring the beloved baby elephant to life via state-of-the-art visual effects. The film stars Golden Globe® winner Colin Farrell (Saving Mr. Banks), Golden Globe winner Michael Keaton (Birdman, Beetlejuice), Emmy® and Golden Globe winner Danny DeVito (Batman Returns, Big Fish), BAFTA Award winner and Golden Globe nominee Eva Green (Miss Peregrine's Home for Peculiar Children, Dark Shadows), and introduces Nico Parker and Finley Hobbins in their first film roles. Dumbo is slated for release on March 29, 2019.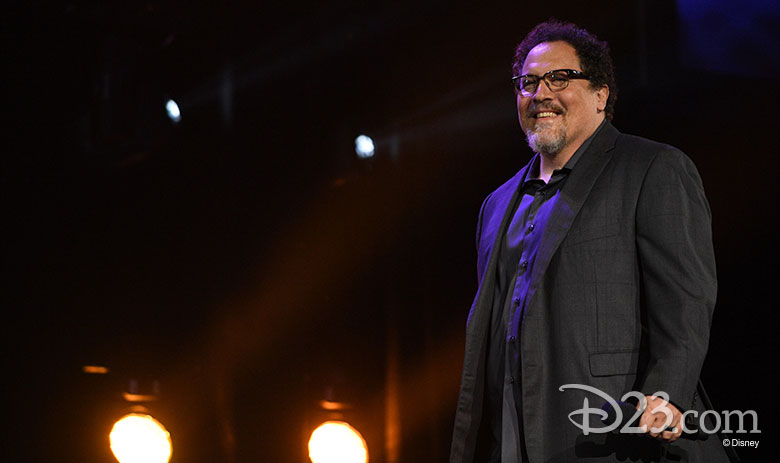 The Lion King Looks Amazing!
The Walt Disney Studios presentation at D23 Expo 2015 gave Disney fans a first look at The Jungle Book, directed by Jon Favreau, who was on hand again this year and received a standing ovation after showing footage from the upcoming live-action The Lion King. The photoreal interpretation of the film's "Circle of Life" sequence featured beloved characters, including Rafiki, Mufasa, and an impossibly adorable baby Simba. Favreau, a lifelong Disney fan himself, told the excited crowd, "We like to check in with you." His first question upon embarking on the film was, "When's D23? We wanted to give you the first look." The film is slated for release in 2019.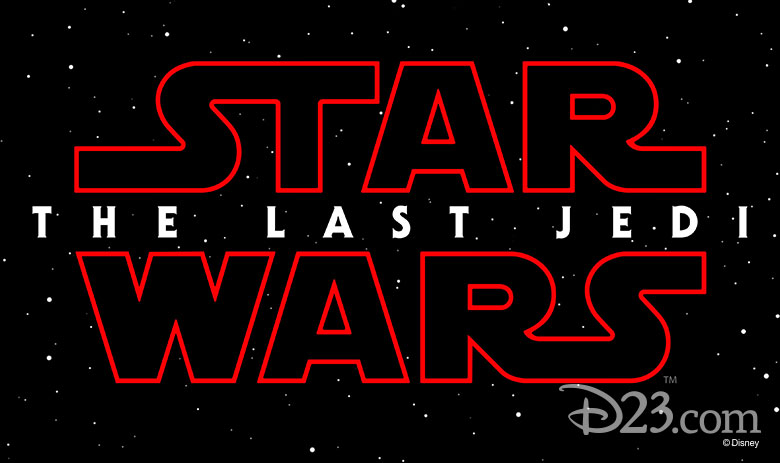 News from a Galaxy Far, Far Away
Star Wars: The Last Jedi director Rian Johnson took the stage at his first D23 Expo today, revealing that he began his career at Disney Channel, working in on-air promotions. As much as he loved that job, he says that making Star Wars: The Last Jedi has been the time of his life.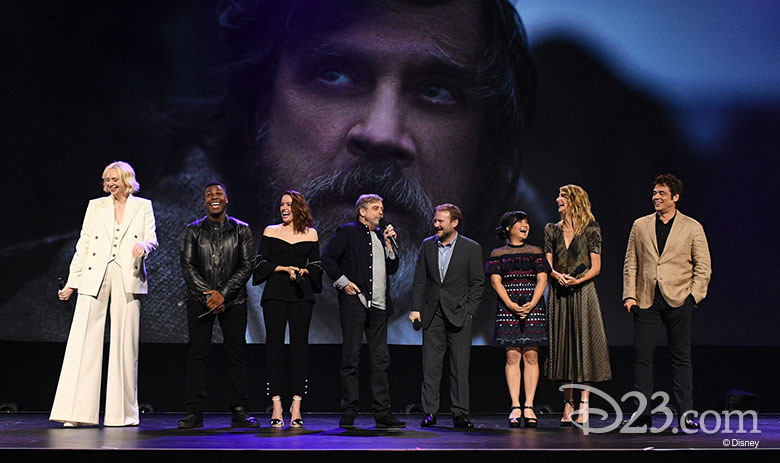 Johnson introduced stars Daisy Ridley, John Boyega, Gwendolyn Christie, Kelly Marie Tran, Laura Dern, Benicio del Toro, and, of course, new Disney Legend Mark Hamill. Johnson and his cast wouldn't reveal much about the upcoming film—in fact, they wouldn't really reveal anything, though Hamill confirmed that we will, indeed, hear Luke Skywalker speak in this film. He referred to the movie as a "game changer," and noting, "When I read the script, there were so many unexpected elements."
Johnson and the cast then offered up a behind-the-scenes look at Star Wars: The Last Jedi, which opens in theaters on December 15, 2017.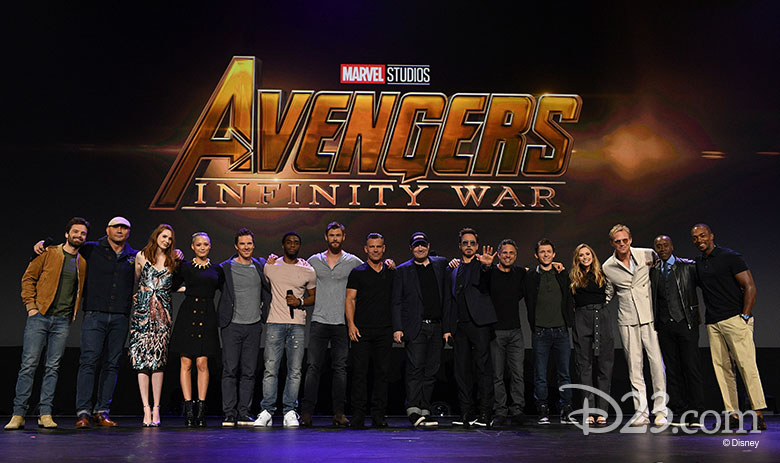 Avengers—and More—Assemble!
Kevin Feige is Marvel Studios President—and he's also a massive Disney fan and a card-carrying D23 charter member who has been coming to D23 Expo since the first Expo in 2009. Feige explained that next year will be one of celebration—in honor of the 10th anniversary of Marvel Studios. It's going to be a big year for the studio, and fans can look forward to what Feige calls "the biggest production in the Marvel Cinematic Universe—Avengers: Infinity War. The film is filming now, Feige said, but a slew of Super Heroes—and a fearsome villain—were able to take time away from the production to surprise Disney fans at Expo. In the most Marvel-ous gathering of stars ever, Feige welcomed Robert Downey Jr., Chris Hemsworth, Mark Ruffalo, Anthony Mackie, Elizabeth Olsen, Paul Bettany, Benedict Cumberbatch, Tom Holland, Chadwick Boseman, Josh Brolin, Don Cheadle, Sebastian Stan, Dave Bautista, Karen Gillan, and Pom Klementieff to the stage, along with one of the film's directors, Joe Russo.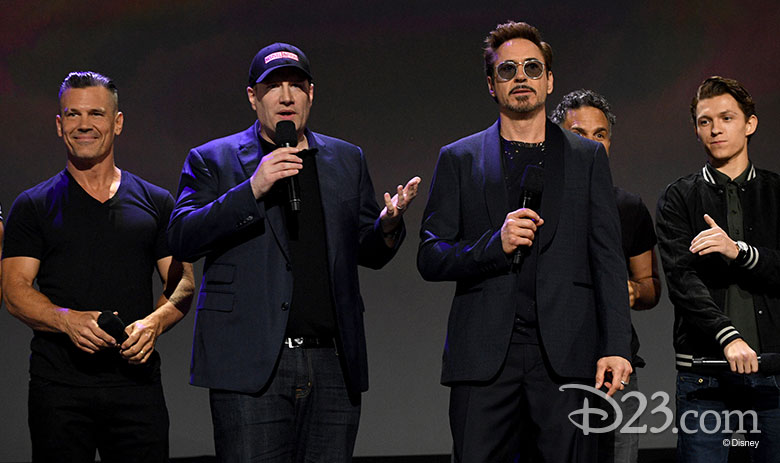 "Even I find myself geeking out," Feige joked, as the assemblage continued. The crowd was on their feet long before Robert Downey Jr. demanded, "Let's see it"—"it" being an exclusive early look at footage from the movie.
Marvel Studios' Avengers: Infinity War, an unprecedented cinematic journey 10 years in the making and spanning the entire Marvel Cinematic Universe, opens in theaters on May 4, 2018.