By Courtney Potter
Enter the bustling Anaheim Convention Center, and you'll feel it. That special "something." To say there's excitement in the air is putting it mildly! A bevy of enchanting experiences await guests this weekend at D23 Expo 2017—and just hours ago, we got a special sneak peek of the Expo show floor… and nine magical moments you just can't miss.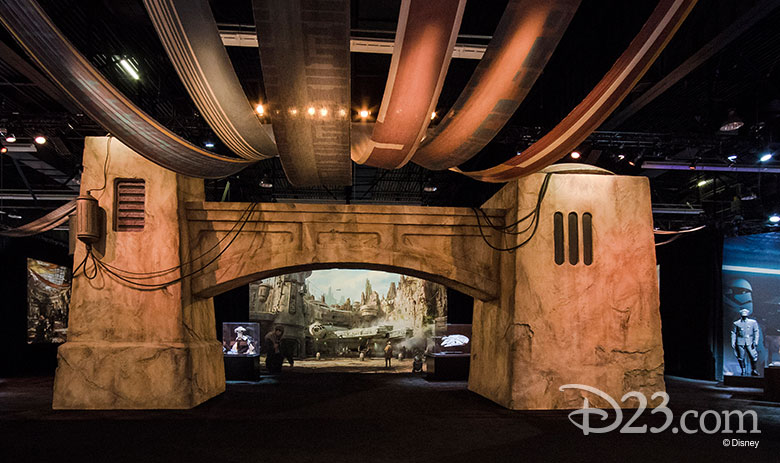 1. Walt Disney Parks and Resorts' "A Galaxy of Stories" Pavilion
Attention, fans of all things Star Wars: We know your first stop on the show floor. It's the Walt Disney Parks and Resorts' "A Galaxy of Stories" Pavilion, where you'll literally feel like you've walked into your favorite Star Wars film… The pavilion features amazing first-ever looks at unique locations, cool starships, extraordinary creatures, and droids that will bring Star Wars to life at the new Star Wars-themed lands set to debut at Disneyland and Walt Disney World Resorts in 2019! But that's not all: The pavilion spotlights—wait for it—an actual model of the lands' overall vision. (Plus insanely cool celebration of Star Tours' 30th anniversary—featuring one of our favorite droids, Rex!)
2. Walt Disney Archives' "Fantastical Fashions"
You'll get to see some of your favorite dresses—worn by heroines and villains from six of your favorite Disney live-action films—up close at the Walt Disney Archives' "Fantastical Fashions" exhibit. The details are truly incredible! Ever wanted to see Giselle's beautiful white gown from 2007's Enchanted (designed by Mona May, a previous D23 Expo Mousequerade costume contest judge) in person? Or the flaxen-hued dress worn by Belle in 2017's live-action Beauty and the Beast? This exhibit is your Expo-rific chance!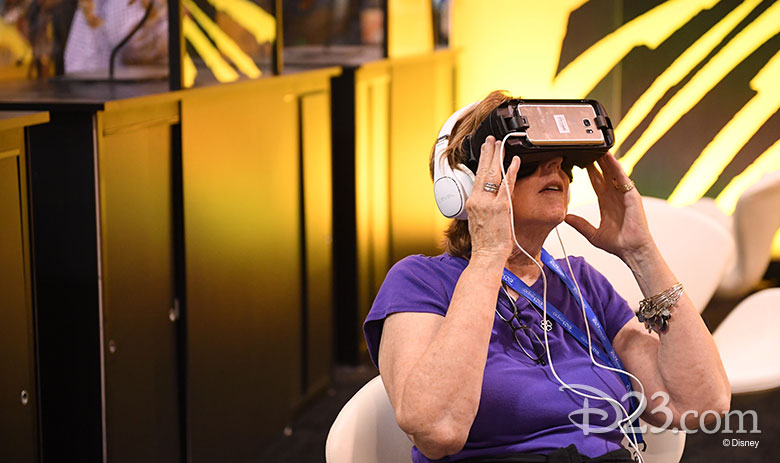 3. The Lion King 360° VR Experience
Feel like you're on a Broadway stage, alongside the triple-threat talents of Disney Theatrical Productions' The Lion King, by visiting "The Lion King 360° VR Experience." Visitors don special headsets in order to get the full 360-degree look. Additionally, several Julie Taymor-designed masks from the Broadway production are on up-close display… and they are truly incredible. It's an Expo show-floor feature that's sure to delight fans of both the original 1994 animated film and the Broadway production.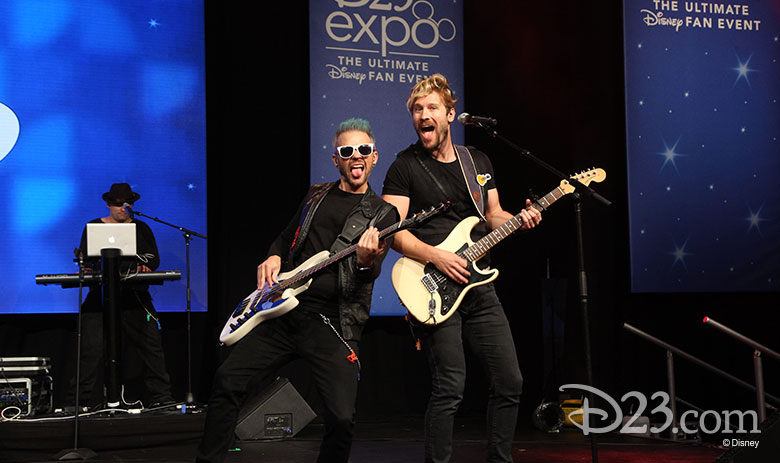 4. Center Stage
As we walked the show floor, we noticed some killer music coming from just around a corner. Sure enough, it was a sound check for D23 Expo's Center Stage—where a cavalcade of awesome musical performances (by the likes of Broadway vet Susan Egan; Buena Vista Records' Temecula Road; and nerd-rock artist Kirby Krackle), fun trivia games, and all manner of entertainment will be presented throughout the weekend. We're especially impressed by the stage's massive video screen! Note: If you'd like the voice of Disneyland, Bill Rogers, to record your outgoing voicemail message, this is the place to be.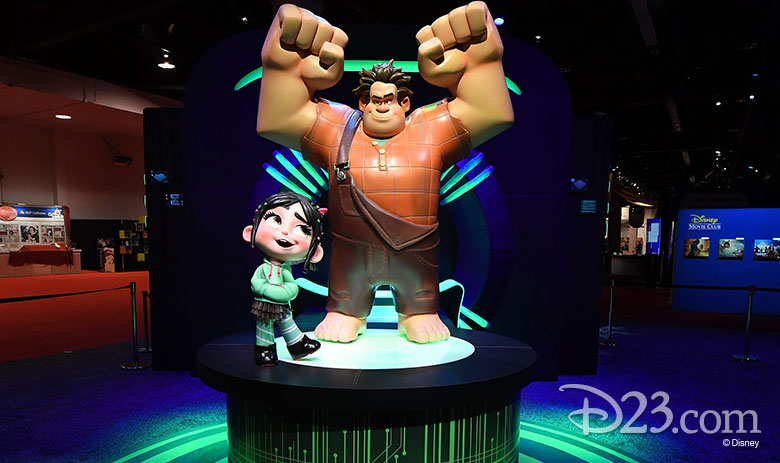 5. Walt Disney Animation/Pixar Animation Studios Pavilion
Another truly can't-miss spot on the show floor? Walt Disney Animation and Pixar Animations Studios' massive pavilion, where you can see life-size Lightning McQueen and Cruz Ramirez from Cars 3 (as well as super-cool Cars concept art); take a selfie with fantastic statue of The Incredibles' Edna Mode (who, we promise, will not critique your outfit); get autographs from your favorite filmmakers; collect cool giveaways; and interact with displays celebrating Disney and Pixar's latest.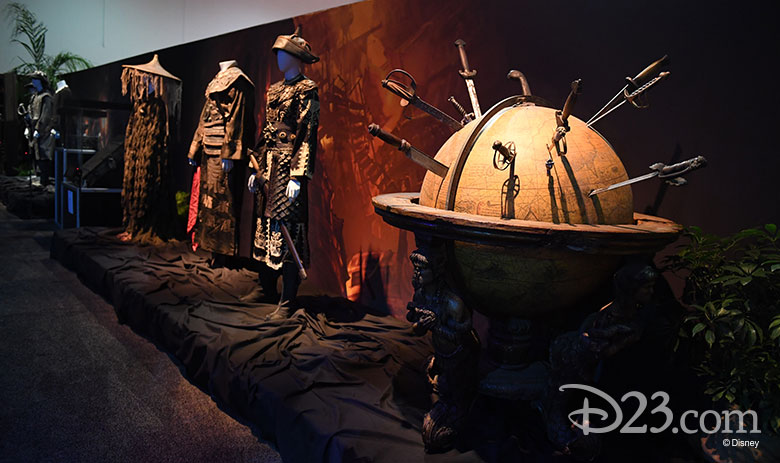 6. Walt Disney Archives' "A Pirate's Life for Me: Disney's Rascals, Scoundrels, and Really Bad Eggs" Exhibit
Walt Disney Archives' brand-new exhibit for this year's Expo is so massive and so life-alteringly amazing that we had to give it its very own article. So make sure to read all about it by clicking here!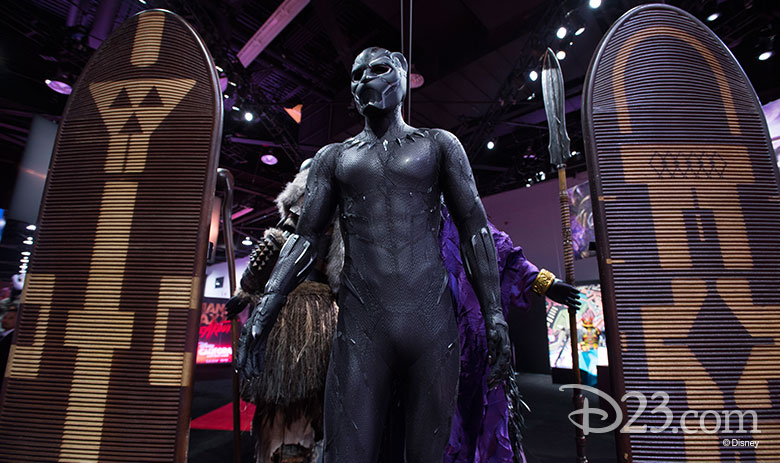 7. Marvel Studios Pavilion
For the first time ever, Marvel has a pavilion on the Expo show floor—and it's gonna be thrilling, to say the least. Displays include an array of props and costumes from Marvel Studios' upcoming films Thor: Ragnarok and Black Panther, as well as a look at brand-new console and mobile Marvel Games. The pavilion even has its own stage, where lots of big announcements will be made!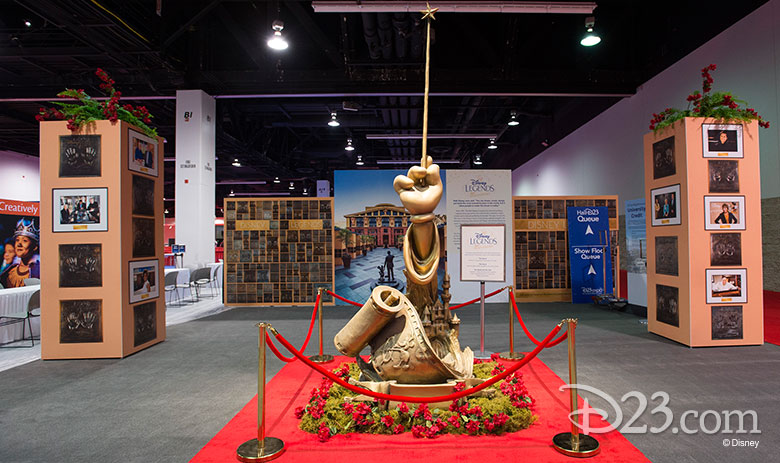 8. Disney Legends 30th Anniversary Celebration Exhibit
On the grounds of the fabled Walt Disney Studios in Burbank, California, stands Legends Plaza—where all of the Disney Legends from the last three decades are honored with bronze plaques. Walk through the Expo's very own version of Legends Plaza at a special exhibit, including a massive version of the Legends statue—which beautifully represents the three main elements of a Legend's contributions to the Disney legacy: imagination, skill and craftsmanship, and magic.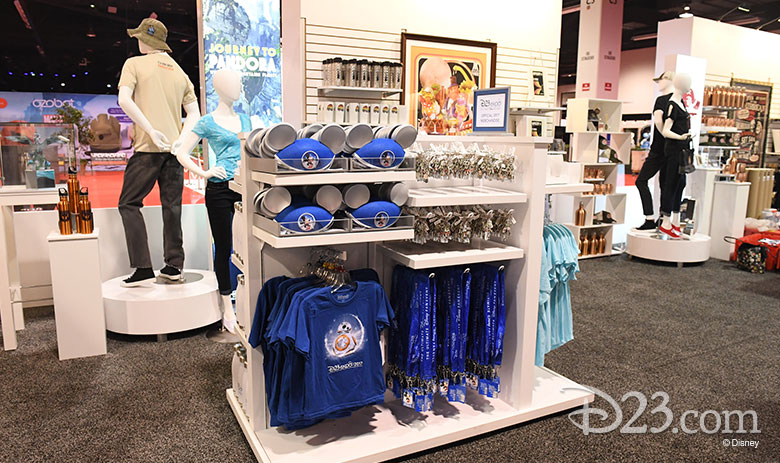 9. Disney Dream Store, Mickey's of Glendale, and Disney Store
Last but not least, we took a look at all three fabulous stores available to Expo guests, where "shop 'til you drop" is sure to be a weekend-long mantra! The Disney Dream Store is ready to offer up some one-of-a-kind items like their Interchangeable Bow Collection (all the better to adorn your Mickey Ears), while Mickey's of Glendale will have specialty pins and other limited-edition collectibles. And Disney Store is your one-stop shop for Disney Designer Collection Dolls, Star Wars apparel and action figures, Disney Tsum Tsum, and items boasting the D23 Expo 2017 stamp-of-approval seal.