By Courtney Potter
"Wind's in the east, there's a mist comin' in… like somethin' is brewin'—about to begin." Mary Poppins Returns, the much-anticipated sequel to Disney's seminal 1964 film, is set to soar into a cineplex near you December 19. Starring Emily Blunt (A Quiet Place) as Mary; Lin-Manuel Miranda (Broadway's Hamilton) as her lamplighter cohort Jack; Emily Mortimer (Hugo) and Ben Whishaw (A Very English Scandal) as the now-grown-up Jane and Michael Banks; featuring an original score by Marc Shaiman and original songs with music by Shaiman and lyrics by Scott Wittman and Shaiman (Hairspray); and directed by Oscar® and Tony® nominee Rob Marshall (Chicago, Into the Woods), the film finds the titular nanny reappearing at No. 17 Cherry Tree Lane. Naturally, the practically perfect Poppins tasks herself (and her pal Jack) with helping the next generation of the Banks family—reeling from a personal loss—find the joy and wonder missing from their lives.
D23 recently spent a jolly (afternoon) holiday with members of the Mary Poppins Returns cast, as well as its creators—including Marshall, Shaiman, Wittman, producers Marc Platt and John DeLuca, and screenwriter David Magee (Life of Pi)—where we were privy to a heaping spoonful of amazing behind-the-scenes tidbits. Read on for a few of their most "shareable" stories!
Emily Blunt remembers that very first phone call:
"I got a voicemail from Rob Marshall, who is my dear friend—we have known each other a long time," explains Blunt. "And the voicemail certainly had a sort of charged energy to it. I was like, 'Oh my god, what is it? What is this project?!' And when he called me—because he is so beautifully ceremonious and wants every moment in the process to feel special and transporting and memorable for you—even the phone call had such a sense of ceremony to it. He said, 'You know, we've been digging through the Disney archives'… And I thought, 'What, what is it?' I couldn't think what it was! So when [he] said Mary Poppins, I felt like the air changed in the room. It was so extraordinary—such an extraordinary [and] rather unparalleled moment for me, because I was filled with an instantaneous 'yes,' but also with some trepidation…"
"Mary had such a big imprint on my life," Blunt continues. "On everyone's lives. People hold this character so close to their hearts. And so how do I create my version of her? What will my version of her be? Because no one wants to see me do a sort of cheap impersonation of Julie Andrews, because no one is Julie Andrews. She should be preserved and treasured in her own way, in what she did. So I knew this was going to be something that I wanted to take a big swing with—and I knew I could do it with [Marshall], who is the most emboldening, meticulous, brilliant director in the world. I was in safe hands with him—however much I knew I had my work cut out for me."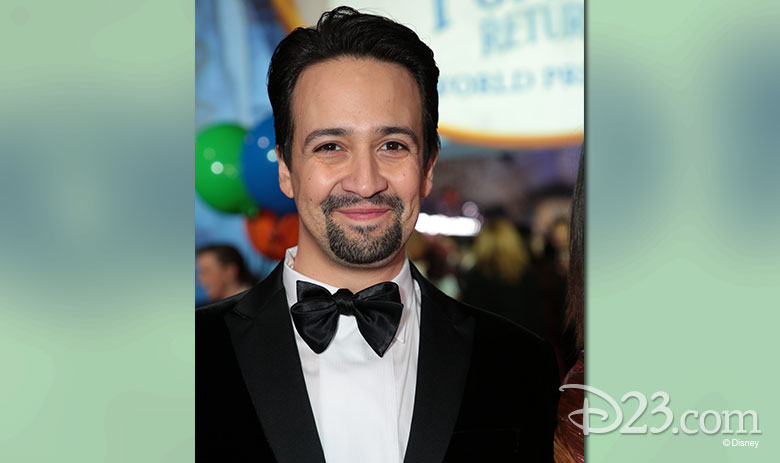 Lin-Manuel Miranda on some of his favorite experiences from the making of the film:
"There are so many!" Miranda admits. "There are a lot of highs on a movie like this. Coming from the theater, where the only thing that changes in the performance is the audience and your energy that day, to [then] go, 'OK: Thursday, we'll be shutting down Buckingham Palace and riding [past] with 500 bicyclists. And Friday, you'll be dancing with the penguins.' Those kind of moments are really sort of unforgettable. But for me, I brought my son to set every time we filmed a musical number—and to watch his eyes like saucers while Daddy danced with what seems like 500 dancers and bicyclists. I'll never forget the look on his face as long as I live."
Emily Mortimer on why she wanted to take part, the logistics of making it all work, and how the film's director might be a bit "practically perfect" himself:
"I felt from the minute that I met Rob that I wanted to be part of this film," says Mortimer. "It was meeting Rob and hearing him talk about why he was so determined to make [Mary Poppins Returns] that just really inspired me. That doesn't often happen… I emerged from meeting Rob and [producer] John DeLuca and rang up my agents immediately and said, 'I just have to be part of this movie, no matter what. I just want to be in it. I want to help Rob tell this story!' Then they managed to make it work—but it was a complicated logistical thing for me because I live in New York, and my kids and husband were there, and the filming was in London. I think I flew like 16 times across the Atlantic. I've got a lot of air miles!"
"It just felt like incredible good fortune, every time I walked on the set, to be there," she continues. "And [as to how I approached the character of Jane Banks]—I don't know, really. It was a slight of hand of Rob's… he is absolutely kind of Mary Poppins himself! He is Mary Poppins, without the parrot… You just sort of know what to do without having to worry about it too much. He's protecting you from all the anxiety, and the stress of the burden of knowing that this is such a huge thing—such a huge legacy and we're in charge of it… The whole thing was magical, and something I'll treasure forever."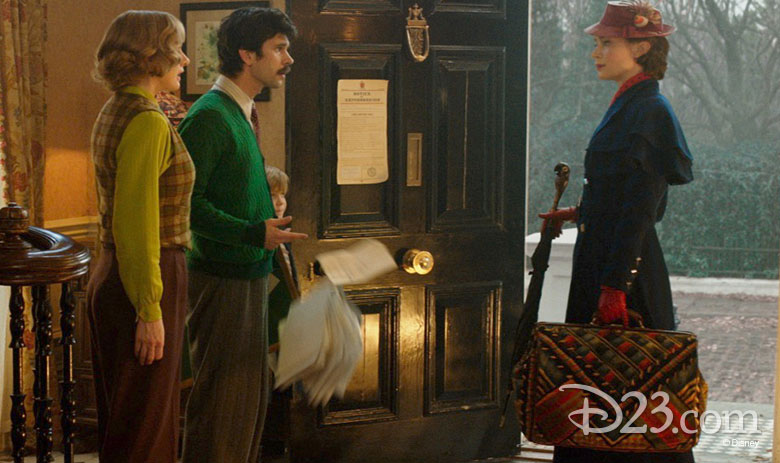 Ben Whishaw on finding inspiration—both from his love of the film as a child, and from a certain family member:
"I was obsessed with the film when I was a child," Whishaw admits. "It was the first film I ever saw. My dad taped it off the 'telly' on a VHS tape, and I watched it obsessively for my whole childhood. I used to dress up as Mary Poppins and parade up and down the street in our village. It's a mythic part of my childhood… [And the character of Michael, in our film] was brilliantly written, that was the thing. I mean it was all there… [but] I was thinking about my brother—because he has two kids and he's a very anxious man. I did think about him because I'm not a father, I don't know what it's like, but I thought about [him] and about how difficult it is for him to have those little ones. The anxiety and the stress and the money and job, everything…"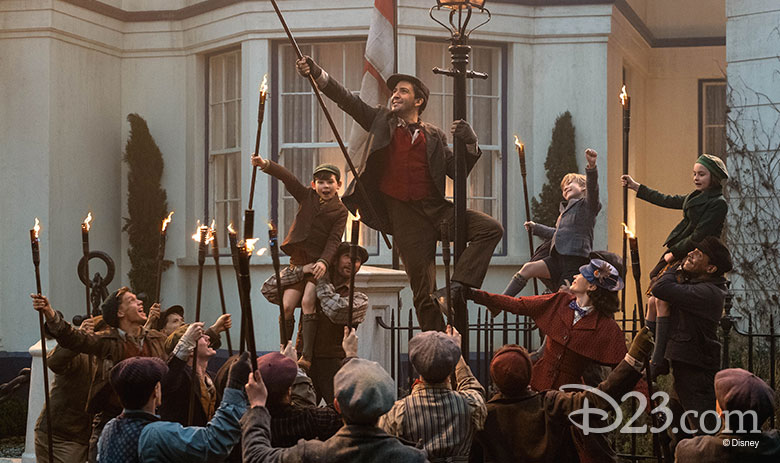 Composer and co-lyricist Marc Shaiman on how he wore out the original film's soundtrack album, and how it essentially affected his whole career:
"I think that my entire childhood was Mary Poppins," says Shaiman, chuckling. "I really have no other memory of my childhood except listening to that record and reading the synopsis of the story… I was fascinated by the orchestrations on it. When it starts with that F-triad [chord]—which I learned later—and its violins start 'tremolo-ing'—which I learned later—and then the English horn comes in on 'Feed the Birds.' I didn't know what those instruments were, I was only 4 [years old], and I didn't know what those words were [either]… But I knew I wanted to know—why are those lyrics, and those chords, making me feel something so deeply? It's not just the chords, but it's the strings and the way that they're playing those chords. All these things were just flowing into my brain and my ears and my heart. I learned everything that I could from that album. Then I grew up and this dream came true where I got to incorporate every single thing that I ever learned from that album into real life… To get the chance to spend the months—a year, really—of scoring this movie, and getting to work with these people and these faces and these eyes… it was just a fantasy."
Screenwriter David Magee on the film's memorable collaboration process:
"First it was with Rob and John [DeLuca], trying to find how we were going to frame the story," explains Magee. "Then Marc and Scott joined us. The five of us sitting in a room together a couple of times a week and talking through where we wanted this journey to take us and how we could get to a story that would echo in some way our feeling for that original film. That was the most magical kind of collaboration time I've ever had. It would be very easy to enter into a project like this feeling like you were walking on sacred ground, where you could fall at any moment. The fact that Rob was doing it was the primary reason I was willing to even talk about doing it—because he's a master of musicals. From the first day we started collaborating together, I felt like we all had each other's back. We all were protecting each other's work, and we were all telling the same story."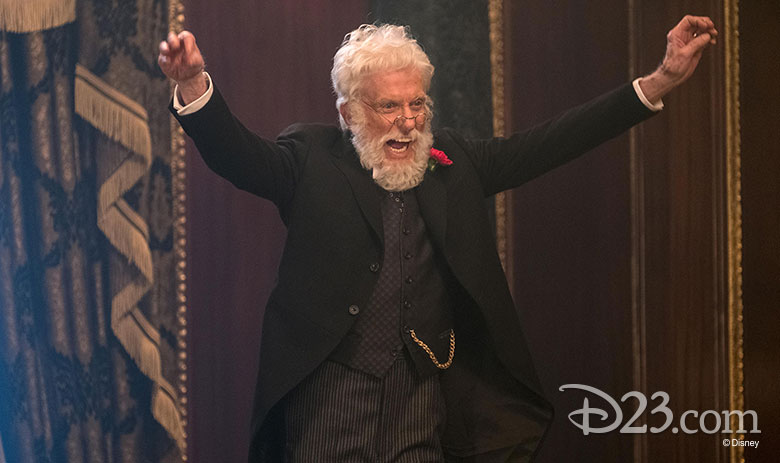 Director Rob Marshall on what one of the film's very special cast members said to him when he first walked onto the set:
"Every one of us was there with Dick Van Dyke as he stepped onto the set, and [that moment] was beyond," Marshall admits. "I don't think any of us could even breathe that day because we couldn't believe that we were touching that. He was basically playing the same old banker that he played [in the original 1964 film]. He grabbed my hand as we walked onto the set and he turned to me and he said something I will never forget. He said, 'I feel the same spirit here on this set that I did on the first film.' That was the dream come true right there."
Get ready to "trip a little light fantastic" when Mary Poppins Returns comes to U.S. theaters on December 19!