By Bruce Steele
Lin-Manuel Miranda is Alexander Hamilton no more. Backstage at Shepperton Studios in London, he's in full working-class "leerie" garb: a newsboy-like cap, red waistcoat (that's a "vest" to you Americans) and loose, well-worn jacket and trousers.
Speaking to journalists during a break in filming, Miranda recalls that he had just one question for director Rob Marshall and producer John DeLuca when they offered him the part of Jack, a London leerie, as the three sat in a restaurant at the Paramount Hotel in New York City's theater district between performances of Miranda's hit show Hamilton.
"What's a leerie?"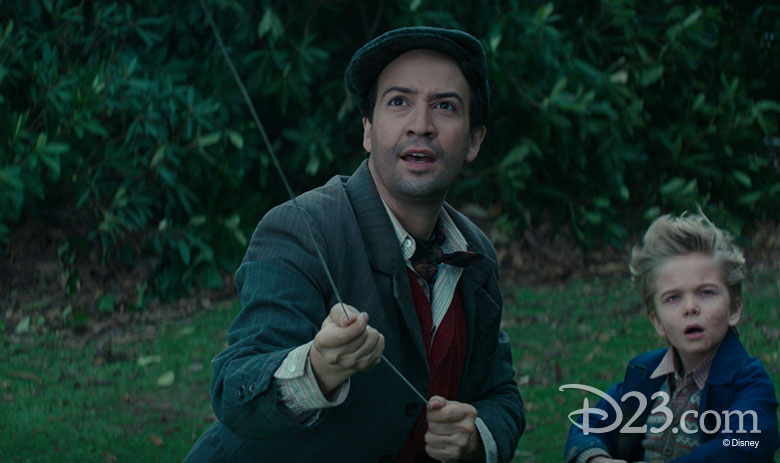 A leerie, he learned, is an English lamplighter, and in Mary Poppins Returns, Jack is Mary Poppins' pal, a sprightly Cockney who leads a small army of lamplighters. The leeries ride their bikes through the streets of 1930s London at the especially magical hours of dawn and dusk, when the city transforms, and for a brief moment anything seems possible.
For example, a Broadway star could be swept away across the ocean to sing and dance with Mary Poppins.
Mary Poppins Returns was the first project Miranda undertook after leaving Hamilton, the groundbreaking musical he wrote and starred in that won him Tonys® for Best Book and Best Score, as well as Best Musical. He left the show in July 2016 and by that fall was in London, starting rehearsals for Poppins.
Now the filming is about half finished, and Miranda is answering questions in a Shepperton Studios building filled with costumes, props, and concept art from the movie.
Comparing his phenomenal stage career with his new status as a movie star, Miranda quips, "The only real difference is that when you finish a musical number [on a film], they applaud in a year and a half."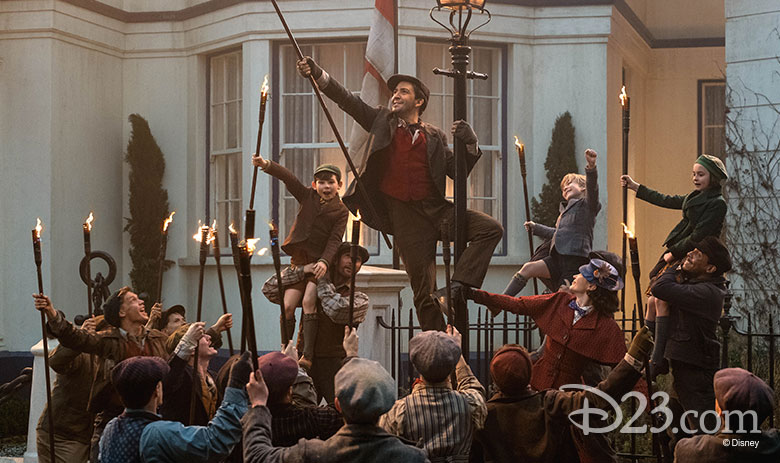 The scene being filmed today is an elaborate, 8-minute song-and-dance called "Trip a Little Light Fantastic" that will take many days to shoot. It involves some 50 leeries, with bicycles and lampposts and, of course, Mary Poppins herself, played by Emily Blunt, accompanied by the three kids in her care, the children of a now-grown Michael Banks (Ben Whishaw).
"We're doing very elaborate musical numbers, more than anything you'll see on a Broadway stage," Miranda says.
While the original 1964 Walt Disney film is remembered for its lead performance by Julie Andrews, its groundbreaking blend of live action and animation, and its spectacular visual effects, it's also one of movie history's most beloved original musicals. It was based on English writer PL Travers' several Poppins books, which began appearing in the 1930s, but the songs were pure Disney, written by Disney Legends Richard and Robert Sherman.
Mary Poppins Returns follows in that film's footsteps, with more than half a dozen original songs by the Tony-winning team of Marc Shaiman and Scott Wittman.
"I'm a fan of Marc's and Scott's music of many years," Miranda says. "I remember getting rush tickets to Hairspray [on Broadway] right after college when it was in previews and losing my mind. They are so well-suited to this musical. It's such a love letter to the Sherman Brothers."
Emily Blunt, appearing backstage in her Poppins finery, complete with iconic hairdo and a brand-new hat, agrees. "I think that these songs, even though you haven't heard them before, there is something about the music that seems familiar—always a sign of a great song."
She continues, "It has been such a huge honor, really, to be the person to be first [singing] them."
Blunt worked with Marshall on a previous musical, Disney's Into the Woods, but she says it was a different experience for two big reasons: The Stephen Sondheim songs were well-established, and there was a lot less dancing.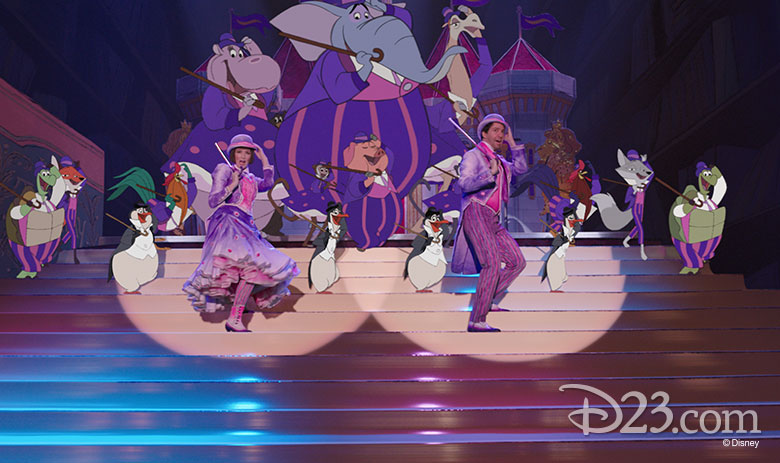 "The dancing has been the most daunting prospect for me," she says. "But we all laugh a bit about the fact that Rob makes you feel that you could do anything. He has this wonderful, ceremonial approach to filmmaking. He makes it magical and special for everybody."
Blunt has similar praise for Miranda, whom she calls "one of the most positive people I have ever met." Miranda's aplomb in front of the camera helped Blunt build her own courage as a dancer.
"He has just approached it with such confidence and threw himself into the dancing and singing," she says. "I think it has been quite nice for him not to be having to write and produce and create every single word," as he did for Hamilton. (He also contributed songs to Disney's Moana before leaving Hamilton.)
Miranda confirms Blunt's assessment, adding that he had "no jealousy" of Shaiman and Wittman. "I could never have written this score," he says. "To get to sing Mark's and Scott's music is a real joy."
Miranda knows the power of music in the movies. He cites one Sherman Brothers song from Mary Poppins as the reason he didn't see the ending of the film "for many years" as a child. "I would burst into tears at 'Feed the Birds' and then I would be like, 'Turn it off! Turn it off!' She broke my heart, that bird lady."