By Courtney Potter
There's a new series of shorts coming to Disney+, and—squirrel!
Sorry 'bout that. We might just be a tad excited…
As we were saying, Disney+ will soon debut a brand-new series of shorts from Pixar Animation Studios. Dug Days follows the adorably humorous misadventures of Dug, the lovable dog whose high-tech collar translates his thoughts into speech. A sweet and loyal pupster, fan-favorite Dug won the hearts of audiences around the world when Disney and Pixar's Up premiered in 2009—so obviously, a series starring this memorable mutt is a paw-fect addition to the Disney+ lineup!
The five short episodes (each with a different theme, including "Puppies," "Smell," and "Science") take place just after the events of Up; curmudgeonly yet endearing Carl Fredricksen has accepted Dug as his own, and they've now traded their 1920s airship for a new house… complete with a doggy door and a big backyard. Fans of the '09 film, never fear: Ed Asner, who lent his voice to Carl more than a decade ago, returned to the recording studio to deliver new dialogue. And Dug Days also features a few appearances from snipe-hunting wilderness explorer Russell.
Bob Peterson, the voice of Dug then and now, wrote and directed the new shorts—and it's very familiar territory, considering Peterson was also a screenwriter and co-director on the Oscar®-winning Up. This time 'round, Peterson is joined by Pixar Animation Studios veteran Kim Collins (production management for The Incredibles and Toy Story 4, among others) as producer… and the two filmmakers recently shared some insight into what makes Dug Days so doggone special.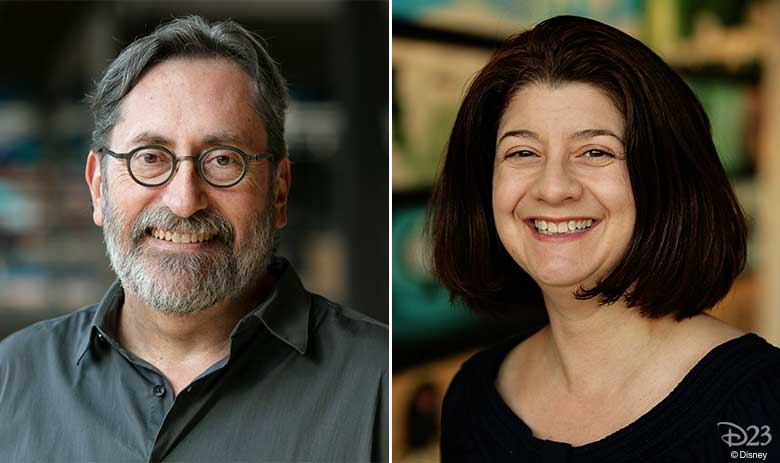 Peterson on the origins of Dug Days:
"We were so excited when we created Dug [for Up] because using his collar would allow us to hear what a dog might actually think and say," the director explains, "and we could explore 'canine truth.' Dug was based on our own dogs… We used experiences living with many dogs to write Dug's character and dialogue. In fact, Dug's voice is based on how I talk to my dogs: 'You're a good dog! I love you, my dog!'… For Dug Days, we pitched to Pixar a series of shorts that showed the facets of a dog's life: territoriality, nurturing, protection, fears, and especially a dog's super senses—like smell. This then gave focus to a dog's feelings, which can be intense. We wanted to keep the setting simple to emphasize character."
You might be wondering, where did the idea for Dug come from initially? "It goes back to a movie that Pete Docter and I were developing before Up," Peterson says. "And it was more of a science fiction story, where a dog ate something that it shouldn't have and all of a sudden started talking. It was just so fun to hear what a dog had to say that when that project got shelved, and we moved on to Up, we wondered, 'Well, how can we bring that back?' Ellie, Carl's wife, always wanted to go on this adventure as a kid. And we thought, 'What would she want to see?' And a talking dog would certainly be part of a kid's dream experience. So Dug was actually born from a different film… Some of these things happen, y'know, by chance—or they're just sort of delivered to us and we don't really think them through. We embrace them and see what they can bring."
The filmmakers on what the production process was like—especially in the face of 2020's life-altering peculiarities:
"Dug Days was just gearing up when we had to shift to work from home," Collins admits. "We ended up recording in a lot of unusual places," adds Peterson. "Mostly closets… [My own recording studio was] a spider-infested, dusty, and cramped closet below the stairs. I recorded a large chunk of Dug's lines in there. One good thing, though, is that it was hot in there and I lost a lot of water weight," he says, laughing.
"I mean, it was a lot of worry at the beginning—'Can we do this?'"—Peterson continues. "Just technically, [can we] get people equipment in their home so that they can do it? And then can that equipment be fast enough so that we can have meaningful reviews, which don't just sort of crawl along? And so that meant updating people's Ethernet and all that sort of thing—along with the challenge of kids and dogs running around. But we embraced that! If a kid came in the room, and Mom or Dad or whoever was giving a presentation, the kid sat up on their lap and looked in, and it was wonderful. We enjoyed it—it's actually nice to see parents and family members and dogs and cats going in front of the screen because it gives a sense of connection to home life."
"As we moved into the pandemic, the entire crew realized that the shorts could bring a little bit of sweetness and happiness to people," Collins adds. "So that motivation kept us wanting to bring our best, creatively, even though we could only be together as a team to these little tiny boxes on a [Zoom] screen instead of—as we're used to working together [for] a lot of things—in the studio. But we did go into the studio, just a few of us, just a few times and very safely to check the final rendered images for the shorts."
On reuniting with grumpy yet loveable Carl Fredricksen:
"We here at Pixar have much love for Ed Asner, when he's not telling us to go soak our heads," Peterson jokingly admits. "We always manage to have a great recording session [with him]; Carl really is a role he was born to play. [We had a] recording session with Ed in February 2020… it was just before we were asked to stay home during the pandemic. It was our only [in-person] recording session, which took place in a beautiful Toluca Lake, California, recording studio—only the best for Ed Asner!"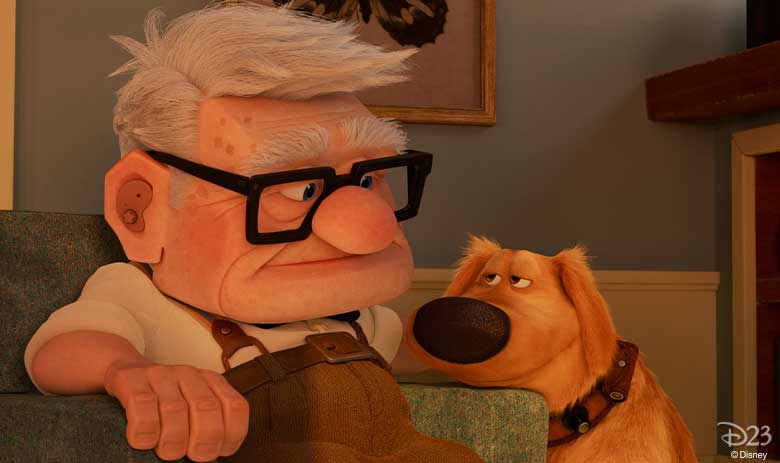 On some of the series' technical challenges:
"There were some technical challenges with what we call the 'smell-o-vision'," explains Collins. "That one took a lot of iteration and collaboration to land on what that look would be, from its initial design… [and] that one went across several episodes. And then for the 'Flowers' episode, it has a lot going on. It has a big lighting change; it has crowds and crowds of flowers that are now coming to life… And then [this one] wasn't a 'challenge,' per se, but our lighting director of photography, her name is Josée Lajoie—she had, in the 'Puppies' episode, a big lighting change. It's supposed to go through the course of the day—it starts really sunny and beautiful, and then as [the story continues], it gets very dark and gloomy and gray. And then it ultimately turns into this beautiful glowy dusk. I really like how the lighting tells the story in that episode."
On Easter eggs we can expect to see throughout the shorts:
"They're sprinkled all throughout these shorts," admits Peterson. "Some you [might] know, and some are sort of inside jokes… My grandmother's house back in Ohio was No. 333—and the house that Carl and Dug move into is also No. 333. And actually, my other grandparents have a house [at] No. 18, and the house in Up is No. 18; [Up co-director Pete Docter] put a lot of our family Easter eggs in there."
Collins adds, "In the 'Flowers' episode, you'll see a Ferris wheel—it's the [one] from Toy Story 4, which was the project I'd just worked on prior to joining Dug Days. So that's one of the ones I liked the best."
"There are a lot in Carl's front room," continues Peterson. "There's a little frog that's based on the 'nature's alarm clock' that wakes up Carl in Up. And there's a camera [on one of the shelves] named after Mark Nielsen, who was our Dug Days production designer." "Oh, and there's a baseball hat that has the initials 'J.R.'—they're the initials for producer of Up and well-known baseball fan Jonas Rivera," says Collins. "And of course, Pete Docter… he's a sweets fanatic," Peterson adds, chuckling. "He loves macarons, which are like little sweet hamburgers. He can eat them morning, noon, and night. So we put a little box of 'Pete's Macarons' in one of the shots."
On their personal favorite episodes:
"I mean I love them all," admits Collins. "They're all very different in tone, so they all have different charm. Going into it, when we first started, the 'Science' episode was my favorite… but the 'Flowers' episode quickly became my favorite as it went through production, because people brought so many amazing ideas to it, which we call 'plussing' at Pixar. They just kept 'plussing' what Bob had originally written and conceived. So I think those two are really special."
"The 'Flowers' episode is madcap—it starts out so gentle, and we lull people into this false sense [of security]," Peterson adds. "And then all heck breaks loose, with this Fantasia-like dream. You just don't expect that coming… But my favorite moment of these shorts is when at the very end of the 'Science' episode—the last one, where Carl and Dug are in his front room. And Carl is just describing what it's like to have love for your pet, for your dog. That your dog protects you and gets you through your day and is your best friend. We think of our dogs as friends. That's my favorite moment, in all of these."
Look for all five episodes of Pixar Animation Studios' Dug Days to debut on Wednesday, September 1—only on Disney+!