By Zach Johnson
Are you ready to become the hero of your own Star Wars story?
Earlier this week, we embarked on a two-night adventure onboard the Halcyon starcruiser—a vessel known for its impeccable service and exotic destinations—to gather intel on Star Wars: Galactic Starcruiser, opening March 1, 2022, at Walt Disney World Resort. This first-of-its-kind immersive adventure is a vacation experience that goes beyond anything Disney has ever done. What's it like to travel to a galaxy far, far away—to really like to see, feel, and live a Star Wars story? You're about to find out...
Every experience onboard the Halcyon starcruiser is carefully crafted to create a compelling narrative; think of it as choose-your-own-adventure role playing. During your voyage, choices you make while interacting with characters, crew, and other passengers affect your personal story. For example, you may be asked to deliver a secret message, take part in a high-stakes heist, or hide an ally (like we did for our friend Chewbacca). Not only do such decisions impact how the story will unfold for you, but they also intertwine with those of other passengers and well-known characters.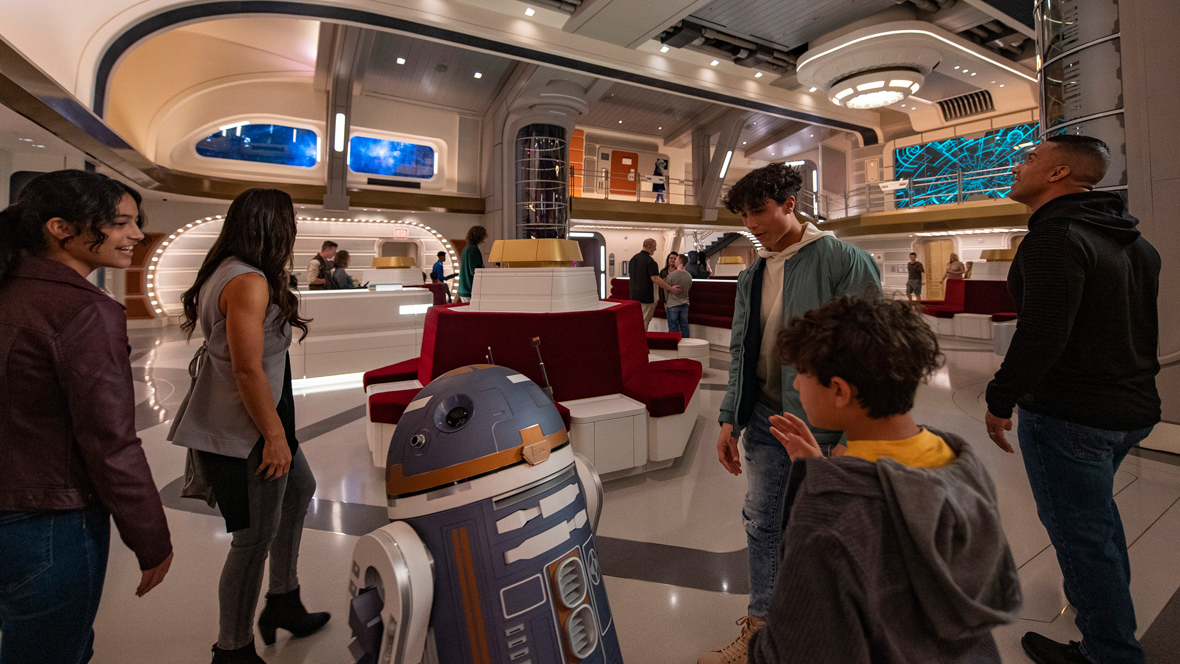 "We know that our guests are very diverse, so we wanted to create storylines that would appeal to different people," Marc Rothschild, Producer, Disney Live Entertainment, says. "We have traditional Star Wars storylines with the Resistance and the First Order, but then we've also introduced some other storylines, like a romance storyline that everyone can interact with, that was crafted for them and their interests."
Alex Lee, Production Manager, Disney Live Entertainment, adds, "It all depends on how you want to engage. We knew some guests would play lightly and take a more casual approach. We knew other guests would want to go heavy, LARP [Live Action Role-Playing]-style. We built the storyline so that you could take in all points of view, depending on how you play, and we could provide all those touchpoints for guests."
The Star Wars: Galactic Starcruiser narrative takes place between the films Star Wars: The Last Jedi (2017) and Star Wars: The Rise of Skywalker (2019). Now you'll see what happens to Rey and Kylo Ren following the battle of Crait in a gripping storyline that connects to and complements Star Wars: Galaxy's Edge at Disney's Hollywood Studios.
What else do you need to know before you go? Read on...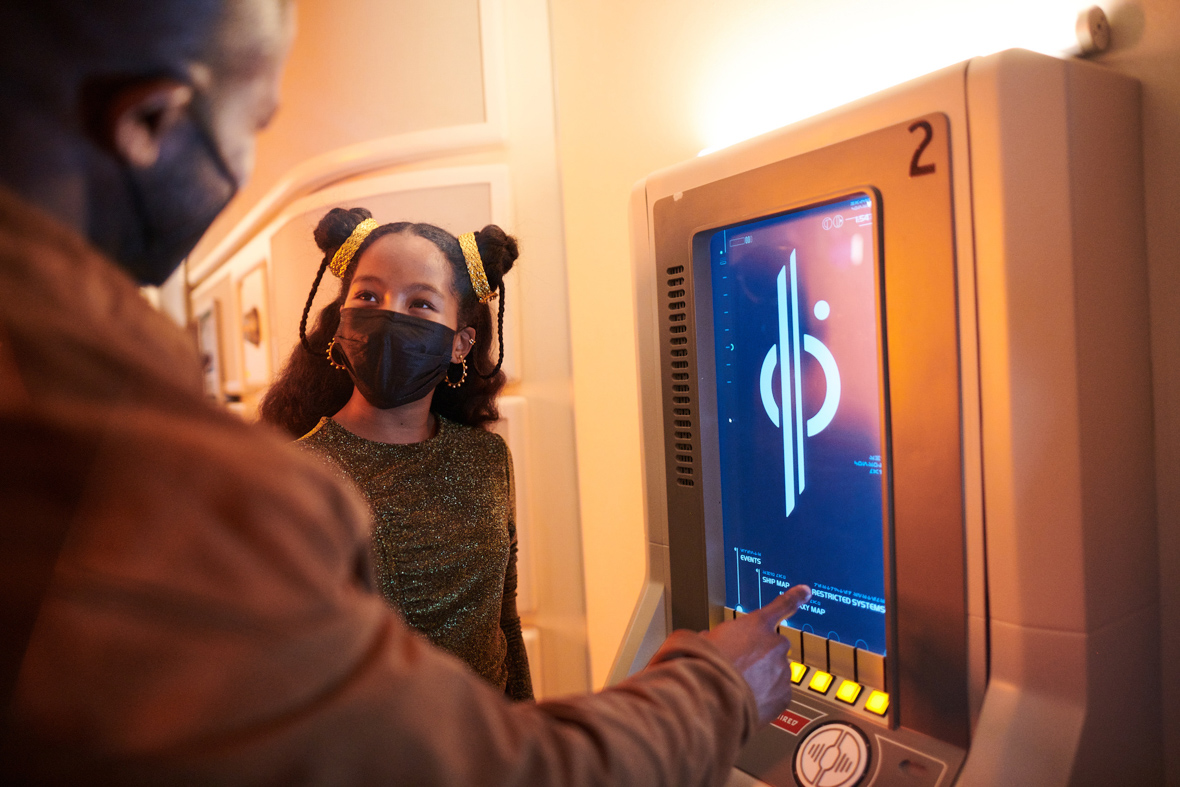 1. EXPLORE INTERACTIVE, INTEGRATED DESIGN DETAILS ONBOARD THE HALCYON STARCRUISER.
The Halcyon starcruiser is celebrating its 275th anniversary—and fans may already know it has lengthy history in the Star Wars universe. Built on Corellia in the same shipyards that produced the iconic Millennium Falcon, the Halcyon starcruiser is beautifully and elegantly designed; its clean, elegant lines are reminiscent of Leia Organa's personal ship, the Tantive IV, while evoking the glitz of high galactic society.
According to Bryce Schulte, Interior Designer, Walt Disney Imagineering, "A lot of thought went into: What does a well-appointed starcruiser feels like in the context of Star Wars? And how do we make that feel authentic to guests who maybe have only seen one aspect of Star Wars, which might be more of a wild, wild west style? There are a lot of references. If you look at Dryden Vos' First Light yacht, or the casinos in Canto Bight, they're clean, beautiful, luxurious. We took references from those, and then, of course, gave the Halcyon starcruiser its own personality. You'll see it reflected in the colors, the textures, and the furnishings."
Over its lifetime, the Halcyon starcruiser changed hands many times and was used for various purposes, from covert diplomatic missions to Imperial engagements to Hutt-sponsored casino cruises and more. You become part of the action the moment you board the ship, which Chandrila Star Line has restored to its original glory to recreate its maiden voyage from the Core World of Chandrila to the far-flung Outer Rim destination of Batuu. The starcruiser is once again a gleaming example of the finest craftsmanship in the galaxy—a place to explore, to relax, and to go on an adventure.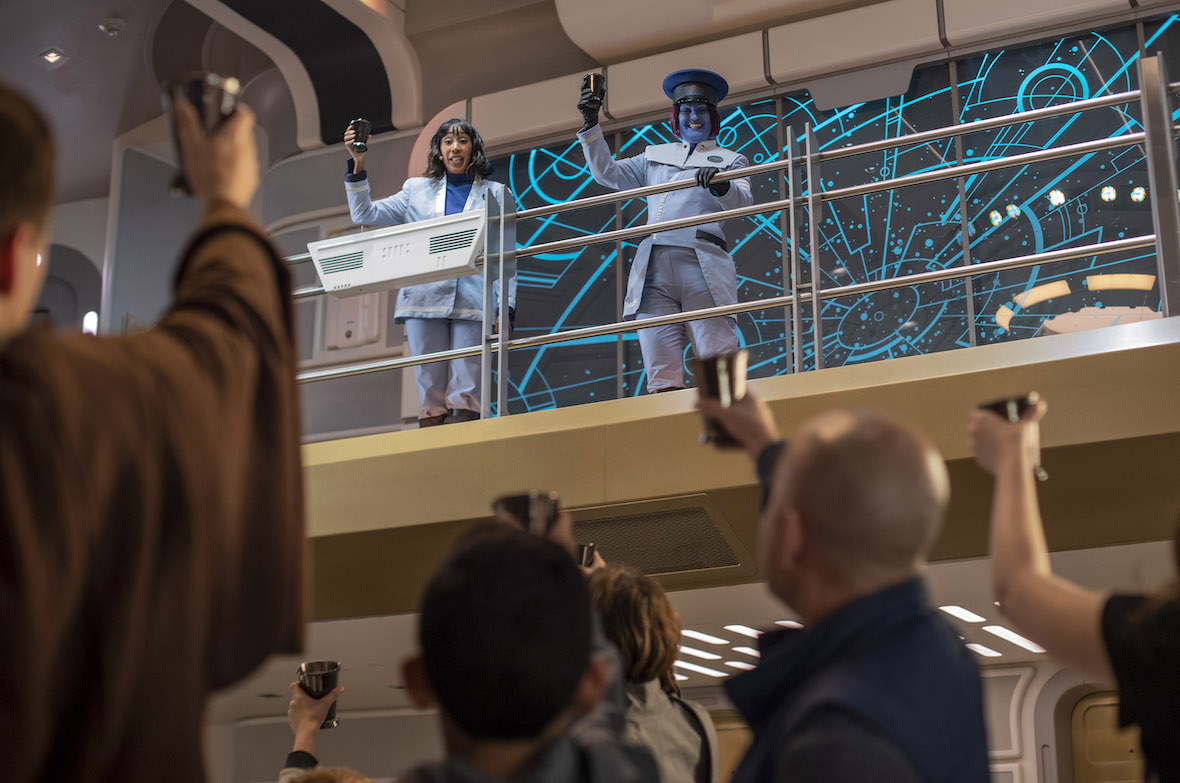 To make sure everything onboard feels "authentically Star Wars," Disney Imagineers "basically created a design language," Dan Brookwell, Production Designer, Walt Disney Imagineering, tells D23. "We did the same thing when we designed Star Wars: Galaxy's Edge, where we created a new place guests hadn't seen before. But in order to do that properly, we had to figure out: What is the Star Wars essence? What is the DNA of that aesthetic?" The Imagineers worked closely with Lucasfilm Ltd. to answer those questions. "Using them as sort of a north star was especially helpful in beginning stages," he says. "The great thing about the Halcyon starcruiser is that after a while the cadence takes on its own life, and then you start to see that design language flourish."
As you might expect, the accommodations onboard the Halcyon starcruiser are unlike anything you'll find on Earth. Passenger cabins feature a viewport into space that continuously changes during your journey. You'll see planets, ships, stars, and other breathtaking galactic sights float by on the majestic canvas of the cosmos. The starcruiser features 100 cabins and suites, which create an atmosphere of comfort, exclusivity, and style.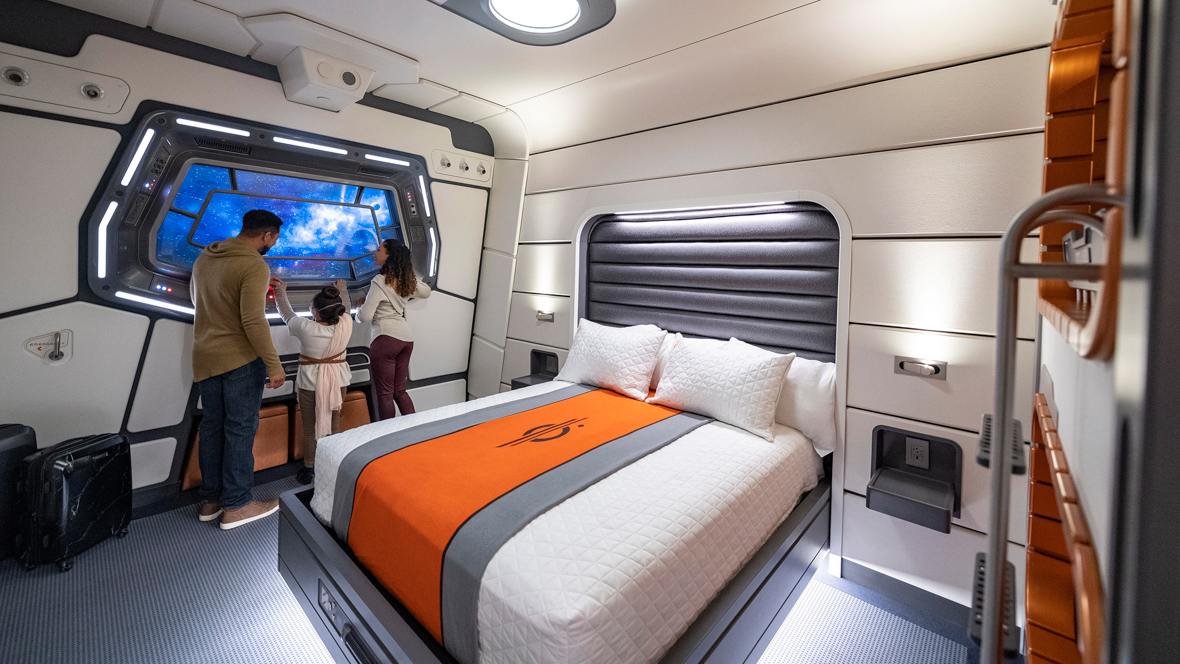 Each Standard Cabin is fitted with furnishings and fixtures designed to ensure comfort while traversing the galaxy, including a pullout table and a TV with entertainment from your home planet. One-bedroom Galaxy Class Suites include a living space with an integrated seating area and all the comforts of Standard Cabins, plus a double-vanity bathroom, bar area, and two windows with views into space. Two-bedroom Grand Captain's Suites come with all the comforts of Standard Cabins, plus an integrated seating area, a main suite with a double-vanity bathroom, a second bathroom with a single vanity, a bar area, three windows with views into space... and some fun surprises!
In your cabin or suite, you can choose to interact with D3-O9, the ship's Logistics Droid, via vidscreen and have real-time conversations about your adventures. She knows everyone and everything happening onboard during a voyage. Commissioned centuries ago by Chandrila Star Line's founder, D3-O9 has seen the Halcyon (and the entire galaxy) evolve, so she isn't exactly shy about sharing their history or her opinions.
(When D3-O9 is activated by pressing the Droid Link button, recordings of sounds detected within the cabin, including voices, will be created to improve personalized interactions. At this time, D3-O9 will be only available for a limited test period.**)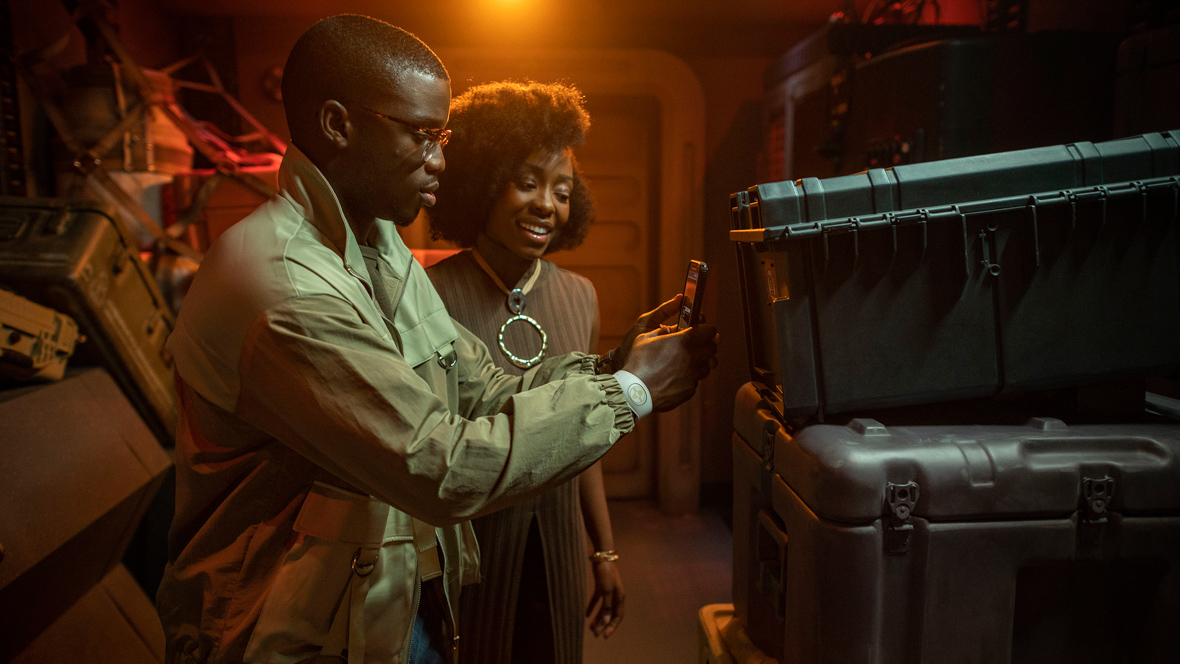 Don't be afraid to explore the Halcyon starcruiser, as you will perhaps find hidden spaces that are perfect for uncovering secrets or holding clandestine meetings. From the Lightsaber Training Pod, a specially equipped room for training passengers in the ancient art of wielding a lightsaber, to the Engineering Room, which serves as the ship's control center (and is normally off-limits to passengers), there's much to discover.
"We've created a space that is almost a palette for characters and guests to come in and recreate, based on how the story is unfolding," Brookwell says. "The spaces can feel drastically different one night versus the next, because everybody makes it their own."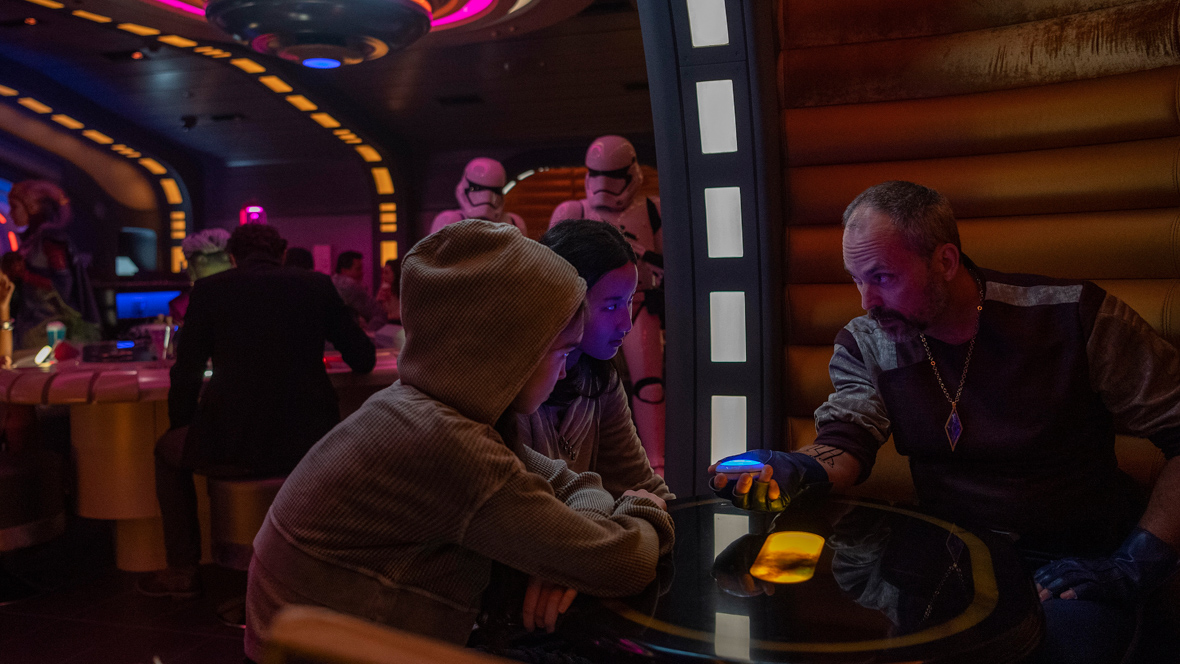 2. JOIN THE RESISTANCE, THE FIRST ORDER... OR CHOOSE YOUR ALLEGIANCE FOR THE RIGHT PRICE.
You'll encounter a wide array of characters during your two-night journey. They may be heroes of the Resistance, emissaries of the First Order, members of the ship's crew, or others simply trying to make their own way in a galaxy far, far away. By interacting with these characters, you'll make new friends, learn useful information, discover secret parts of the ship, go on special missions, and more. These moments build upon one another during your voyage, unlocking real-time, dynamic storytelling in ways Disney has never done before—driven by an eclectic cast of characters both familiar and new.
"It's important that when passengers come onboard the starcruiser, they really understand that they are stepping into a Star Wars story," Travis Finstein, Assistant Producer, Walt Disney Imagineering, tells D23. "Everything supports that, including the characters they encounter. We have an incredible cast bringing this experience to life and bringing a lot of character development to their performances. There are things fans have come to expect from Star Wars, so they draw from that; these characters are molded with that in mind. I think that's why they are creating such strong impressions."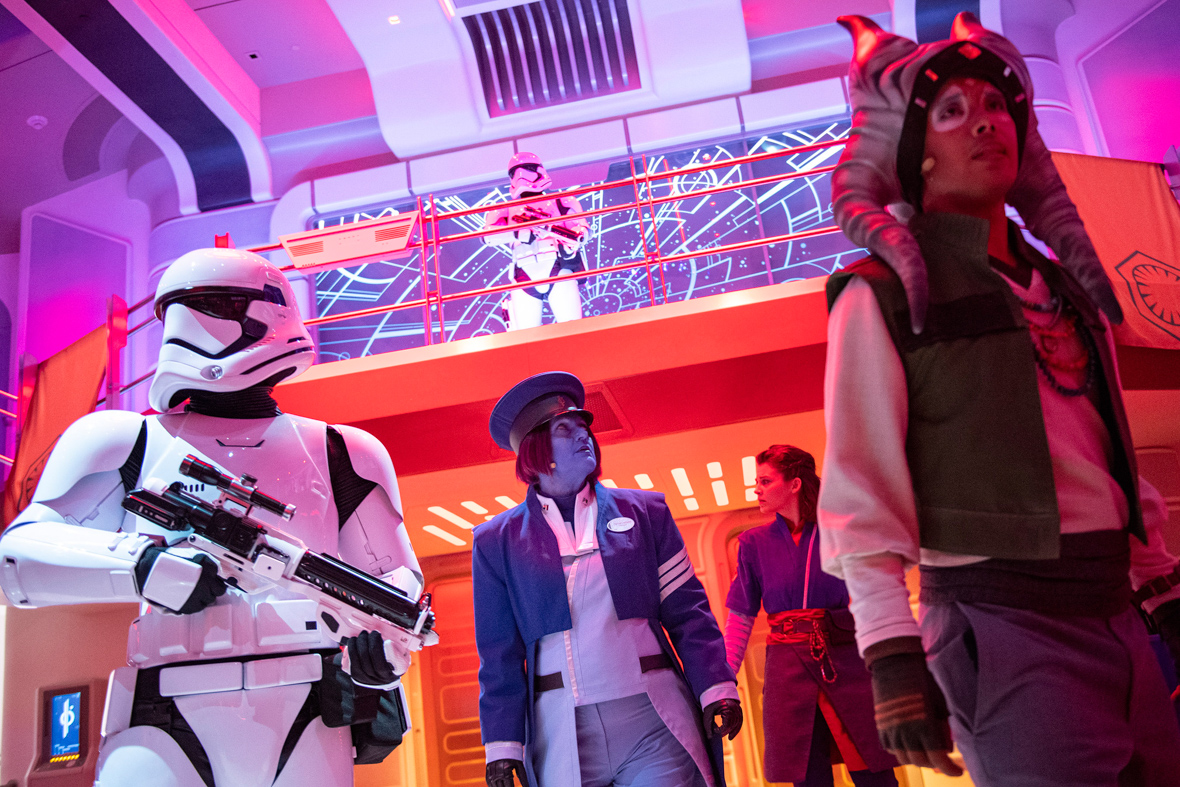 You'll be hard-pressed to find a more dedicated or loyal crew than the one aboard the Halcyon starcruiser. Charismatic, respected, and trustworthy, the Pantoran Captain Keevan remains cool under pressure as she leads each voyage. Her right-hand, Cruise Director Lenka Mok, is in charge of onboard entertainment; it's her job to make sure each voyage is memorable. SK-62O, an astromech droid, is Mok's assistant cruise director, ensuring things run smoothly and on time. The mechanic Sammie is eager to prove himself on the famous ship, and his tasks always seem to get done... somehow.
If you're in the mood for stargazing, look no further than the Twi'lek singer Gaya, an all-around galactic superstar known for her distinctive music. On the first night, she treats passengers to an exclusive performance in the Crown of Corellia Dining Room—arranged by her smooth-talking manager, Raithe Kole. It's his job to ensure Gaya gets everything she wants, no matter what. Ouannii provides accompaniment for Gaya's performances. While she speaks Huttese (the same language of infamous gangster Jabba the Hutt), Ouannii has a charming personality that helps her make instant connections with guests—and with Sandro Alimander, an aspiring musician who's a big fan of Gaya.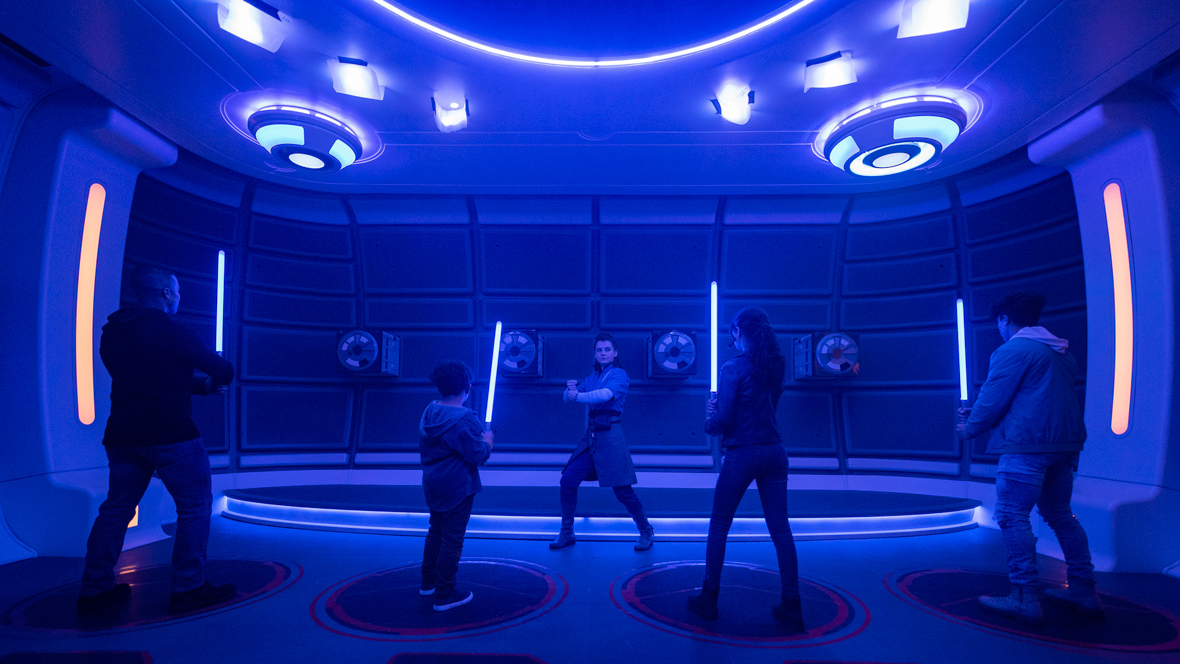 If you sensed the Force awakening in you... well, you've come to the right place! In Rogue One: A Star Wars Story (2016), the Empire destroyed the Jedi temple on Jedha, which was under the protection of the Guardians of the Whills. Though their survivors were scattered throughout the galaxy, the Guardians remained dedicated to preserving knowledge of the Force. Descendants of this group, known as the Saja, have found safe haven onboard the Halcyon starcruiser and use one of its training pods to teach the ancient art of the lightsaber. Though not Jedi themselves, they can sense the Force in others and teach them how to find their connection to this mystical power.
You'll also encounter characters from other Star Wars films, such as Resistance heroes Chewbacca, R2-D2, C-3PO, and Rey, and the First Order's Kylo Ren. As for new characters, the ambitious and intimidating First Order Lt. Harman Croy takes a special interest in the starcruiser after noticing that Resistance activity springs up at each of the ship's ports of call. Like Lt. Croy, First Order Col. Grav Talis takes his duty and the mission of the First Order very seriously. He answers directly to General Hux and is intent on ridding the galaxy of Resistance fighters—and anyone who supports them. Under Lt. Croy's command, First Order stormtroopers search the starcruiser to investigate rumors of Resistance fighters embedded among the crew and passengers.
Crew members come with their own unique back stories that span the entire galaxy. "We were really thrilled to empower cast members to find their place within the larger Star Wars galaxy," Lee says. "We started to explore a little bit of that with Star Wars: Galaxy's Edge with how cast members were able to live their Star Wars story and bring that to guests to make it feel alive. Cory Rouse, one of our directors on the ship, has been really pivotal in integrating traditional entertainment with how it gets played. Each crew member is able to impact the guest experience based off their knowledge."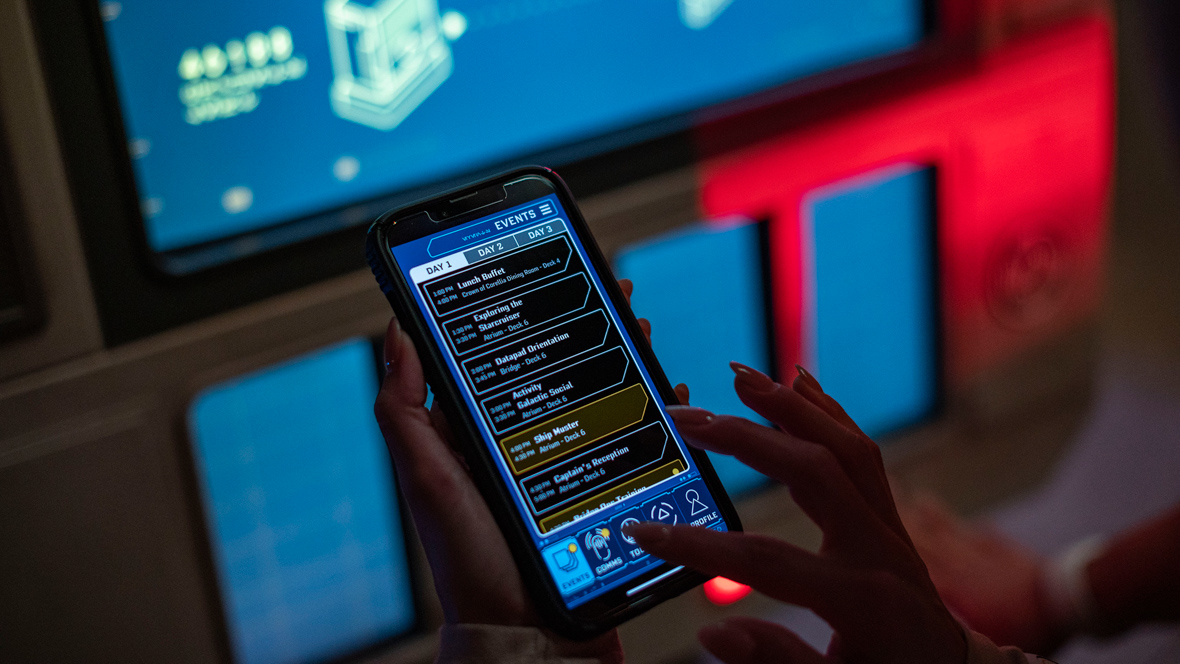 3. EXCHANGE SECRET COMMUNICATIONS.
Deepen your engagement with characters and storylines via the Play Disney Parks mobile app on your smart device.* Through the Star Wars: Datapad, found inside the app, you can access a plethora of functions that will help guide your experience.
"The Star Wars: Datapad has existed in Play Disney Parks since the opening of Star Wars: Galaxy's Edge as a way to deepen that experience," Anisha Deshmane, Creative Producer, Walt Disney Imagineering, says. "We've expanded it for Star Wars: Galactic Starcruiser, creating custom tools to help our passengers better navigate their journey. It gives passengers private moments of choice and is seamlessly integrated into all of the other activations that make the starcruiser a fully immersive, 48-hour experience."
The Events function updates your itinerary continuously throughout your two-night stay, evolving with new invitations and secret meetings as you interact with different characters and complete various missions. Need to change a scheduled activity? Ask a crew member for assistance. You wouldn't want to miss lightsaber training, would you? From bridge training to sabacc lessons, you'll find new adventures 'round every corner!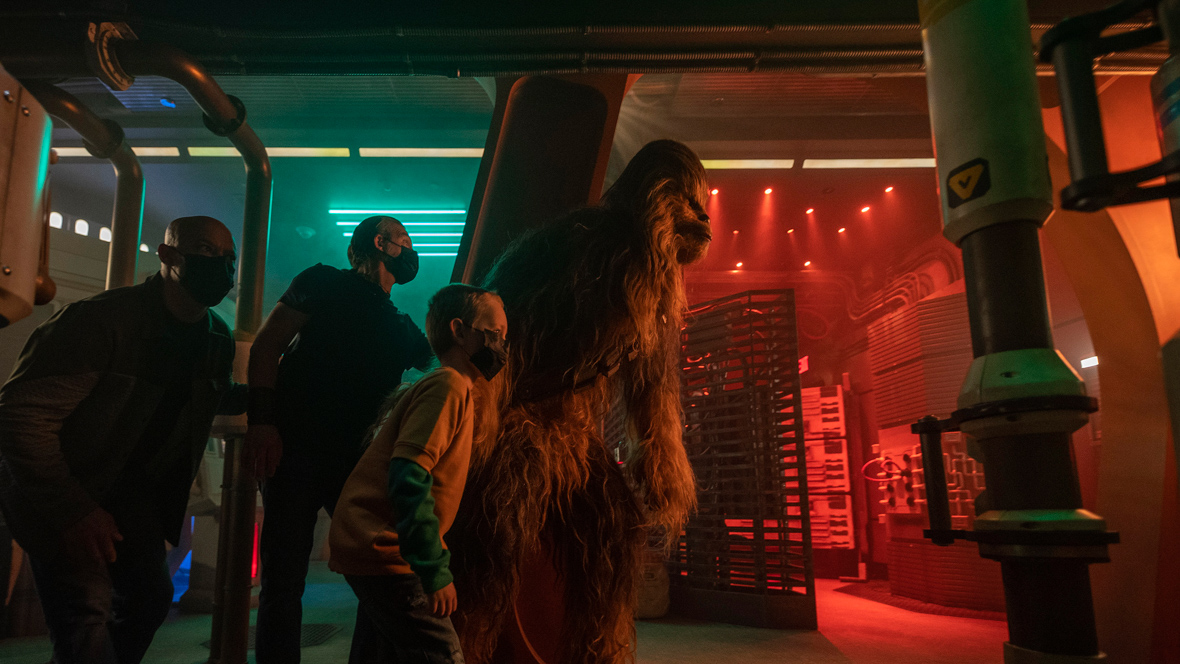 The Star Wars: Datapad's Comms function, meanwhile, receives and sends information that relates to missions and adventures, which can impact how stories unfold during your voyage. It was a real badge of pride when Cruise Director Lenka Mok sent us a message and entrusted us to help her complete a covert assignment... and on the flip side, it was a real nail-biter when Lt. Croy questioned our allegiance to the First Order!
Not sure where to complete a mission? The Star Wars: Datapad's Map function provides the layout of both the starcruiser and Black Spire Outpost on Batuu. Passengers use these maps for navigation as they go on missions during their adventure. The Tools function activates whenever a new job calls for a specific skill set, especially while on a planet-side excursion in Black Spire Outpost. Finally, the Profile function shows your affiliation as you continue through the story.
"Our job was to ensure that the Datapad doesn't feel like it's an isolated thing on your device," Deshmane says. "It is connected to the things you see physically in the environment around you, where you can see the change being enacted in real time."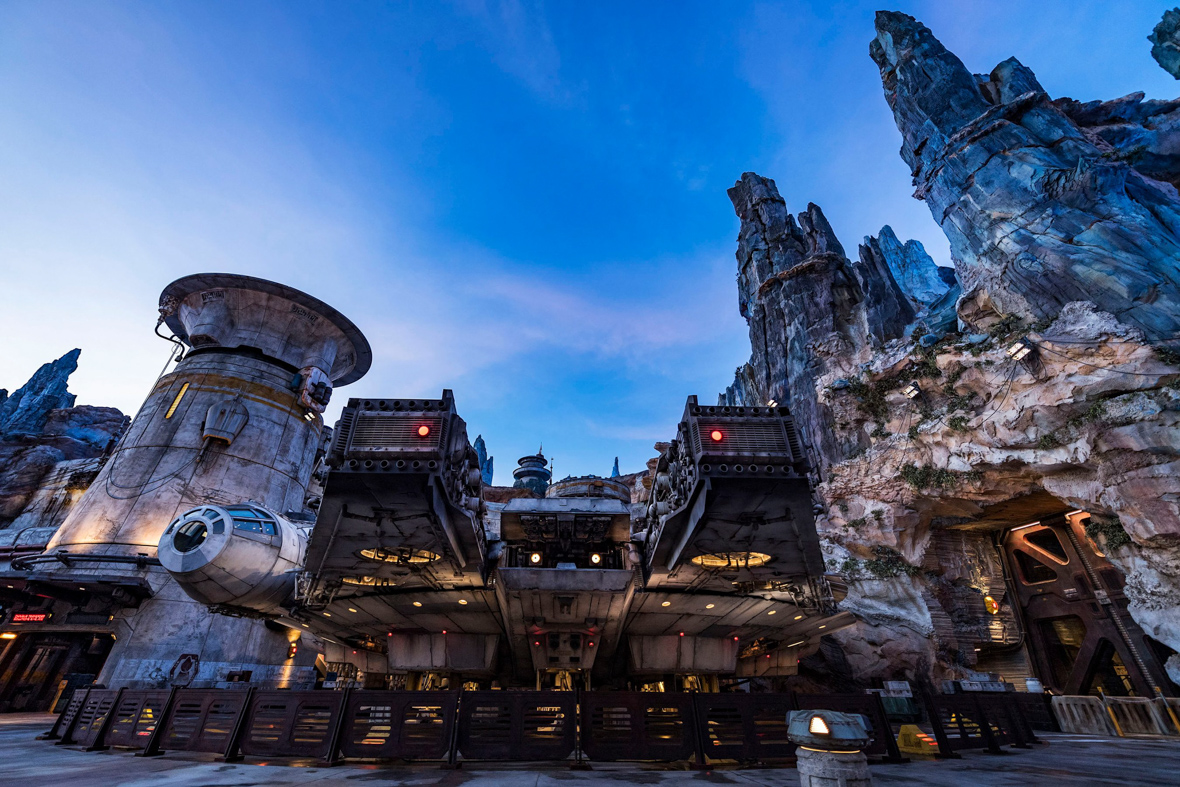 On the second day of your voyage, the Star Wars: Datapad will again come in handy as you visit Black Spire Outpost on Batuu, unlocking new levels of engagement and interactivity across Star Wars: Galaxy's Edge. There, adventures that began on the starcruiser the previous day continue to play out as part of the immersive storytelling.
Speaking of Batuu, your outing begins after transports take you directly to the planet's surface, disembarking through an exclusive entrance at the outpost's Docking Bay 3. Upon arrival, you may receive messages in the Star Wars: Datapad—sent by characters you met onboard the ship—asking you to engage in special and specific missions on Batuu. Pay close attention to the Star Wars: Datapad to help your new friends—or to betray and mislead them. As always, the choice is yours...
"The things you're finding or revealing on your Datapad are playing into the overall story, but other people might not know about it," Deshmane says. "You're actually making an impact on other people's stories as you're going through your experience."
As you accomplish various tasks—from "slicing" systems to translating messages written in Aurebesh—your reputation within the larger story builds and evolves, impacting how your adventures unfold when you return to the Halycon starcruiser later that day.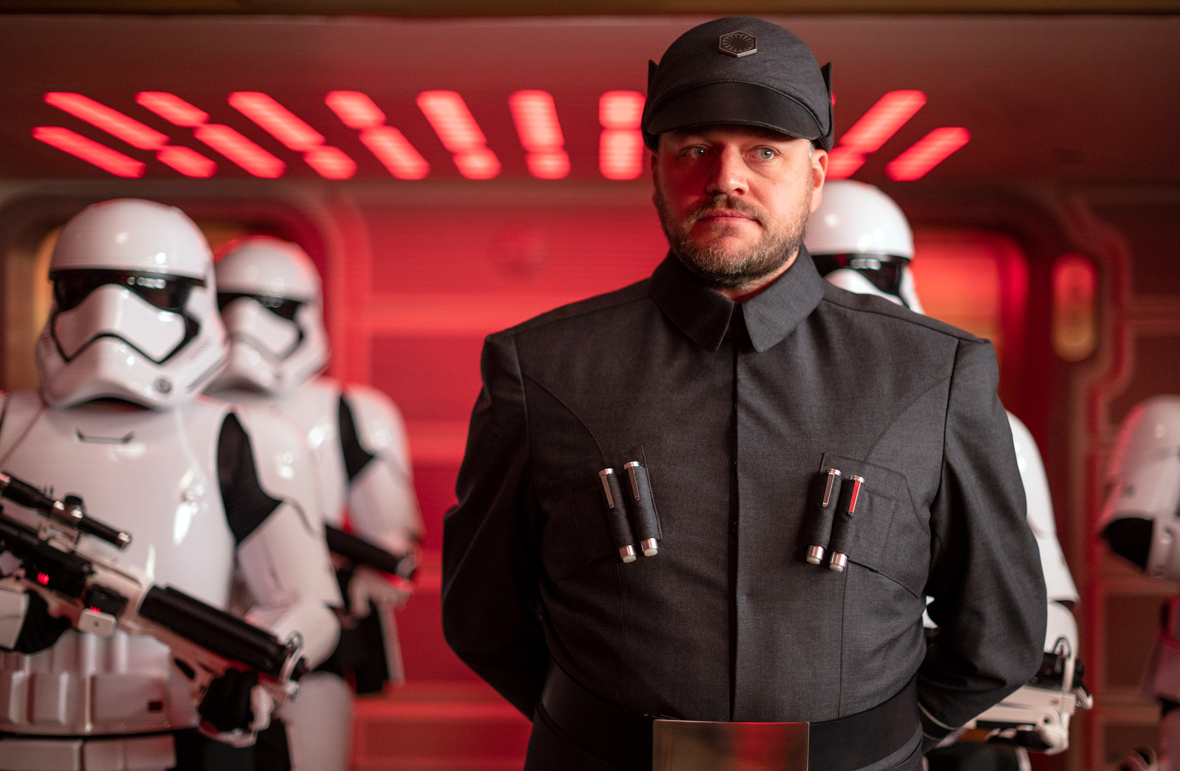 "Because there's so much story, these characters are able to continue to communicate with you and deliver multiple points of view—to provide motivations, to provide closure, to provide reasons for you to keep exploring the ship," Lee says. "All of that is integral to the Datapad and how that information is curated for you, based off of how you interact with those characters. For instance, you could be playing First Order really hard, so you'll get one type of message. But if Lt. Croy perceives you might be double-crossing him, you'll get a different type of message. Both [connect] to the larger story, but the way it comes to you, depending on that character interaction and perception, is what makes the integration of technology and entertainment so unique."
As part of this unified story, starcruiser guests are given one-time entry to the two signature attractions in Star Wars: Galaxy's Edge—Millennium Falcon: Smugglers Run and Star Wars: Rise of the Resistance—through the Lightning Lane entrance. You can discover new context to the stories told in these attractions, learning more about the characters involved and the ramifications of the missions they undertake. Star Wars: Galactic Starcruiser was developed at the same time as Star Wars: Galaxy's Edge at Disney's Hollywood Studios, and they were designed to integrate from the beginning.
Lunch at Docking Bay 7 Food and Cargo (or other select locations) is included for guests on a starcruiser voyage. You can also request reservations at Oga's Cantina, Savi's Workshop – Handbuilt Lightsabers, and Droid Depot (but the cost of food, beverages and merchandise at those places isn't included in your Star Wars: Galactic Starcruiser vacation).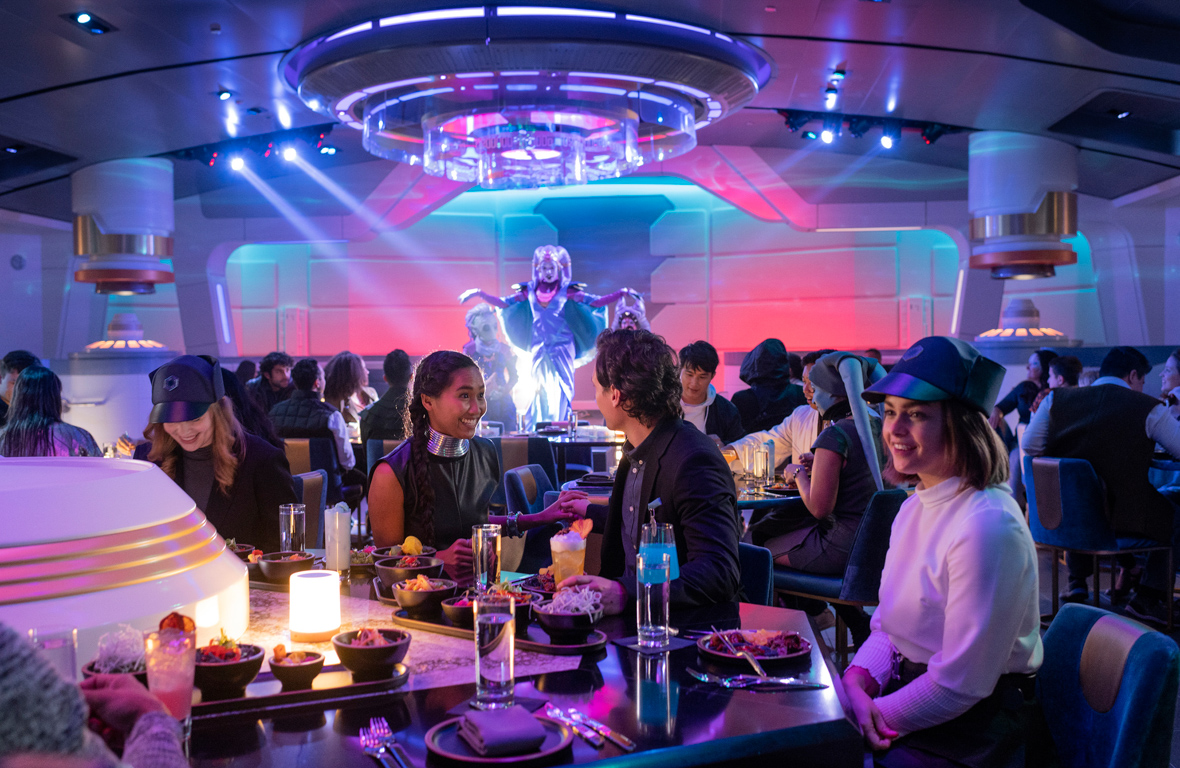 4. EXPAND YOUR PALATE WITH EXCLUSIVE FOOD AND BEVERAGE OFFERINGS THAT ARE OUT OF THIS WORLD.
If the mere thought of dining at Docking Bay 7 Food and Cargo or sipping a unique cocktail at Oga's Cantina made your stomach grumble, just wait until we tell you about all of the delicious food and beverage offerings available onboard the Halcyon starcruiser! The ship boasts a robust and imaginative dining program developed especially for this vacation experience. Enjoy menus full of familiar tastes but unexpected colors and textures, deepening the immersion in your galactic voyage.
When the sky is literally the limit, how did Brian Piasecki, Culinary Director, Concept Development, develop the menu? Like all things onboard the Halcyon starcruiser, he says, "It all starts with the story. We have great partners with Walt Disney Imagineering, and once we sat with them and really understood the concept of the ship and what the cruise would be, we took that as an incredible challenge. They helped by sending us a great deck: 'These are all the planets that are going to be on the tour of the Halcyon.' Then we started our research: 'What animals live there? What plants live there? What do each planet's inhabitants eat?' From there, we themed all our food around that."
"Lucasfilm definitely had a lot to add to the conversation," Piasecki continues. "Once we had the foods we wanted identified, we then went back to Lucasfilm and asked, 'Can you help us with some names? What would you guys suggest for 'vegetables'? So, we call it flora. Things like red fruit—that's a tomato. Long fruit—that's a banana."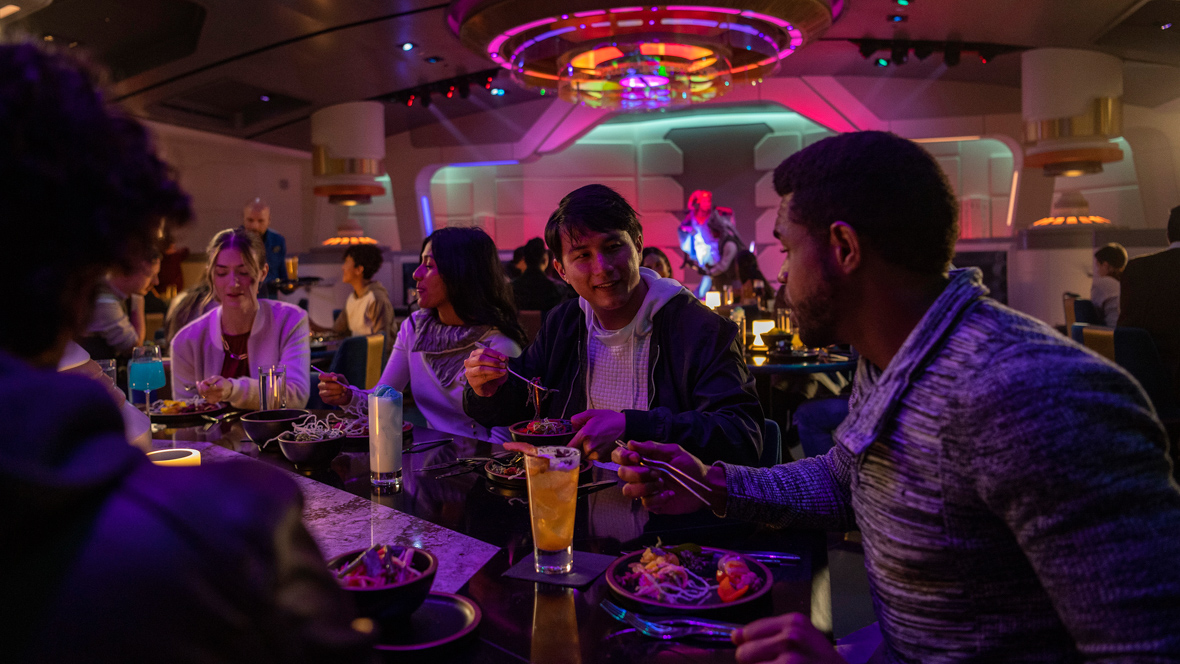 Each meal is served in the Crown of Corellia Dining Room, located on Deck 4. This dynamic and welcoming supper club offers breakfast and lunch buffets during the day, then comes alive each night of the voyage with a lavish multi-course, table-service menu of both otherworldly and familiar origins. "We want it to be a wow," Piasecki says, "so we don't want our guests to know what they are getting into that first night."
And who doesn't love dinner and a show? The first night's dinner features a live performance from Gaya, the Twi'lek musical superstar with a big personality and an even bigger voice. You'll be captivated as she moves throughout the room singing her top songs. (We found ourselves humming her hits throughout the rest of our stay onboard the starcruiser.) The Crown of Corellia transforms with lighting and movement as Gaya is accompanied by Ouannii, the talented Rodian musician, in a show that inspires the entire room to get up and dance. Listen carefully during their set, as you may find that Gaya's dinnertime performance sheds light onto more of the goings-on around the ship; Gaya may have another reason for being aboard the starcruiser...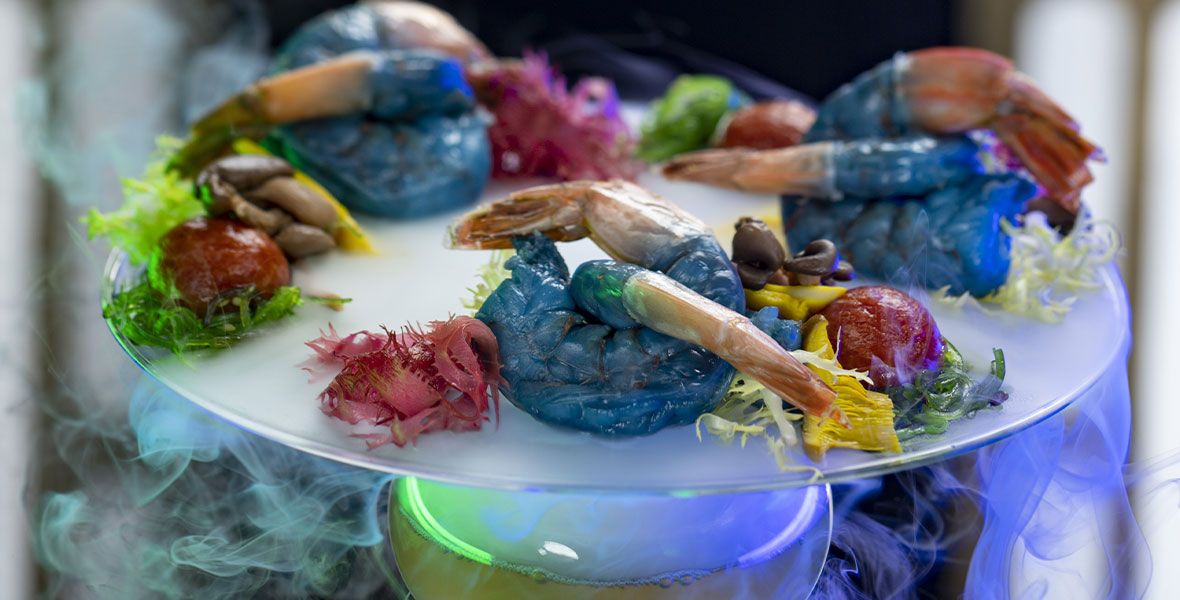 The second night offers the "Taste Around the Galaxy" dinner experience, with each course inspired by a different planet. "Walt Disney Imagineering had this great idea to take every course and design it around a planet, incorporating lighting and music, to really transport you to that planet," Piasecki explains. "It was important to us and important for the story to serve each course family-style, because that allows us to serve everyone quickly so they get the same experience as they're watching the show."
Highlights from the "Taste Around the Galaxy" dinner experience include smoking cheeses and bread, reminiscent of the molten planet Mustafar; blue shrimp from the dense jungles of Felucia; and beef and seafood native to the Wookiee home world of Kashyyyk. "The blue shrimp I'm probably the most proud of, just because of the way it came out and the wow factor that it gives," Piasecki tells D23. "It took us about six months to perfect. It wasn't hard to find the blue color, but we had to find the right shade and the proper penetration of the blue into the meat of the shrimp. We had the vessels specially made—they're individually handblown glass out of Spain—to give us the effect we're looking for. Some of the dishes are very much over the edge and exotic, if you will, and some are a bit more familiar, because you need that balance."
The Sublight Lounge, located just off the ship's Atrium, offers a stylish locale for passengers to socialize and enjoy casual refreshments, including an assortment of ales, signature cocktails, and wines from across the galaxy, as well as complimentary snacks.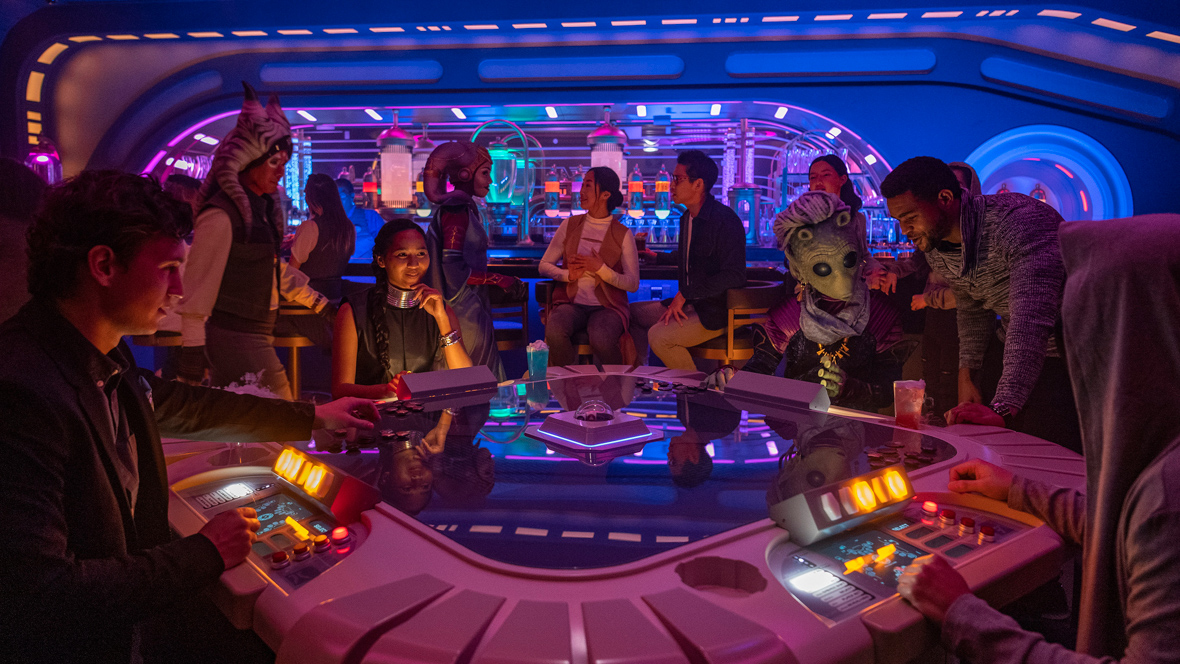 The sophisticated lounge isn't Mos Eisley or Oga's Cantina—it caters to a more upstanding clientele, shall we say. "We decided, 'Hey, let the Cantina be the Cantina," Jenn Mariano, Concept and Development Project Manager, Beverage, says. "We're going to bring an elevation and a different style to our beverages at Sublight Lounge."
Two of our favorite beverages include the Hoth Icebreaker and the Mooja Twist—but we sampled nearly all of them and can confirm that each has a distinct flavor and personality. "Just like anything we do at The Walt Disney Company, we start with story," Mariano says. "The beverage team researched the planets and their inhabitants, and that's how we came up with the base for each drink. When you look at the Hoth Icebreaker, for example, it started off with us thinking, 'The Hoth planet is desolate, and you can't really live on it. How can we make something enticing?' We honor the beauty of the water underneath icebergs and put it into the beverage liquid itself. And even though we're creating an intergalactic beverage, we have to make it something guests will actually enjoy, so it's reminiscent of a lemon drop. We top it with some lemon foam, and then we put a shard of ice on top that comes from the planet Hoth."
You might see Gaya and other characters float in and out of Sublight Lounge. There's also a working holotable for fans of sabacc, one of the galaxy's oldest and most popular card games (although this one is a bit different). Just remember... no cheating!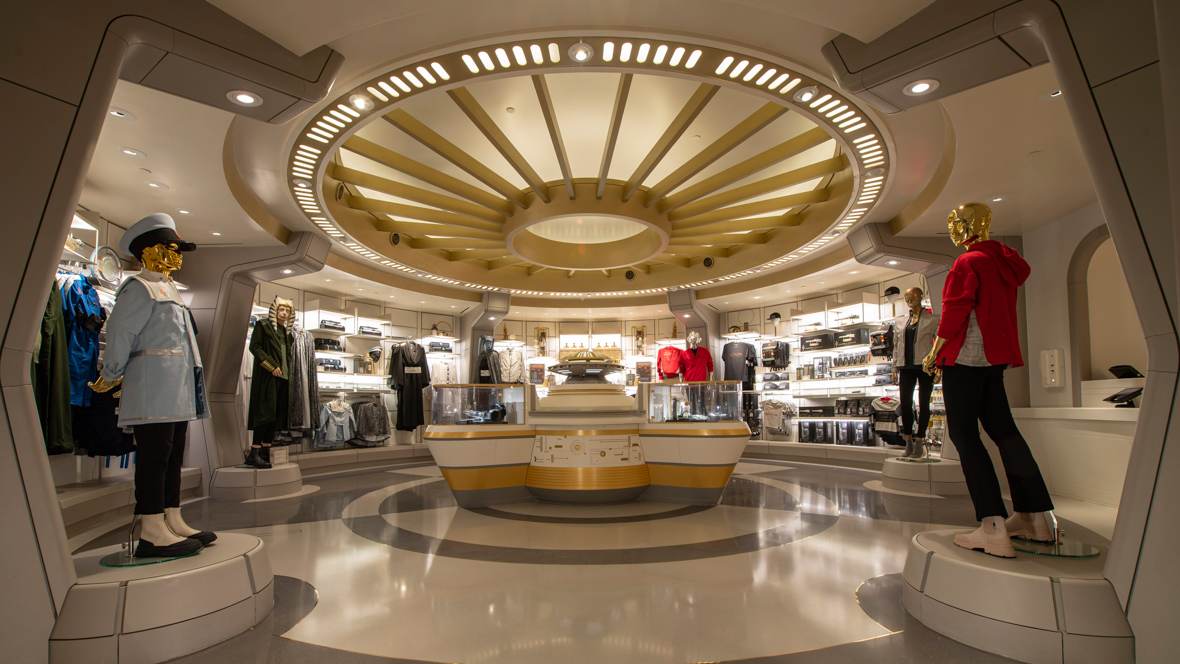 5. DRESS FOR THE ROLE YOU WANT.
An extensive merchandise collection for Star Wars: Galactic Starcruiser enhances the role-play vacation experience, inviting you to further immerse yourself in a galaxy far, far away. The stunning Chandrila Collection boutique offers a wide assortment of apparel and accessories that guests can purchase and wear throughout their voyage.
"For Star Wars, shopping, retail, merchandise—that's all part of the DNA of the franchise," Brad Schoeneberg, VP of Brand Merchandising, says. "That goes back to 1977 and 1978 when Star Wars toys caused a worldwide frenzy. Since then, any time there's a unique Star Wars experience, fans get very excited about the merchandise. For Star Wars: Galactic Starcruiser, it really came down to a few questions: If you're going to have your own experience—if you're going live your own story—what do you want to be? What character do you want to play? Where are you from? How do we enable that through our fashion? We focused heavily on our galactic fashion, thinking about every demo and every member of your family—what they want to be and what types of roles they want to play. We were inspired by all parts of the Star Wars galaxy."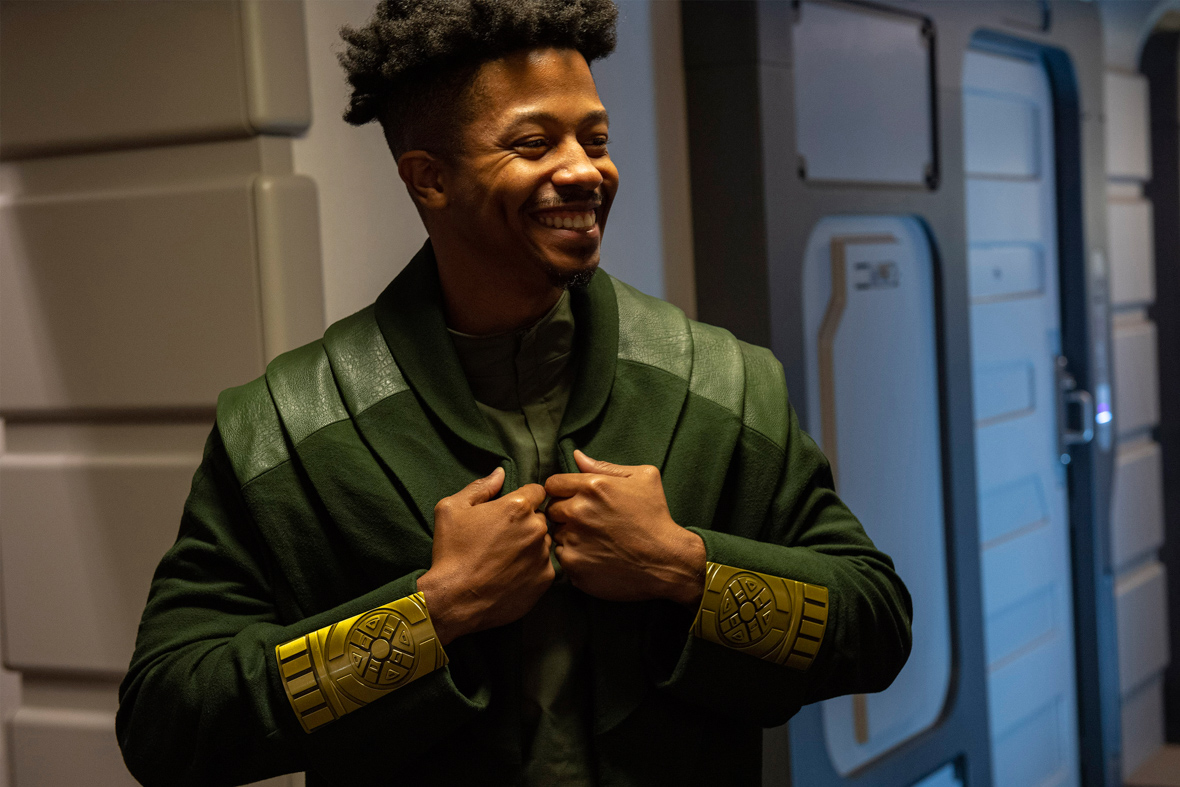 Passengers can dress the part with robes, tunics, and other authentic fashion apparel evoking Star Wars characters such as Padme Amidala, Leia Organa, and Alderaanian officials, among others. (We felt like royalty wearing the Senator Bail Organa Security Aide Jacket and Tunic.) Headwear helps guests transform into an alien species, with Twi'lek "lekku" head tails or the striped, horned montrals of a Togruta. Premium garments and accessories featuring the ship's logo are also available in the boutique.
"When you look at the costumes, the roleplay, you'll see things that were inspired by the films, such as Padme Amidala's cape or Leia Organa's security aide costume," Schoenberg says. "These are all things we took right offscreen." To ensure their authenticity, he says, "We went to the Skywalker Ranch, took the originals out, and matched the shaping and sizing details to reproduce them for the first time for fans."
If you want to style yourself like one of the new characters you'll meet onboard the Halcyon starcruiser, you're in luck. "We saw these costumes coming together and thought, 'Kids are definitely going to roleplay as these new characters,'" Schoeneberg tells D23. "And then there were things we just created, simply because we thought you might need them for the experience. Our little black dress comes from an image we received from the set of Canto Bight, when everyone wore very fancy apparel in the casino. This feels like a different side of Star Wars that we don't normally get to see."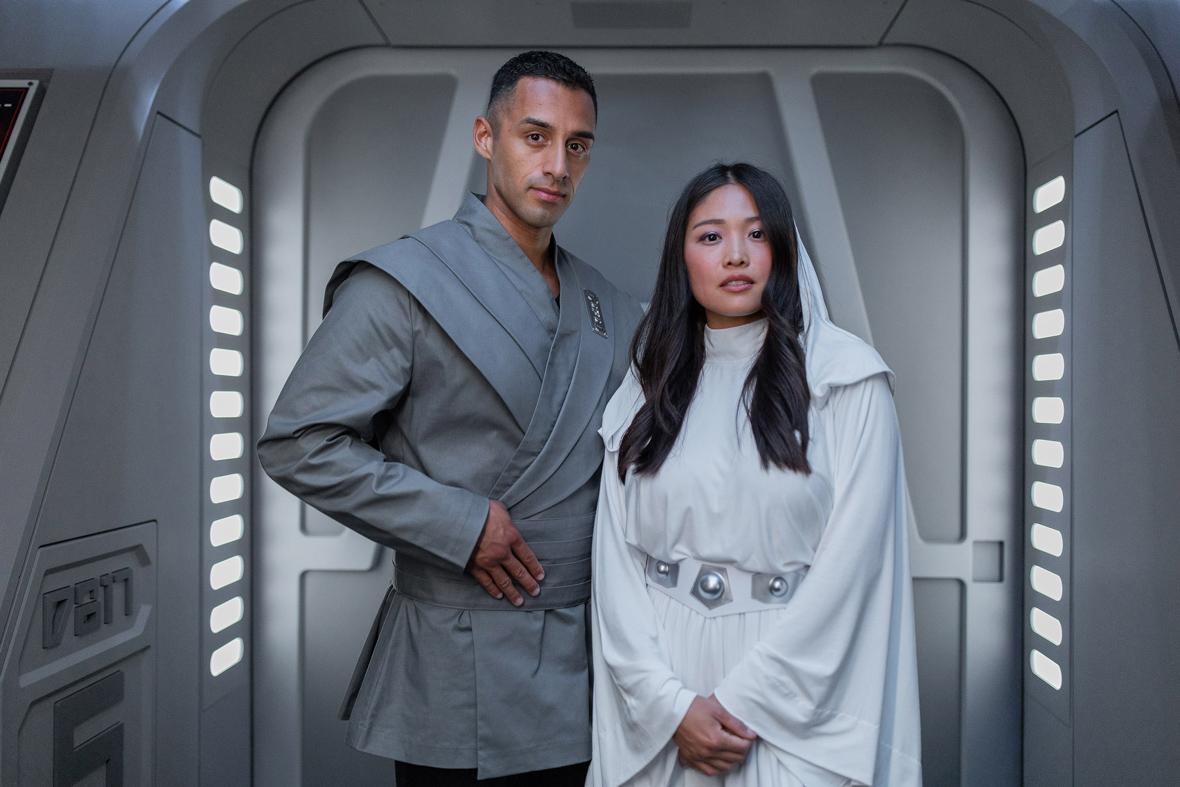 Want to get outfitted before your voyage? Star Wars: Galactic Starcruiser guests are eligible to purchase select merchandise on shopDisney.com up to 60 days prior to their reservation check-in date and up to 30 days after their check-out date. In order to purchase, the email address used to sign into shopDisney must also be linked to your Star Wars: Galactic Starcruiser reservation. Based on current shipping times, it's recommended that guests order at least two weeks prior to leaving for their vacation.
That's not all! Merchandise offerings include a remote-control SK droid, a light-up model of the Halcyon starcruiser, and the Legacy Lightsaber Training Hilt and Legacy Reflective Shield, in addition to commemorative Star Wars: Galactic Starcruiser items.
"If you visited the Sublight Lounge off the Atrium, some of the vessels used inspired some of our drinkware," says Schoeneberg. "There's a home goods collection that is inspired by some of the things you see as you're going through the dining experience. We had a blast with the SK droid coming out as a strong character in the overall storyline, so we reproduced that in a Droid Depot scale, so it's familiar to what we've done at Star Wars: Galaxy's Edge with the droid building. Not only do we have an SK droid in that scale, but we offer SK as a wind-up and a collectible action figure."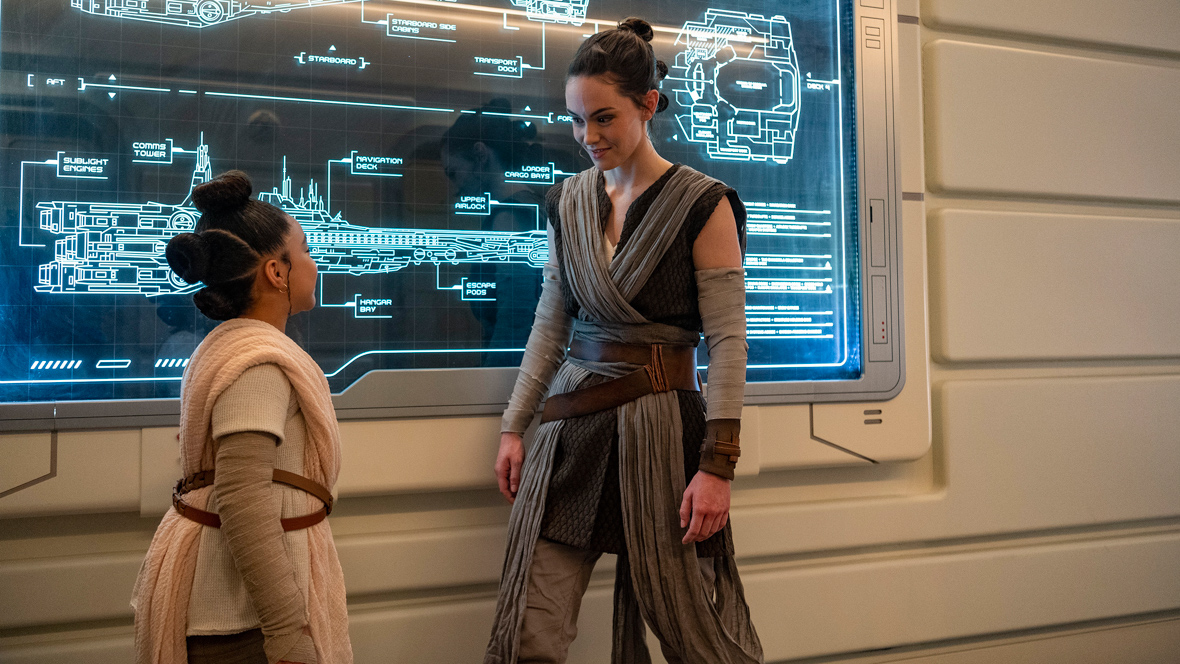 When you embark on your stay onboard the Halcyon starcruiser, will you join the Resistance or will you pledge your allegiance to the First Order? The choice is yours. Learn how to book your Star Wars: Galactic Starcruiser adventure at the link below.
And, as they say aboard the Halcyon starcruiser, "Good journey."
* Message, data and roaming rates may apply. Availability subject to handset limitations and device settings, and features may vary by handset, service provider or otherwise. Coverage and app stores not available everywhere. If you're under 18, get your parents' permission first.
Certain package experiences may be fulfilled by the Play Disney Parks mobile app. In order to obtain the full package experience, each Guest may need to use or wear a MagicBand, have access to a mobile device with a Wi-Fi or mobile carrier data connection with the Play Disney Parks mobile app installed, and be signed into the application with their Disney account. Message and data rates may apply. Availability subject to device limitations and features may vary by device or service provider. Some features may require the Guest (or the Guest's parent or guardian, if applicable) to grant the Play Disney Parks mobile app access to the location of the mobile device, enable Bluetooth on the device, and/or enable/grant other settings/permissions. Data collected during Guests' stay, including through the Play Disney Parks mobile app, may be used to personalize Guest experiences and for other purposes in accordance with our privacy policy.
** Disney uses the recordings to improve D3-O9, and in compliance with laws and our Privacy Policy, which may be found at the footer of The Walt Disney Company's website. You can activate D3-O9 in your cabin by pressing the "Droid Link" button and D3-O9 will deactivate if you press the "Droid Link" button again or on her own after a period of non-use. Guests will also have the option to disable the D3-O9 experience in their cabin.