By Jim Frye
In 1991, Billy Campbell strapped on a rocket pack and launched himself into cinematic history in Walt Disney Pictures' high-flying adventure film The Rocketeer, based on Dave Stevens' comic-book hero. Nearly 25 years later, that fabled rocket pack and art deco-styled helmet return in the brand-new series The Rocketeer, debuting Friday, November 8, on Disney Channel (11 a.m. EDT), Disney Junior (5 p.m. EDT) and DisneyNOW. The series stars Kitana Turnbull (A Series of Unfortunate Events) as Kit, and Billy Campbell and Kathy Najimy as her parents, Dave and Sareena Secord.
Set in the small town of Hughesville, each episode features two 11-minute stories that follow Kit on rocket-powered adventures with her best friend, Tesh, who serves as Ground Control when Kit takes to the skies and is also the inventor of the hi-tech gadgets and upgrades for her rocket pack; and Kit's grandfather, Ambrose Secord, who works at the Hughesville Airport and serves as her mechanic.
Executive Producer Nicole Dubuc grew up loving animation and is a prolific writer and creator, having worked on such series as My Little Pony: Friendship is Magic, Young Justice, Star Wars Rebels, and Star Wars Forces of Destiny, along with Transformers: Rescue Bots Academy, a series she helped create. Here, she tells us how the new series builds on the original movie. "There are a lot of Easter eggs from the original source material," she says. "We had the whole crew watch the movie."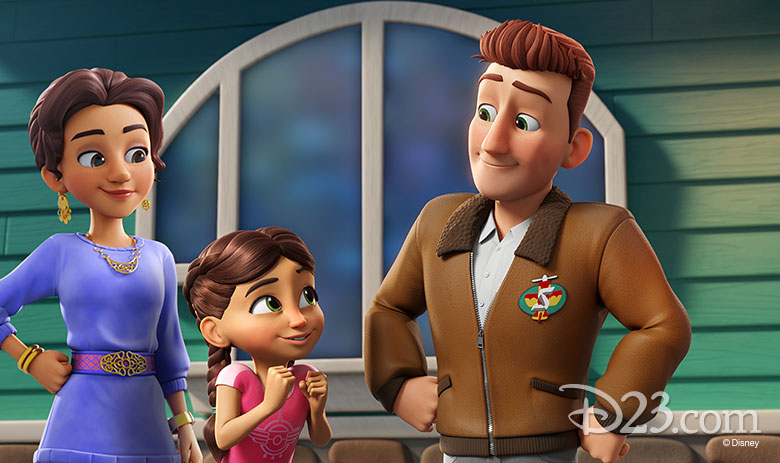 1. THE SECORD FAMILY IS BACK. In the original film, Billy Campbell plays Cliff Secord, the hero who uses the rocket pack to save the day. "It's about how anybody can be a hero if they have the drive to be one," says Dubuc. "We lean into that with Kit Secord, and from that last name you already know she's gonna be part of the Secord family, and that's a tie-in to the original Rocketeer.
2. PEEVY IS BACK! (KINDA). Peevy, played by Alan Arkin, was the mechanic and "grounded" character who gave Cliff good advice in the 1991 film. In the new series, Kit mysteriously inherits the Rocketeer helmet on her birthday, and goes to her grandfather who works at the airfield. "He's kind of like our Peevy [Alan Arkin] character," says Dubuc. "He kind of becomes who Peevy was—he's always giving her good advice, he's fixing up the rocket pack, and he's the one who says, 'Well, whoever brought me this helmet I'm supposed to give this package to,' and it turns out to be the rocket pack." As Kit learns the ropes of becoming a flying superhero, Grandpa Ambrose and best friend Tesh help with her training.
3. THERE'S STILL A TOUCH OF ART DECO. One of the most striking aspects of the film—and of its iconic poster—is its art deco style. According to Dubuc, "We've adopted a style we call 'steam pop.' It's like steam punk, but softened for pre-school. We've gone a little bit with the art deco style. We love the original style and wanted to nod to that in our show."
4. THE ORIGINAL ROCKETEER CREATOR IS HONORED. Although the Rocketeer was designed in classic 1930s-era pulp fiction style, the actual character was created by Dave Stevens and debuted in comic books in 1982. Kit's father in the series, voiced by Billy Campbell, is named Dave, as an homage to Dave Stevens.
5. THE FAMOUS BULLDOG CAFÉ IS OPEN FOR BUSINESS! Another new character who is along for the ride is Kit's loyal bulldog, Butch, which, of course, calls to mind the Bulldog Café, a prominent setting in the original film. Dubuc says, "In keeping with the Bulldog café from the film, we decided that the Secord family owns the restaurant, and that Kit's mom [played by Kathy Namijy] is the chef and owner."