By Christina Pappous, Walt Disney Archives
This film is for mature audiences.
Halloween is creeping up ever closer, and with the eerie flicker of jack-o'-lanterns lighting our way through a stormy evening, we are continuing our journey through some of the most "spooktacular" films from 20th Century Fox. What awaits us now is perhaps the grooviest of decades—the 1970s! We are shivering with antici…pation as we take a closer look at our next film, The Rocky Horror Picture Show (1975).
A creative and colorful musical homage to horror and science fiction films of days gone by, The Rocky Horror Picture Show opens with Brad Majors (Barry Bostwick) declaring his love for the innocent Janet Weiss (Susan Sarandon). Unfortunately for this newly engaged pair, their car breaks down, leaving them stranded on a stormy fall night.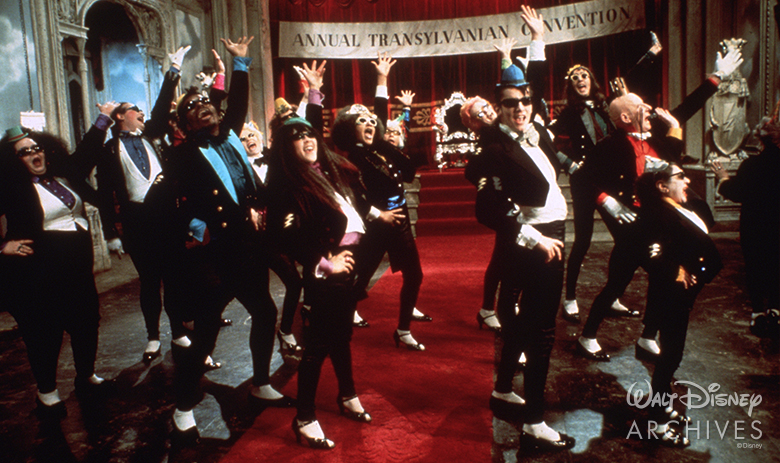 In their quest for shelter, they stumble upon a foreboding castle where the glamourous, eccentric scientist Dr. Frank-N-Furter (Tim Curry) is hosting the "Annual Transylvanian Convention."
The other mysterious and strange guests of the convention include the sinister Riff Raff (Richard O'Brien), his sister Magenta (Patricia Quinn), and Columbia ("Little Nell," aka Nell Campbell).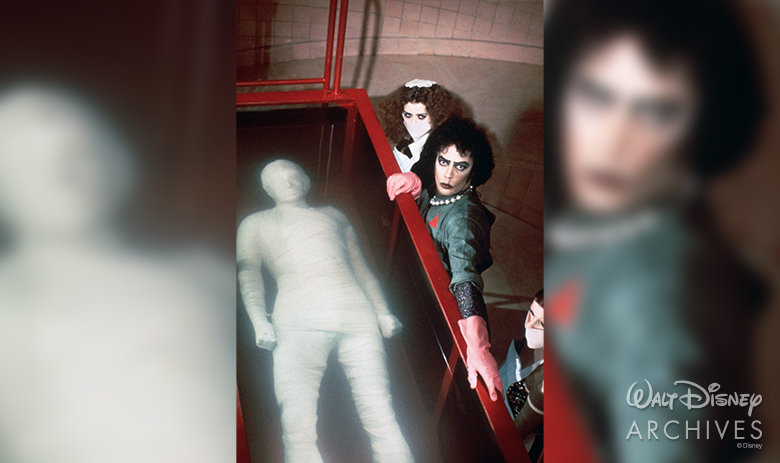 However, in the fine tradition of movie mad scientists, Dr. Frank-N-Furter has built his own monstrous creation: a tall, blond, muscular man he names Rocky.
After awakening, Rocky becomes smitten with Janet—and the resulting chaos and conflict affect all the film's characters in life-altering ways.
The campy drama culminates with the climactic reveal of Riff Raff and Magenta as intergalactic interlopers from a distant planet in the galaxy of Transylvania, taking off in the castle-turned-spaceship.
The Rocky Horror Picture Show began its life in 1973 as an experimental stage production at the Royal Court's Theatre Upstairs in London, eventually moving to King's Road Theatre. The musical, with its book, lyrics, and music written by O'Brien, proved to be a hit with audiences, eventually touring the United States where producer Lou Adler secured the rights to adapt it into a film. O'Brien, Quinn, Campbell, and Curry all reprised their stage roles for the film, with Susan Sarandon and Barry Bostwick joining as new additions to the cast.
The character of Dr. Frank-N-Furter is perhaps the most compelling and iconic of them all, and in the production notes for the film, Curry stated that "[The character] has a very odd kind of appeal… He can go from doing something really outrageous and horrific to being deeply moving." The outlandish and extravagant makeup, designed by Pierre Laroche, and the eclectic, creative costumes, by Sue Blane, worked in tandem to create Dr. Frank-N-Furter's memorable looks. The Rocky Horror Picture Show initially had a limited release, but based on the rising success of late night screenings, 20th Century Fox began screening the film for regular midnight showings. Rocky Horror's popularity exploded due to these presentations—and to this day, midnight showings remain ever present, with audiences dressing up as their favorite characters from this most camp "Science Fiction/Double Feature." If you can, do the "Time Warp" and catch The Rocky Horror Picture Show, streaming on Hulu!