Hoo hoo, big opening blowout!
In anticipation of the official opening of the world's first Frozen-themed land, World of Frozen, guests from around the world attended "A Spectacular Celebration of World of Frozen" on Thursday, November 16, where they were immersed in the kingdom of Arendelle.
The celebration took place in the center of Arendelle, with Oaken and Kristoff kicking off the event alongside the Hong Kong Disneyland Ambassadors. Special guests included Bob Iger, Chief Executive Officer, The Walt Disney Company; Josh D'Amaro, Chairman, Disney Experiences; Jill Estorino, President and Managing Director of Disney Parks International; Michael Moriarty, Managing Director of Hong Kong Disneyland Resort; Alan Bergman, Co-Chairman, Disney Entertainment; and Jennifer Lee, Chief Creative Officer of Walt Disney Animation Studios and Academy Award®-winning writer/director of Frozen and Frozen 2.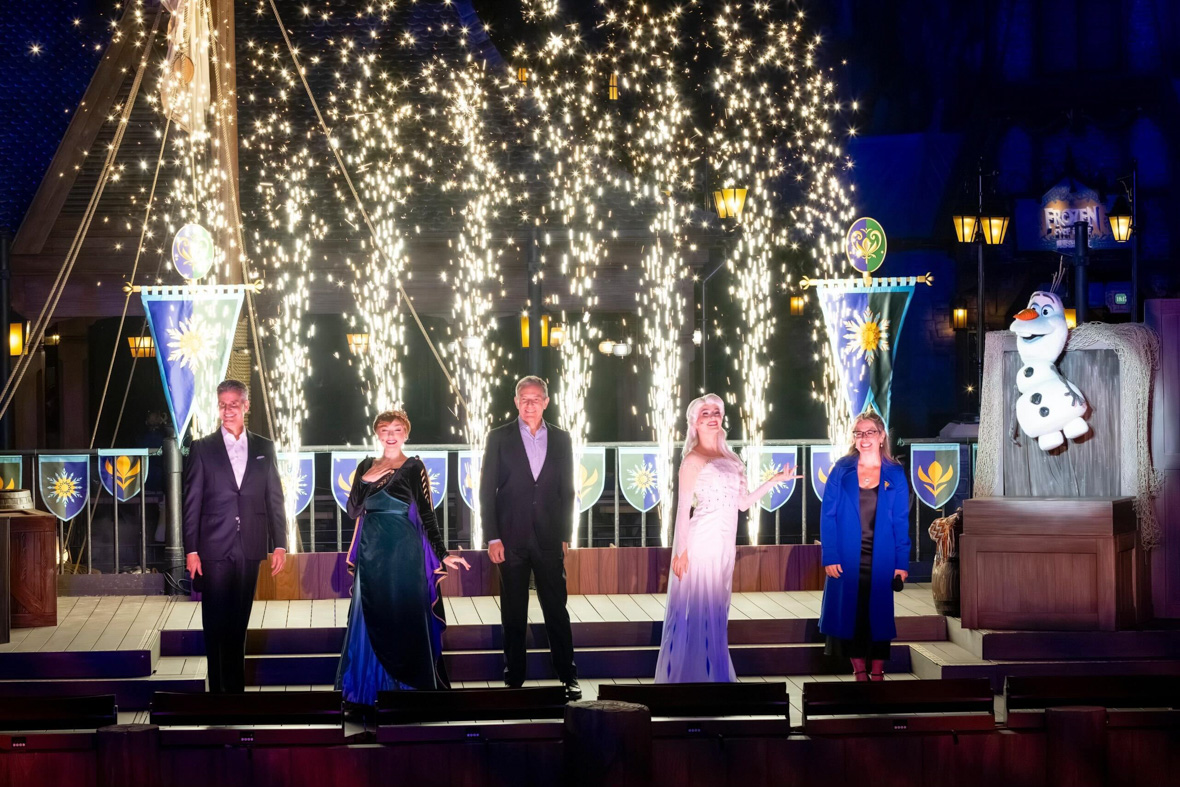 "The Frozen franchise is one of the most successful in Disney history and it's a testament to the power of great storytelling, which is the foundation of The Walt Disney Company," Iger said. "It's been this way for 100 years, and our commitment to storytelling and creativity will continue to define our next 100."
D'Amaro shared his enthusiasm for the immersive experience, saying, "This land is now part of the legacy stretching back to Walt's original dream for Disneyland. World of Frozen transports you to another world, where you can have fun with your loved ones and make some incredible memories together."
"Our Imagineers worked with Jenn's team at Disney Animation to ensure every detail is just right," D'Amaro added. "World of Frozen transports you to another world, where you can have fun with your loved ones and make some incredible memories together."
The key creative force behind the hit Frozen franchise, Lee was delighted to witness World of Frozen come to life firsthand. "We could not have dreamt that one day we would have the opportunity to walk through and truly experience the kingdom of Arendelle as we all are today," she said. "I stand here—representing all of our artists who have worked together to create the Frozen films—inspired and amazed."
The celebration unfolded along the Bay of Arendelle in World of Frozen. The air was filled with anticipation as the Royal Arendellian Troubadours took the stage to perform a beautiful medley of Frozen songs. Joining the celebration, Iger, D'Amaro, and Lee extended a heartfelt welcome to guests. As Elsa cast her Ice Magic, summoning the appearance of Olaf and creating an enchanting atmosphere, Queen Anna proclaimed that the gates of Arendelle are opening, and all guests enjoyed a beautiful evening beneath the stars.
A spectacular lighting show created a climactic, celebratory moment as a fleet of drones ascended into the sky, forming iconic imagery inspired by the beloved Frozen films. These formations mirrored the intricate patterns of Elsa's Ice Magic, painting the sky with awe-inspiring displays, leaving an indelible imprint of wonder for all in attendance.
World of Frozen will open its gates Monday, November 20*, when guests will be fully immersed in this living land and create memories that will last a lifetime. World of Frozen features two attractions, Frozen Ever After and Wandering Oaken's Sliding Sleighs, in addition to dining, shopping, and a first-of-its-kind theatrical experience with Anna and Elsa.
Prior to today's historic grand opening, the incredible cast members at Hong Kong Disneyland had a chance to experience the land. With a total of 11 #DisneyCastLife previews, cast members explored the land, enjoying a boat ride to the North Mountain on Frozen Ever After, traversing through the forest on Wandering Oaken's Sliding Sleighs, and even trying the new eats over at Golden Crocus Inn.
For a complete guide to World of Frozen, visit the Disney Parks Blog.
*World of Frozen will open its gate at 11:30 a.m. on the first day of the opening.