By Francesca Scrimgeour, Walt Disney Archives
The 21st century began on October 1, 1982, at Walt Disney World Resort. Just as Magic Kingdom Park, and all of Walt Disney World Resort, had beforehand, EPCOT Center (now known as EPCOT) opened its gates on October 1. Card Walker, future Disney Legend and then company CEO and Chairman of the Board, best explained the reasoning for this opening phase in his dedication speech for the Universe of Energy on October 4, 1982: "Since we opened October 1, that's our slowest day, our slowest week and month of the year. Of course, we do that by design. It was the same day that we opened Walt Disney World in 1971. The reason is we like to work out all the kinks in our inventions, all the new and innovative rides and systems that have never been tried anywhere else in the world before." Uniquely, EPCOT Center celebrated with a month of dedications with each pavilion and attraction host its own special unveiling celebrations leading up to the EPCOT Center Grand Opening and Dedication Ceremony on October 24, 1982.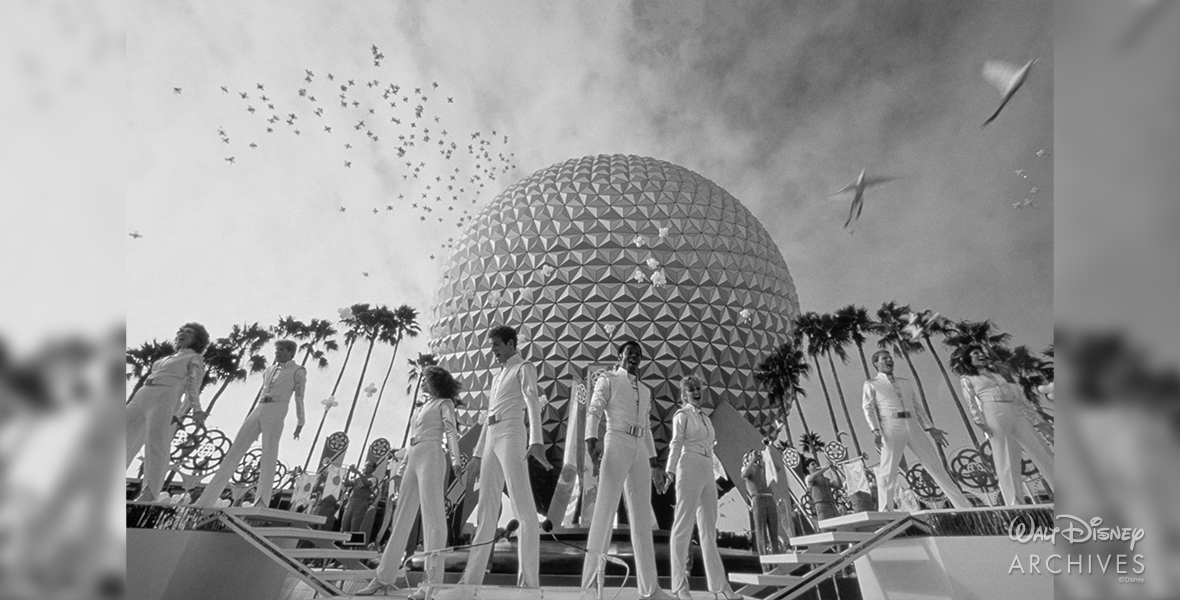 October 1 was not only the first day that EPCOT Center was officially open, but it also doubled as the dedication day for Spaceship Earth. Guests were greeted with dancers, trumpeters, and singers to the song written for the occasion "We've Just Begun to Dream" that later played at many of the dedications throughout the month. To kick-off each of these dedications, Genie Field, the 1982 Walt Disney World Ambassador, was on hand to introduce either Card Walker or Donn Tatum, who were the senior leadership team helping to guide the project, bringing EPCOT Center to life. On October 1, Card Walker started the event by welcoming everyone to EPCOT Center, including Governor Bob Graham, who gave a speech about turning the dream of EPCOT into reality. Card took the time to recognize the magnitude of the entire EPCOT Center project and stated in his speech that, "EPCOT Center represents the culmination of more than 25 million hours of effort by talented artists, designers, engineers, and technicians with hundreds of advisors and thousands of construction workers. All propelled by the power and the force of an idea of one wonderful man, Walt Disney. EPCOT Center celebrates human achievements and innovation born from imagination, it is a showplace dedicated to entertain, we hope, with a purpose. Our goals for EPCOT Center are quite clear, we want to first entertain, then inform and inspire all who come here, and above all to instill in our guests a new sense of belief and pride in mankind's ability to shape a world that offers real hope to people everywhere in the world."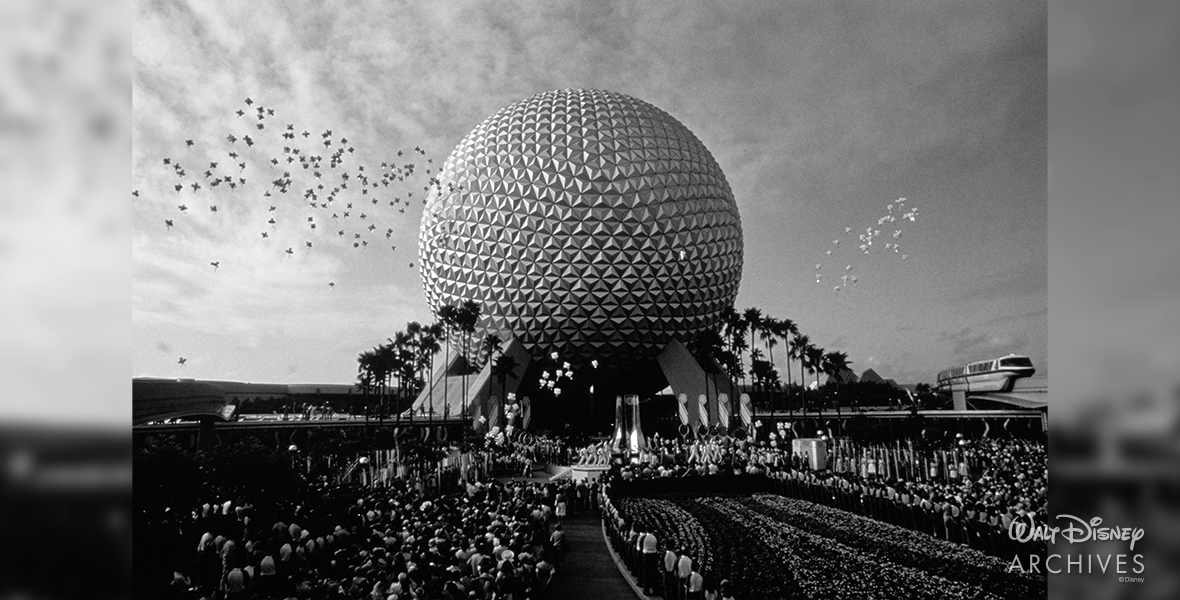 As the symbol of the entire project, Spaceship Earth was the first of the pavilions and showplaces to be dedicated. One of the largest geodesic spheres in the world, Spaceship Earth emulates our globe and the attraction itself is a spectacular time machine through our planet's communication and collective knowledge. Card Walker highlighted the pavilion by saying, "EPCOT Center is a celebration of mankind's ingenuity and innovation and it is clear that communications provide the basis and foundation for all progress. Communications has played a vital role in mankind's survival and that role will increase in importance, in this very exciting information age that's going on right now." The ceremony ended with a reprise of "We've Just Begun to Dream" amidst a flurry of EPCOT Center cast members joining with balloons in hand to release them at the finale along with a flight of doves. It is hard to believe that this was just day one of the celebrations with a whole month of festivities to follow!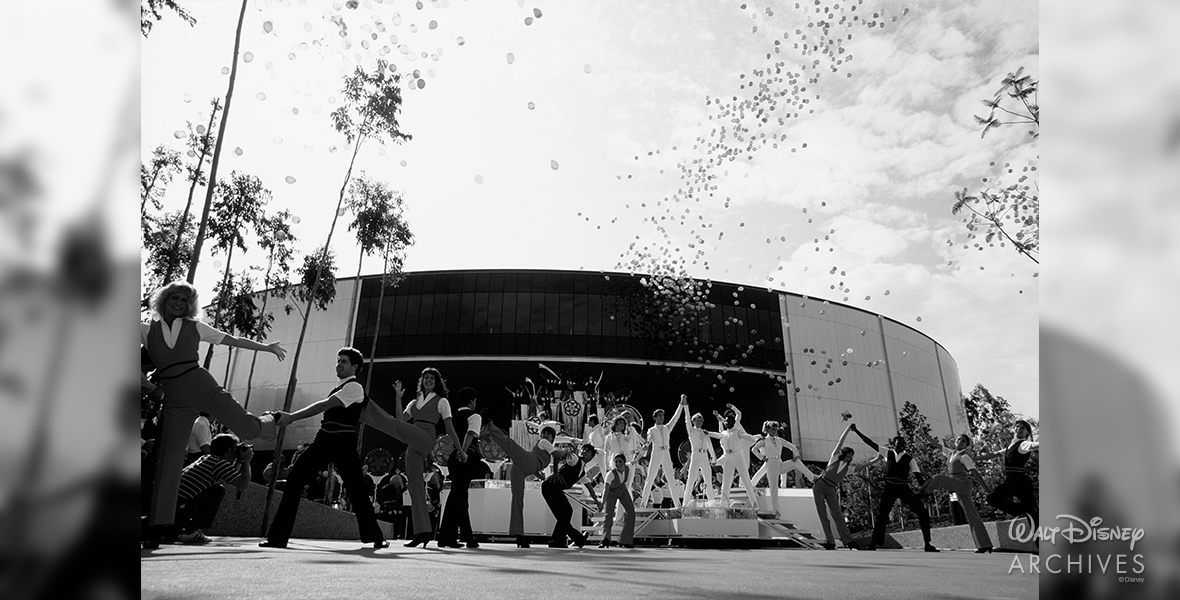 The celebrations continued around the entire theme park. Card Walker dedicated the Universe of Energy on October 4, and the World of Motion on October 5, along with representative sponsors, who expressed their excitement about being involved with this revolutionary project. Not limiting their vision only to what lies ahead, the original Future World pavilions made sure to demonstrate where we were, where we are now, and what the possibilities are for the future. The focus of the entire EPCOT Center project was to interweave entertainment, history, and technology together, and the Universe of Energy was no exception, with Card affirming during the dedication ceremony that "It houses new dimensions in entertainment and the conveying of information where a unique traveling theater is literally propelled by the power of sunshine from a network of solar cells that you can see there from the rooftop."
The World of Motion also echoed the goals of Future World with its historical and sometimes zany narration of transportation leading up to the most innovative concepts in transportation at that time. In his dedication speech for the World of Motion, Card remarked that this showplace "illustrates how mankind's progress through the ages is always been directly related to his freedom of mobility… While it is impressive in size and scope, and for the new dimensions it presents an entertainment with purpose, no structure that could be built would be large enough to adequately symbolize the impact of the automobile on our American society." The Universe of Energy and the World of Motion dedication wrapped up after a word from the sponsors and a choreographed dance to "We've Just Begun to Dream" with cast members adorned with their futuristic white and silver costumes.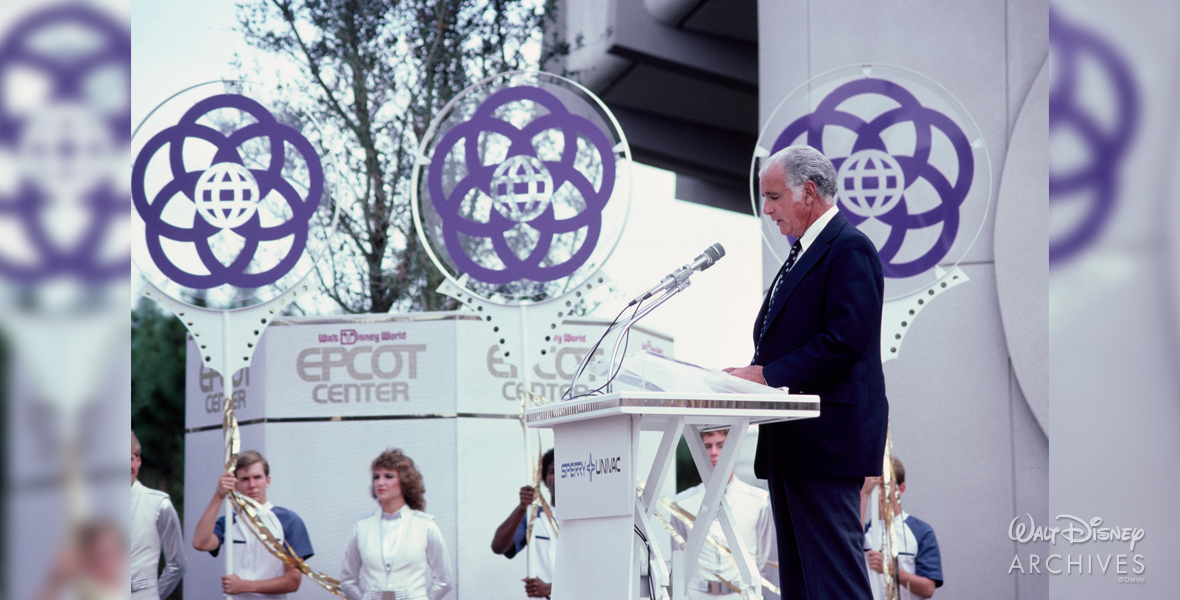 EPCOT Computer Central was dedicated on October 18 as a part of CommuniCore. Short for Community Core, it exhibited the newest technologies like contributing to a computer poll, designing a computerized Utopian community, and guiding a space shuttle back to Earth. EPCOT Computer Central specifically focused on the vitalness and creative power of computers, and Card backed that up in his dedication speech, where he observed that "The computer systems you will see here, in fact, help run a major portion of not only just EPCOT Center, but of all of Walt Disney World." Other exhibits that were featured in CommuniCore were Energy Exchange, Electronic Forum, FutureCom, and TravelPort, with each one representing our collective footsteps into the future and what was just around the corner.
The Land pavilion focused on the future of agriculture, allowing guests to see up-to-the-minute agricultural techniques like hydroponics, intercropping, and aquaculture. The dedication ceremony on October 6 was a thrilling spectacle of country-themed music, captivating dancers, lively banjo players, and a harmonious group of singers. Card captured the feeling of the pavilion best in his dedication speech, where he observed, "Six acres under one roof that symbolizes our precious national treasure. The purpose of this pavilion is to demonstrate, in an entertaining way, how intelligent and constructive use of the land for agriculture will enable mankind to continue the centuries of progress that is our generation's heritage."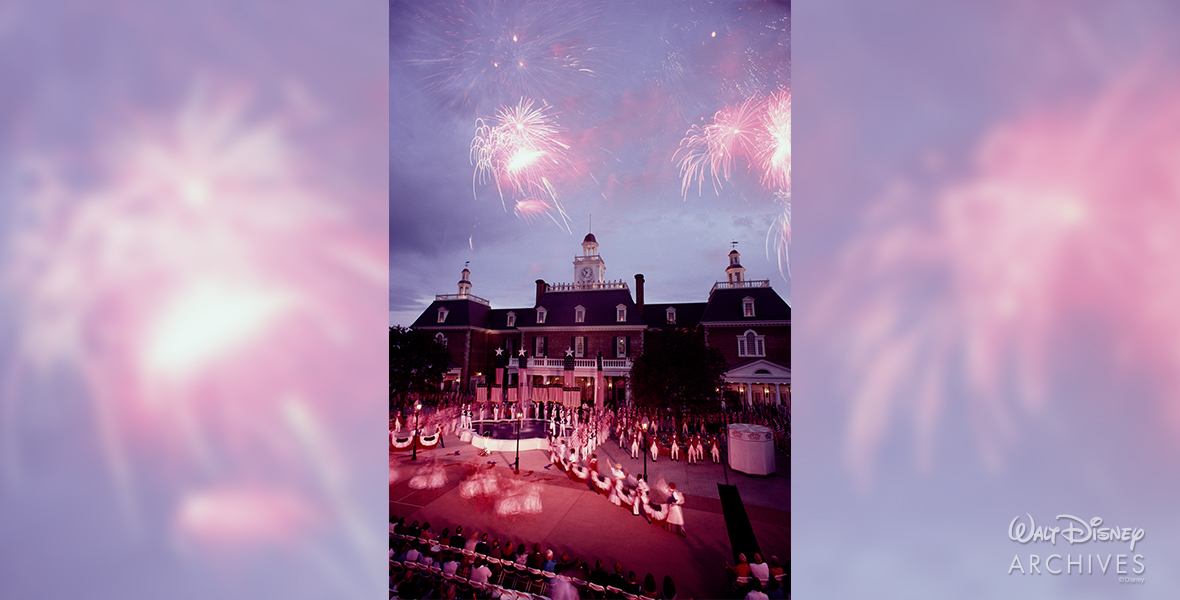 As a permanent community of nations, World Showcase recreated architectural landmarks inspired by their real-world equivalents and brought the culture and diversity of each country's pavilion to life. The countries represented at the opening of EPCOT Center were Canada, the United Kingdom, France, Japan, the United States (The American Adventure), Italy, Germany, China, and Mexico, with each country receiving its own dedication across the month. Donn Tatum, future Disney Legend and senior executive, kicked off the World Showcase dedications with the China pavilion on October 3, which included many representatives from China in attendance. The Wonders of China film was an exciting partnership with the country of China, and Donn remarked that "We felt it was so important to have as part of the World Showcase when we opened a representation of that magnificent and diverse country, that we went ahead, and through extra effort, were able to accomplish it." The next country to be dedicated would be The American Adventure on October 11 as a focal centerpiece for World Showcase at EPCOT Center. As the Georgian mansion stood as the dazzling backdrop, the dedication ceremony included an assortment of patriotic songs and dance with a balloon release and fireworks to welcome the new pavilion. On October 13, Canada would join in the festivities, complete with a musical group of Canadian Mounties, Canadian representatives, magnificent singers and dancers, and even a Siberian Husky.
The next country in line for the dedication ceremony was Italy on October 14, which also had a grand celebration of Italian music and dance along with a dove release and fireworks. During Italy's dedication, Donn reinforced the feeling of a harmonious community in EPCOT Center by stating, "Within this EPCOT Center community, it has been our hope and our vision that in presenting the various nations of the world, we would be able to expose to the millions of people who will come here— the cultures, the traditions, the heritages, the ambitions, and the viewpoints, and the history of these various countries so as to promote hopefully in the world a better understanding among peoples." The next day on October 15, fairy tale inspired Germany was dedicated with polka music, alphorn players, and yodelers. The United Kingdom was next in line for dedication on October 19, which included bagpipe players, a full orchestra with trumpeters, and live singers dressed in historical outfits. Both Japan and France were dedicated on October 20 and featured unique performances for both countries. Japan's dedication was held during the day and was presented with a traditional Shinto ceremony and prayer for the pavilion. Meanwhile, France's dedication was in the evening with a song and dance show set to an array of customary French music and fireworks.
The formal grand opening was held from October 22 through October 24, with an official Future World dedication on October 22, World Showcase on October 23, and the entirety of EPCOT Center on October 24. On October 23, EPCOT Center: The Opening Celebration aired on television and was hosted by Danny Kaye along with other sensational guests, including Drew Barrymore, Roy Clark, Marie Osmond, Eric Sevareid, Alan Shepard, the West Point Glee Club, and the All-American Marching Band. The program followed Danny Kaye in his grand tour of the brand-new EPCOT Center coupled with Kaye learning how the the overall project came to be from the announcement through construction.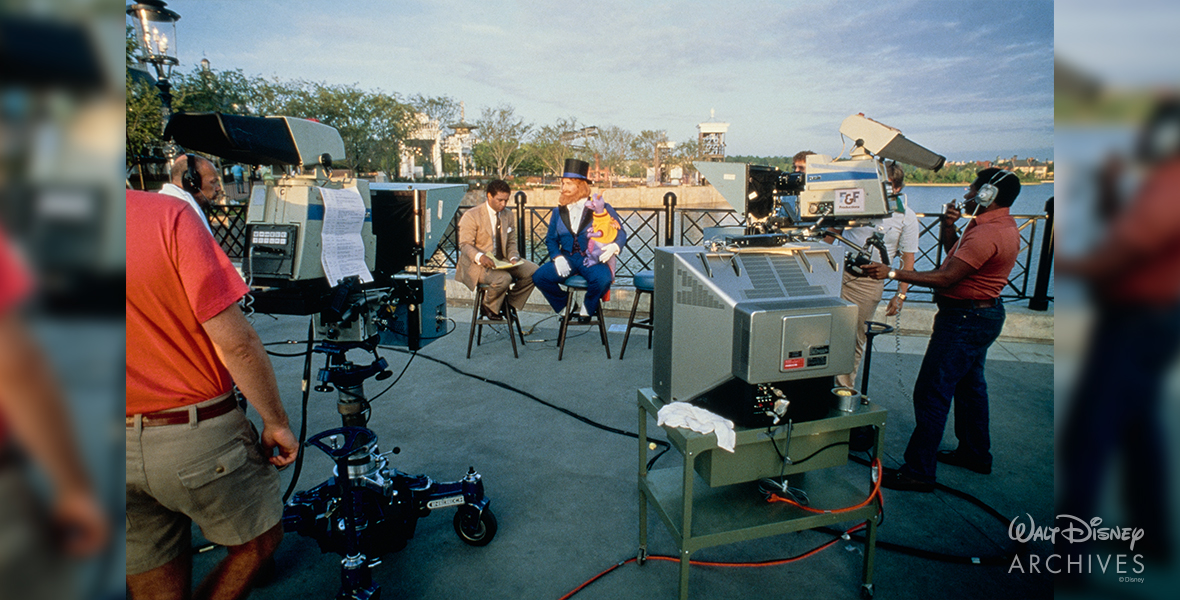 On Sunday, October 24, 1982, the EPCOT Center Grand Opening and Dedication Ceremony commenced at 11 a.m. The West Point Glee Club and the All-American Marching Band performed again along with a precision flyover by the Florida Air National Guard. In addition to these entertaining moments, the International Ceremony of Waters was held as an illustrative moment of friendship and understanding among the countries where a symbolic blending of water from across the globe was poured into the fountain behind Spaceship Earth. With the can-do spirit, The Walt Disney Company (then called Walt Disney Productions) had accomplished what they had set out to do and achieved Walt Disney's vision of an international community, imaginative attractions, and innovative technologies.
During this momentous event, Card Walker revealed the dedication plaque—which might sound a bit familiar from his October 1 opening dedication speech—and read it aloud to the audience: "To all who come to this place of joy, hope and friendship, welcome. EPCOT Center is inspired by Walt Disney's creative genius. Here, human achievements are celebrated through imagination, the wonders of enterprise, and concepts of a future that promises new and exciting benefits for all. May EPCOT Center entertain, inform and inspire. And, above all, may it instill a new sense of belief and pride in man's ability to shape a world that offers hope to people everywhere."