Okay, okay, let's admit it—when we saw Han Solo say, "Chewie, we're home," in the brand-new teaser trailer for Star Wars: The Force Awakens, which was unveiled on Thursday at Star Wars Celebration in Anaheim, we all got a little gooey-eyed and crumbled into our 8-year-old selves, right? Of course we did—Star Wars is back, and it's as amazing as we remember! The teaser is just the beginning of things your inner child can eat up at this four-day annual convention dedicated to everything from a galaxy "far, far away." Here are just some of the things that got our attention on Day One:
Kids and families stopped to take photos with the once-fearsome "life-size" Rancor monster, from Return of the Jedi. Yes, it's just a replica—but a very cool one! They even have a large bone that people can shove into its mouth.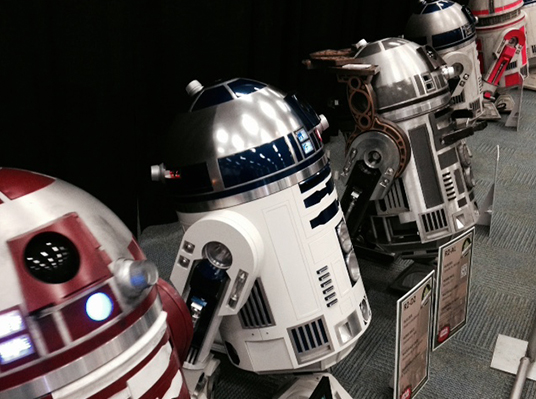 Dozens of R2-D2 droids at the R2-D2 Builders group. In addition to all their R2s (and a few other droids), they built a semi-scale replica of the bottom of the Jawa Sandcrawler from the first film. Great for fan photos! And what's interesting is that J.J. Abrams was so impressed with the work of some of the R2-D2 builders that he hired a couple of them for the film! How's that for turning your fandom into your career?
Hearing J.J. Abrams say to the 5,000 fans in the arena: "Thank you to all of you. This is overwhelming. The first time I saw A New Hope was mind-blowing. I was 11 when it came out, which was a great age to have my mind blown… I never forget that feeling. That moment, it just transported me, it made me believe in another world that way. George Lucas' brilliance had such heart and such hope. It was incredibly powerful—even at 11 years old."
When Abrams said that he wanted to build as many real and practical sets as possible, instead of using only digital landscapes, the thunderous applause nearly shook the roof off the arena.
We even saw Bespin under construction. Sponsored by HASBRO, this booth lets fans help build a diorama of Cloud City (Bespin) from The Empire Strikes Back.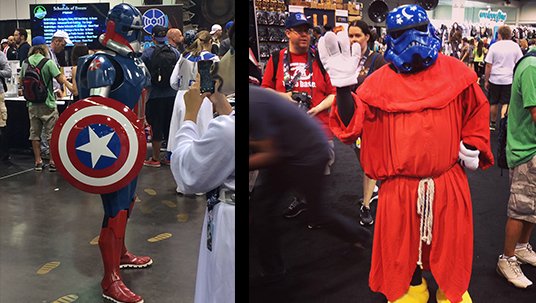 Sooooo much cosplay. For those who are unfamiliar with the term, cosplay is simply dressing up as your favorite character. Here at Celebration, the costumes are taken to the next level, especially the Stormtroopers, the Leias (some with hair buns, some with metal bikinis), and the throngs of Jedi. We even saw one Sorcerer Mickey sporting a blue Stormtrooper helmet in place of his normal pointy hat. And not to mix our franchises too much, but the Captain America Stormtrooper was pretty epic—although Cap would never work for the Emperor!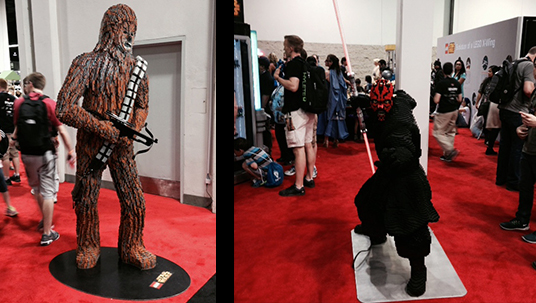 If you like LEGOs, then this is the place for you. In addition to the launch of brand new Star Wars-themed LEGO sets, there are also life-size replicas of Chewbacca, Darth Maul, Boba Fett, and even a full-sized Tie Fighter—all made from LEGOs.
One of the big draws of Celebration is the opportunity to meet, take a photo with, and get an autograph from your favorite stars from the films. Some of the actors on hand include Carrie Fisher (Princess Leia), Mark Hamill (Luke Skywalker), Kenny Baker (R2-D2), and Peter Mayhew (Chewbacca).
In the middle of the convention floor, costumed characters recreated the Mos Eisley Cantina scene, complete with Greedo, the bartender, Hammerhead, and a full-size set fashioned in loving detail to resemble the actual set from the 1977 film. This time, though, Greedo survived… Han wasn't there (to shoot first).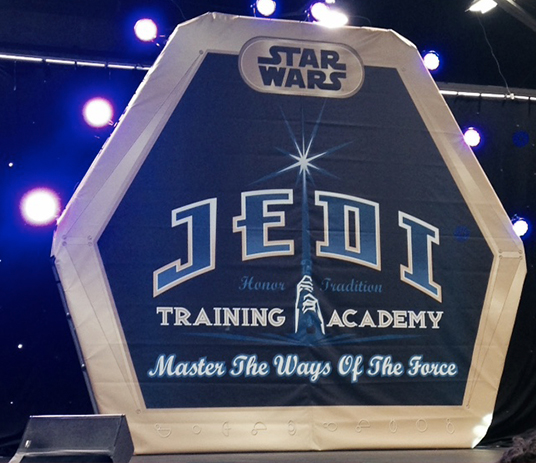 Of course, being that the Celebration is just across the street from The Happiest Place on Earth, it made sense that Disneyland sent over a few of its own Jedi to take the Jedi Training Academy on the road. A mainstay at both Disneyland in Anaheim and at Disney's Hollywood Studios in Orlando, the Academy fit right in at Celebration, training young Padawans in the ways of the Force.
Besides the expansive floor, though, Star Wars Celebration boasts an impressive roster of seminars, such as "Ray Park: The Man, the Sith, the Legend," (he played Darth Maul in Phantom Menace) and "Date With a Princess: Carrie Fisher." Over the course of four days, dozens of seminars give fans the opportunity to plunge into the Star Wars universe deeper than ever before. Yep, it's like kids on Christmas morning: so much to see, so much to unwrap, and so much to enjoy—but such a short time to do it!
You Might Also Like