By Beth Deitchman
Eda, the Owl Lady, was the most powerful witch on the Boiling Isles… or at least she was when we met her at the beginning of The Owl House. Now, as Disney Channel's groundbreaking, Peabody Award-nominated animated series returns for a second season on Saturday, June 12 (10 a.m. EDT/PDT), on Disney Channel and DisneyNOW, Eda has lost most of her magic but none of her humor, determination, or love for self-assured teenage girl Luz and tiny warrior King—her found family.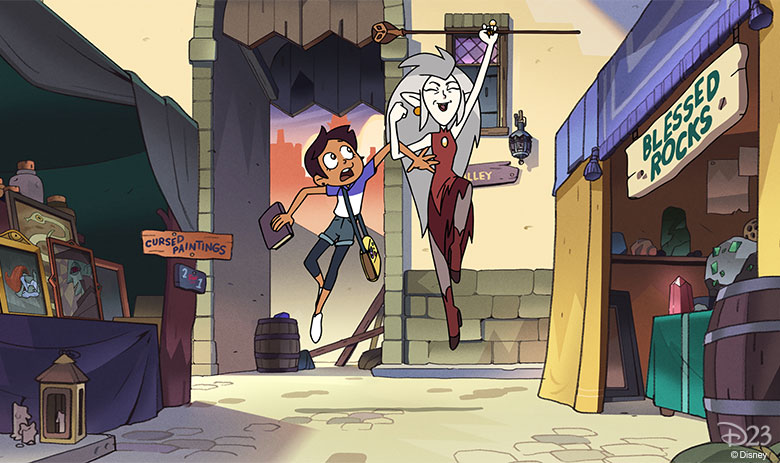 Season one saw Luz magically transported to the Boiling Isles, where she's been pursuing her dream of becoming a witch by serving as Eda's apprentice. In the first season finale, Luz destroyed the portal to the human world in order to stop the evil Emperor Belos from petrifying her friends—including Eda's sister, Lilith. Lilith had cursed Eda many years earlier, a curse that she broke at the end of last season by sharing it with her sister. Now both Lilith and Eda have diminished powers—vastly diminished, in Eda's case—and Luz has no way of returning home to the human world. Watch the exclusive clip below for a glimpse into what life is like in the Boiling Isles for Eda and Luz as the new season begins:
"I think that we now are at a point where everybody is having to sort of reevaluate where they are in this world of the Boiling Isles," Wendie Malick, who voices Eda, tells D23. Without a portal to the human world, Eda can no longer bring back human garbage to the Boiling Isles to sell, so she and Luz are having to learn new skills and take on odd jobs in order to keep food on the table. "Luz is having to really up her game in order to take care of me," Malick says. "I think this is another example of where this show is really helping us see what it is to truly be friends and family to each other, and being called upon to do what seems impossible when you love and care about someone."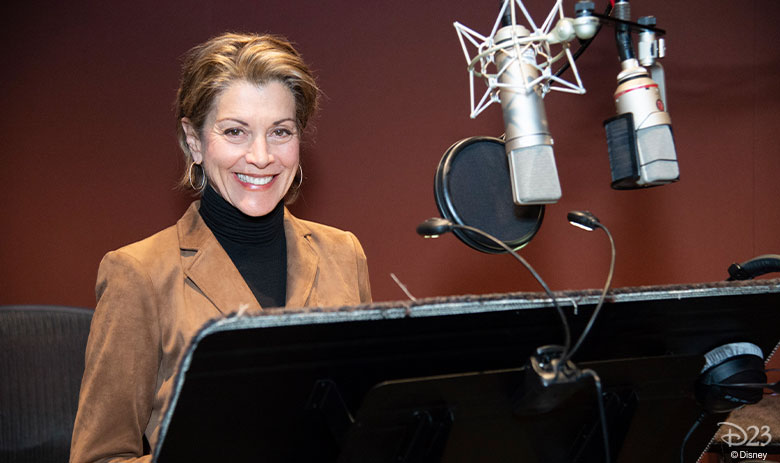 Since day one, Eda and King have accepted Luz for exactly who she is. "That's what we all hope to find in life," Malick shares, noting that, "As we grow older, we choose our families." "Us weirdos have to stick together," Eda proclaims in the first episode of the new season, and Malick has high praise for The Owl House's inclusive themes. "The whole idea of diversity and inclusion in this show is, I think, what really sets it apart from most other kids' shows," she says. "It's a chance for every kid who watches it to be able to relate to someone and not feel like they're freaks or that they're oddballs or misfits. It's a chance for everyone to kind of know that you're OK just the way you are and there are people out there who will get you. Don't worry—you will find them!"
Malick compares these nuanced themes to those found in the fairy tales originally written by Jacob and Wilhelm Grimm, which she points out, "were so scary, but that's kind of how we learned about the dangers that are out there and the magical wonder of the world, and that all of it exists. This show doesn't duck any tough issues."
Though Malick has lent her voice to many animated films and series—including The Emperor's New Groove, for which she voiced Chica—Eda holds a special place in her heart. "The first time I saw the illustration of this character, I thought, she could be me. She just has better hair," Malick laughs, "but she wore the same kind of clothes I wear. She had really good arms. I liked how salty she was, and I can tell that underneath that sort of tough exterior, there's a real squishy woman under there. She just doesn't let too many people see it." The character enables Malick to use "every tool in my box," to show Eda's more tender and vulnerable side, as well as her sass.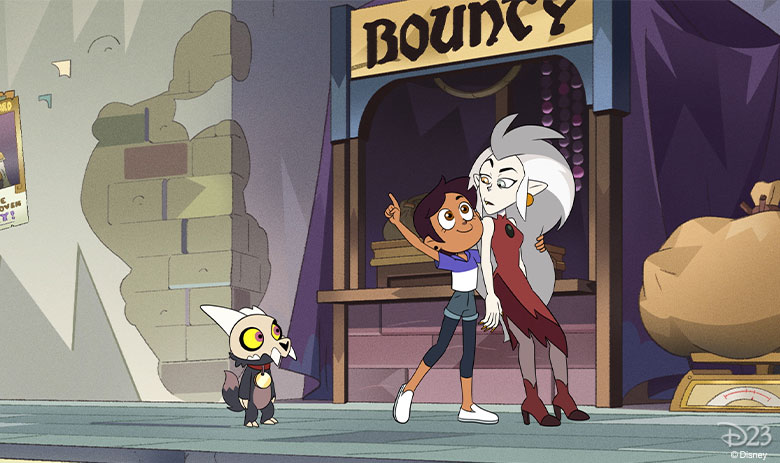 Over the course of the new season, Eda and King will be working to help Luz find a way to return to the human realm—though King has already admitted that he desperately wants her to stay in the Boiling Isles. Malick sees parallels in Luz' journey to Dorothy's in The Wizard of Oz. "[Dorothy] went into this magical world that was so dangerous and scary, and yet she got to grow and be a heroine and meet these amazing friends who helped her on her pilgrimage. I think that's where Luz is with this new family," Malick explains. "King and Eda have empowered her in a way she never dreamed possible, so as much as she misses her mother, it would be really hard for her to leave this place."
And Malick can relate. She remembers the excitement that would accompany a new Disney film when she was growing up, waiting with bated breath for the latest release. "They were just the most beautifully drawn magical worlds to climb into," she says, naming Sleeping Beauty, Snow White and the Seven Dwarfs, and Peter Pan as being among her personal favorites—and revealing that she is named for the latter's beloved heroine. "I love them all. It just made me want to go live in those worlds," she says, "and I would have been like Luz. If I had a chance to go and live in those worlds I probably would have."
Ahead of the season two premiere, Disney Channel ordered a third season of The Owl House that will be comprised of three 44-minute specials. So lucky for Malick—and for us—she won't have to leave the Boiling Isles any time soon!