This Hispanic & Latin American Heritage Month—and really, all year long—we're honoring the unity of the voices, communities, heritage, and traditions across the globe.
To commemorate the occasion this year, we've compiled a watch guide of incredible content from across the worlds of Disney. From brand-new specials from ABC and ABC News, to curated films and episodes from Disney+, National Geographic, and more—you won't want to miss a moment!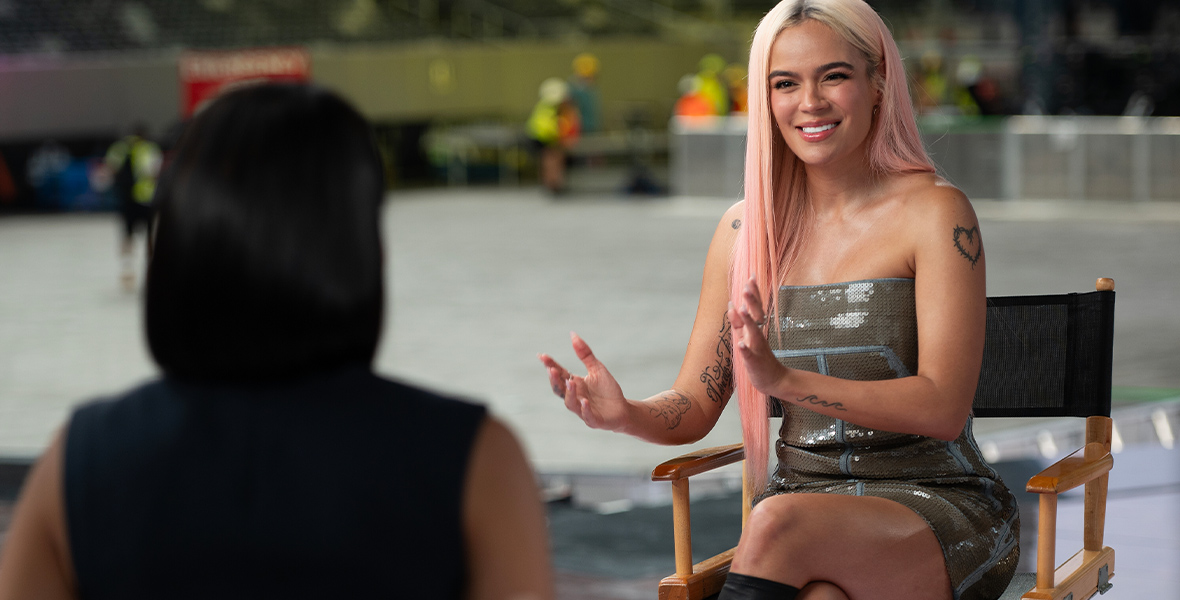 ABC and ABC News
In honor of Hispanic & Latin American Heritage Month, ABC and ABC News will have lots of dedicated coverage across its many programs and platforms…
Look for a new primetime special from the Emmy® Award-winning ABC News Studios series Soul of a Nation. The new one-hour event― "The Latin Music Revolution: A Soul of a Nation Presentation"―will explore the massive popularity of global Latin music and the young stars who are taking the industry by storm with chart-topping songs and record-breaking sales. "The Latin Music Revolution" will examine the roots and evolution of Latin pop music; the stars who are seeing mainstream success, breaking barriers, and creating a space for themselves and their music, including the difficulties of breaking through in the early decades, featuring interviews with Colombian artist Karol G, whose new album debuted at No. 1 on the Billboard 200 this year, making it the first Spanish-language album by a woman to do so; reggaeton and Latin trap artist Nicky Jam; Afro-Colombian singer and rapper Goyo; Mexican Latin pop group RBD; Dominican American Afro-Latina singer Amara "La Negra"; legendary singer Linda Ronstadt; and singer/percussionist Sheila E. and her father Pete Escovedo.
Viewers can tune into Good Morning America, World News Tonight with David Muir, Nightline, GMA3: What You Need to Know, The View, ABC News Live, ABC News Digital, and ABC News Audio all month long for stories highlighting Hispanic and Latin cultures.
Disney+
Performers of Hispanic and Latinx descent are featured all across the Star Wars universe… and so much is available to stream on Disney+—where to begin?
You've positively got to be watching Ahsoka… and if you aren't, there's no time like the present to start! Starring Rosario Dawson as the former Jedi Knight Ahsoka Tano, the series follows along as she investigates an emerging threat to a vulnerable galaxy. New episodes drop weekly through October 3.
On a similar Lucasfilm tip: If you haven't already, take a gander at Andor, starring Diego Luna; in an era filled with danger, deception, and intrigue, Cassian Andor (Luna) will discover the difference he can make in the struggle against the tyrannical Galactic Empire. It's probably not so much a spoiler to say that this sets him on a path that's destined to make him a Rebel hero…
Additionally, look for Ariana Greenblatt in Ahsoka; Pedro Pascal in The Mandolorian; Oscar Isaac in the Skywalker trilogy; Freddie Prinze Jr. as the voice of Kanan in Star Wars Rebels; The Book of Boba Fett, directed and executive produced by Robert Rodriquez; and so much more…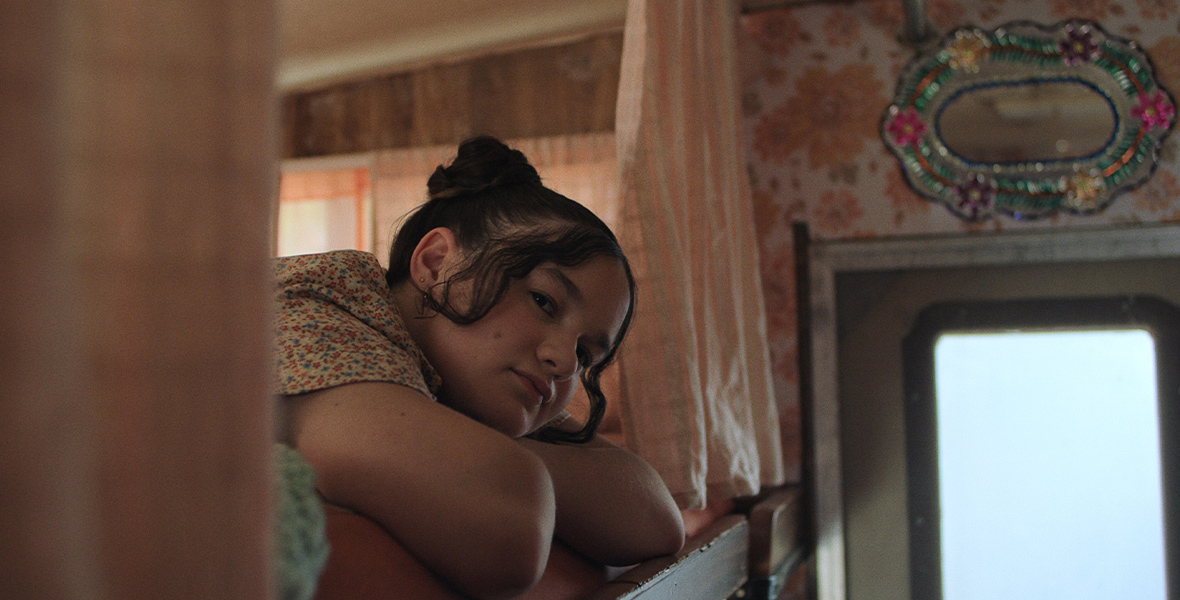 Additionally: Season 2 of Launchpad, a collection of live-action shorts from a new generation of dynamic filmmakers, premieres on the streaming service on September 29. In the episode "Beautiful, FL," directed by Gabriela Ortega and written by Joel Perez and Adrian Ferbeyre, an ice cream competition inspires a teen girl to use a flavor inspired by her late Tia Abuela's Puerto Rican treats—as well as the help of her trailer park neighbors—to figure out the winning recipe. (Read more about Launchpad here!)
A fan of animation? Don't miss the Pixar SparkShort Nona, directed by Louis Gonzales. A grandmother plans to spend her day watching her very favorite TV show—E.W.W. Smashdown Wrestling—until her precocious 5-year-old granddaughter Renee is unexpectedly dropped off. Now, Nona is caught between her two favorite things. Oh, and once you've watched the short, check out A Spark Story, an exclusive documentary film about the making of Nona (and another amazing SparkShort, Twenty Something) featuring interviews with Gonzales and a look at his filmmaking process.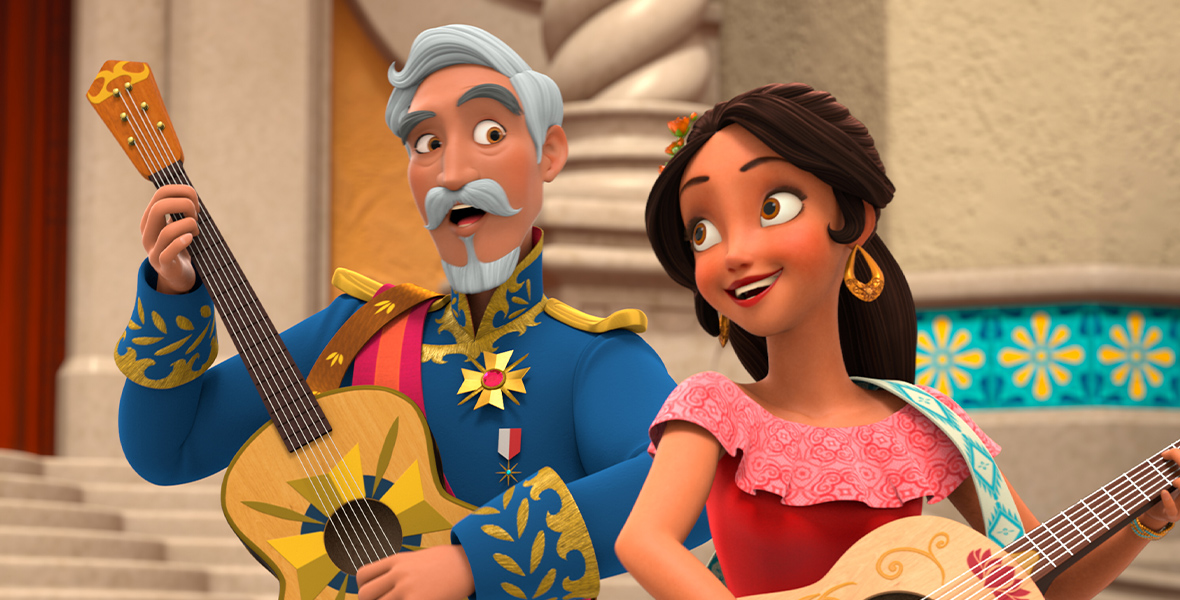 For kids in your life, find all episodes of Disney's Emmy® and Imagen Award-winning Elena of Avalor on the streaming service. Elena (voiced by Aimee Carrero) is a brave and adventurous teenager who has saved her kingdom from an evil sorceress—and must now learn to rule as crown princess until she's old enough to be queen. In the meantime, she is advised by a Grand Council, comprised of her Grandfather Francisco (voiced by Emiliano Díez), Grandmother Luisa (voiced by Julia Vera), and Royal Advisor Duke Esteban (voiced by Christian Lanz). With her sister Princess Isabel (Jenna Ortega) and some magical friends by her side, Elena learns that her new role requires thoughtfulness, resilience, and compassion—the traits of a truly great leader.
Elsewhere on Disney+, have a look at the Walt Disney Animated Studios Oscar®-winning hit Encanto and its related special Encanto at the Hollywood Bowl; Marvel Studios' Moon Knight (starring Oscar Isaac) and Eternals(featuring Salma Hayek Pinault); and so much more.
Discover further incredible programming in the Hispanic & Latin American Stories collection on Disney+.
Disney Channel, Disney Junior, and Disney XD

All month long, the good folks across the networks of Disney Branded Television will air culturally relevant episodes of various animated series—including Hamster & Gretel, Marvel's Moon Girl and Devil Dinosaur, The Proud Family: Louder and Prouder, and Hailey's On It!
Additionally, Disney Junior will premiere two sure-to-be-enthralling Día de los Muertos episodes: In the special episode of Mickey Mouse Funhouse (airing Friday, October 6 at 10 a.m. ET/PT on Disney Channel and 12:05 p.m. ET/PT on Disney Junior), Donald's (voiced by Tony Anselmo) old pal Panchito invites the gang to celebrate Día de los Muertos in Mexico City. Daisy (voiced by Debra Wilson) is worried she may miss her beloved gran-duck who has passed away—but discovers the joy of remembering loved ones. Meanwhile, in an episode of Me & Mickey airing later in October, Mickey Mouse (voiced by Bret Iwan) shares his favorite parts of the Día de los Muertos celebration: sugar skulls, pan de muerto, and an ofrenda for his hamster who passed away.
ESPN+

Explore sensational stories on the streamer through ESPN+Más, which aims to elevate Hispanic athletes, fans, and communities through a celebration of sport and culture.
Freeform

Over on Freeform, look for the Disney and Pixar hit Coco! If you need a refresher: Despite his family's baffling generations-old ban on music, 12-year-old Miguel (voiced by Anthony Gonzalez) dreams of becoming an accomplished musician like his idol, Ernesto de la Cruz (voiced by Benjamin Bratt). Desperate to prove his talent, and following a mysterious chain of events, Miguel finds himself in the stunning colorful Land of the Dead. Along the way, he meets charming trickster Hector (voiced by Gael García Bernal)—and together, they set off on an extraordinary journey to unlock the real story behind Miguel's family history.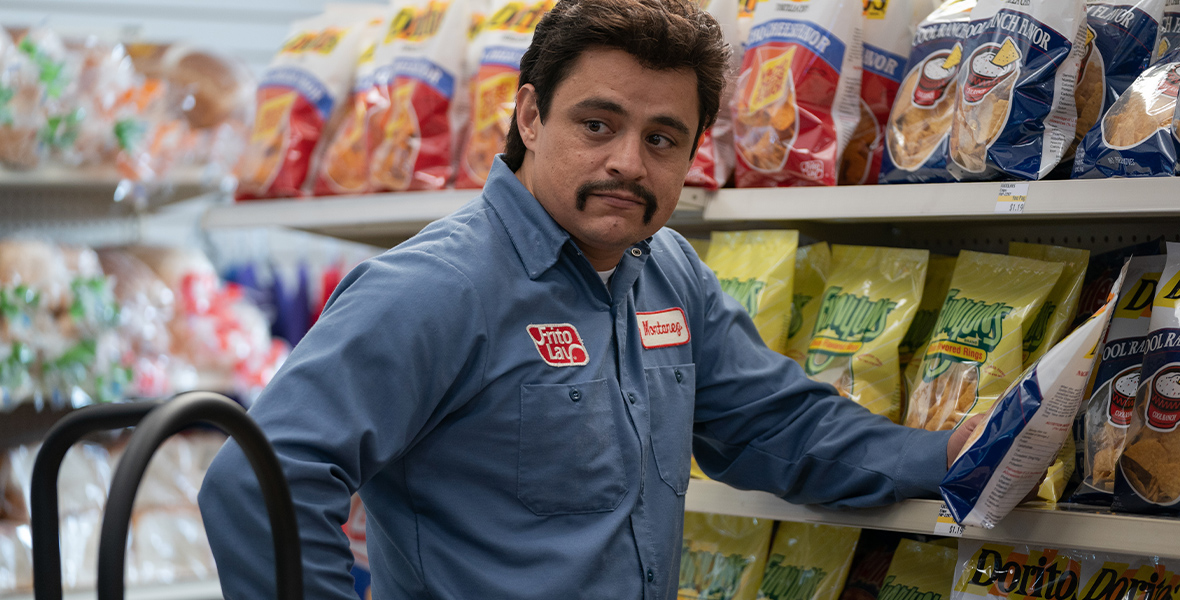 Hulu

Among the more recent offerings on Hulu that highlight Hispanic and Latin cultures are Miguel Wants to Fight. Despite living in a neighborhood where fighting is stitched into the fabric of everyday life, high school junior Miguel (Tyler Dean Flores) has never found himself in one. And, to be honest, he's perfectly fine with that… But when a combination of events turns his life upside down, Miguel and his three best friends—the stoic David (Christian Vunipola), the rowdy Cass (Imani Lewis), and the quick-tongued Srini (Suraj Partha)—enter into a series of hilarious misadventures as he tries to get into his first-ever fight. This new Hulu Original Film is directed by Oz Rodriguez and written by Jason Conception and Shea Serrano.
Plus, check out the Searchlight Pictures and Hulu Original Film Flamin' Hot, directed by Eva Longoria. It's the inspiring story of Richard Montañez (Jesse Garcia), the Frito Lay janitor who channeled his Mexican American heritage and upbringing to turn the iconic Flamin' Hot Cheetos into a snack that disrupted the food industry and became a global pop culture phenomenon. The film also stars Annie Gonzalez, Dennis Haysbert, Emilio Rivera, Tony Shalhoub, Matt Walsh, Pepe Serna, Bobby Soto, Jimmy Gonzales, Brice Gonzalez, Vanessa Martinez, Fabian Alomar, Mario Ponce, and Hunter Jones.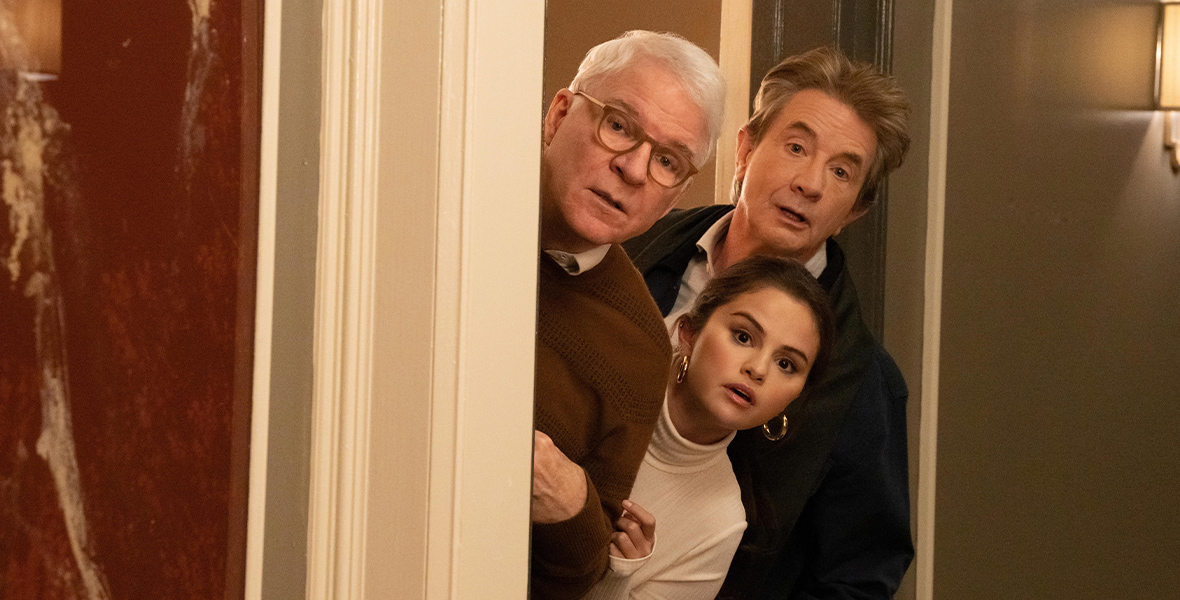 Don't forget new episodes of Only Murders in the Building, Season 3—starring Selena Gomez—are airing now through October 3. This season, our favorite podcasting sleuths (Gomez, Martin Short, and Disney Legend Steve Martin) are investigating a death behind the scenes of a Broadway show… Hollywood action hero Ben Glenroy (Paul Rudd) is the show's big star, making his Broadway debut—which is cut tragically short by his rather untimely demise. Aided by co-star Loretta Durkin (Meryl Streep), the trio embarks on their toughest case yet.
Check out the first season of El Mantequilla: Maestro de la Estafa. In 1982 Mexico, Emiliano Escamilla (Alberto Guerra), a notorious scam artist and impersonator, plans to avenge his mother, who was wrongfully imprisoned for the crimes of his father, "El Mantequilla," the most famous and pursued swindler of the 1950s. Mixing dark comedy, action, and drama, it's a classic story of scams and impossible plans, where nothing is as it seems…
And don't miss the second season of This Fool, which is inspired by star and co-creator Chris Estrada's experience growing up in South Central LA. After Julio's job at "Hugs Not Thugs" blew up at the end of last season, this season, new roommates Julio (Estrada) and Luis (Frankie Quiñones) embark on starting "Mugs Not Thugs" with the help of Minister Payne (Michael Imperioli), Chef Percy (Jamar Neighbors), and other former Huggers. (Recommended for mature audiences.)
National Geographic

If incredible environments and astonishing archeology from Hispanic and Latin countries are more your speed, look no further than National Geographic; they'll be debuting a compilation of Wild Chile—exploring the wildlife found in the furthest corners of the Chilean deserts and hidden forests—on September 15 on Nat Geo WILD, followed by encores of Latin America from Above. Pre-contemporary history encores of Lost Treasures of the Maya, Lost City of Machu Picchu, and Skeletons of the Inca Rebellion will be featured on National Geographic on September 21. Also look for Ancient Worlds Revealed with Albert Lin, Skeletons of the Inca Rebellion, and Gordon Ramsay: Uncharted.