By Michael Louie
As Women's History Month comes to a close, no one will ever forget the iconic world viewers were transported to when the month first began: Westview, New Jersey.
Very few female-led stories have conjured such a magical spell on viewers like Marvel Studios' WandaVision, an Original series now streaming all episodes on Disney+. With an elite ensemble of female characters including Wanda Maximoff (portrayed by Elizabeth Olsen), Agatha Harkness (portrayed by Kathryn Hahn), Monica Rambeau (portrayed by Teyonah Parris) and Darcy Lewis (portrayed by Kat Dennings), WandaVision showed the world just how strong women can be—both mentally and physically.
But creating a show like WandaVision that transcended decades—literally—was no small task. From bringing generational sitcom eras to life and working with an incredibly strong slate of female actresses and behind-the-scenes storytellers, to balancing Super Hero life with life as a working mom, Jac Schaeffer, series creator and head writer, recently sat down with Rebecca Campbell, chairman of Disney's direct-to-consumer platforms, to talk about how she made the Marvel magic come alive.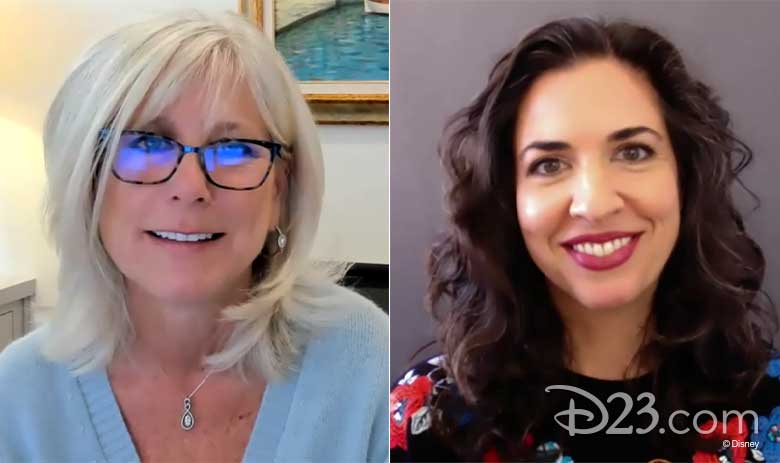 Rebecca Campbell (RC): I'm so excited to be here and chat with you. WandaVision, as you know, has created an amazing buzz. It's such a creative endeavor, and as I watched each episode, it's truly unlike anything I've ever seen before. The genres, the decades, how that all came together—tell us about it.

Jac Schaeffer (JS): It has been the most spectacular creative endeavor of my career. I've worked on big projects before, but this show really seemed to be charmed from the beginning. It was [Marvel Studios president] Kevin Feige's idea—blending Wanda, Vision, and sitcoms and to use it as an exploration of Wanda's story of grief and loss. From my producer Mary Livanos, to the incredible writers room I assembled, to cast and crew and beyond, everybody who worked on this project really showed up with an enormous amount of enthusiasm for the unusual project we were putting together.
RC: WandaVision is the first live sitcom taping in Marvel Studios' history, and it's such an homage to American sitcoms, which I grew up watching. How did you decide which sitcom era you wanted to use, and can you talk about what the live studio audience provided?

JS: Early on, when we were having in-depth conversations in the writers room about sitcoms, in occurred to us that shooting in front of a live studio audience would be such a dream. And at that time, we didn't dare believe it would happen. With Marvel, there's a level of secrecy that's almost like espionage.
But as we got closer and director Matt Shakman came on and was onboard with that idea, we mobilized to do it. It required a Herculean effort to make it happen and keep it safe. But on the day, it was just a party. We encouraged the audience to dress according to the era. My mom was there with her little fascinator hat and her brooch. My dad was there in his three-piece suit. It was so special, and the cast talks about how it was like doing a play where they were bumping into each other behind the scenes. It was such a wonderful way to launch the production.
In terms of the sitcoms that we chose, there's so many incredible television shows through the eras. I've always had a huge amount of respect for television. Our guiding light was very much aspirational family sitcoms. There was what we really zeroed in to make the narrative cohesive.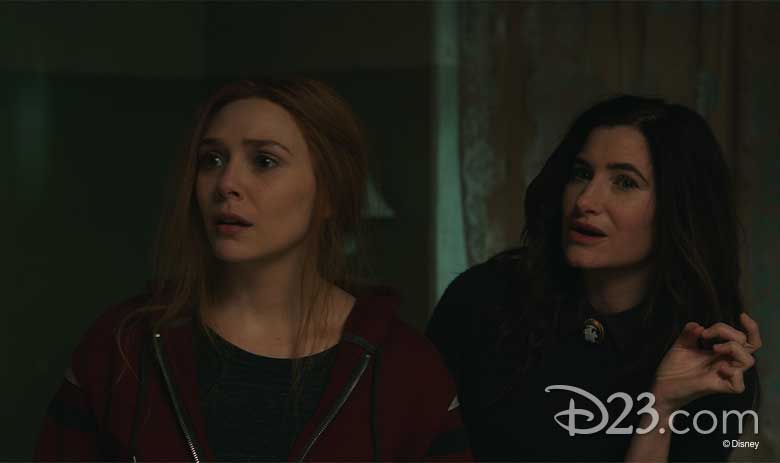 RC: The powerful characters on your show are portrayed by such strong, female actresses. What was it like working with women like Elizabeth Olsen, Kathryn Hahn, Teyonah Parris and Darcy Lewis—just to name a few.

JS: It was an absolute dream. These are women who are incredibly talented and committed to their craft. They have the same agenda that I do—which is to get representations of complex, fully-realized women on screen. They have questions. They want to know. They want to be involved.
Especially with Lizzie and Kathryn, a lot of that storyline was evolving as we were shooting. They had such terrific insight into the complexity of their specific relationship. In the comics, Agatha Harkness is a mentor, nanny, and mother figure. And even though we set her up to be a villainous force in the show, all of those aforementioned qualities are still there, because that's what Lizzie and Kathryn wanted to do. They developed an incredible bond in the process of developing this show.
With Teyonah, she's new to the Marvel Cinematic Universe (MCU). She takes the responsibility very seriously. Her character, Monica, has this deep center of sadness because of what she's gone through in the immediate past of the show. But Teyonah is a bright light. She's such a beautiful person inside and out. So it was great working with her to establish a new character and an origin story inside of the show.
Kat is jut the funniest person ever. It's such a delight to still have her be funny and recognizable as the Darcy we love, but at the same time, it's been eight years and the lady's gotten a degree! She has a PhD and she's a science expert! Working with her was just a dream.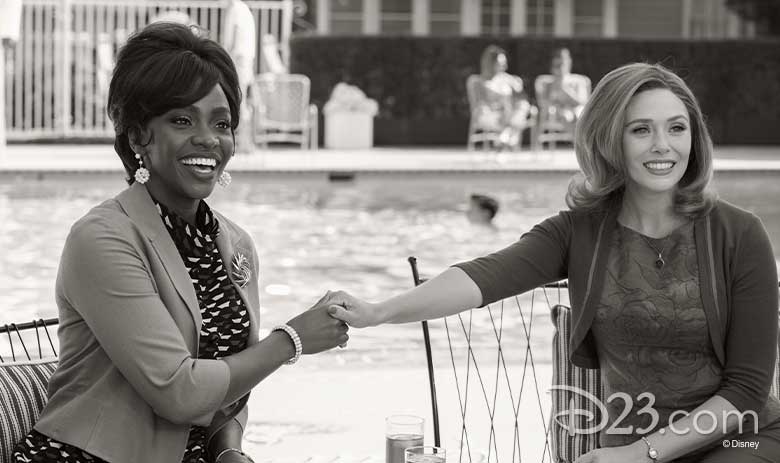 RC: I heard you worked with some incredible women behind the camera as well?

JS: My producer, Mary Livanos, was my very first partner on the show, and partner throughout. She is an extraordinary talent. Creating something can be very frenzied and chaotic, and she had my back through everything. I'm lucky to have done this with her.
In my writers room, there were four female writers: Laura Donney, Mackenzie Dohr, Gretchen Enders, and Megan McDonnell—who is now writing Captain Marvel 2. And then of course, my assistant, Laura Monti, who was instrumental in helping me survive the process and in being a creative sounding board.
And then on the show, there's Tara DeMarco, who does visual effects. I can't even guess what percentage of the show is visual effects and she came at it from this place of realism. She wanted it all to feel real and lived-in. There's also Mayes Rubio, who does wardrobe. Are there any words to describe how special her work is on the show?
And then of course, at the very top is Victoria Alonso, who is everything. She has made my time at Marvel so safe, and I have felt so honored to know her. She is my role model. Victoria shows how you can be authoritative in the workspace and also be a person, talking about family and uplifting other women. She's everything.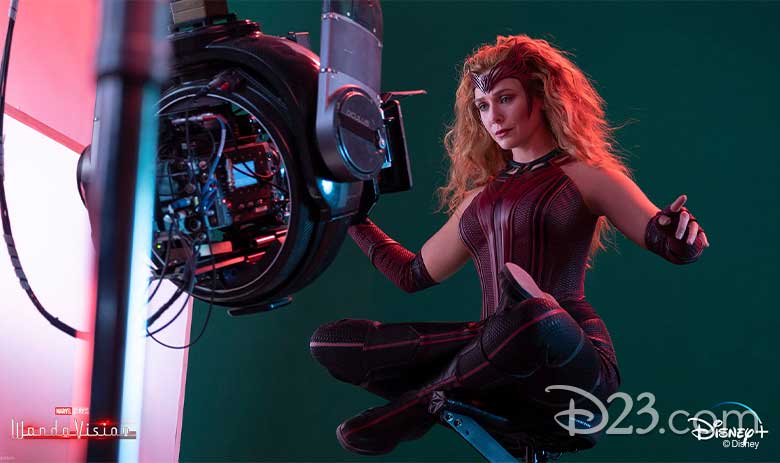 RC: She is everything. I love her too. It's so great to hear that you have such a support system. Throughout the show, not only did we see Wanda's incredible strength and superpowers, but we also saw a lot of emotions and how she dealt with love and grief. And that's something women of all ages go through. How important was it for you to put forth a story where female viewers, particularly young female viewers, could see themselves in real time on screen?

JS: It was vital to have a conversation about emotion and mental health with this show. I hired mostly younger writers because I'm so impressed with how that generation can speak so plainly about mental health issues. They were very motivated to treat Wanda's experience seriously and with care.
My personal world view is that it's all about empathy. Anything can be solved with empathy. So in storytelling, if you can fully tell what's happening inside of a human, you can empathize. And then that opens your world view and softens your anger, resistance, prejudice, and bias.
That was our agenda. The heartbreaking moments in the show are few and far between, but they are so resonant because of all these conversations we had. We felt very tasked with bringing that authenticity to the show.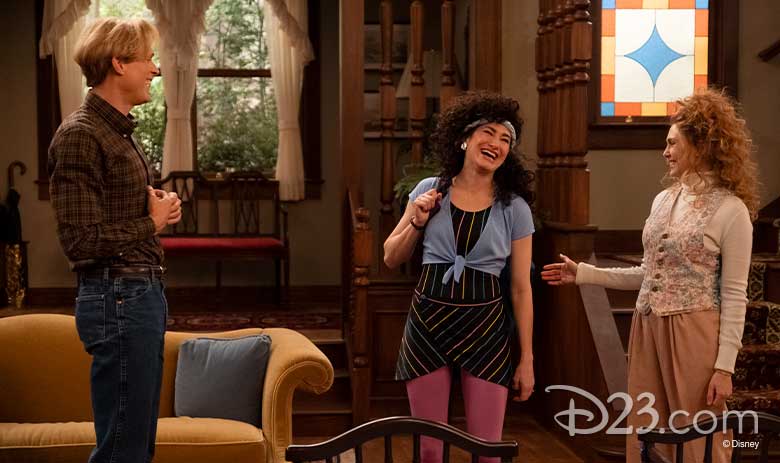 RC: As we think beyond WandaVision, the comic book genre is one that has been very heavily male-dominated. And as that narrative continues to change, due in large part to shows like this, can you talk about the importance of female storytelling in the comic book genre and today's society as a whole?

JS: Female storytellers are needed in all genres. As are storytellers of color. We need all the perspectives.
Specifically in the superhero space, there are so many female superheroes, and historically, those storylines have been written by men, perhaps with a lack of full understanding. I think there are some tropes and clichés that have calcified over the years in the stories of female superheroes with characters like Scarlet Witch and Jean Grey, but lesser with Carol Danvers who's had some fantastic writing for her series.
The hysterical women trope is the idea that if women have an enormous amount of power, they will not be able to control it. What I'm trying to put in the world is the story that a woman can be powerful, but she can also save herself. Or she can have connections with other women or other empathetic characters who can help her through the conflict.
We were not going to have Wanda freak out that she couldn't control it. She was going to solve it.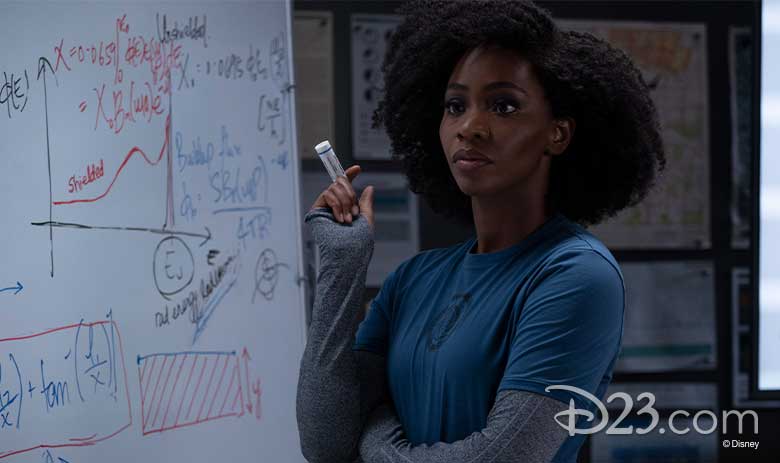 RC: I know we're both moms, and my daughter is a huge Marvel fan. She's really excited that I have this opportunity to talk to you. I often talk to her about using our superpowers, and as a mom, what those are. I'm curious what is your superpower strength as a working mom?

JS: What a question! The thing I'm always trying to do is to be present. The hardest part about being a working mom is the balance of time. Wherever I am, whether I'm at work or with my family, I want to be there for that. And I am not always successful. Often I have a conversation with myself that the story point I'm noodling or the concern I have about shooting has to be set down so I can be with my child. That's the mom superpower I'm always aiming for.
RC: I can't imagine how proud they are going to be of you and all your accomplishments. Just you wait—that's coming your way. On behalf of all of my colleagues at Disney+, I want to say thank you so much for entrusting your fantastic work on our platform. We're thrilled so many people around the globe got to see it.

JS: Thank you for all of your work. I'm delighted to have the show on Disney+!