An impresario of film and television, Garry Marshall created a vast TV world of long-running and interconnected shows that remain on the air to this day. He was also renowned as one of the nicest guys in Hollywood.
Garry Kent Marshall was born in the Bronx on November 13, 1934. He studied journalism before joining the Army, and spent time as a reporter in New York before moving to Los Angeles in 1961. There, he found work writing for a number of hit shows, including The Dick Van Dyke Show and The Lucy Show, but he had his own big break when he produced The Odd Couple for ABC in 1970.
The 1970s were a prolific decade for Garry, as he created many shows and executive produced many more. For ABC, he developed a shared universe of spinoff series beginning with Happy Days and including Laverne & Shirley, Mork & Mindy, and Joanie Loves Chachi. His other ABC sitcoms during these years included Angie, The New Odd Couple, and Blansky's Beauties.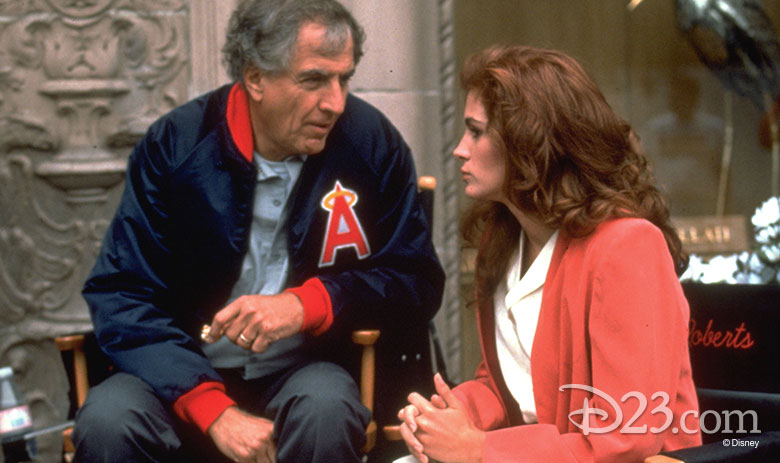 Outside of television, Garry was a successful director, with 18 films to his credit. These included popular romantic comedies such as Runaway Bride and Valentine's Day. At Disney, he made Pretty Woman and The Princess Diaries movies, which elevated the acting careers of both Julia Roberts and Anne Hathaway. He also directed Bette Midler in Beaches and The Lottery, a short film which for years was a fixture of the Backstage Tour at the Disney-MGM Studios Theme Park.
Garry was known for acting as well, appearing in dozens of small roles in film and television. For Disney, he appeared in Race to Witch Mountain and Hocus Pocus, Disney Channel's Liv and Maddie, ABC's Brothers & Sisters, and voiced Buck Cluck in Chicken Little. He could be seen in television's Murphy Brown, in films like A League of Their Own, and he even appeared as a gangster facing off against James Bond in Goldfinger.
A theater lover, Garry wrote plays and directed opera. He founded Burbank's Falcon Theatre in 1997. He also wrote two memoirs, Wake Me When It's Funny: How to Break into Show Business and Stay There and My Happy Days in Hollywood: A Memoir.
Among Garry's many accolades are an American Comedy Award for Lifetime Achievement, the Writers Guild of America's Valentine Davies Award, the David Susskind Television Lifetime Achievement Award, the Producers Guild of America's Honorary Lifetime Membership Award, and the Lifetime Achievement Award in Television. He was also inducted into the Television Hall of Fame in 1997.
Garry passed away on July 19, 2016.