By Courtney Potter
Adventure awaits… so come aboard the newest ship in Disney Cruise Line's fleet and unlock treasures untold! Scheduled to set sail in December 2024, the Disney Treasure will feature both brand-new venues and reimagined fan-favorite spaces, bringing captivating stories from beloved Walt Disney Animation Studios, Pixar and Disney Parks adventures to life like never before. Spaces onboard will invite guests to step into colorful plazas in Mexico; travel below the ocean's surface; and so much more.
From bow to stern, the Disney Treasure—inspired by Walt Disney's own love of exploration, and the sister ship to the Disney Wish—will delight guests with memorable Disney storytelling around every corner as they encounter themed spaces, delicious eats and treats, and live entertainment inspired by terrific tales such as Aladdin, Coco, and Zootopia. If you're anything like us and already packing your bags, you'll be thrilled to learn that Disney Treasurebookings will begin in just a few weeks' time!
"The Disney Treasure will bring brand-new stories to life, blending one-of-a-kind experiences with the extraordinary entertainment, world-class dining, and unparalleled hospitality that make every sailing so memorable," says Sharon Siskie, senior vice president and general manager, Disney Cruise Line. "As we chart a course for adventure, we're so excited for families to discover the excitement and exploration that awaits onboard the sixth ship in the Disney Cruise Line fleet."
But let's not get ahead of ourselves: Like any good adventurer, we've got to follow a map… and in this case, thanks to Disney Cruise Line's rollicking Disney Treasure virtual reveal on Tuesday, September 5, D23 was given a magical chart… err, well, at least a notable peek into what guests can expect from this astonishing ship: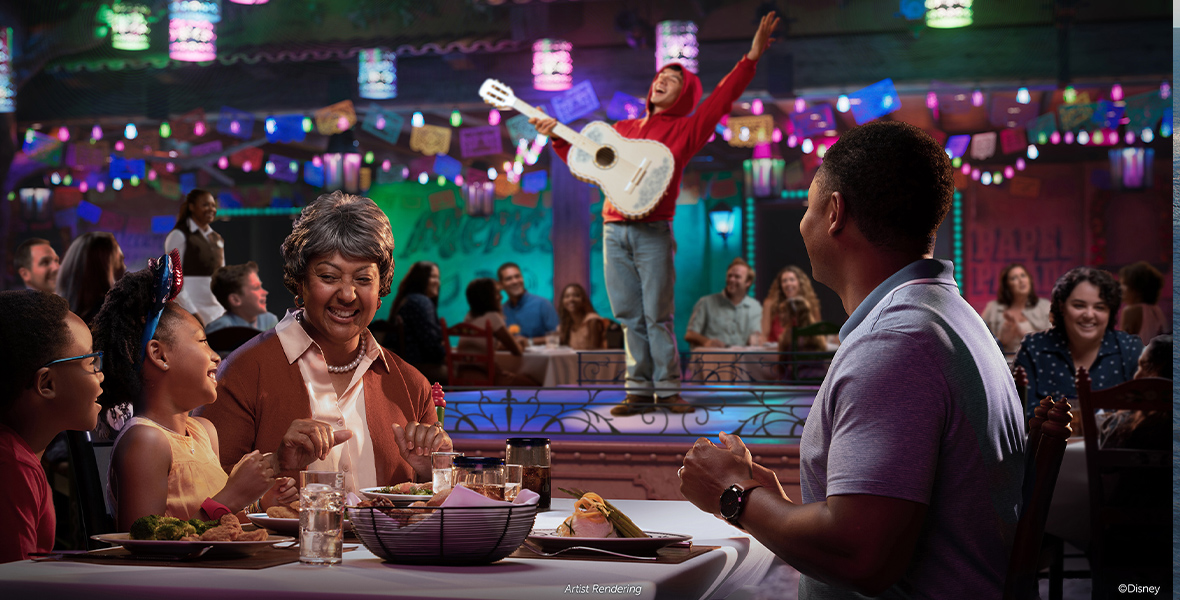 Dining and Entertainment Inspired by the Worlds of Disney and Pixar
Adventures from the colorful, heartfelt worlds of Disney and Pixar will lend inspiration for two venues onboard the Disney Treasure. Plaza de Coco (pictured above) will be the first theatrical dining experience themed to the Disney and Pixar film Coco. This theater-in-the-round entertainment venue will feature dining tables that surround a central stage, with performances and show effects that spread throughout the room.
Guests will enjoy two different nights of unique dining experiences at Plaza de Coco during their voyage. On the first night, the story of Miguel and his familia will continue where it left off onscreen as they gather in Mariachi Plaza to take guests on a colorful, music-filled journey that celebrates family memories and togetherness. On the second night, Miguel will reunite with his great-great grandparents, Hector and Mama Imelda, by transporting them to Santa Cecilia with the help of his magic guitar for a Día de los Muertos celebration. Both nights will feature a dinner menu of modern twists on traditional Mexican fare and a lineup of live entertainment.
Additionally, Jumbeaux's Sweets will be reminiscent of Jumbeaux Café, the adorable ice cream parlor from the bustling mammal metropolis featured in Walt Disney Animation Studios' Zootopia. Surrounded by playful pink interiors, Victorian-style architecture and an endearing sculpture of Officer Judy Hopps and Nick Wilde, guests will be served humor and heart by the cone full. From bunnies and elephants to sloths and foxes, all are welcome to indulge in more than 35 flavors of handmade gelato, ice cream and sorbets, along with specialty treats, candies, and more.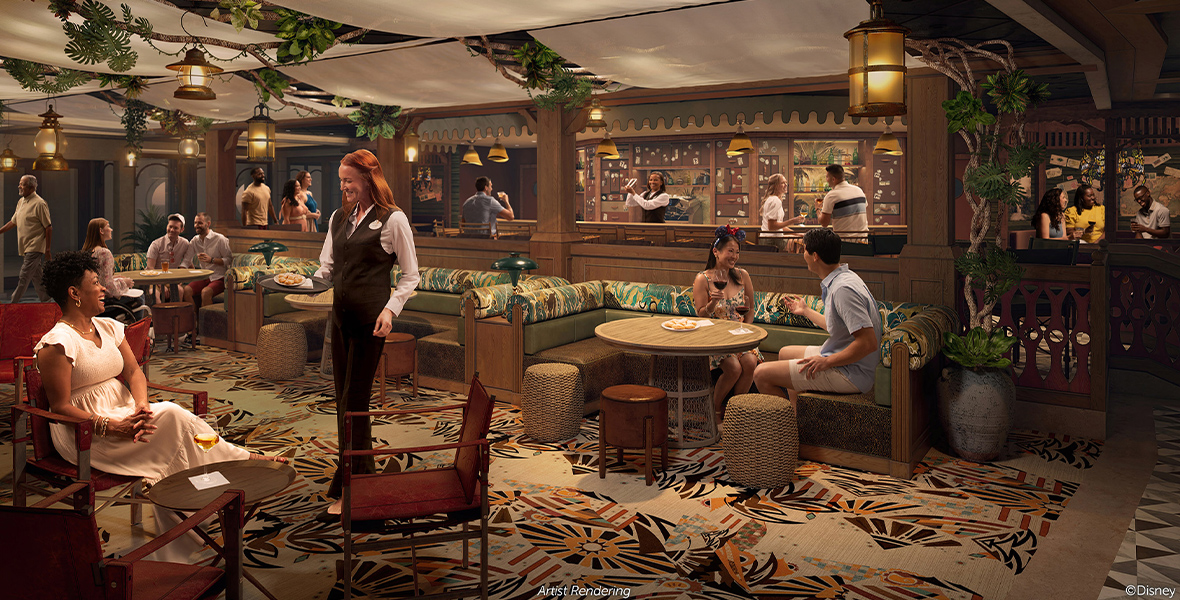 Travel the High Seas with Disney Parks
For the first time, the nostalgia and lore from several beloved theme park attractions will come to Disney Cruise Line, with a unique lineup of Disney Parks-inspired venues aboard the Disney Treasure.
Skipper Society (pictured above), a themed lounge near the Grand Hall, will bring the iconic Jungle Cruise attraction to the sea; the venue's natural colorways and camp-style furnishings, paired with sly tributes to those trusty, dry-witted skippers we know and love, will offer an elevated, playful atmosphere. Guests will discover references to the famous attraction throughout the space—from a whimsical monkey-shaped chandelier to postcards and luggage tags brought back from travels abroad. Beneath a canopy of jungle foliage, guests will indulge in themed cocktails and light snacks and enjoy live entertainment.
Periscope Pub will become Disney Cruise Line's first venue inspired by the spellbinding exploits from Disney's 1954 film 20,000 Leagues Under the Sea, and the Walt Disney World attraction that delighted guests from 1971 to 1994. The design of the submarine-style interiors will call upon 19th century steampunk influences with polished metals and industrial touches. A mysterious window into the depths of the uncharted oceans along the ceiling will make guests feel like Captain Nemo on the Nautilus, while a decorative statement rug in the center of the space will honor Captain Nemo's fabled nemesis, the giant squid! This casual venue will be the ideal onboard locale for guests to unwind and watch live sports and news, while ordering from a menu of craft brews and light bites.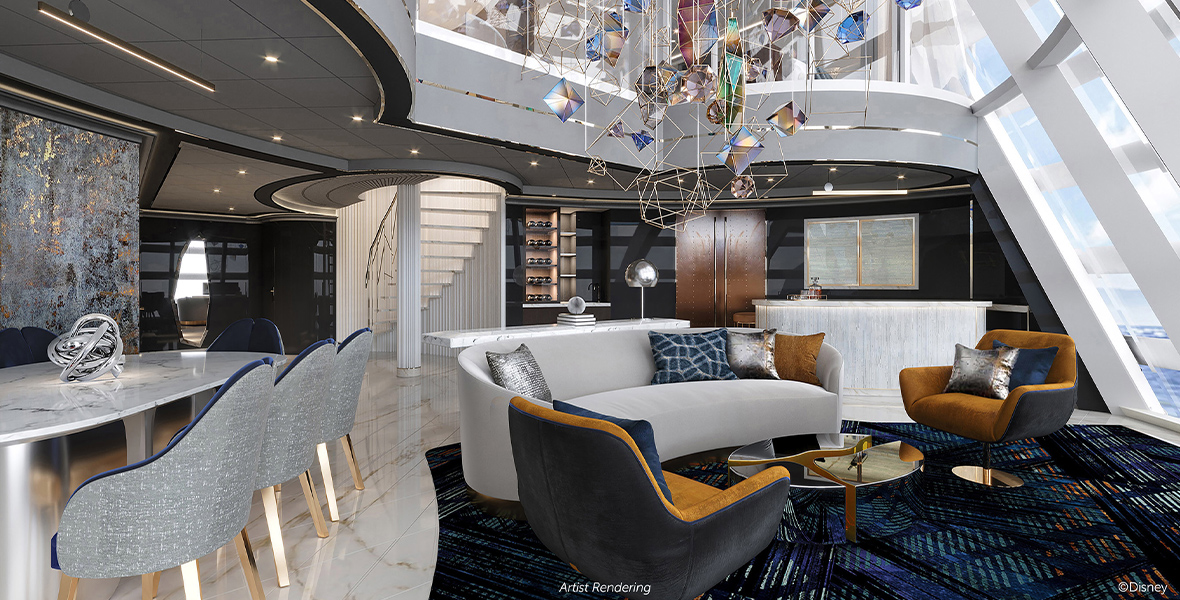 Fantastical Accommodations
Embracing the adventures of the future, the Tomorrow Tower Suite (pictured above) will capture the same forward-thinking mindset that inspired EPCOT at Walt Disney World Resort. Throughout the suite, dynamic art pieces, molten metal accents, and futuristic, colorful glass accents will evoke the distinct atmosphere of EPCOT's World Discovery neighborhood. Set high in the ship's forward funnel, this one-of-a-kind suite will overlook the top deck of the Disney Treasure and glimpse the open horizon through an expansive two-story window. With nearly 2,000 square feet of living space, the Tomorrow Tower Suite will comfortably sleep eight guests and feature areas for eating, sleeping, and playing—as well as other perks like a full kitchen and private ensuite elevator.
The other artful accommodations aboard the Disney Treasure will, of course, be inspired by classic Disney tales of adventure. The 1,240-plus staterooms onboard will feature custom artwork and design elements that evoke the exploratory spirit of beloved Walt Disney Animation Studios and Disney and Pixar films including Aladdin, Pocahontas, Up, and Encanto, while the concierge and royal suites will bring to life the incredible character journeys—and a few cherished feline sidekicks—from The Lion King, The Jungle Book, and more.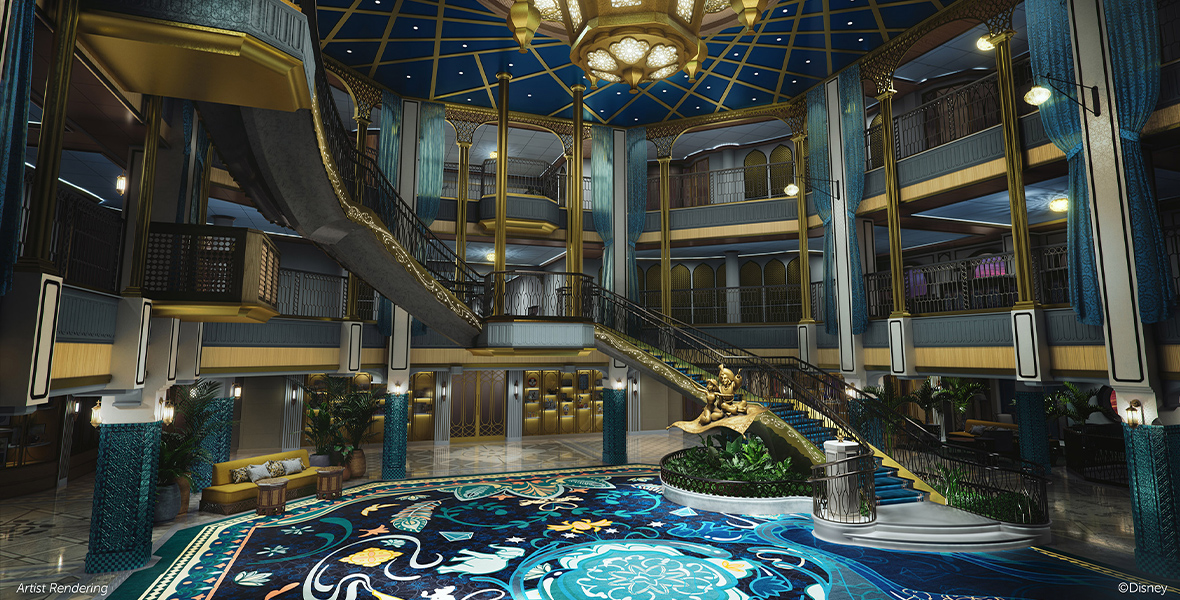 Classic Adventures in Familiar Spaces
As with every Disney Cruise Line Ship, the Grand Hall, above, will embody the ship's theme—in this case, evoking adventure—with statues and decor that call on the gilded palace and wonder of Agrabah from the Walt Disney Animation Studios classic Aladdin. The space will serve as the ship's most prominent gathering space and will offer its own dedicated entertainment moments and surprises.
Just off the Grand Hall, two casual walk-up cafés will serve a selection of coffee, tea, specialty beverages, and snacks, with new themes that draw inspiration from two beloved Disney Princesses: Moana and Mulan. Heihei Café, named for Moana's hilarious sidekick, will echo the scalloped seashells and reflective blue waters of the Southern Pacific Isle of Motunui as its portrayed in Walt Disney Animation Studios' Moana. The venue will feature furniture stylings that pay homage to a traditional construction technique used by the Polynesian people to craft seafaring vessels. Meanwhile, Jade Cricket Café, inspired by the Disney classic Mulan, will honor the Fa family's lucky cricket Cri-Kee—who will be represented by a jade sculpture on the bar top. From the central moon gate to the plum blossom flowers adorning the walls, symbols of Mulan's strength, beauty, and heritage will fill the café, while the striking blue walls and metallic counters will be reminiscent of her armor.
Plus, Sarabi—a central hub for all sorts of daytime activities and adult-exclusive evening entertainment—will evoke the natural beauty and openness of the savanna where its namesake, the lioness matriarch from Disney's The Lion King, lived.
AquaMouse, Disney Cruise Line's very own attraction at sea, will plunge guests into the world of Mickey Mouse animated shorts. Suspended high above the upper decks, the attraction's powerful jets will propel two-person ride vehicles through 760 feet of winding tubes—offering breathtaking views of the ocean and the ship below. Onboard the Disney Treasure, AquaMouse will introduce a brand-new storyline, Curse of the Golden Egg, that follows Mickey Mouse and Minnie Mouse on a zany misadventure into an ancient temple for a glimpse of the legendary treasure within.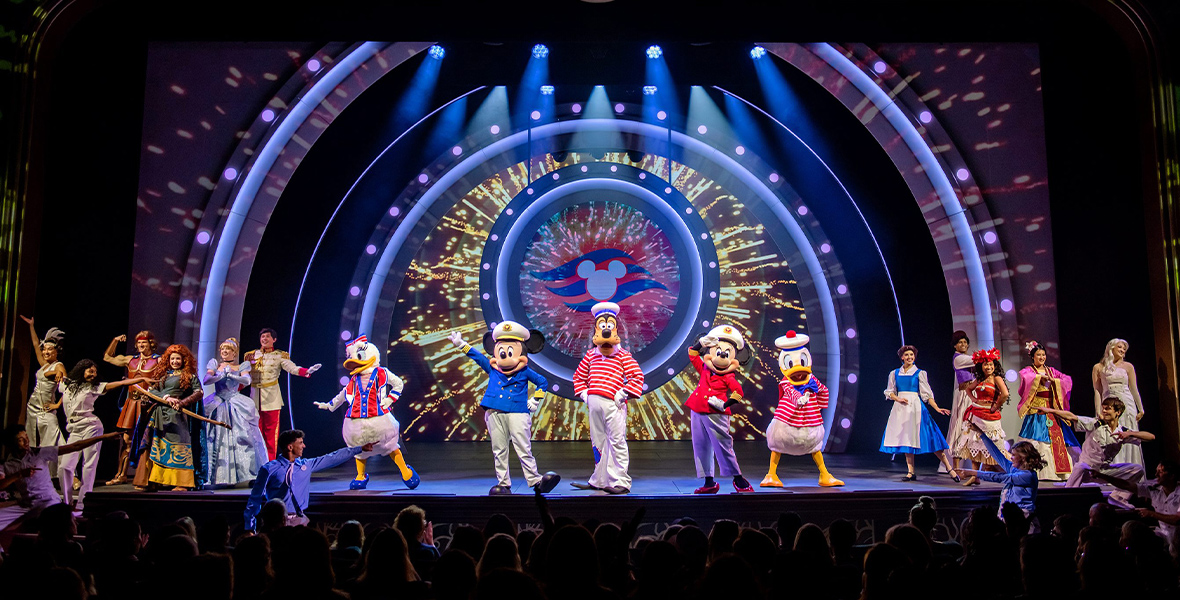 But that is, of course, not all: So many Disney Cruise Line favorites will be returning to the Disney Treasure! In addition to an all-new, yet-to-be-announced stage production (!) coming to the Walt Disney Theatre, Beauty and the Beast and Disney Seas the Adventure (pictured above) will thrill audiences with tales as old as time, while the upper decks will come to life with music and fireworks during the swashbuckling Pirate's Rockin' Parlay Party. In terms of delicious food, Worlds of Marvel—which will include a new, second dining experience with more details to come—and 1923 will round out the family dining rotation, while The Rose, Palo Steakhouse, and Enchanté by Chef Arnaud Lallament will continue to wow adults with exceptional views, gourmet meals, and delicious beverages.
For kids of all ages, Disney's Oceaneer Club, Edge, Vibe, and It's a Small World Nursery return provide designated space to let their imaginations run free under the guide of Disney-trained counselors.
The Disney Treasure will embark on its maiden voyage, a seven-night Eastern Caribbean cruise from Port Canaveral, Florida, on December 21, 2024, followed by an inaugural season of seven-night itineraries to the Eastern and Western Caribbean from Port Canaveral. Disney Cruise Line Castaway Club members can book a Disney Treasure cruise as early as Tuesday, September 12, 2023—while bookings will open to all guests on Wednesday, September 20, 2023.
To learn more about Disney Cruise Line or to book a cruise on the Disney Treasure, visit www.disneycruise.com/treasure; call Disney Cruise Line at 888-325-2500; or contact your travel agent.