By Zach Johnson
We're almost there!
Last week, Walt Disney Imagineering made a splash at the ESSENCE Festival of Culture™ presented by Coca-Cola® when it announced the reimagining of Splash Mountain will be named Tiana's Bayou Adventure. Set to open in late 2024 at Disneyland park in California and Magic Kingdom park in Florida, this new experience is inspired by the Walt Disney Animation Studios musical The Princess and the Frog.
As we shared earlier, Imagineers made frequent research trips to Louisiana, visiting the French Market and the bayou and consulting academics, chefs, musicians, and more—all to capture the heart and soul of New Orleans, where Tiana's story is set. Like Mama Odie, we wanted to "dig a little deeper" following last week's big news, so we interviewed costume designer Ida Muldrow and cosmetology manager Tisa Powell from Disney Live Entertainment to discover exactly how they created one of Tiana's new looks for the attraction. When Muldrow and Powell first met with Walt Disney Imagineering, "They told us what they wanted to do with Tiana, how they wanted to keep everything authentic and true to the ethnic background of African Americans," Powell recalls. "The parameters were to stay true to who Tiana represents—African Americans—and to stay in the era of the film."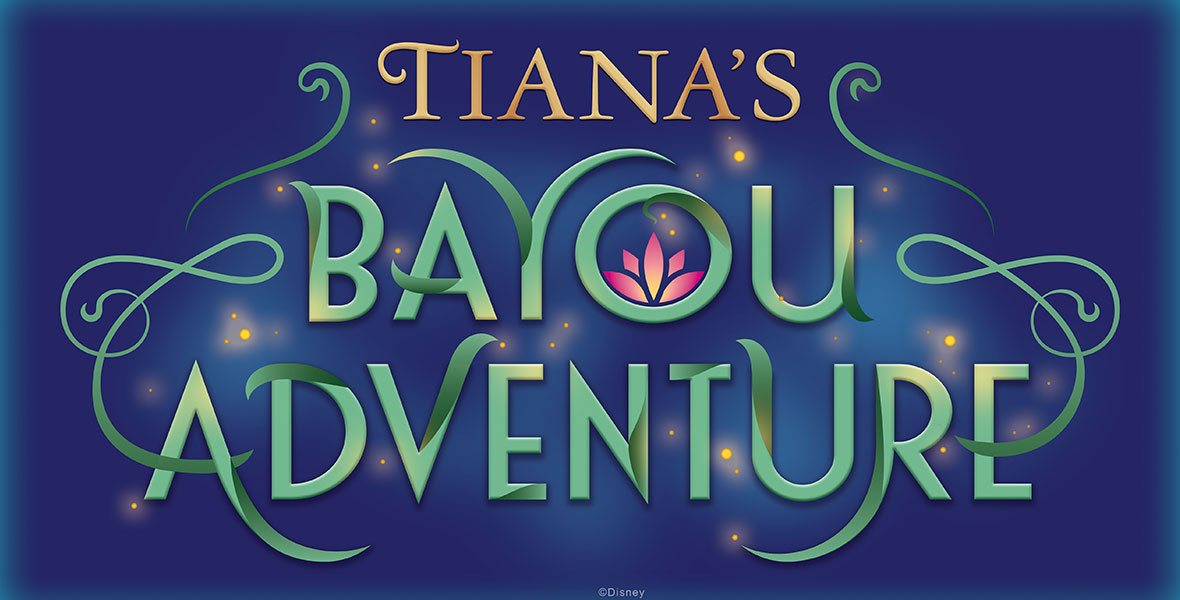 The development of Tiana's look didn't happen in a vacuum—it's both a product of prevailing trends of the 1920s, and of the historical forces at play leading up to this period-appropriate look. Muldrow recalls, "Right away, I had a lot of questions: Did ladies wear pants? What did African American women wear? What does a young, Southern woman who's married wear when she's going into the bayou? Those are the kinds of questions we had to ask in our research."
Throughout that process, Muldrow kept one thing in mind: "The goal was to be authentic," she says. "Even though it is a fairy tale, it's extremely important to bring out the pride and the dignity of the African American culture at the time." In addition, representation was also at the forefront of their minds. "One of our goals was to represent the different hairstyles that African American women wore back in those days," Powell says. "I think it's great that Tiana is representing that era [in Tiana's Bayou Adventure] with a beautiful hairstyle that is true to what African Americans wore then."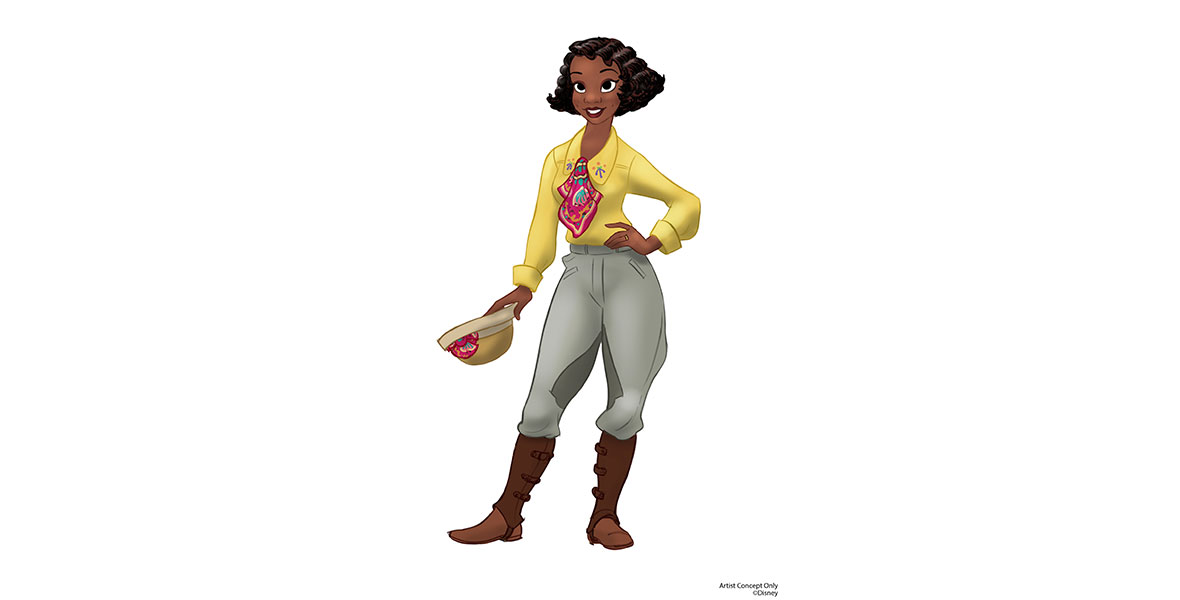 Last week, Walt Disney Imagineering released two illustrations of Tiana: one with and without her jacket. The design above shows Tiana in what Muldrow calls "the bayou" of the attraction.
Muldrow drew added inspiration from the military and equestrians, as well as The Princess and the Frog itself. "In the film, Tiana always wore lemon yellows and greens—these soft colors that you might even see on a lily pad," she says. "I needed to stay within that color palette. Once I understood that those are symbolic colors for her character and her personality, I 'earthened' it; I couldn't keep it bright. You'll see a saffron green—or chartreuse. It's not just green and yellow, because I had to take into consideration the lighting and the background." Of course, no detail was too small: "Notice the embroidery on her collar," she says. "They're little flowers in her colors."
As for Tiana's cloche hat? "I imagined she is a person who walks into the bayou very often and gathers her own straw grass," Muldrow says. "She hangs it up in a bundle and dries it, then crochets it into a hat. We used natural things right from the swamp."
Imagineers are renowned for their forward-thinking innovations, and that extends to creating the textiles used for Tiana's attire. "Tiana's gaiters would have been weighed on a very heavy cotton canvas. But those are natural, man-made fibers," Muldrow explains. "For this attraction, we have to be realistic. There's going to be moisture, so we can't use natural linen or cotton; they can break down in a matter of years. Tiana's costume is going to be polyester-rich, but it is going to look like linen."
As for Tiana's hair in the bayou, Powell says she was "relieved" to have authentic, high-quality materials to create her coif. "Now, we can show that there are different textures to African American hair," she says. "The hair industry as a whole has evolved, because it did not always have hair that represented African Americans."
In doing her research, Powell not only looked at the popular styles of the day, but also the tools used to create them. "Back then, it was the hot comb; it wasn't a relaxer," she says of the hair-straightening tool. "But there's a difference in the texture of the hair when you use a hot comb versus a relaxer. So, for Tiana being in the bayou, we actually pressed her hair in Marcel waves. It's perfect for her."
When Tiana's Bayou Adventure opens in late 2024, Powell hopes it inspires a "sense of pride," particularly within the African American community. "A lot of people will talk the talk, but Disney has talked the talk and they're walking the walk by creating an attraction centered on its first African American Princess," Powell says. "I hope people feel overwhelmed with happiness and joy—Disney thought enough about Tiana to create this attraction."