By Beth Deitchman
It's time to deck the halls—which, for Disney fans, means the time has come to put away the Disney décor… and bring out the Disney holiday décor! Mickey and Minnie Baus—which does, indeed, rhyme with M-O-U-S-E—know a thing or two about Disney holiday magic. The couple's home, located just a skip and a hop from Walt Disney World, is a Disney fan's dream, with rooms paying tribute to Aladdin, Olaf, Tinker Bell, Mickey, and more. But at Christmastime, their imagination and their love for Disney take their house to another level, as they create custom cut-outs, build Mickey-shaped "topiaries," and adorn their front yard with too many mouse ears to count. Meet Mickey and Minnie and marvel at their incredible collection of all-things Disney in this clip:
Now Mickey and Minnie hope to add a new treasure to their trove: the coveted Light Fight trophy, which will be awarded to the winner of ABC's The Great Christmas Light Fight. On an episode of the series airing this Monday, December 3 (8–9 p.m. ET/PT), Taniya Nayak, who judges The Great Christmas Light Fight with Carter Oosterhouse, will visit Windermere, Florida, to see Mickey and Minnie's Disney World Christmas Wonderland—featuring their very own take on the Main Street Electrical Parade—for herself. Here's an exclusive look at the Baus house, which includes a room where it's Christmas all year long:
Tune in to ABC on Monday evening to see their dazzling Disney display in its entirety!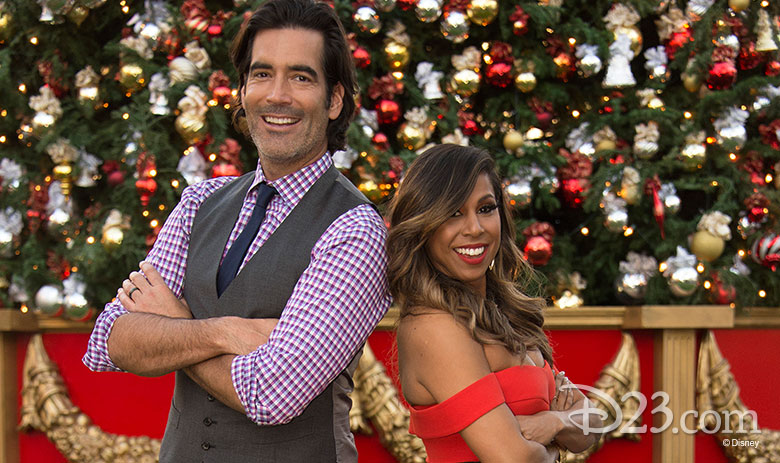 We also asked Nayak and Oosterhouse to share some decorating Do's and Don't's with fans who want to blend the spirit of the season with the spirit of Disney Parks at their own homes.
D23: What advice do you have for Disney fans who want to re-create a Main Street Electrical Parade as part of their own holiday décor?
Oosterhouse: DO always use LED Lights. It's the only way to use a lot of lights and not break the bank. You might even have to retrofit certain blow molds or cutouts. Always try to bury the cords when you can so people don't trip and risk your lights going out. When trying to create a large display, consider creating numerous smaller scenes. This way you can give attention to each scene individually or certain parts of the yard. You won't get overwhelmed as fast and it's easier to balance out a large display.
D23: When it comes to building a collection of holiday items, such as the one Mickey and Minnie Baus have put together, what should people keep in mind?
Nayak: DO keep your collection manageable and under control by keeping what is most important to you. Try to keep everything organized in bins that are properly labeled. DON'T hang on to items that are broken and may not have any value to you anymore—and if something is still in good condition, consider donating it!
Oosterhouse: DO try to keep within a theme. It can get a little overwhelming when you have 200 different styles and looks. It's easier to display if you have a more systematic approach. Think: color, year, size, shape, etc.
D23: How can any Disney fan incorporate their love of Disney into their holiday decorating?
Nayak: DON'T have everything scattered about in a way that doesn't tell a story. Perhaps consider mixing photos of family trips to a Disney park with special decorations that have a character theme. DO have fun with it and let your personality shine through!
Oosterhouse: We've seen all kinds of Disney characters on The Great Christmas Light Fight, and it's so amazing to see how people put their own spin on each character. I don't think there can be rules on this one. I think nostalgia is part of the essence of Christmas. We all grew up with Disney in our lives—it makes perfect sense to incorporate your favorite characters however you can!