By: Emily Hewitt
Dancing with the Stars' "Disney100" night is just a few hours away and is sure to usher in ballgowns and suits fit for Disney royalty. Before the episode airs at 8 p.m. ET/PT, simulcasting live across both ABC and Disney+ in local time zones and next day on Hulu, D23: The Official Disney Fan Club got an exclusive peek at the costumes the stars and pros will be wearing tonight from the show's costume designers, Daniela Gschwendtner and Steven Lee.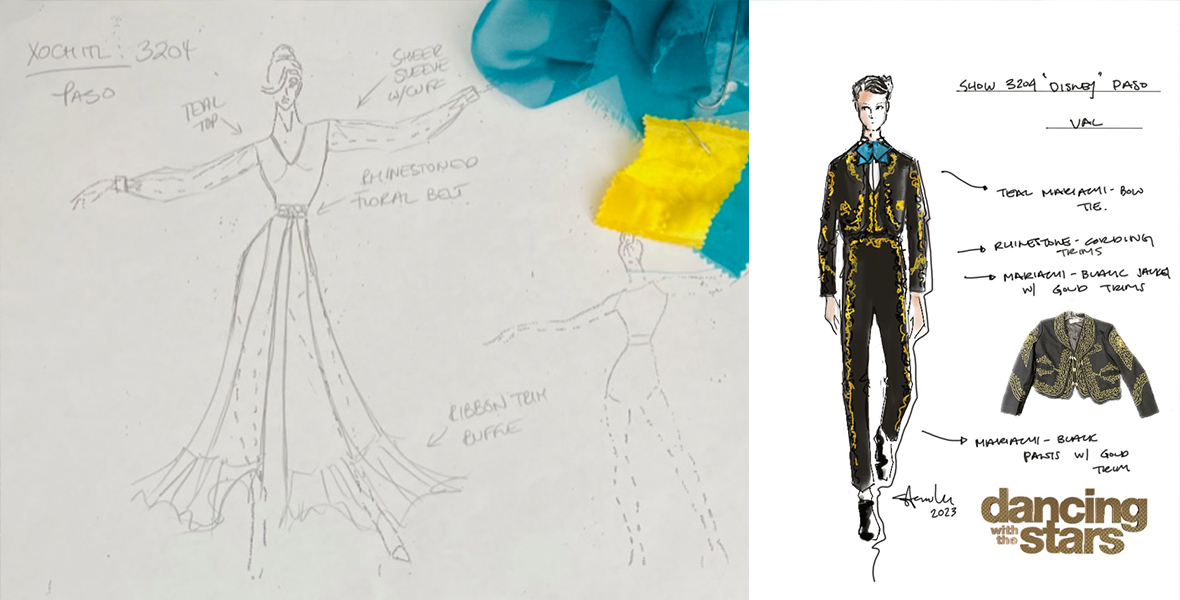 Xochitl Gomez and pro Val Chmerkovskiy will be dancing the Paso Doble to "Un Poco Loco" from Coco—and, of course, they need costumes to fit this culturally rich song and dance. Gschwendtner is marrying a flamenco look with Gomez's Mexican heritage by adding a ruffle from an original Mexican dress at the bottom of her skirt. As more of a traditional homage to Paso Doble, Chmerkovskiy will sport a typical Paso Silhouette that still has Mexican inspiration. To create his look, Lee cut up a Mariachi outfit and made it more danceable and sparkly by adding the signature Dancing with the Stars rhinestones. The look is topped off by a teal bow tie which will compliment Gomez's teal dress.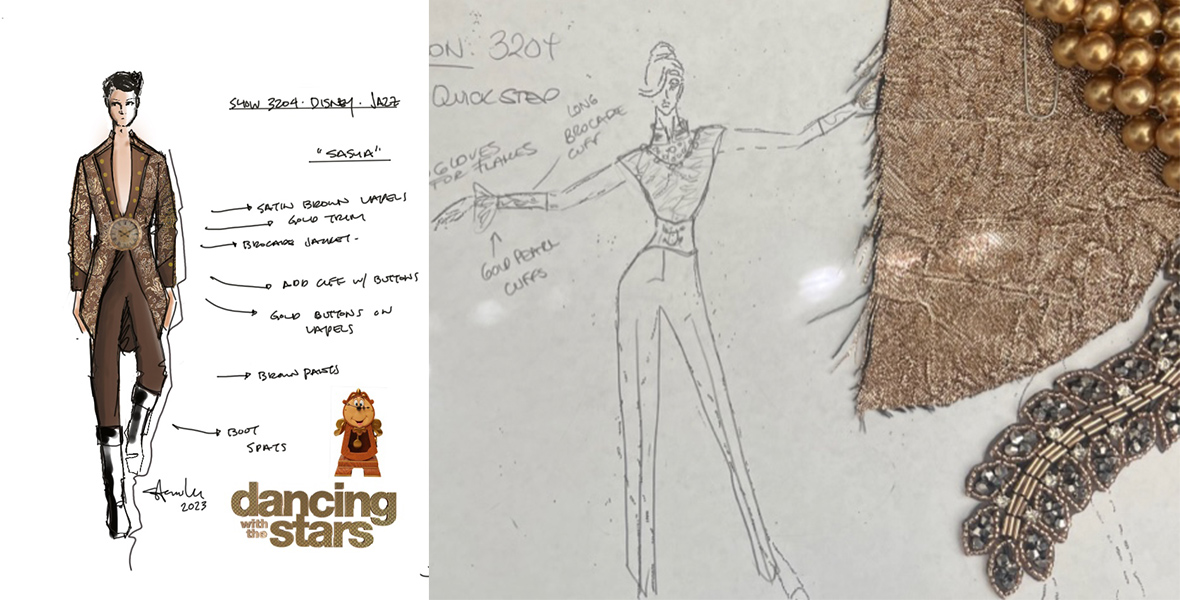 To fit the grand song "Be Our Guest," Alyson Hannigan and pro Sasha Farber will be dressed as none other than the charming characters who sing the Beauty and the Beast song, Lumiere and Cogsworth. However, to prevent inhibiting their movements, these outfits will be more on the "fashion" side of interpretation, Gschwendtner said. Hannigan will be wearing an outfit featuring lots of textures to bring Lumiere to life. Farber's outfit will be made of fabric of an older style via browns and brocades. Lee is hoping to add a clock to the outfit, but the fast paced Jazz style might not allow this detail.
"They're dancing Jazz, so we had to keep it stretchable and that's not going to get in the way, but kind of still keep into that world of Cogsworth," Lee says. "I believe they're adding a little mustache."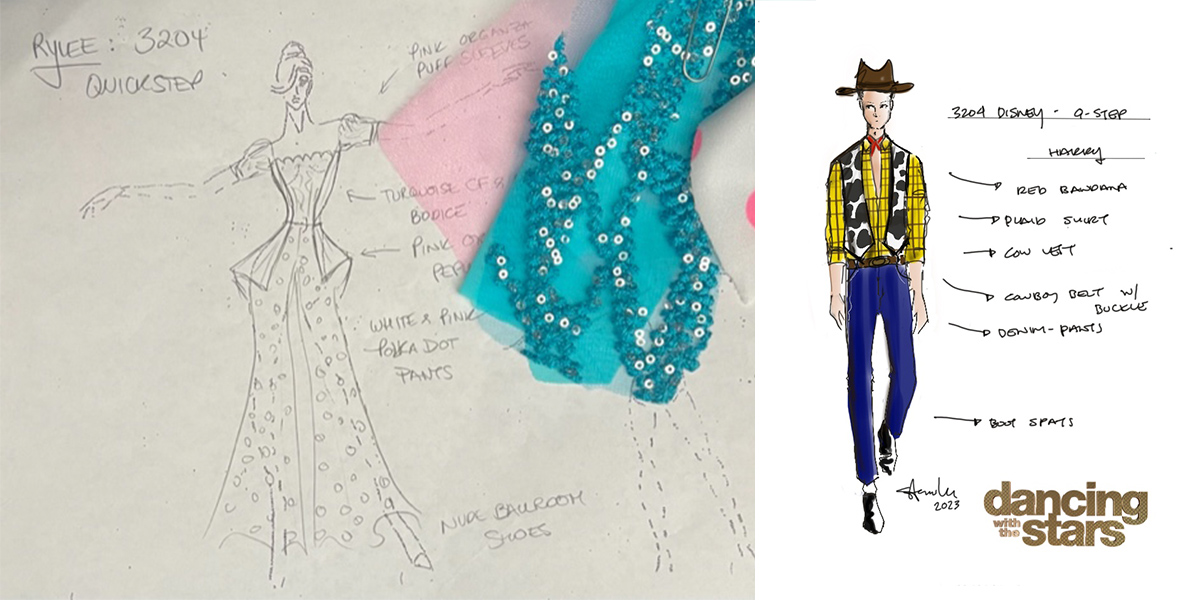 As an ode to Toy Story, Harry Jowsey and pro Rylee Arnold will be dressed as Woody and Bo Peep. The Quickstep requires fast movement, though, so Woody's jeans will be built as dance pants using denim lycra fabric, which is stretchy and features yellow denim stitching and pockets to give it the authentic look. Arnold also won't be wearing the typical poofy Bo Peep dress. Rather, she will be in Palazzo pants, allowing her to float across the dance floor with ease, while maintaining a similar looking top to Bo Peep.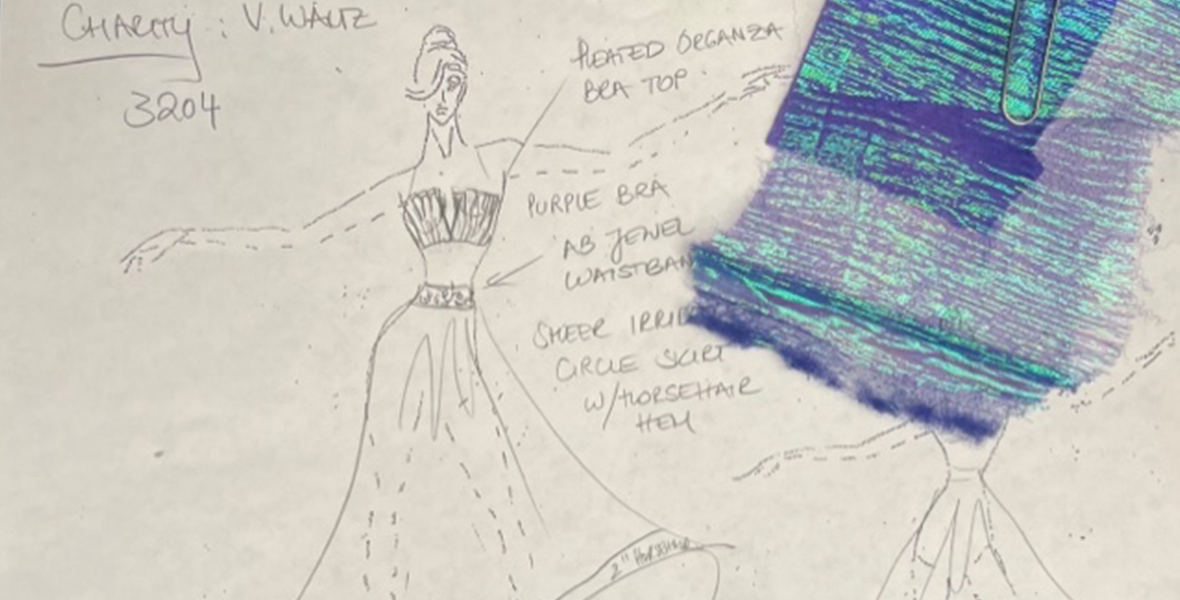 As we all know, "Flippin' your fins, you don't get too far / Legs are required for jumping, dancing." Thus, Charity Lawson will be dancing a Viennese Waltz in pants that are made of a shimmery, mermaid-inspired fabric. Using inspiration from the live-action The Little Mermaid, pro Artem Chigvintsev will be wearing Prince Eric's gray detailed suit rather than the blue detail suit from the animated version.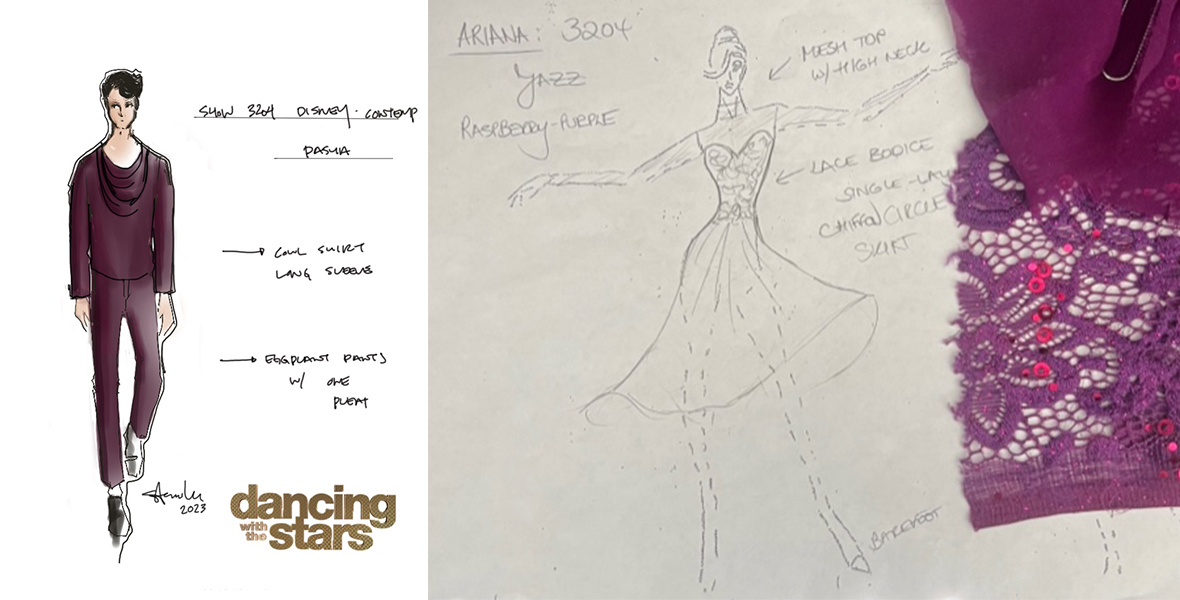 As Ariana Madix is portraying Elsa from Frozen 2, the reality star will be wearing a dress in the same burgundy and raspberry colors as the character's cape in the film. Pro Pasha Pashkov will be portraying the voice Elsa hears and will be dressed in a chiffon shirt and pants, which will be easy for him to move in during their routine.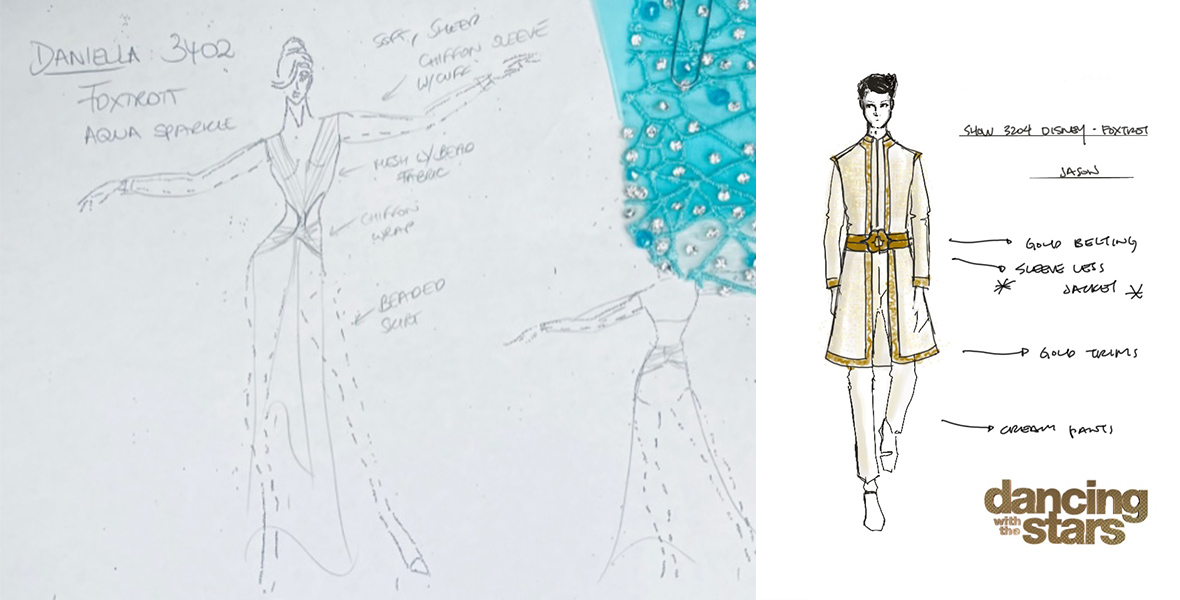 Jason Mraz will be dressed as Aladdin in his white outfit, but his will be fitted with a long vest rather than a jacket so he can better hold his frame in the Foxtrot to "A Whole New World". Accompanying him will be pro Daniella Karagach, dressed as Jasmine. Her look will be more of a "fashion Jasmine," Gschwendtner explains, due her costume featuring similar sleeves, color, and beads to the animated princess. In other words, the outfit won't be an exact replica.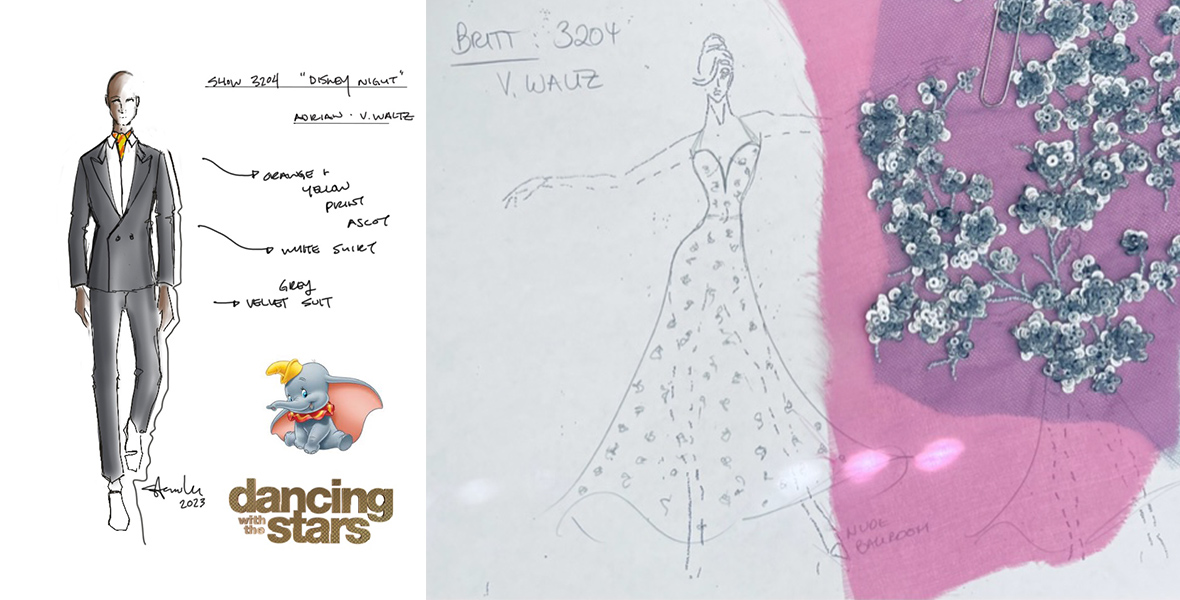 As it might be hard to trudge around the ballroom in a full on elephant costume, Gschwendtner and Lee have incorporated the essence of Dumbo into Adrian Peterson's costume via a striped gray suit and a red and yellow tie to mirror the ruffle around Dumbo's neck. Pro Britt Stewart will be wearing a custom dyed blue gray dress to elegantly compliment the color pallet of Peterson's suit as they dance the Viennese Waltz to "Baby Mine."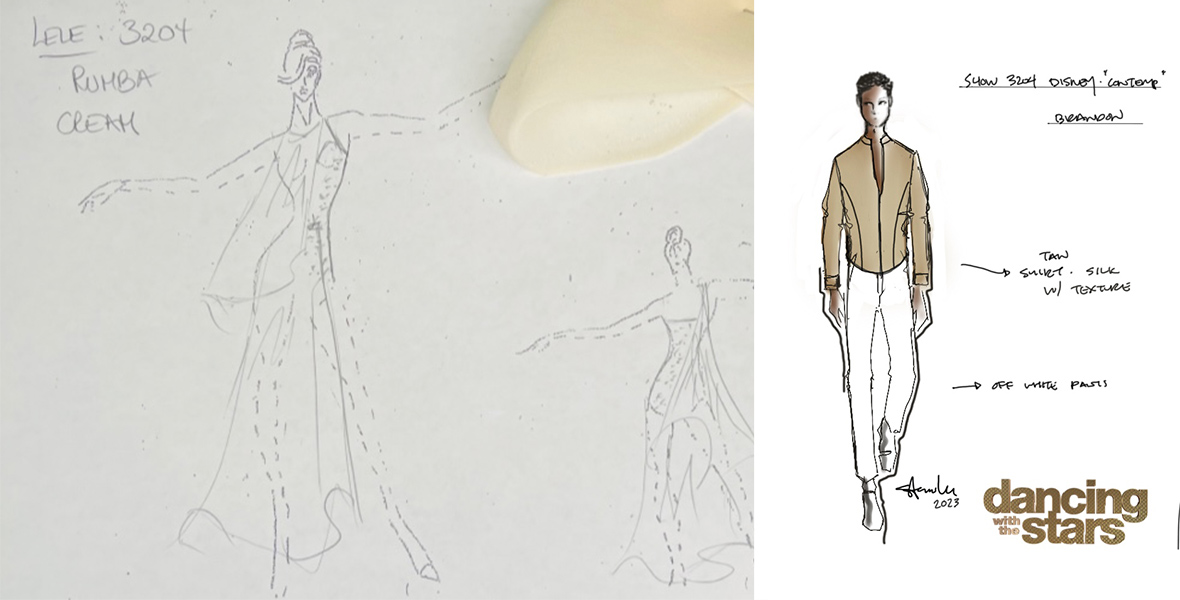 Again, since a literal animal costume isn't properly suited for ballroom dance, Lele Pons and pro Brandon Armstrong will be sporting outfits with a more liberal take on The Lion King. Pons will have a flowy cream dress which perfectly accentuates the elegant Rumba moves of their "Can You Feel the Love Tonight" routine. Armstrong will sport a brown shirt, which will have a slight non-animal print that should pop under the lights, and off-white pants to match Pons.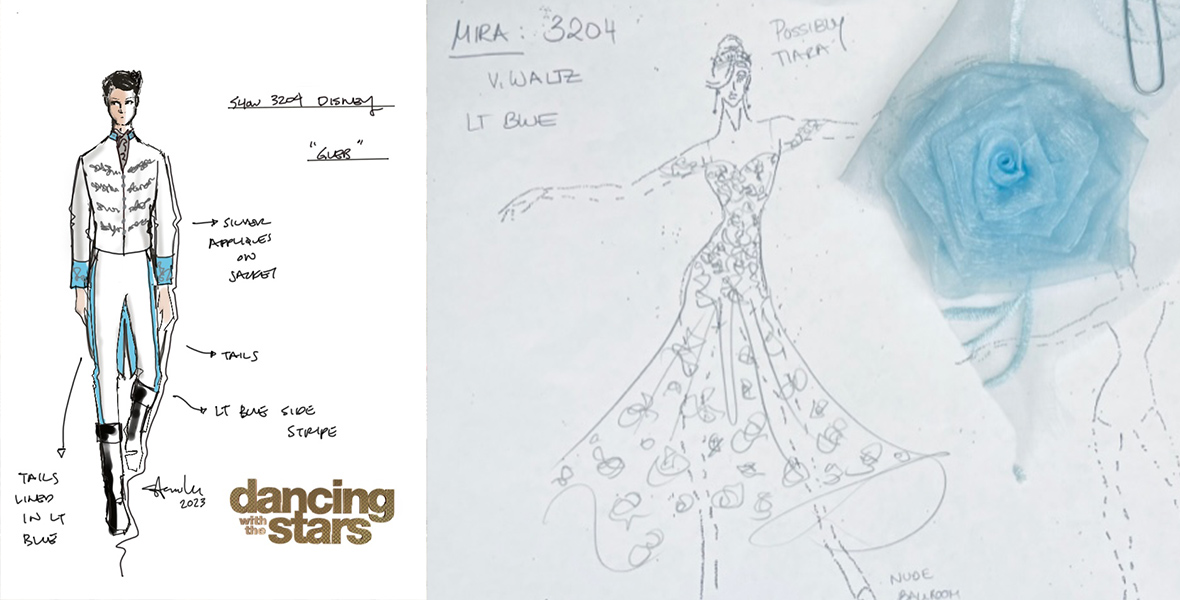 Mira Sorvino's costume will stay true to the classic Cinderella dress, which Gschwendtner says Sorvino is very excited about. Pro Gleb Savchenko's elegant Prince Charming outfit will have a blue lining to match the classic Cinderella blue that Sorvino will be swirling around in as they perform the Viennese Waltz to "A Dream Is a Wish Your Heart Makes."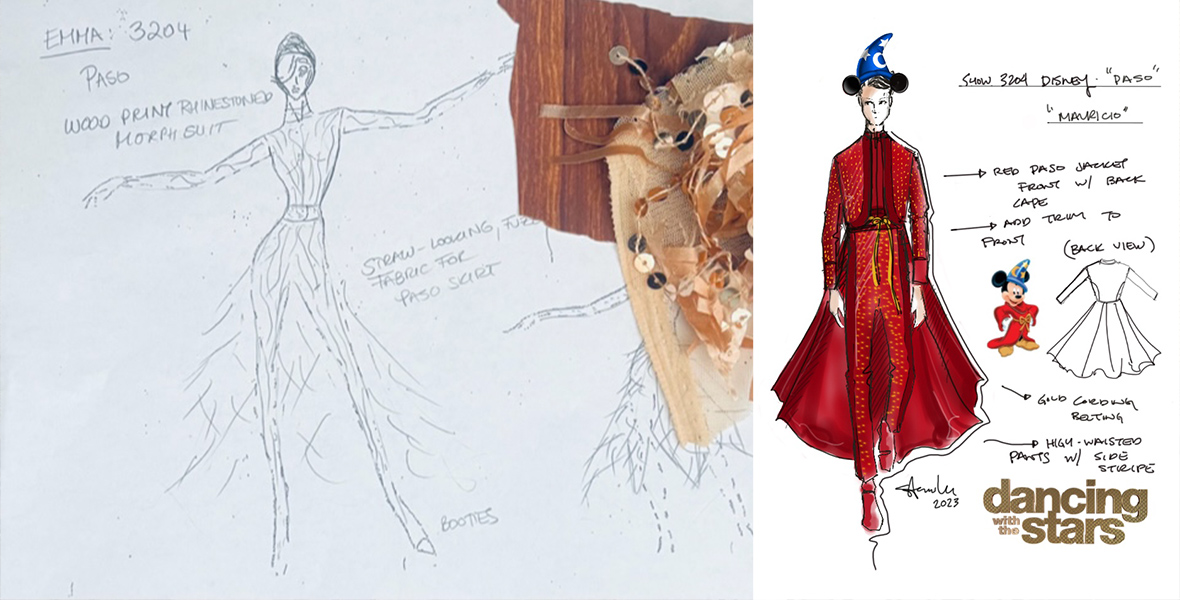 No "Disney100 Night" could be complete without an ode to the classic 1940 film Fantasia. Mauricio Umansky's costume will blend inspiration from classic Paso Doble style with direct inspiration from Mickey Mouse's outfit. Instead of wearing Mickey's red cloak, he will be wearing red pants with a classic Paso Doble jacket with a Paso Doble skirt in the back. Of course, the blue hat will top off the look.
"Everything's cut like a Paso Doble, but the silhouette is focusing on Mickey's robe that we have on him," Lee says. "Some of the fabric is velvet with a little bit of gold sparkle to it, in keeping with the whole magic of it all and the powers of Mickey in that movie."
As they dance to "The Sorcerer's Apprentice," pro Emma Slater will take on the inanimate character of a broom, which entails wearing a wood print to mirror the handle and fringe pieces mirroring the brush.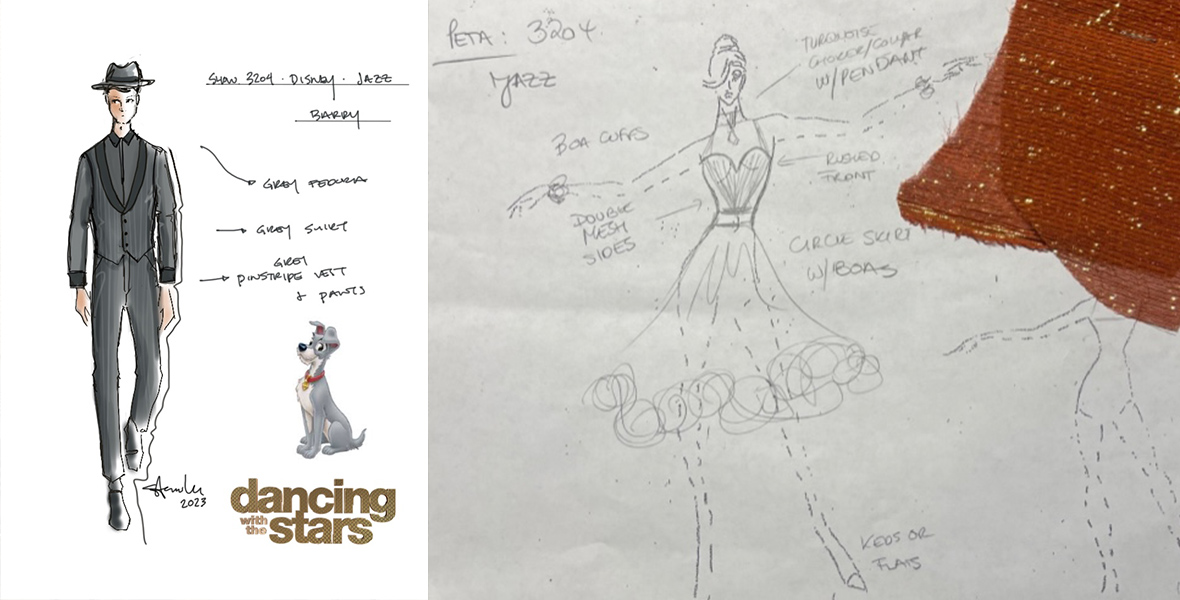 Barry Williams and pro Peta Murgatroyd will be playing the roles of Lady and Tramp as they dance to "He's a Tramp," so they will be dressed in the same color scheme as the dogs. As an ode to Jazz, Lee added a pinstripe fabric to the suit. Murgatroyd requested a bit of fur on her dress, so this detail was incorporated via her hem and cuffs, which will be paired with Lady's iconic turquoise color. It wouldn't be Dancing with the Stars if there wasn't a bit of shimmer to her dress as well!