By Zach Johnson
At D23 Expo 2019, the team behind WandaVision—director Matt Shakman; head writer Jac Schaeffer; and actors Elizabeth Olsen, Paul Bettany, Kathryn Hahn, Randall Park, and Kat Dennings—joined Marvel Studios president Kevin Feige onstage to talk about WandaVision, a nine-episode series best described as mash-up of classic sitcoms and large-scale cinematic action.
It was, by all accounts, an exhilarating way to begin a visionary new era—one that would see WandaVision become Marvel Studios' first series for Disney+ in January 2021. But the weekend was also exhilarating for another reason: Feige and Shakman had set up an extraordinary, unforgettable lunch with Disney Legend Dick Van Dyke. WandaVision begins as an homage to a 1950s sitcom, inspired by The Dick Van Dyke Show. So, who better than Van Dyke—one of Hollywood's most beloved performers and treasured talents—to serve as an unofficial consultant?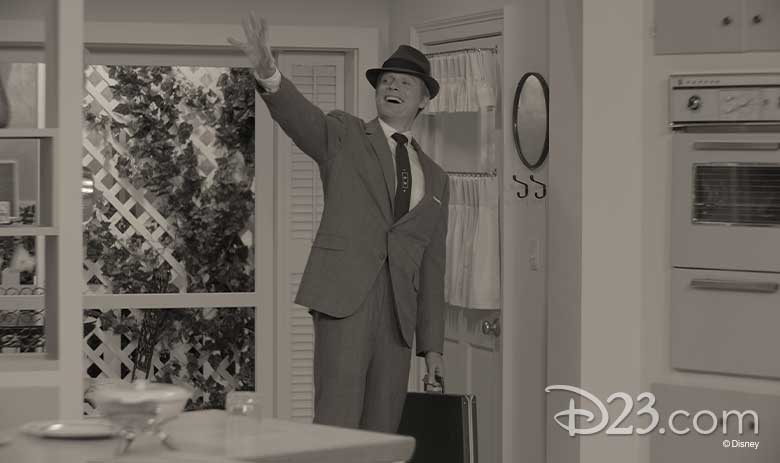 In a Q&A with D23: The Official Disney Fan Club, Shakman—who directs all nine episodes of WandaVision, rolling out Fridays on Disney+—recalls how Van Dyke helped to shape the series.
D23: How did your meeting with Dick Van Dyke come about?
Matt Shakman (MS): Something that's really important to everyone is authenticity. To that end, we reached out to people who had worked on shows we were using as reference points. Dick Van Dyke was, obviously, the most notable person who fell into that category. He's a hero of mine and of Kevin's. The chance to talk to him about tone, about style and about the day-to-day of that show and how they put The Dick Van Dyke Show together was a once-in-a-lifetime opportunity. We reached out to him to find a time that would work for everyone's schedule, and it just so happened to be on the weekend of D23 Expo 2019. It was extra magical to sit down with him at Club 33 at Disneyland, overlooking Pirates of the Caribbean. That was quite an amazing afternoon
D23: What specific insights did Mr. Van Dyke offer during that lunch?
MS: I was very curious how they maintained control over tone, because that show is timeless and it resonates just as much today as it when it first aired. I wanted to know how they created a comedy that lasted that long. And his answer was very simple. He said, 'If it couldn't happen in real life, it wouldn't happen on the show.' [The Dick Van Dyke Show creator] Carl Reiner would begin every week by asking the cast what had happened in their lives and the funny things that had happened to their families. Then, he would take those stories and would weave them into the show; it was ripped from the family headlines. That grounded it and it allowed for there to be wild and crazy comedy, because it was always built on something that really happened in people's family lives. That was really important. Dick Van Dyke is magical. His physical comedy is amazing. But it's like, 'How do you make room for wonderful physical comedy without making it feel too broad?' I think that was the solution. We were trying to do the same thing, which is to always remember we were grounding this in the story of Wanda and Vision and their love for each other.
D23: How did you balance those sitcom tropes with classic Marvel elements?
MS: Because we were playing around with style, tone and genre, we used a lot of experimental filmmaking techniques as well, like changing aspect ratios and using different lighting and lenses. The question we often asked ourselves was: 'What would hold all of this together?' The answer—or at least the one that that works for me—is that, ultimately, this show is a love story between Wanda and Vision. And if you're rooting for them and you're believing in their connection—a connection that I think has been really beautifully established in the MCU films in relatively little screen time—then hopefully all of the crazy things we're doing on top of that will hold together.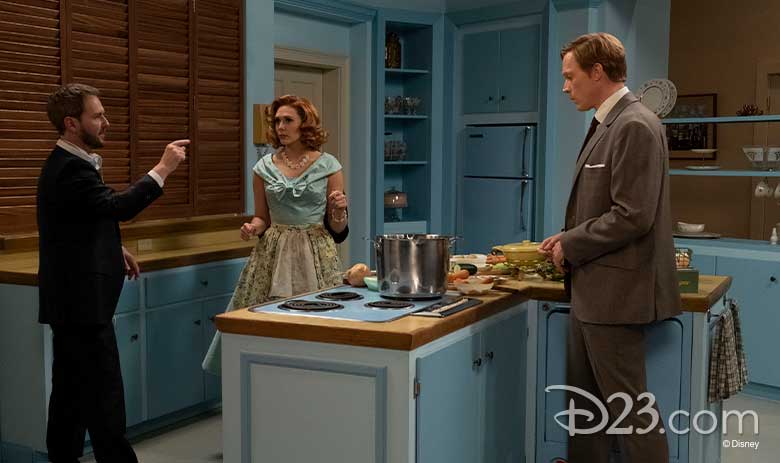 D23: How well-versed was Mr. Van Dyke in what's already happened in the MCU?
MS: We didn't talk too much about the MCU. It was really was about telling him how much we admire him and how much his work had meant to us, as well as to pick his brain on how he made that show. I can't remember the exact number, but they did something like 30 episodes a year—so many more episodes than network television today! Then, he would go off during his hiatus and make Mary Poppins. He was working so hard and making one magical thing after another. He was so generous in offering us his time. He is less fluent in the MCU than some Marvel fans are, which is understandable. But we gave him some basic background on the characters in the show and what we were trying to do, and he was really wonderful to listen to that and give us his advice.
D23: Was there ever any talk about bringing him on for a cameo?
MS: We were very interested in creating our own show that happened to be in the format of a sitcom rather than trying to do a show that had sitcom cameos in it… This is our own world.
D23: After your lunch with Mr. Van Dyke, what was it like to actually film the '50s episode?
MS: I have not directed a lot of multi-cam sitcom. In fact, I've done none of it. My own experience in sitcom really is as a child actor [in Just the Ten of Us; Good Morning, Miss Bliss; and other '80s programs]; I understood the flow of how you put on a show in front of a live audience, from my own experience as an actor. But we also learned a lot from talking to Dick Van Dyke about it. What I found especially interesting about how they put on the Dick Van Dyke Show is that they rehearsed it, and then when they did the performance for the audience, they didn't stop and go back and do a "take two" of a scene or make any changes, which is very common now when you go to a live taping. The emcee who's there, one of their big responsibilities is to keep the audience engaged take after take. But the Dick Van Dyke Show was filmed from beginning to end—straight through—without any breaks. It was like watching a play, which I think is a tremendous gift to the live audience and in turn allows the live audience to give a giant gift to the actors. The audience was watching it like a play; they were invested and giving their whole energy to the process. And the actors in turn would feed off of that. That's what we wanted to do as well. [For the WandaVision pilot, the crew] dressed up in costumes and the audience did, too. We treated it very much like it was happening in the late '50s.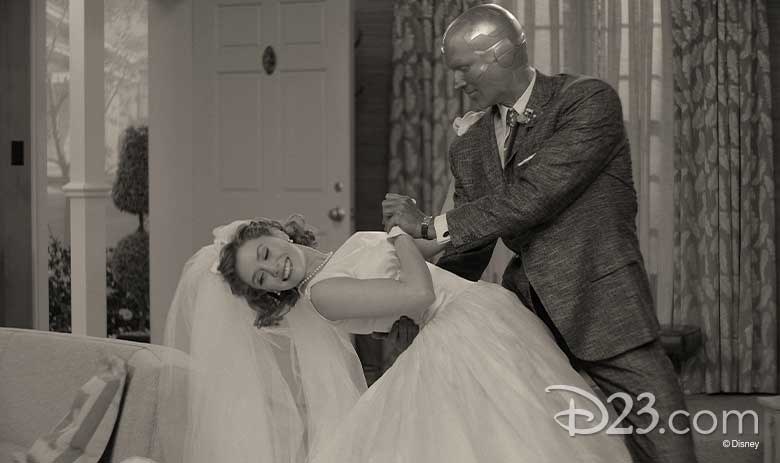 D23: Sitcoms aside, what comic storylines inspired the series? The MCU gives directors and writers room to play, so can we assume that what we'll see onscreen won't be exactly what's in the books?
MS: What I've admired so much about the MCU is that they are creating new stories that build on what's come before, but they're creating something for this moment that feels like it's made for this moment. It's exciting. It's new. We drew inspiration from all of the comic books that are out there about Vision and Wanda. But ultimately, we didn't adapt any one of them. We took what was interesting and built on them to create something new—which is what each one of those comic book writers did back then, anyway; they read what had come before and stood on the shoulder of giants and put out their own new version of it. These Disney+ shows are amazing because they create an opportunity to tell a longer story and to go deep with characters in a way that the movies don't always allow, especially the Avengers movies that have so many different characters in them. We have nine episodes to really go deep; it feels like a multi-issue comic run.