By The D23 Team
WARNING: CONTAINS SPOILERS FOR ALL EPISODES OF LOKI.
The season finale of Loki was a lot to process. While we finally discovered who was really behind the TVA, we were also left on a cliffhanger that has us desperate to see what's next in the Marvel Cinematic Universe. Will Loki ever reunite with "his" Mobius and Hunter B-15? Did Sylvie make a huge mistake killing "He Who Remains"? And will we ever see "Alligator Loki" again? For now, we can't answer these questions, so to bide our time, we've come up with the next best thing: Rewatching the entirety of Loki to catch all the Easter eggs we missed during our first watch. We've rounded up our favorite details below, so join us on our own time-travel mission—to travel back to the start of Loki: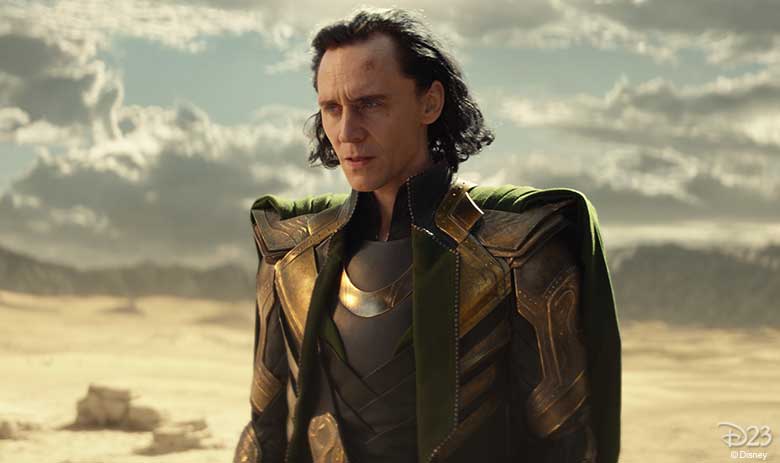 Did you catch these callbacks?
Loki features several dialogue moments referencing other Marvel films that sharp-eared fans may have noticed. When we first meet Loki in episode one, aptly titled "Glorious Purpose," he declared himself "burdened with glorious purpose." The thought must be fresh on his mind, as it's one of his most famous lines from Marvel's The Avengers, the events of which he was just fleeing. In episode three, "Lamentis," Loki channeled his brother while drinking on the train to the Ark. After a rousing performance of an Asgardian tune, he smashes his empty cup, declaring "Another!" This echos a hilarious moment in the original Thor film, where Thor smashes his finished cup of coffee, much to the chagrin of Jane Foster and her friends.
One callback is caught in the subtitles—in the end credits scene of episode four, "The Nexus Event," Loki wakes up in the void and asks, "Am I in Hel?" The spelling is important—Hel is the realm ruled by Hela, his sister who caused world-ending trouble in Thor: Ragnarok.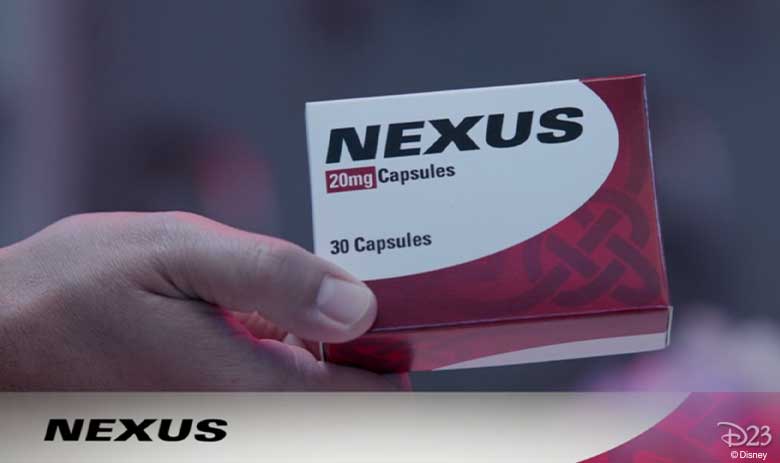 This episode sponsored by Nexus
When Nexus Events are first introduced in episode one, you might have thought the name sounded familiar. Perhaps that's because you were one of the many Marvel fans trying to decipher the meanings of the ominous commercial breaks in WandaVision. While some of the commercials had obvious connections to the plot of WandaVision or Wanda's own life (hello, Hydra-branded Strücker watch), one commercial featuring Nexus antidepressants had fans scratching their heads—until now, anyway! Described as a pill that can anchor you back to the "reality of your choice," we can now connect these pills to the Nexus Events in Loki, which break reality and deviate from the "Sacred Timeline," creating the potential for multiverses… perhaps, you could even say it creates a… Multiverse of Madness? We know Wanda will have a role in Doctor Strange and the Multiverse of Madness, so it's only fitting that multiverse-causing Nexus Events would be important enough to be part of WandaVision's cryptic commercials.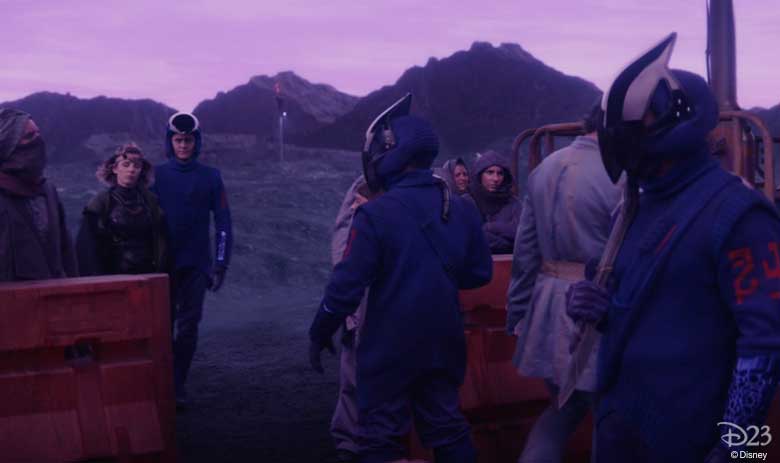 In space, no one can hear you time travel
This Easter egg is for those of us who like to stay through—and read!—the credits. In episode three, the soldiers who guard the train to the Ark are named Corporal Hicks and Private Hudson in the end credits. Savvy movie fans might recognize those names from a different intergalactic adventure—they're the names of Michael Biehn and Bill Paxton's characters from the 1986 film Aliens!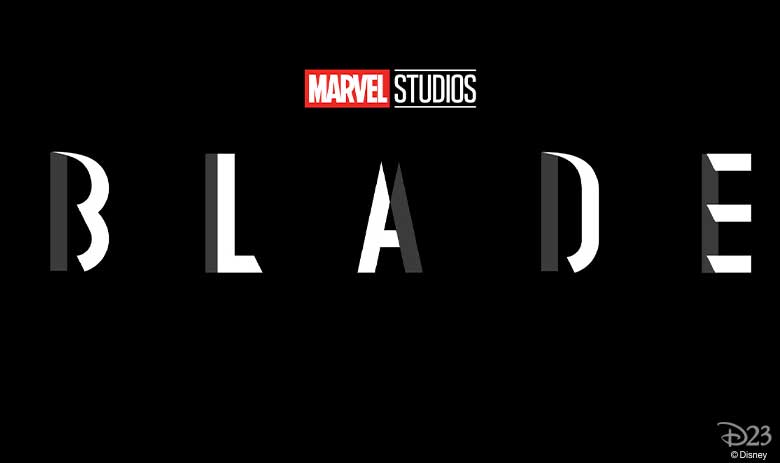 Beware of vampire variants!
In episode four, Mobius discusses the various variants he's encountered—including "Kree, Titans, and vampires." While we've already encountered two of the three mentioned in the MCU, we haven't had any run-ins with vampires. That will change soon, though—as announced at San Diego Comic-Con in 2019, two-time Oscar® winner Mahershala Ali will star as the title character in Blade, who in Marvel comics is a half-human/half-vampire who has made it his mission to protect mortals from the undead. We don't know a lot of details on this film yet, but we're excited that the concept of vampires is already being hinted at in the MCU.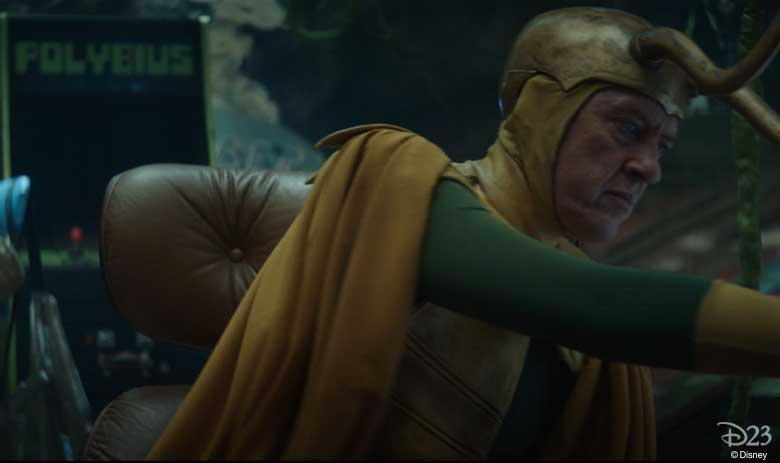 Throw it all in the void
What exists at the end of time? In episode five, "Journey into Mystery," we discover the answer: A huge void full of pruned variants and discarded artifacts from other timelines. Or, in other words, a land full of Easter eggs! It's a lot to take in on the first watch through (besides, we only have eyes for "Alligator Loki"), but next time you watch the episode, see if you can spot some of these references to Marvel comics and characters:
The Thanos-Copter, first infamously featured in a 1979 Marvel comic
Frog Thor in a jar, (a.k.a. "Throg") the amphibious version of the God of Thunder first featured in Thor No. 365 (hinted at by the number T365 on Frog Thor's jar)
Yellowjacket's giant helmet
A crashed S.H.I.E.L.D. helicarrier
We could be here a while listing all the strange things lurking in the background of the void, but we'd be remiss to exclude some of the real-world references you can also spot while the band of variant Lokis roam the land:
The USS Eldridge, a ship that allegedly turned invisible due to secret experiments (or was it just the TVA?)
Polybius, the urban legend arcade game that was rumored to hypnotize its players until the game mysteriously vanished (perhaps due to the TVA?)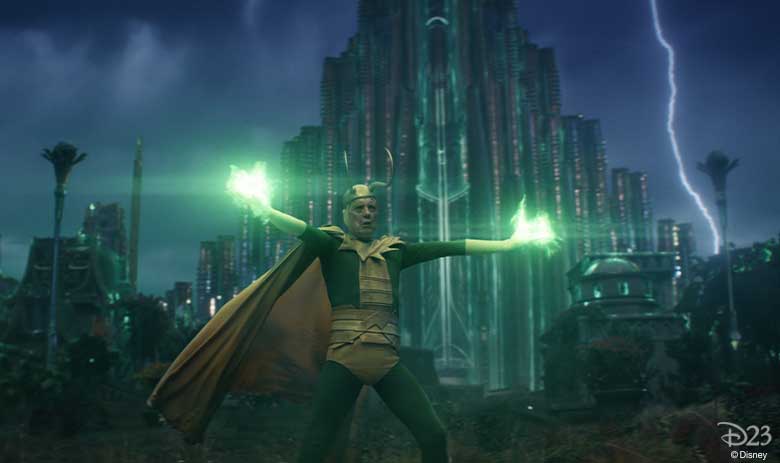 Journey into Mystery
While Episode five, "Journey into Mystery," is full of fun visual details and Easter eggs, don't miss an especially relevant Easter egg hiding right in the episode title! Journey into Mystery is the name of the Marvel comic series where Loki first appeared in 1962, rocking a costume highly reminiscent of Richard E. Grant's "Classic Loki."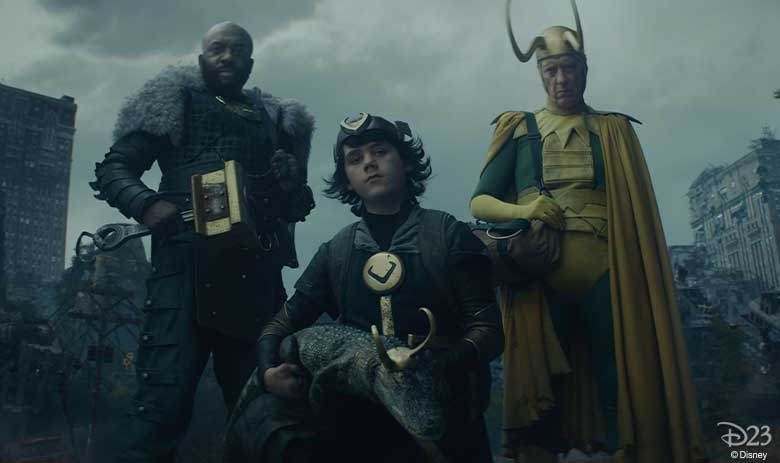 Know your variants
"Classic Loki," isn't the only variant that was pulled directly from the comics. Jack Veal's "Kid Loki," the child variant who was pruned for killing Thor, is directly inspired from Kid Loki in Marvel Comics, first featured in Thor 617 in 2010, but popularly seen causing mischief in The Young Avengers comics. "President Loki," the backstabbing Loki variant known for his "Vote for Loki," buttons, appears to be inspired by events in 2016's Vote Loki comics storyline, where Loki makes a bid for presidency that ends in slightly less alligator-related shenanigans… Speaking of which, "Alligator Loki" does not appear to have a comics counterpart (yet), although he wouldn't be out of place in the Pet Avengers universe, which features an animal lineup of Avengers including… yes, you guessed it… Throg!