By Zach Johnson
There's more to see than can ever be seen… on Broadway and on TikTok!
In a Broadway first, The Lion King will exclusively partner with TikTok to stream the production's iconic opening number, "Circle of Life," on September 14 in celebration of the hit show's return to the stage, 18 months after the Broadway shutdown. The live stream event will start at 7 p.m. ET and can be viewed on the Disney on Broadway TikTok account.
Disney on Broadway needs your help! Follow the Disney on Broadway TikTok account today to be part of history and join the cast on September 14 to watch this memorable live stream performance of "Circle of Life." The live stream will include a pre-show hosted by Broadway cast member Adrienne Walker (Nala) that will bring viewers behind the scenes to meet the people who bring The Lion King to life on a daily basis. The event will culminate with a live feed of "Circle of Life" from the Minskoff Theatre, giving fans across the globe the chance to be a part of this once-in-a-lifetime experience that would otherwise be limited to the 1,700 guests inside the theater that night. Click here to watch a video of Walker announcing the partnership.
The live stream event is in support of The Actors Fund, which has provided more than $22.7 million in direct financial assistance to more than 16,700 people since the beginning of the Broadway shutdown. Earlier this year, TikTok firmly established itself as the leading platform for all things musical theatre, as creators and The Actors Fund came together to build out a crowd-sourced version of Ratatouille: The TikTok Musical. Since then, TikTok has remained the hub for fans and creators of theatre, dance, music, and all things Broadway.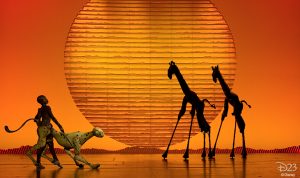 "We are thrilled to welcome audiences back to Broadway. But realizing that only 1,700 guests would get to experience our first performance in the theatre, we wanted to find a way for everyone to be part of this historic Broadway moment," said Angelo Desimini, Disney Theatrical Productions VP, Marketing, Publicity, Sales & Education. "Partnering with TikTok allows us to literally bring The Lion King into the hands of theatre lovers wherever they are to share in this once-in-a-lifetime evening."
"TikTok has become a home for Broadway and musical theatre lovers around the world, so we are excited to celebrate this milestone for the industry as the lights go back up on stages," said Catherine Halaby, Entertainment Content Partnerships Lead, TikTok. "With our partners, we are bringing the most innovative, entertaining and creative content to the thriving musical theatre community on platform. By partnering with major productions like The Lion King, along with our community of creators and top Broadway stars, we want to bring Broadway entertainment to everyone and provide an inside look into the talent and magic of musical theatre."
"We're honored to celebrate the return of Broadway with our good friends at Disney Theatrical, The Lion King, and TikTok," said Joe Benincasa, President & CEO of The Actors Fund. "We can't wait for the very first 'Circle of Life' live performance back at the Minskoff Theatre—which, thanks to the live stream, will also be available to TikTok fans around the world who can experience the magic of Broadway and share their support for the performing arts community."