By Beth Deitchman
We're bringing you details about this amazing new land opening at Disney's Animal Kingdom on D23.com. Click here to read part 1 about this spectacular world and the people you'll encounter there, in part 2 we looked at the amazing details in the flora, the fauna and the bioluminescent forest, and part 3 took you further into Pandora's two thrilling attractions. Stay tuned to D23.com for more details as the May 27 opening nears, and hear more from the creative team bringing Pandora to life in the summer issue of Disney twenty three.
From the smallest flowers on hanging vines and the rich soundscape that brings you the sound of a rainforest as it evolves over the course of a day, to the range of smells you encounter on the Flight of Passage attraction, Pandora – The World of Avatar affects all of your senses.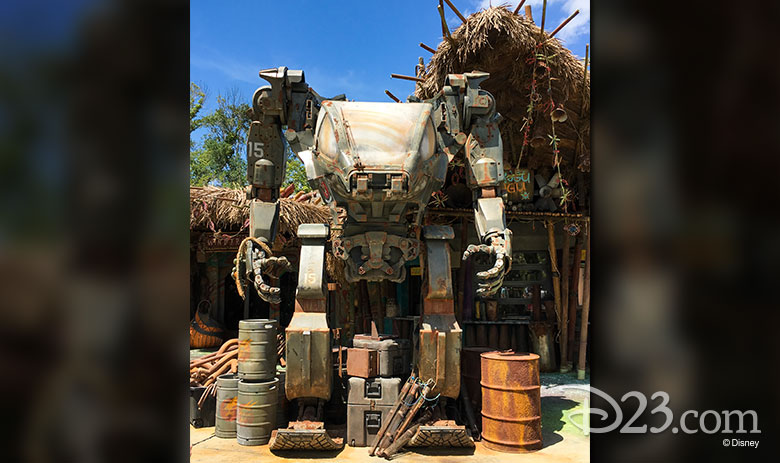 Your tastebuds will be tantalized at the fast-casual dining establishment Satu'li Canteen and drink stand Pongu Pongu. Pongu Pongu is run by an ex-pat (someone originally from Earth who decided to remain on Pandora following the conflict between the Na'vi and the RDA) and it takes inspiration from the original tiki bars, Walt Disney Imagineering Portfolio Creative Executive Joe Rohde shares. The first generation of tiki bars were largely started by World War II veterans in Hawaii, Rohde explains. "There was something sincere about them and heartfelt," Rohde says. "It's not ironic. It's not a retro thing. It's about something real." Pongu Pongu's owner is a former mechanic for the RDA, so look for the AMP suit that stands as a totem that indicates you've come to the right place for refreshments.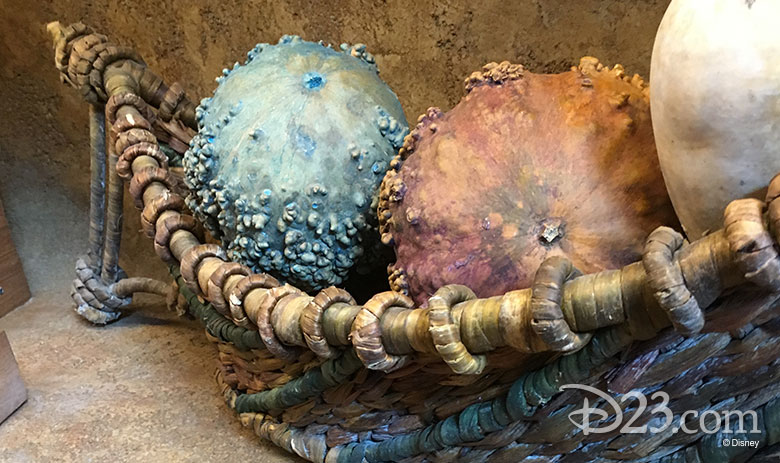 Satu'li Canteen is set in a Quonset hut-inspired building that used to be the mess hall for the RDA employees who worked on Pandora. If you walk around the restaurant, you'll notice tribal objects and Na'vi cooking tools that have been placed around the hall, like the Hometree Bowl, a woven vessel used to hold and transfer ingredients. Of course, Rohde tells us, "Every bit as much artistry has gone into the food in here as it has gone into everything else."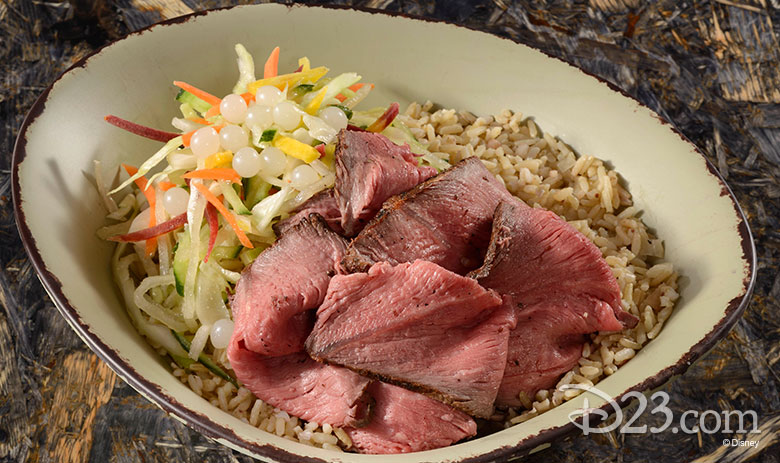 "It's our job to tell a food story," Executive Chef Lenny De George states proudly. "You think about this planet, they pay a lot of respect to the natural bounty that provides, and the way that we cook would not be putting it in an oven with gas." At Satu'li Canteen, the chefs cook with wood. Grilled meats are plentiful, as is sustainable fish and even spiced tofu. The signature dish is the Satu'li Bowl, which invites guests to choose a protein, a base (grain-based, salad, or even a quinoa-vegetable combo that comes with tropical bursting boba pearls), and a sauce. There are more than 50 different combinations, almost guaranteeing that you'll never eat the same meal twice.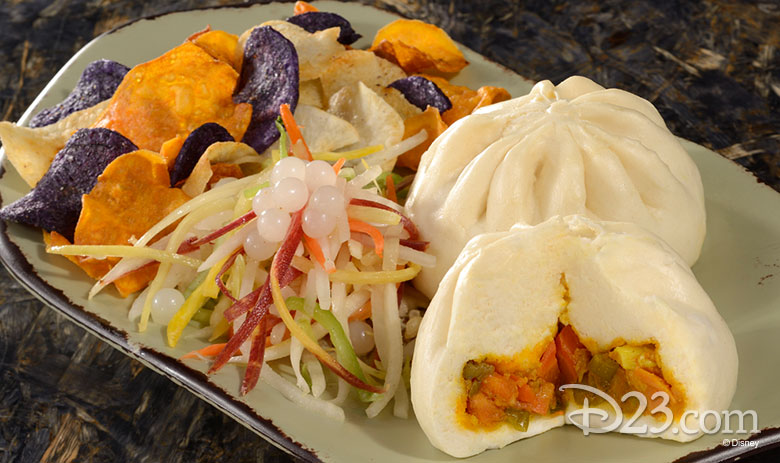 Of course, less adventurous eaters will find options that seem somewhat more familiar. Steamed pods are a delicacy on Pandora (and in other parts of the world, where they're more commonly thought of as "bao"), and the Cheeseburger Pod combines all the flavors of home with a new texture and form. "It doesn't look the same and it doesn't really feel quite the same," Chef Lenny says, "but when you taste it you'll know that you are eating a cheeseburger from home."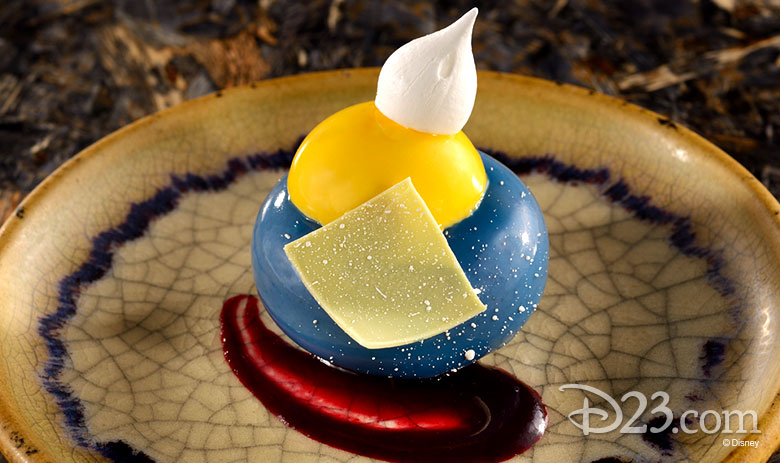 There are two signature desserts: a Blueberry Cream Cheese Mousse that, Pastry Chef Stefan Riemer says, combines yellow mangoes and blueberries in an homage to the Na'vi with their blue complexions and their bright yellow eyes. Chef Stefan knew there had to be a chocolate dessert, as well, and he points out that dark chocolate is rich in antioxidants—something the health-conscious Na'vi might appreciate. The Chocolate Cake with a Crunch Cookie, Banana Cream and Goji Berries, like the cheesecake, comes in a size that's the perfect portion for one. Chef Stefan doesn't advocate sharing when it comes to dessert, and he urges guests, "Indulge in your own dessert!"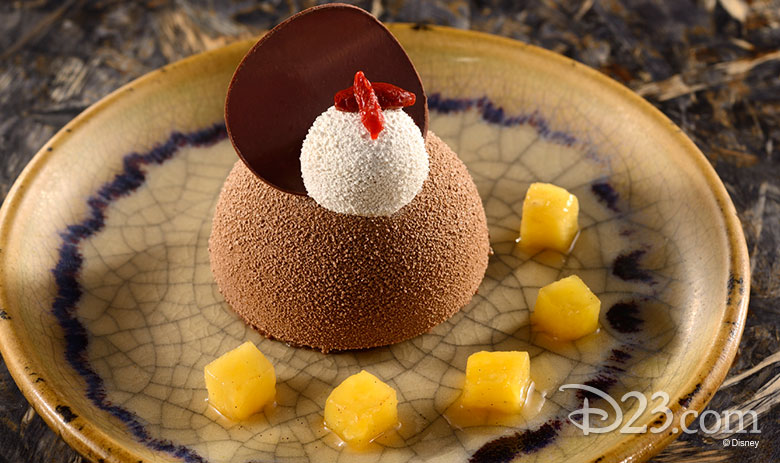 Brian Koziol, concept development director, Beverage Sales & Standards, Experience Planning & Integration, Food & Beverage for Walt Disney Parks and Resorts, introduces a Pandora Sunrise—a nonalcoholic blend of pineapple, lemon, and mango juices combined with limeade and Powerade Melon—the perfect thirst quencher on a hot Pandora afternoon. Adult travelers to Pandora can choose from two craft beers: Hawkes' Grog Ale is a lovely Pandora-inspired green in color, while Mo'ara High Country Ale suggests the highlands of the stunning Na'vi valley. Wine served at the Pandora dining establishments comes from Sonoma, California, rather than Pandora, though the winery is appropriately named "Banshee."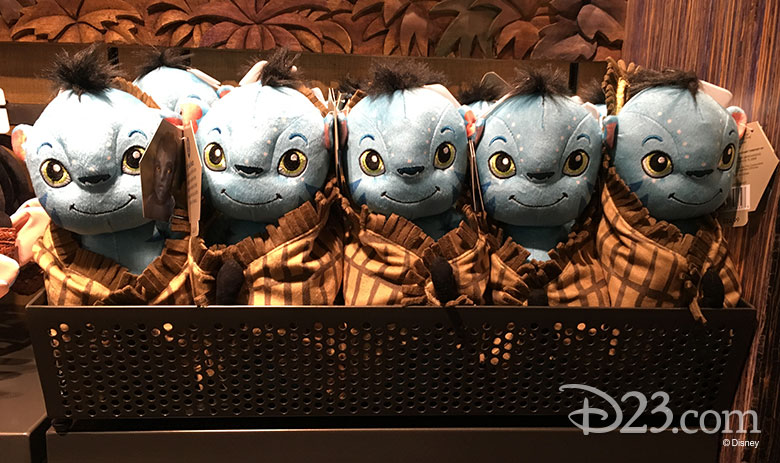 Ex-pats also serve as proprietors for Windtraders, where guests can take home apparel that's evocative of the designs of the totems seen around the land; a Na'vi Translator; plush baby banshees, and, what's sure to be popular with travelers of all ages, a robotic banshee that will perch on your shoulder and interact with you—and, since you have a controller, anyone else you may wish your banshee to greet. A Naturalist from Alpha Centauri Expeditions is stationed at the Rookery to help you choose from 10 different styles, and they'll also encourage you to pledge to respect the natural world on Pandora—and on Earth when you return home.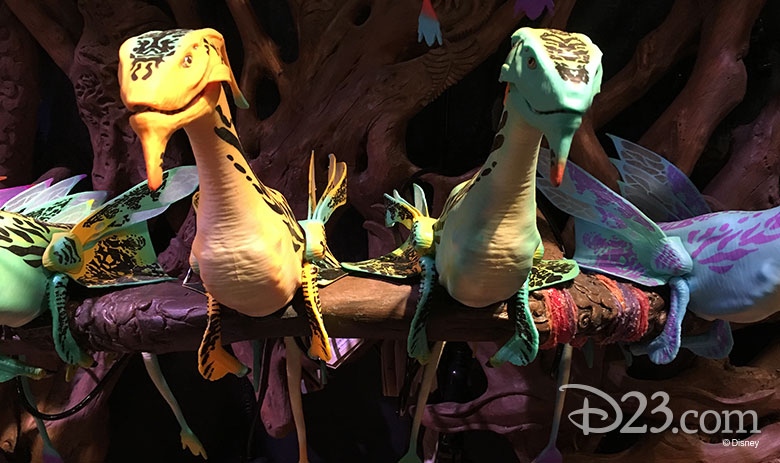 At Windtraders, you can also purchase a custom figure of yourself envisioned as a Na'vi, by way of facial scanning and customization that you've selected. Over the course of a visit to Pandora, you'll come to see that the Na'vi spirit lives within us all—and it's something you'll want to keep with you until you return.