By Zach Johnson
This past summer, Disney+ began debuting a collection of 27 newly restored Walt Disney Animation Studios shorts, ranging from classics to lesser known titles. A new batch will roll out this week—including Trolley Troubles (1927); All Wet (1927); The Barn Dance (1929); Playful Pluto (1934); Mickey's Kangaroo (1935); Merbabies (1938); Bone Trouble (1940); and Pluto, Junior (1942)—before the final installment of shorts arrives on Friday, October 6. It's an important passion project, as this year marks the centennial of the Walt Disney Animation Studios, which is being honored as part of the ongoing Disney100 celebrations.
The restorations were spearheaded by Walt Disney Studios Restoration and Preservation team, led by director Kevin Schaeffer. Creative advisors from Walt Disney Animation Studios included special projects and 2D animation producer Dorothy McKim, production designer Mike Giaimo, and animator/director Eric Goldberg. Below, Karen Weissman, Restoration and Preservation Manager at The Walt Disney Studios, details the team's creative process.
Paint us a picture of how some of these shorts looked and sounded before they were restored. What did you all find as you as you revisited each one of these classic shorts?
Karen Weissman (KW): It's definitely a mixed bag, that's for sure. They all are very different as far as what we were able to work with. For a lot of the shorts from the late '20s and early '30s, we didn't always have the original elements [at our disposal]. Some of them didn't make it over time, but some of them did. It made it a little more challenging, so we had to try to find the best source in order to get the best image quality and audio possible.
Were you familiar with all of these shorts prior to the restoration project?
KW: Definitely not all of them! Disney has hundreds of classic shorts. But once you start working on them, you get very familiar with every frame. Now I have a little more expertise.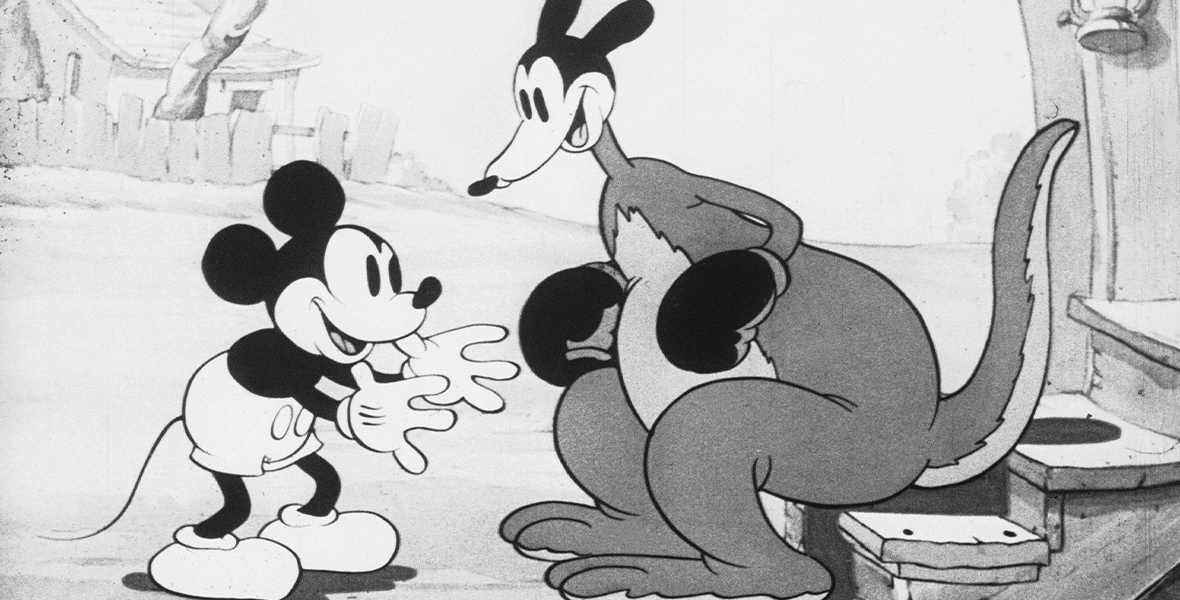 Which of these shorts would you consider the most valuable restoration?
KW: It's tough, because so many of them have different significance. To see Pluto in his early stages and then to see how much he's changed is, for me, super interesting. Working on the Oswald the Lucky Rabbit shorts felt important, because for a long time, the rights didn't belong to Disney; they belonged to Universal. [Walt Disney Company CEO] Bob Iger did some deals and got some of them back, so it's really neat to have them available. We also got to work on Bone Trouble [1940]; a long time ago, they had replaced the original title cards, so we didn't have them. But we were able to track them down and we put them back in, so when everybody gets to see it now, they're going to see the original main titles.
During the restoration process, how do you honor the different versions of certain characters? For example, Minnie Mouse is animated much differently in Building a Building (1933) than in Bath Day (1946). How do you account for that kind of evolution?
KW: We would use whatever references we could find from the times. We also sometimes consulted with the animators; a few of them have been around for a while, and they know how the characters should look in the shorts. We're usually just fixing issues of consistency.
With 100 years of Disney animated shorts, do you have a favorite?
KW: That's always tough. We love all our children! [Laughs] I've always been a big Chip and Dale fan, so working on Chips Ahoy [1956] was really neat; it was also an early example of Cinemascope. We have a small handful of shorts filmed in Cinemascope, so that was really cool. Although… you work on these shorts and you learn to love them all, of course!
How does it feel to bring these restored shorts to a platform such as Disney+?
KW: It's really great to have them there. So many people—even within the Studio—have reached out to say, "I watched the shorts with my family, and some of my kids had never seen them. We had never seen them!" It's really great that it's so accessible. It's fantastic that Disney+ made it a priority to restore all of these shorts this year for 100th anniversary.
Listen to the complete D23 Inside Disney podcast interview with Karen Weissman on Apple Podcasts, Spotify, Google Podcasts, Amazon Music, YouTube, Stitcher, and TuneIn.
This interview has been edited and condensed for clarity.