Finding the perfect dress. Renting the coolest tux. Getting your hair and makeup professionally done. Fumbling with the corsage as you try to pin it on your date's lapel. Dancing with all your friends. And, after all is said and done… memories to last a lifetime.
It's prom season across America, so dances (and balls—their fancier, fairy-tale-esque cousin) are on everyone's mind… including ours!
So strap on those dancing shoes and check out some of Disney's most memorable dances.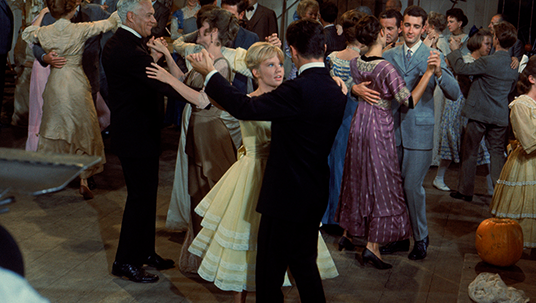 "The Ugly Bug Ball"
The 1963 Disney film Summer Magic, starring Dorothy McGuire and Hayley Mills, features a ditty called "The Ugly Bug Ball." Sung by the legendary Burl Ives, the song tells the tale of two bugs who fall in love while dancing. Bonus fact: It was written by Richard and Robert Sherman of Mary Poppins and "it's a small world" fame.
---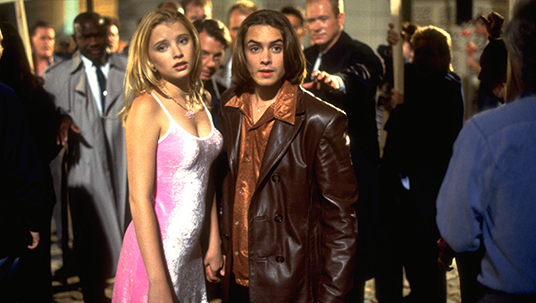 My Date with the President's Daughter
Duncan (Boy Meets World co-star Will Friedle), just your average teenager, meets pretty Hallie (Elisabeth Harnois) at the mall… Little does he know her father (Dabney Coleman) is the leader of the free world! This 1998 Wonderful World of Disney TV movie centers on Duncan and Hallie's hilarious attempts to get to his high school dance.
---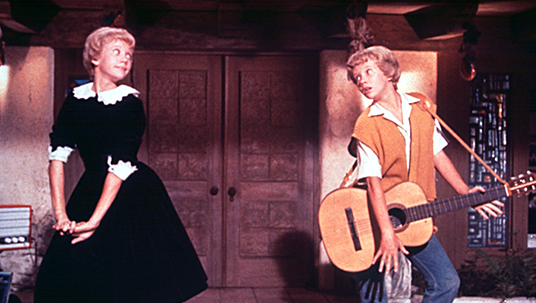 The Parent Trap
Mischief and mayhem erupt at a dance after identical teenagers Susan and Sharon (both played by Hayley Mills) meet for the first time at summer camp. (Doesn't it always seem like mischief, mayhem, and dancing go hand in hand?) In the dance's aftermath, the twins decide to work together to reunite their divorced parents (Maureen O'Hara and Brian Keith).
---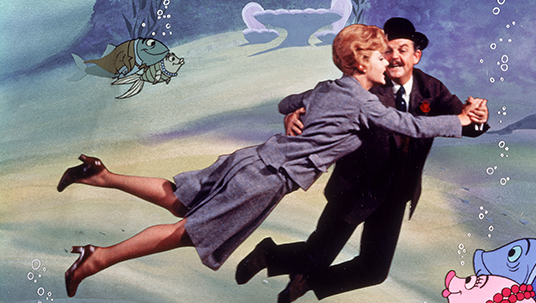 "Beautiful Briny Ballroom"
Bedknobs and Broomsticks, the 1971 Disney favorite starring Angela Lansbury and David Tomlinson, features an extended sequence in one of the coolest "ballrooms" ever seen. Live action and animation combined to make it look like Miss Price and Professor Browne are dancing alongside all manner of sea creatures.
---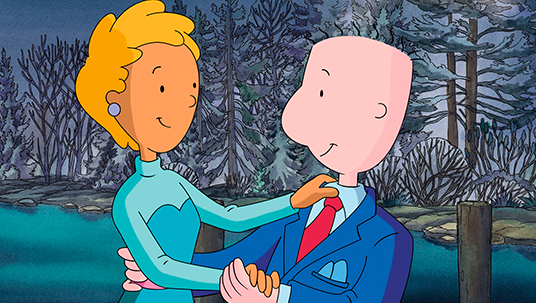 Doug's 1st Movie
The 1999 Walt Disney Pictures animated film follows nice-guy Doug as he fights for the love of crush Patti while simultaneously trying to save a kindly lake monster (named Herman, after the Moby Dick author) from the clutches of town menace Bill Bluff. The final confrontation takes place at the big school dance!
---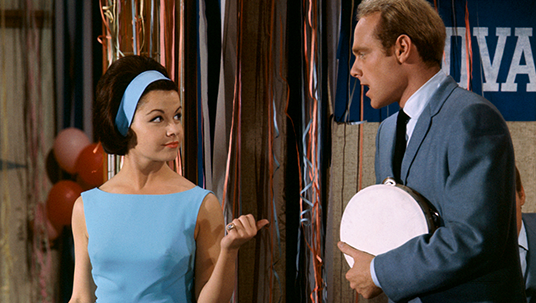 The Monkey's Uncle
Nothing like a big college dance to kick off a shenanigans-filled movie like 1965's The Monkey's Uncle. In case having a chimpanzee as a co-star wasn't crazy enough, Annette Funicello's Jennifer spends the opening sequence dancing to the Beach Boys (yes, the real Beach Boys!) at a Midvale College dance.
---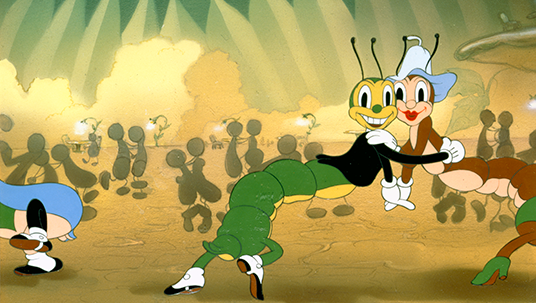 Woodland Café
An early Silly Symphony cartoon, released in 1937, takes place at a popular bug nightclub (don't you wish you could visit something like that?!). Caterpillars, fireflies, spiders, and other insects dance the evening away—and some even look like famous Hollywood celebrities, including actor Lionel Barrymore.
---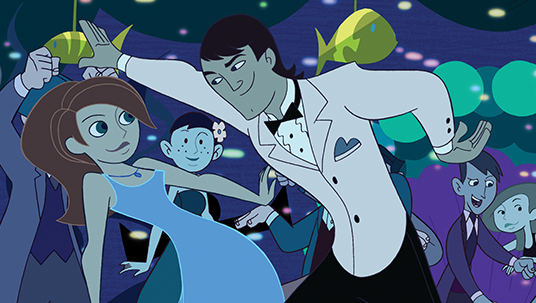 Disney's Kim Possible Movie: So the Drama
In this Disney Channel Original Movie from 2005, heroine Kim is totally swept off her feet by Erik, a new guy at school. He asks her to the junior prom, which makes Kim's best friend Ron more than a little jealous. Adventure ensues when evil Dr. Drakken kidnaps Kim's father—and it's up to Ron to snap Kim out of her love-struck trance so she can save the day!