By Courtney Potter
Marvel Studios' Spider-Man: No Way Home: New Trailer Weaves Riveting Web
Earlier this week, fans were given their first peek at Tom Holland back in web-tastic action as Peter Parker (aka Spider-Man) in the brand-new teaser trailer for Marvel Studios' Spider-Man: No Way Home.
The trailer is notable for several reasons… it's undeniably intriguing, but it also features—for the first time in the cinematic history of Spider-Man—our friendly neighborhood hero in his unmasked form, no longer able to separate his normal life from the high stakes of being a Super Hero. After he asks for help from Doctor Strange (Benedict Cumberbatch), the risks become even more dangerous, forcing Peter to discover what it truly means to be Spider-Man.
The film—also starring Zendaya, Disney Legend Jon Favreau, Jacob Batalon, and Marisa Tomei—is directed by Jon Watts, from a screenplay by Chris McKenna & Erik Sommers. Look for Spider-Man: No Way Home exclusively in theaters this December 17!
5 Fantastic Things to Watch This Weekend
So, what can we expect to view, from around the worlds of Disney, this last full weekend of August? Let's see… World Princess Week celebrations continue on Friday when Disney Princess Remixed – An Ultimate Princess Celebration debuts on Disney Channel; all Disney+ subscribers can start reveling in this summer's raucous Cruella; National Geographic kicks off its landmark 9/11: One Day in America documentary series; and so much more.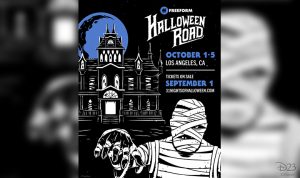 Freeform's Fa-boo-lous "Halloween Road" Returns This October
Should you find yourself in the Los Angeles area the first weekend of October, and you're looking to plan some terrifyingly terrific fun, have we got news for you: Freeform's "Halloween Road" is back, and it's (almost) ready to put a spell on fans once more!
Guests are in for a spooky, socially distant experience they won't soon forget… The outdoor, immersive event will feature the worlds of Tim Burton's The Nightmare Before Christmas, Hocus Pocus (there'll be an extended Sanderson Sisters drag show—honestly, need we say more?!), The Addams Family, and other spooktacular surprises filled with games, photo moments, live entertainment, a beer and wine garden for those over 21, twice as many trick-or-treat stations, and prizes to boot. This year, Hyundai has joined as a presenting sponsor to make "Halloween Road" come alive with all manner of tricks, treats, and a haunting photo opp.
The experience will take place at L.A.'s Heritage Square Museum and is open to the public from Friday, October 1, through Tuesday, October 5. Ticket prices start at $37 and go on sale this Wednesday, September 1, at 10 a.m. PT—and can be purchased at 31nightsofhalloween.com. Happy haunting!
Coming to ABC: The Most Magical Story on Earth: 50 Years of Walt Disney World
As you, dear readers of D23.com, have no doubt heard, "The World's Most Magical Celebration"—honoring Walt Disney World Resort's incredible 50th anniversary—kicks off this October… and to that end, ABC News and Disney Parks have teamed up to present a spectacular television event, The Most Magical Story on Earth: 50 Years of Walt Disney World, to premiere on ABC this October 1.
This special, hosted by Disney Legend Whoopi Goldberg, will take viewers on a journey spanning half a century and beyond at Walt Disney World in Florida. The show will also feature spectacular visuals and musical performances from Christina Aguilera and Halle Bailey in front of the legendary Cinderella Castle at Magic Kingdom Park, accompanied by the renowned Orlando Philharmonic Orchestra. And that's not all: There'll be some exclusive interviews with iconic actors, actresses, and athletes, including John Stamos and Tom Brady; Walt Disney World cast members; Disney Imagineers, like friend of D23 Bob Weis; and executives past and present—all of whom have played their unique part in sprinkling pixie dust over "The Most Magical Place on Earth."
Through a truly expansive look into the past, present, and future of the vacation destination, footage never before seen on television will give fans a glimpse into the journey to bring Walt's vision to life and a look at plans for the future. Plus, viewers will get a heartwarming look at how Disney and Make-A-Wish foundation have worked together for over 40 years to make kids' Disney dreams come true.
The Most Magical Story on Earth: 50 Years of Walt Disney World airs Friday, October 1, at 8 p.m. ET on ABC, and can be seen the next day on demand and on Hulu—and later in the month on Disney+. Don't miss it!
New Trailer for Billie Eilish's Happier than Ever: A Love Letter to Los Angeles
Fans of Billie Eilish, take note: The Grammy® Award-winning and chart-topping artist will soon make her Disney+ debut with Happier than Ever: A Love Letter to Los Angeles, a cinematic concert experience, premiering globally on Friday, September 3.
For the first and only time, the Disney+ original will feature an intimate performance of every song in the album's sequential order from the stage of the iconic Hollywood Bowl.
Directed by Robert Rodriguez and by Academy Award®-winner Patrick Osborne, the special includes animated elements, taking viewers on a dreamlike journey through Eilish's hometown of Los Angeles and its most iconic backdrops. Happier than Ever: A Love Letter to Los Angeles also features FINNEAS; the Los Angeles Children's Chorus; the Los Angeles Philharmonic, conducted by Music & Artistic Director Gustavo Dudamel; and renowned Brazilian guitarist Romero Lubambo—with orchestra arrangements by David Campbell.
Mark those calendars!
ICYMI: Get Prepared for Shang-Chi and the Legend of The Ten Rings…
It's only a matter of days before the newest Super Hero officially arrives on the scene! Ready yourself for Marvel Studios' Shang-Chi and the Legend of The Ten Rings by reading up on what you need to know going in—including how costar Awkwafina prepared for the role, and what other Marvel Cinematic Universe director helped ease Shang-Chi director Destin Daniel Cretton's mind—right here at D23.com.