By Andie Hagemann
Hulu's new musical romantic comedy Up Here encourages viewers to ponder, "What's the voice saying inside your head?"
Starring Mae Whitman and Carlos Valdes, the series follows the extraordinary story of one ordinary couple, Lindsay (Whitman) and Miguel (Valdes), during the waning days of 1999 in New York City. But as they fall in love, they discover that the single greatest obstacle to finding happiness together might just be themselves—and the treacherous world of memories, obsessions, fears, and fantasies that lives inside their heads.
The idea comes from award-winning songwriting duo Kristen Anderson-Lopez and Robert Lopez, who co-wrote the series' original songs and serve as executive producers. Since college, Lopez has kicked around the idea of telling a story about ordinary people in a musical. "I thought, 'What if you did a musical inside someone's head?'" he recalls. "There are a lot of songs, emotion, and yearning going on in everyone's head that you never get to see."
Adds Anderson-Lopez, "The one thing that really makes that musical loud is finding your soul mate. There's this Elizabeth Gilbert quote that says, in part, 'When we find our soul mate, they're the person who holds a mirror up to us and makes us actually see ourselves.'"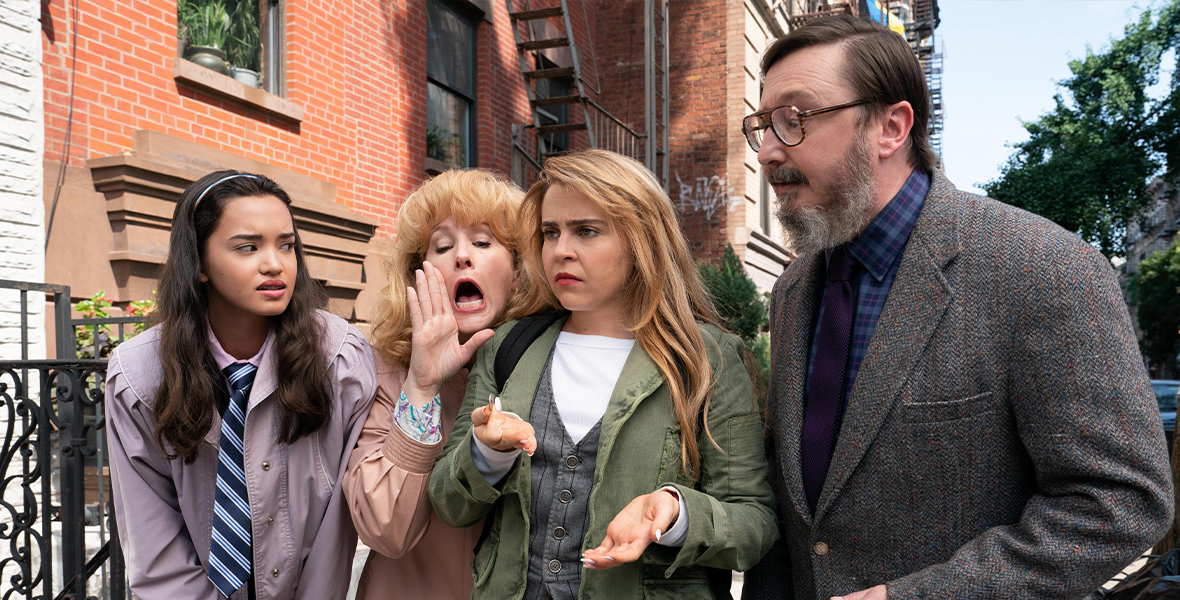 Set in an era before smartphones, Up Here chronicles Lindsay and Miguel's romantic saga during a time when people had to make an effort to meet people and get to know someone—without relying on text messaging, dating apps, and social media platforms. This ordinary couple meets in a bar by chance and is immediately pulled together like magnets. "There's a really beautiful scene in the opening two episodes of a phone call, and those of us that are old enough to remember talking on the phone until 2 and 3 o'clock in the morning with someone you were interested in dating—that stuff doesn't happen anymore," says writer and executive producer Danielle Sanchez-Witzel.
"The voices in our heads, unfortunately, are probably still doing the same things to us that they did back then, but I think that that brings a universal quality to the show," she continues. "We're still our own worst enemies, which is a big part of what this is about."
Much like the journey their characters experience onscreen, creating the series challenged Valdes and Whitman alike to let down their own walls and be vulnerable.
"What was really challenging for me in this process was the honesty in rendering that emotional life for Miguel and laying that bare in front of the camera," says Valdes. "I had to trust the music. I had to trust all the other components, and I had to lend most of my labor to trying to lend truth to Miguel's experience and figure out a way to relate to him in a way that didn't feel forced or presentational."
Valdes continues, "This show is not afraid to get really close with these characters and what's happening inside their heads and within their emotional lives—that's hard to do with a musical."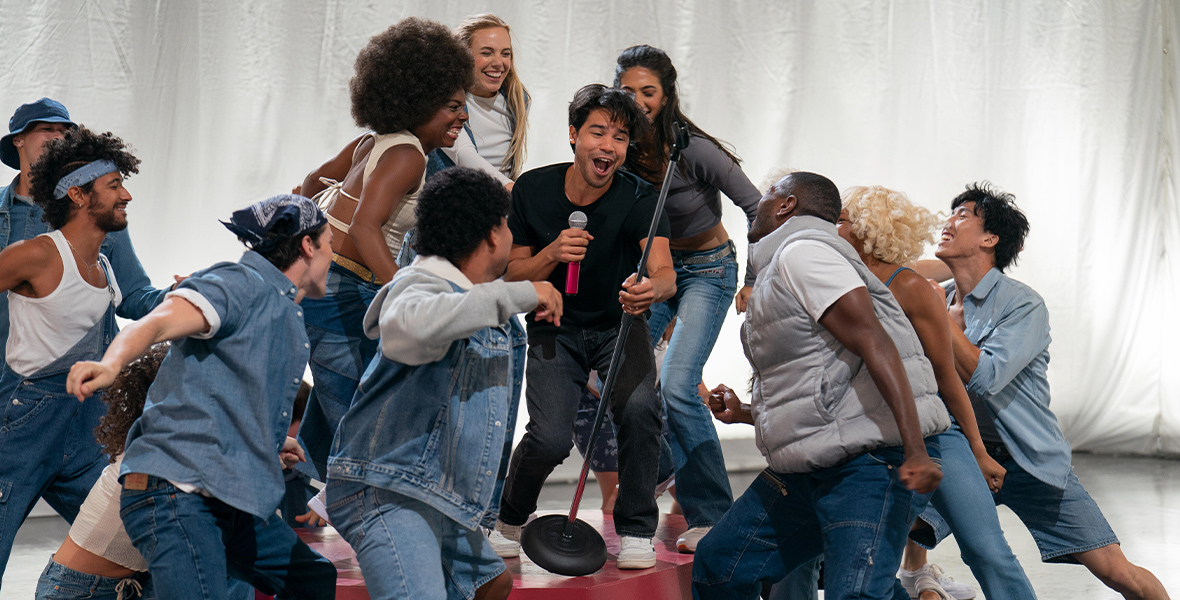 Prior to Up Here, Whitman found singing—especially in front of a camera—to be "terrifying," despite mustering up the courage to sing in previous series. "The number one thing about this entire show is there was such deep trust that you could really be vulnerable and go to those terrifying places," she says. "Even after I auditioned, I was like, 'Well, you know what? Even if I don't get it, at least now I know I can stand in front of a bunch of people and sing a song if I absolutely have to.'"
Whitman continues, "I feel like genuinely the luckiest person on the planet. I don't think I could have done it if it wasn't with this team of people."
Up Here also stars Katie Finneran, John Hodgman, Andréa Burns, Sophia Hammons, and Emilia Suárez. All eight episodes premiere Friday, March 24, on Hulu. This series is intended only for mature audiences.