By Courtney Potter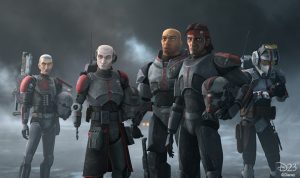 Season 2 of Star Wars: The Bad Batch Coming to Disney+
Just this week, Disney+ announced it has ordered a second season of the critically acclaimed animated series Star Wars: The Bad Batch, set for launch in 2022. Yep, that's right—Clone Force 99 is returning for another mission!
"Fans have enthusiastically embraced the action and drama of Star Wars: The Bad Batch, and we are excited to see the Star Wars animated universe continue to expand on Disney+," said Michael Paull, President of Disney+ and ESPN+. "As the dedicated streaming home for the Star Wars franchise, we can't wait for the second season of this fan-favorite animated series."
"The entire Lucasfilm Animation team and I would like to thank Disney+ and our fans for the opportunity to continue telling the story of the Bad Batch," added executive producer Dave Filoni.
And don't forget: Part one of the two-part season one finale of Star Wars: The Bad Batch is now available to stream, only on Disney+… and part two debuts on Friday, August 13, so stay tuned.
5 Fantastic Things to Watch This Weekend
As per usual, there is truly something for everyone to watch from around the worlds of Disney this very weekend. And we mean it—everything from Logan, starring Hugh Jackman and Sir Patrick Stewart, on FX… to Mrs. Doubtfire arriving on Disney+… and even some musical fun when the Rodgers and Hammerstein classic The King and I airs on FXM on Sunday. For more on what to expect, click here and stake out that favorite spot on the couch.
First Look at Disney+'s Doogie Kamealoha, M.D.
Okay, we're aging ourselves—but we'd be remiss not to admit that we were big fans of ABC's Doogie Howser, M.D., starring Neil Patrick Harris (as well as Newsies and Broadway's The Lion King star Max Casella)… so color us super intrigued for Doogie Kamealoha, M.D., coming soon from Disney+.
This coming-of-age dramedy, inspired by that hit medical series, follows Lahela "Doogie" Kamealoha (Peyton Elizabeth Lee), a 16-year-old prodigy juggling a budding medical career and life as a teenager. With the support of her caring and comical 'ohana (family) and friends, Lahela is determined to make the most of her teenage years and forge her own path. Guiding Lahela (and also complicating things) is her career-driven mother, Dr. Clara Hannon (Rose Perkins), who's also her supervisor at the hospital; her doting father Benny (Jason Scott Lee), who helps keep her connected to what matters most; her free-spirited older brother Kai (Matthew Sato); her gregarious younger brother Brian Patrick (Wes Tian); her best friend Steph (Emma Meisel); her surfer crush Walter (Alex Aiono); and her fellow hospital colleagues, Dr. Lee (Ronny Chieng), Charles (Jeffrey Bowyer-Chapman), and Noelani (Mapuana Makia).
Take a gander at the series' title sequence (above), which features a new rendition of the iconic Doogie Howser, M.D. theme song re-imagined and performed by composer Wendy Wang and world-renowned ukulele player Jake Shimabukuro. Look for Doogie Kamealoha, M.D., filmed on location in O'ahu, beginning September 8, with new episodes premiering every Wednesday.
First Commercial for Star Wars: Galactic Starcruiser Revealed
Feel that? It's a disturbance in the Force—and it's asking if you're ready to save the galaxy… That's because just this week, our friends at the Disney Parks Blog revealed the first commercial for Star Wars: Galactic Starcruiser, set to open in the spring of 2022 at Walt Disney World Resort.
So, what's this first-of-its-kind vacation experience gonna be like? Star Wars: Galactic Starcruiser is a revolutionary new two-night event where you are the hero. It's the most immersive Star Wars story ever created—one where you delve further into a Star Wars adventure than you ever dreamed possible. Your specific choices determine what happens during your voyage—including exciting and exclusive activities, missions, character encounters, and adventures that go beyond any ordinary vacation. Which path will you choose?
Guests will cruise the galaxy aboard the Halcyon, a starcruiser known throughout the galaxy for its impeccable service and exotic destinations. Onboard, stay in well-appointed cabins, experience onboard dining, make a planet-side excursion to Black Spire Outpost on Batuu (in Star Wars: Galaxy's Edge) and much more.
For more out-of-this-world information, visit starwarsgalacticstarcruiser.com.
New Trailer for Season 2 of Diary of a Future President
Disney+ just revealed the trailer for season 2 of Diary of a Future President—which premieres exclusively on Disney+ in just a few weeks; check the clip out, above!
Continuing the origin story of Cuban American and future leader Elena Cañero-Reed (Tess Romero) as she enters the seventh grade and recounted through excerpts from 13-year-old Elena's diary, the series follows Elena through the ups and downs of middle school, which sets her on the path to becoming the President of the United States. "We are so excited for season two and cannot wait to share this next chapter of Diary with viewers," says showrunner Ilana Peña, who also makes her directorial debut with the season's ninth episode. "This season, Elena will inch closer to the bright future we know she achieves, but like any origin story, her journey is not without its hurdles and heartaches. She and her family and friends will all continue to grow up and come into their own this year. I promise you'll laugh, I'm pretty sure you'll cry, and most of all, I hope this season is as meaningful to watch as it was for all of us to make." Executive producer Gina Rodriguez (Jane the Virgin) directs the second season's first episode and also co-stars as grown-up Elena—who will continue to reappear throughout this season as Elena's future self and conscience that guides her through school and toward the White House.
Diary of a Future President also stars Charlie Bushnell as Elena's brother, Bobby; Selenis Leyva as Elena's mother, Gabi; and Michael Weaver as Gabi's boyfriend, Sam. The second season kicks off on Wednesday, August 18, with all 10 episodes available for binge-worthy streaming.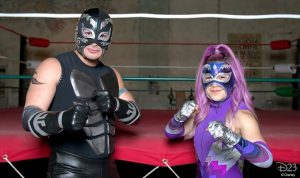 New Cast Member Added to Disney Channel's Ultra Violet & Black Scorpion
J.R. Villarreal (Akeela and the Bee) has been cast as Cruz de la Vega, a luchador wrestling coach with the secret superhero identity "Black Scorpion" in Disney Channel's upcoming live-action comedy series Ultra Violet & Black Scorpion. The series (formerly titled Ultra Violet & Blue Demon) stars Scarlett Estevez (BUNK'D) as Violet Rodriguez, a Latinx teenager who is chosen by a magical luchador mask to be a superhero, like her uncle, Black Scorpion.
The series also stars Marianna Burelli as Violet's mother Nina; Juan Alfonso as her father Juan Carlos; Brandon Rossel as her brother Santiago; Zelia Ankrum as her best friend Maya Miller-Martinez; and Bryan Blanco as her classmate Luis León. Keep your eyes peeled for more info, including the show's premiere date, soon.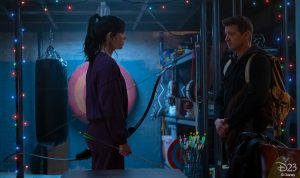 First Look at Hawkeye—Coming to Disney+ This Fall
Marvel Studios has shared a first look and release date for Hawkeye, which is set to debut on Disney+ on November 24. Mark those calendars, y'all!
The series stars Jeremy Renner as Clint Barton, who teams up with another well-known archer from the Marvel comics, Kate Bishop, played by Hailee Steinfeld. The cast also includes Vera Farmiga, Fra Fee, Tony Dalton, Zahn McClarnon, Brian d'Arcy James, and newcomer Alaqua Cox as Maya Lopez.
"[Kate is] a 22-year-old kid and she's a big Hawkeye fan," Renner said in an interview with Entertainment Weekly. "She has a wonderfully annoying and equally charming manner about her, because she's such a fangirl of Hawkeye. The relationship grows from that, but the biggest problem for Clint is Kate Bishop and the onslaught of problems that she brings into his life."
We can't wait to see what's in store for Hawkeye this time 'round…
ICYMI: Disneyland Resort's New Magic Key Program
Earlier this week, our pals down at the Disneyland Resort announced their new Magic Key program, a totally guest-centric new offering that will deliver choice, flexibility, and value for park admission; special access to unique experiences; and lots more. For a complete rundown of what the program entails—including the four different options of Magic Key passes—read all about it right here at D23.com.