By Zach Johnson
Are your Spidey senses tingling? Marvel's Spidey and his Amazing Friends—the first full-length Marvel series for preschoolers—debuts with back-to-back episodes Friday on Disney Channel and Disney Junior. For more adult Marvel fare, watch James Mangold's Logan, starring Hugh Jackman as the titular character, later that morning on FX. The whole family will love Mrs. Doubtfire, joining the Disney+ library Friday, and we'll be singing along as the Academy Award®-winning musical The King and I airs on FXM early Saturday morning. Later that day, Disney Channel will broadcast a new episode of The Owl House.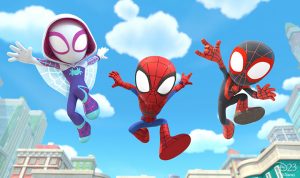 Marvel's Spidey and his Amazing Friends—Friday, August 6, at 9 a.m. ET on Disney Channel and Disney Junior
Our favorite neighborhood web-slinger is used to working solo, but now Peter Parker (voice of Benjamin Valic) must discover what it takes to become a truly amazing Super Hero: being a spider friend who works well with others. Each episode features two animated shorts: First, in "Spidey to the Power of Three," Miles Morales (voice of Jakari Fraser) and Gwen Stacy (voice of Lily Sanfelippo) each think their skill set is the best to track down Rhino (voice of Justin Shenkarow)—but Peter reminds them that teamwork is the best way to save the day. Then, in "Panther Patience," after Doc Ock (voice of Kelly Ohanian) steals a chunk of vibranium from a Wakandan museum exhibit to power her suit, Spidey and Black Panther (voice of Tru Valentino) must work together to get it back. In the next episode, "Superhero Hiccups," Miles gets discouraged when his hiccups keep the team from stopping Green Goblin (voice of JP Karliak). Then, in "Lost and Found," Peter is in over his head when he needs to put an end to Rhino's stomping rampage, retrieve his lost backpack, and get back to Aunt May (voice of Melanie Minichino) in time for movie night.
Mrs. Doubtfire—Friday, August 6, on Disney+
Struggling actor Daniel Hillard (Disney Legend Robin Williams) can't keep a job. And if it were up to his fed-up wife (Sally Field), he wouldn't be allowed to keep his family, either! After Daniel loses custody of his three children (Lisa Jakub, Matthew Lawrence, and Mara Wilson), he realizes that seeing his kids once a week just isn't enough. So, the inventive actor disappears into his new role as Mrs. Doubtfire, the perfect nanny to his own children.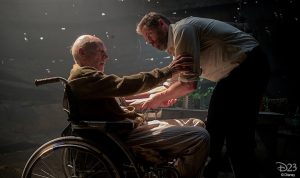 Logan —Friday, August 6, at 10:30 a.m. ET on FX
In this R-rated film, a weary Logan (Hugh Jackman) cares for an ailing Professor X (Patrick Stewart) in a dystopian 2029. But his attempts to hide from the world—and from his legacy—are upended after he meets a young mutant, Laura (Dafne Keen), who shares similar abilities. She is pursued by sinister figures working for a powerful corporation, and it's up to Logan to safeguard her. But can the aging Logan protect both himself and Laura?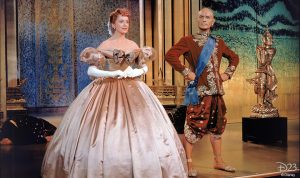 Rodgers & Hammerstein's The King and I—Saturday, August 7, at 12:45 a.m. ET on FXM
In this film adaptation of the Broadway musical, widowed schoolteacher Anna Leonowens (Deborah Kerr) becomes a governess and English tutor to the wives and many children of the stubborn King Mongkut of Siam (Yul Brynner, in an Oscar®-winning performance). Although Anna and the king often find themselves at odds, over time, they start fall in love.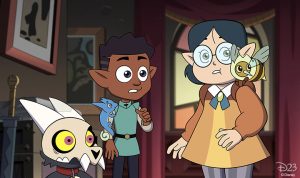 The Owl House—Saturday, August 7, at 10 a.m. ET on Disney Channel
When Luz (voice of Sarah-Nicole Robles) gets sick with the Common Mold, Amity (voice of Mae Whitman), King (voice of Alex Hirsch), and Eda (Wendie Malick) must find a key ingredient for the portal door. But there's a problem: They aren't the only ones on its trail!