By Zach Johnson
Building on the previous success of the "Summer Fun & Games" brand, ABC is expanding its slate of game shows to three nights, adding four new exciting series to the schedule—and Newsreel interviewed the stars of four alterative programs to learn more about what's in store.
Upcoming premieres include Celebrity Family Feud (Sunday, June 9, at 8 p.m. ET), The $100,000 Pyramid (Sunday, June 9, at 9 p.m. ET), Press Your Luck (Wednesday, June 12, at 8 p.m. ET), Match Game (Wednesday, June 12, at 10 p.m. ET), Grand Hotel (Monday, June 17, at 10 p.m. ET), Reef Break (Thursday, June 20, at 10 p.m. ET), The 2019 ESPYS (Wednesday, July 10, at 8 p.m. ET), and Bachelor in Paradise (Monday, July 29, at 8 p.m. ET)—and don't forget to tune in for new episodes of The Bachelorette (airing Mondays at 8 p.m. ET), Marvel's Agents of S.H.I.E.L.D. (airing Fridays at 8 p.m. ET), and What Would You Do? (airing Fridays at 9 p.m. ET).
Here's what the stars had to say about their respective shows when Newsreel spoke to them: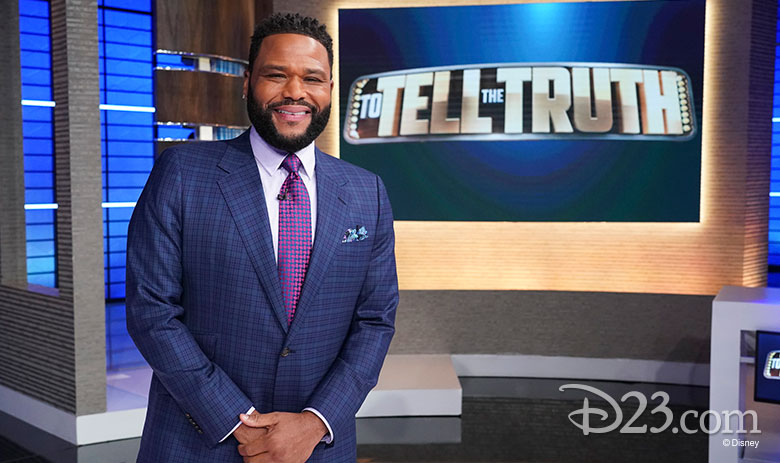 To Tell the Truth (Premiering Sunday, June 9, at 10 p.m. ET)
Hosted by black-ish star Anthony Anderson, To Tell the Truth reimagines the beloved game show that first aired in 1956. Now in its fourth season on ABC, it's becoming harder to determine who's lying and who's being honest—just ask celebrity judges Snoop Dogg, Oliver Hudson, Justin Long, and Amanda Seales, who evaluate three people's claims in the season premiere.
Anderson's mother, the hilariously outspoken Mama Doris, will return to the series to give her two cents and keep score. "I tell the truth. That's why they ask me questions: I tell the truth," she says matter-of-factly. "I figure if you're bold enough to ask me, I'm bold enough to tell you."
Jokes Anderson, "Be prepared for the answers that you get!"
This season of To Tell the Truth will offer viewers "a lot of laughter, entertainment and fun," Anderson promises. And make sure you tune in for his favorite moment: "My mother gets hypnotized on the show and can't remember what we made her do. She won't see it 'til it airs!"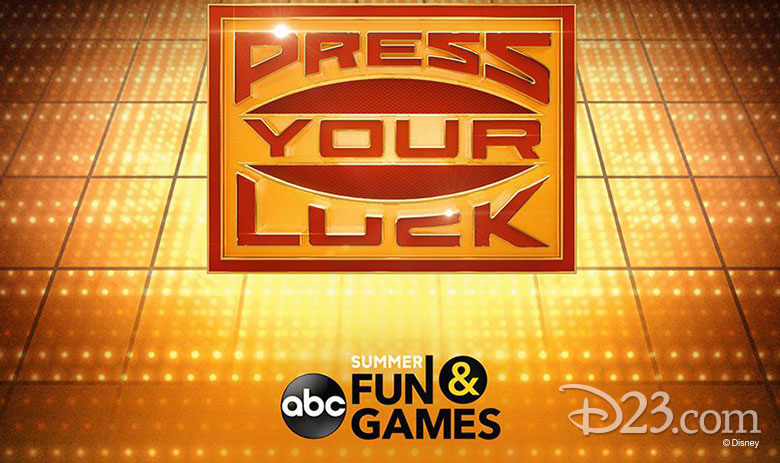 Press Your Luck (Premieres Tuesday, June 11, at 10:01 p.m. ET)
Multihyphenate star Elizabeth Banks presides over the return of Press Your Luck, as contestants go head to head to win big bucks and avoid the iconic WHAMMY. The game demands quick wit, strategic thinking and, of course, the titular luck in staying out of the way of the devilish WHAMMY before he absconds with a contestant's winnings.
The series debuts after The Bachelorette on Tuesday before moving into its regular timeslot on Wednesday, June 12 (8–9 p.m. ET).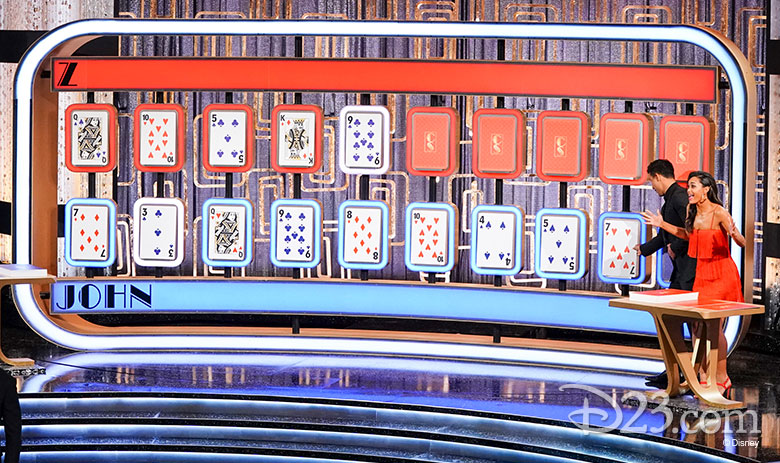 Card Sharks (Premiering Wednesday, June 12, at 9 p.m. ET)
Ask host Joel McHale to describe the premise of the all-new Card Sharks, and this is how he'll respond: "Nathan Fillion plays this rookie cop. He's older than his boss, so when they show up to a crime scene, everyone assumes, 'Oh, he must be in charge.' But he's not! He's the rookie!"
All jokes aside, McHale—who's clearly a fan of ABC's The Rookie—is proud to be reviving the iconic game show, which first aired in 1978. "As a kid, it gave me anxiety—in the best way—because as the stakes went up, I was like, 'Ooh, boy! What's going to happen?' That's going way back when. That shows you how old I am. I am 78," McHale deadpans. In this new iteration, he says, "We get to know the contestants a little bit more and we involve the audience. So, we let them scream and yell—which they do a lot! It definitely brings a kind of party vibe to it that it did not have before. We also give them a lot of sugar beforehand, so they're pretty juiced up."
In Card Sharks, two players face off in a head-to-head elimination race where the winning player claims a $10,000 cash prize and a chance to turn that amount into a life-changing payday. The anticipation builds as the winning player risks everything by predicting seven cards. McHale says it's "exhilarating" to watch contestants win large sums of money, also admitting he's equitably "crestfallen" when contestants lose. "You definitely run the gamut of emotions."
To that end, McHale is happy to play host during the high-stakes game. "I am not a competitive card player. I would be a very good dealer, because I could just put it out there. But I don't have that intuition that professional card players have," he says. "In fact, when a professional card player looks at me, I'm like, 'I have a king and an ace! Sorry! You're looking right into my soul!'"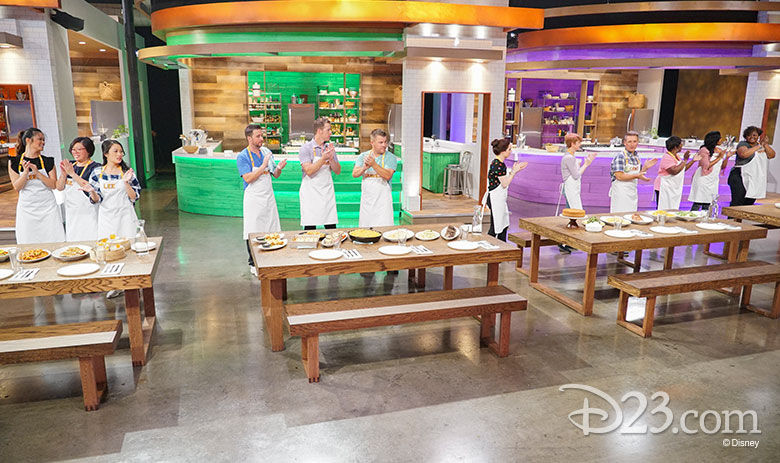 Family Food Fight (Premiering Thursday, June 20, at 9 p.m. ET)
Hosted by Ayesha Curry, Family Food Fight features opposing families dishing out their best culinary skills. Tapping into their diverse cultural heritages, the bold competition series takes homestyle cooking to a new level as teams square off with their most prized family recipes. Their creations must impress a panel of culinary experts including Curry, Cat Cor, and Graham Elliot—but only one can claim the title of America's No. 1 Food Family and score the $100,000 prize.
"It's really 360," says Cora, a world-renowned author, celebrity chef, host and restaurateur. "We're watching every single thing they're doing, and that's what we're judging as well." In addition to technique and presentation, Curry says it boils down to "flavor, salt, acid, fat, heat."
As an executive producer on the eight-episode series, Curry—a restaurateur and New York Times best-selling cookbook author—made sure it's a show she could enjoy with her three kids. "I love that it's a show parents can watch with their children and not have to worry about the content. You'll see competition and high stakes, but you still see a lot of love," she explains. "I think it's going to be a great example to show kids that food is fun! It's a great vessel for change, communication and togetherness. Hopefully people will be encouraged to put their phones and their tablets down and enjoy some quality time with their families in the kitchen."
"Food is supposed to be fun!" Cora says, adding, "I think it's a really inspirational show."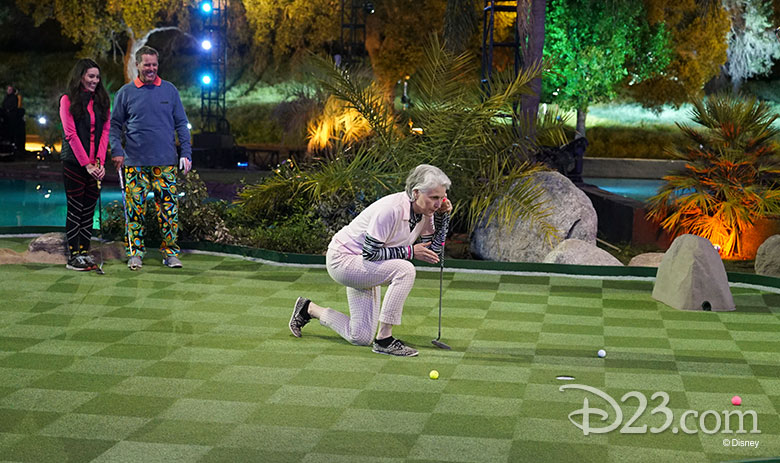 Holey Moley (Premiering Thursday, June 20, at 8 p.m.)
From executive producer Stephen Curry, this 10-episode mini-golf competition series will showcase self-proclaimed mini-golf lovers from around the country as they compete head-to-head through an epic obstacle golf course. In each episode, 12 contestants will put their skills to the test and face off in never-before-seen challenges on a supersized miniature golf course. With Curry appearing as the resident golf pro, Holey Moley also features color commentator Rob Riggle, play-by-play commentator Joe Tessitore, and sideline correspondent Jeannie Mai.
"I'm going to tell you right now: Disney fans are going to crack up at all of the insanity that takes place on Holey Moley!" Mai promises. Production scoured the U.S. for serious miniature golf fans, she adds: "They are really good at the game, but they'd never seen a course like this!"
Think of Holey Moley like this: "It's a little Wipeout, a little Alice in Wonderland, and a lot of cray-cray!" Mai says with a laugh. And throughout the season, the competition series will include a few celebrity cameos. "I can't say who's going to be on," Mai says, apologetically. "But I can tell you we went head-to-head on a tee-off where the person who lost had to plummet two stories into a freezing cold lagoon. I'm not going to tell you who loses… but it wasn't me!"
Mai had "so much fun" working with the enthusiastic Riggle and Tessitore—but it was Steph, a two-time NBA MVP and six-time NBA All-Star, who made the biggest impression. "Steph Curry is a champ! He helicoptered in after his game to play the course with a few of our contestants. He's hardcore at it, by the way!" Mai says. "He absolutely loves miniature golf." Someday Mai hopes to get his wife, Family Food Fight's Ayesha Curry, on the green. "Ayesha, I would love to see you come and putt some miniature golf! I feel like you'd be really good at it. I've seen your precision with measuring, I know how you can turn it on a skillet… You could kill it on a course!"