By Peyton Liebler
Whether you hail from Halloweentown or Halloween Town, you can bet your bottom bones these all-new collectibles are sure to make you scream with frightful delight! Witch-ever way you spend your spooky season, these intrinsic items of enchantment are ready to mobilize your thrills and chills as fast as a bewitched bus, coffin sleigh, or your preferred method of levitating cleaning supplies!
D23 is proud to offer several blood-curdling keepsakes skele-brating three monstrously monumental anniversaries this year! Each of these spine-tingling trinkets will be available exclusively to D23 Gold Members on shopDisney this Tuesday, October 24, at 8 a.m. PST.
D23-Exclusive Hocus Pocus 30th Anniversary Pin – $17.99
Bewitched fans long since dead, deep asleep in thy wormy bed, wiggle thine toes, open thine eyes, and spell-ebrate 30 years of Halloween havoc with Hocus Pocus! D23 Gold Members can take part in the sinister Sanderson deeds and wake the dead with this pin resembling the gravestone of one William Butcherson, also known as everyone's favorite zombie: Billy! This pin is a special, shopDisney-exclusive color variant; attendees of the D23 Black Flame Ball were fortunate enough to snag its light-colored counterpart as an event-exclusive gift!*
This pin is inspired by Hocus Pocus... In 1993, the Black Flame Candle was ignited by an unsuspecting group of kids, inadvertently unleashing the wrath of three witches on the storied city of Salem, Massachusetts. Sinister sisters (Disney Legend Bette Midler, Kathy Najimy, and Sarah Jessica Parker) with talents of unfathomable magic (and questionable teamwork skills) mounted brooms, mops, and vacuums in a dastardly plot to retain eternal youth. Though ultimately foiled, the Sandersons returned in 2022 in their long-awaited sequel---Hocus Pocus 2. These beloved films have garnered a cult following, with Hocus Pocus especially becoming a forever-celebrated Halloween classic.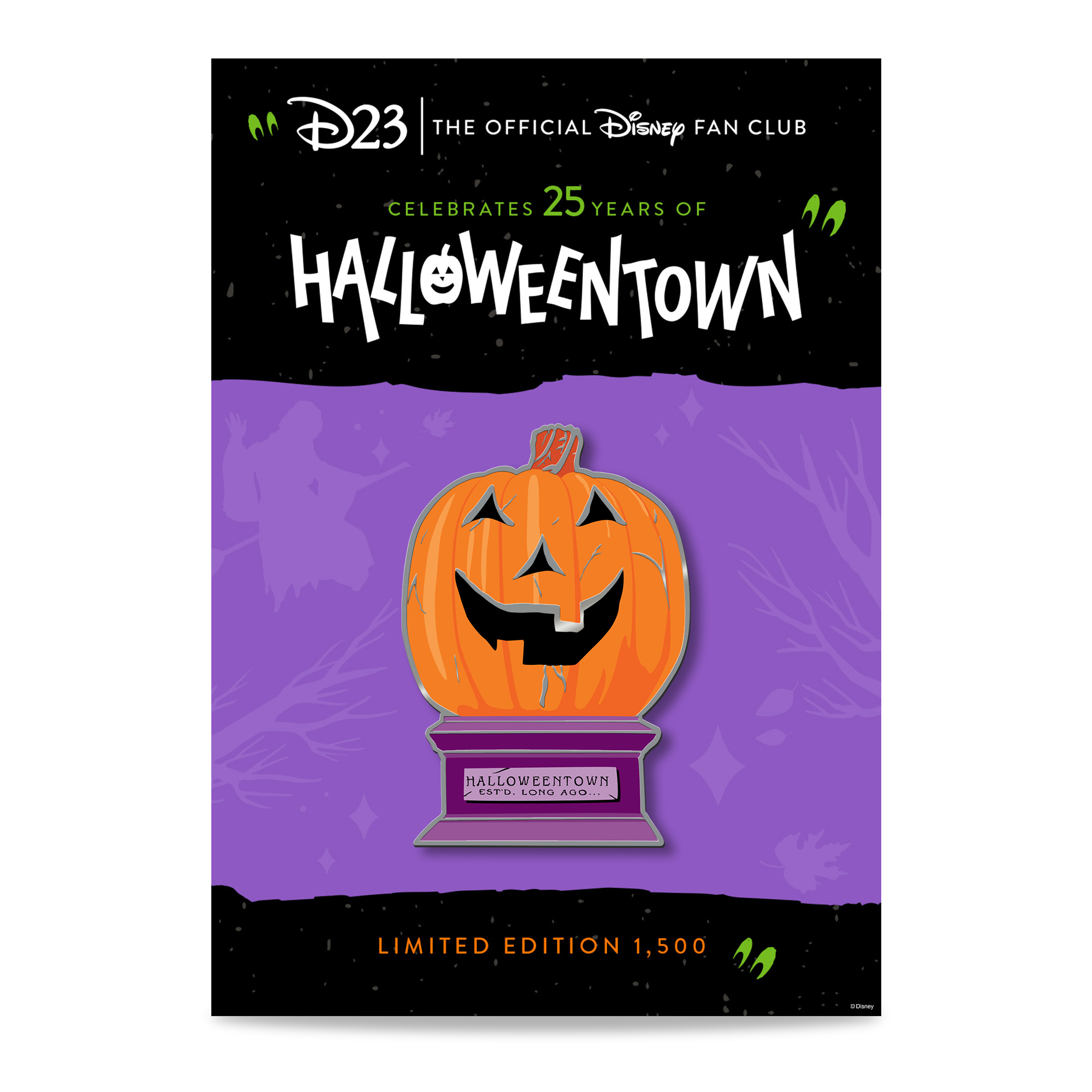 D23-Exclusive Halloweentown 25th Anniversary Pin – $17.99
Celebrate 25 years of magic and enchantment with Halloweentown! D23 Gold Members are invited to leave behind the mundane of the mortal world, hop on a bewitched bus, and make themselves at home in a town where "being normal is VASTLY overrated"! This unique pin is the perfect way to reflect on over two decades of the beloved Disney Channel Original Movie, with the iconic town square Jack O' Lantern serving as inspiration. This is a special, shopDisney-exclusive variant of this bewitching pin; attendees of the upcoming "25 Years of Halloweentown with D23" event can look forward to procuring the accompanying variant of this pin as an event-exclusive keepsake.*
This pin is inspired by Halloweentown: The worlds of the mortal and the supernatural were introduced to Marnie Piper (Kimberly J. Brown) and the rest of the Cromwell clan, 25 years ago, in one of the most beloved Disney Channel Original Movies of all time. After following their grandmother, Aggie Cromwell (Debbie Reynolds), into her magical homeland of Halloweentown, Marnie and her siblings discover they come from an illustrious line of witches. Halloweentown is not only a haven for supernatural beings, but it's also in jeopardy—and Marnie and her siblings must discover a way to make sure this wondrous realm is protected from the mysterious forces of evil which threaten the safety of Halloweentown and the eclectic citizens which inhabit it.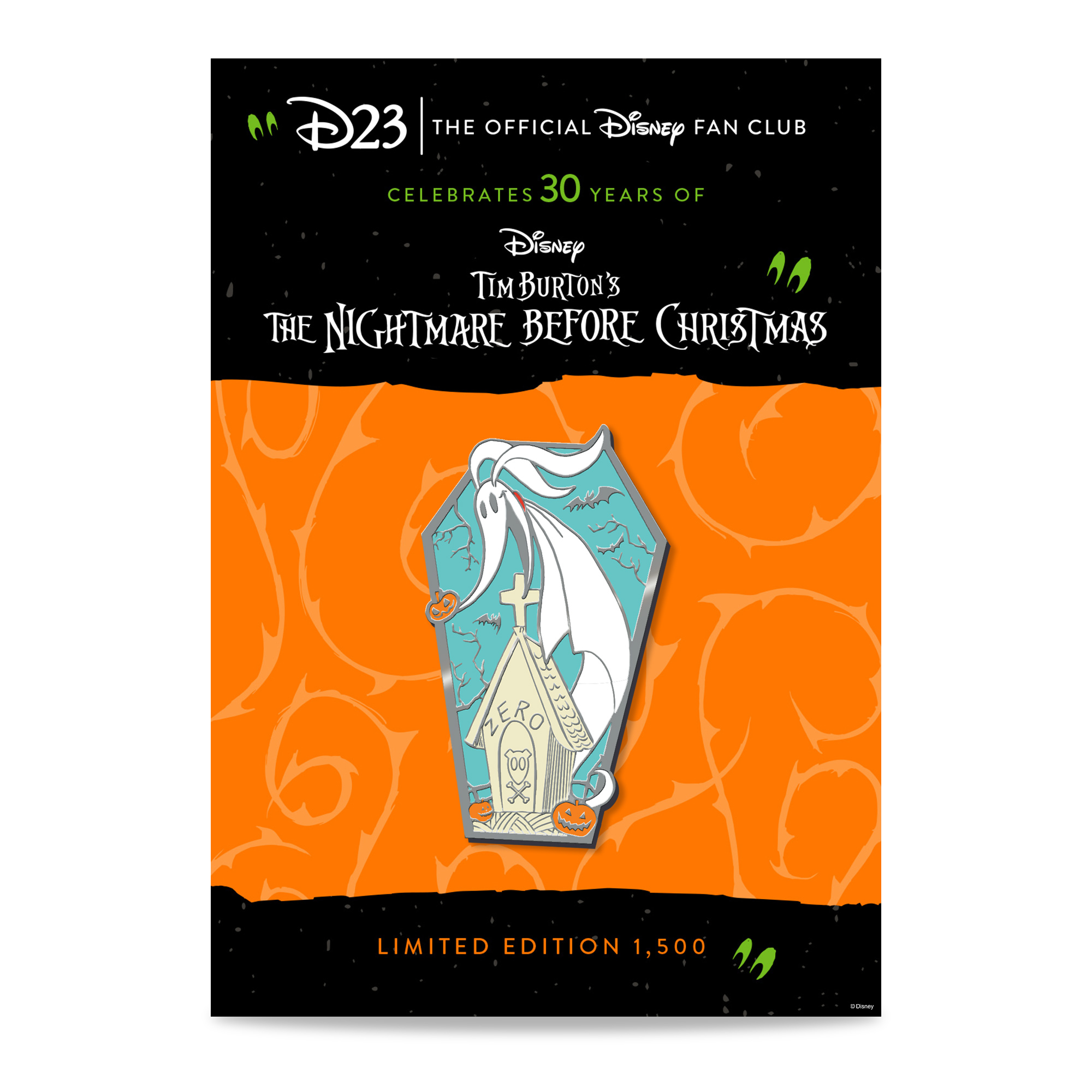 D23-Exclusive Tim Burton'sThe Nightmare Before Christmas 30th Anniversary Pin – $17.99
It's been 30 years since we journeyed into the holiday worlds of old with Tim Burton's The Nightmare Before Christmas! D23 Gold Members can join in the fun with this adorable pin, fit for the Pumpkin King himself! Featuring Jack Skellington's spirited dog Zero and his doghouse, this is the perfect way to "make a scene" for all fans of frights and fun!*
This pin is inspired by Tim Burton's The Nightmare Before Christmas... Three decades ago, the king of Halloween Town—Jack Skellington (voiced by Chris Sarandon)—accidentally stumbled into the dazzling world of Christmas Town. Determined to capture the wonder of this wintery land, Jack took matters into his skeletal hands and mobilized the town's citizens of his to nab "Sandy Claws" and take the holiday for themselves. Though he has the unfailing support of his creepy community—and his loyal ghostly canine—Jack ultimately discovered the chaos that ensues when these two vastly different worlds collide.
Not a D23 Gold Member?
Sign up today to access limited edition merch
and year-round discounts and offers!
All pins available while supplies last. To purchase, you must log in to shopDisney.com with the Disney account tied to D23 Gold Membership. Each of these pins are sold for $17.99, plus applicable sales tax. Maximum of two (2) pins of each style for purchase per D23 Gold Member for online orders. Each pin style is offered in a limited-edition quantity of 1,500 pins. Shipping not available to PO boxes; shipping and handling fees may vary for all online orders. Other restrictions may apply. All information is subject to change including, but not limited to, artwork, release dates, editions sizes, and retail prices.