By Peyton Liebler
Crack open those fortune cookies and tune up those electric guitars, Freaky Friday (2003) is turning 20 years old this year! And D23 Gold Members can celebrate this beloved comedy in style, with a Gold Member exclusive pin themed to Anna Coleman's band Pink Slip. We know you're excited, but could you, like, chill for a sec? We have even more special details to share about this fun and FREAKY pin!
Inspired by Freaky Friday (2003) - Dr. Tess Coleman and her teenage daughter Anna have one thing in common—they don't relate to each other about anything. Then one night a little mystic mayhem changes their lives and they wake up to the biggest freak-out ever. Tess and Anna are trapped inside each other's bodies! But Tess' wedding is Saturday and the two must find a way to switch back—fast! Forced to literally walk in each other's shoes, will they gain respect and understanding for the other's point of view?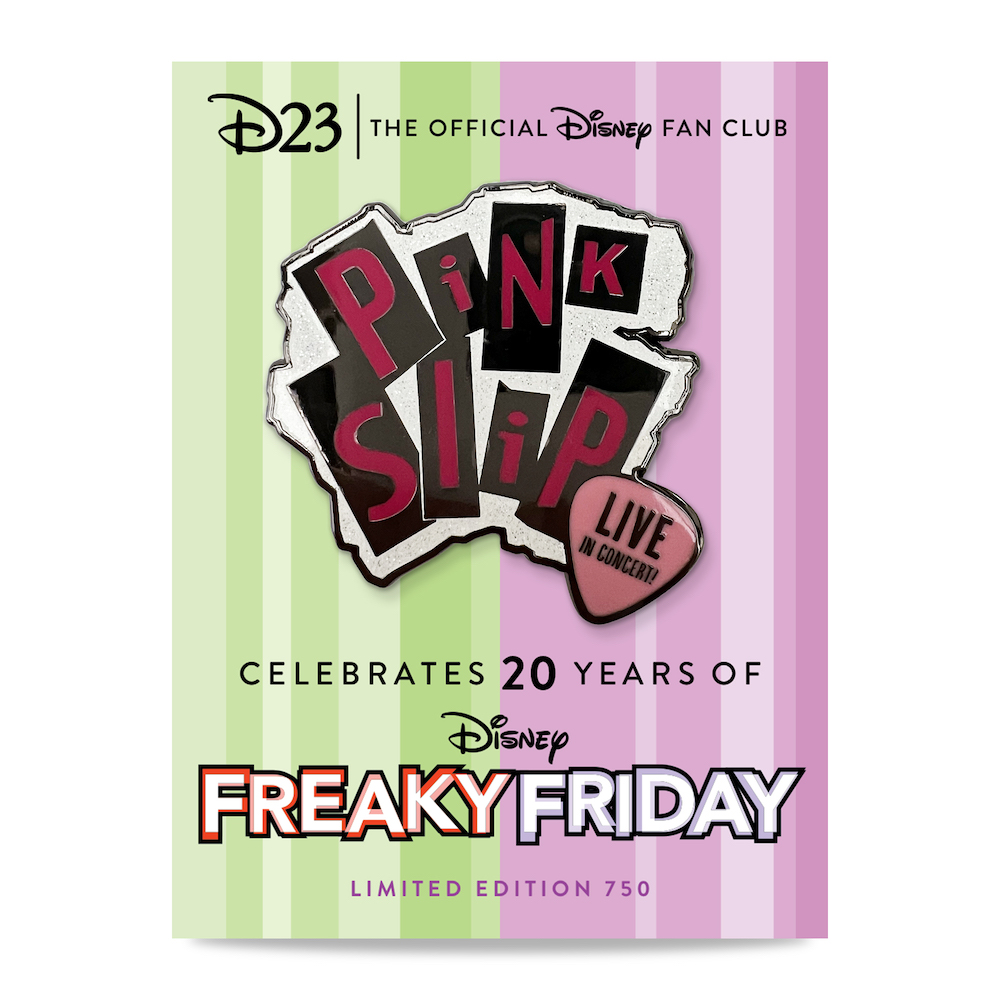 D23-Exclusive Freaky Friday 20th Anniversary Pin
Freak out with the body-swapping hilarity of this punk rock pin! This D23 Gold Member exclusive pin will "take you away" to the nostalgia and magic of Freaky Friday. The pin features the insignia for Pink Slip, Anna Coleman's grungy garage band, marked with a "Live in Concert" guitar pick. Get up, get out and get this jamming pin now!
Our D23-Exclusive Freaky Friday 20th Anniversary Pin, offered in a limited edition of 750 is available to D23 Gold Members at 8 a.m. PT on shopDisney, Tuesday, August 1, 2023.
Not a D23 Gold Member?
Sign up today to access limited edition merch
and year-round discounts and offers!
*Available while supplies last. To purchase, you must log in to shopDisney.com with the Disney account tied to D23 Gold Membership. These pins are sold for $19.99 each, plus applicable sales tax. Maximum of two (2) pins of this style for purchase per D23 Gold Member for online orders. Shipping not available to PO boxes; shipping and handling fees may vary for all online orders. Other restrictions may apply. All information is subject to change including, but not limited to, artwork, release dates, editions sizes, and retail prices