By Jocelyn Buhlman
March is not only Women's History Month, but it's also the month our friends at RockLove Jewelry are celebrating their 15th anniversary! As a woman-founded and run company, RockLove showcases the artistic talent and creativity of a team of women lead by CEO and designer Allison Cimino.
Whether you're a Disney fashionista or just someone with an eye for shiny things, you're probably familiar with RockLove's gorgeous collaborations with Disney, Star Wars, Marvel, and Pixar... but how much do you know about the team behind the magic? We sat down with Cimino to talk jewelry, Disney, and dressing like punk-rock Maleficent. Plus, each member of the team told us which Disney character they'd love to see wearing RockLove! Read on to discover that in this case, all that glitters is covered in pixie dust: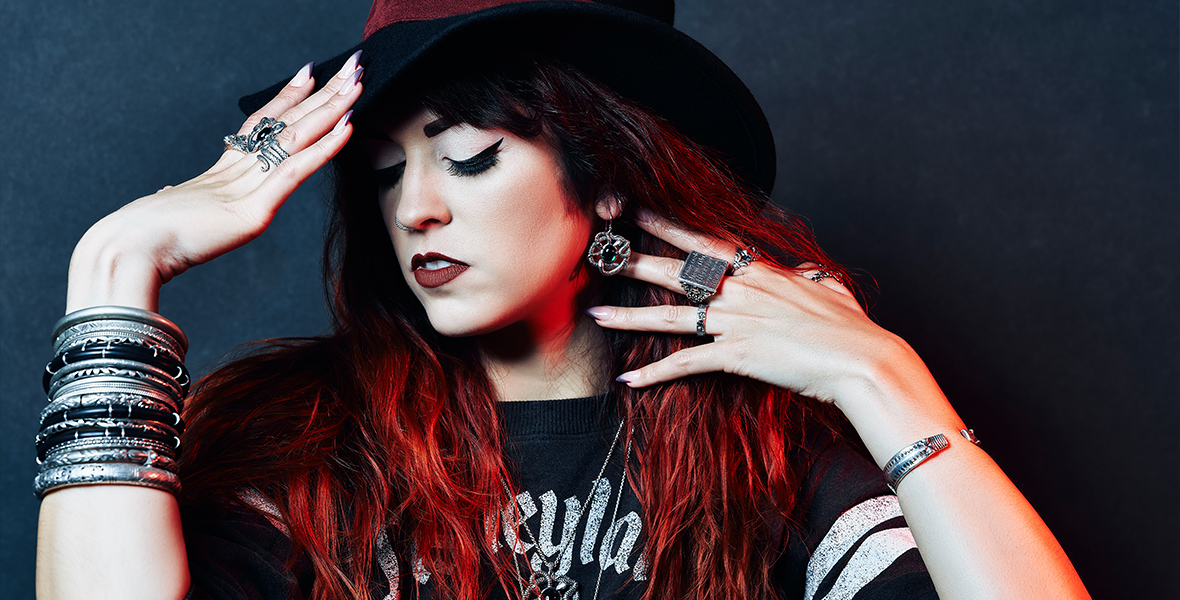 D23: The Official Disney Fan Club: What inspired you to study precious metal jewelry craftsmanship?
Alison Cimino (AC): Since childhood, I have been captivated by the artistry and allure of precious metals, especially the historical styles and techniques of sterling silver from different regions and eras throughout history.
However, it was my personal experience with nickel allergies that propelled me towards a career in jewelry-making. I discovered that the use of nickel in lower quality, mass-produced jewelry not only limited my options for self-expression but also caused a traumatic allergic reaction to a gold and diamond nose ring. This experience was a turning point, and I dedicated myself to crafting pieces from scratch with the highest quality metals and materials to ensure the purity and hypoallergenic properties of each piece.
I enrolled in an old-world silversmithing apprenticeship in Florence, Italy, where I learned traditional techniques with a focus on lost wax casting. The experience cemented my passion for sculpting and metalwork and provided me with the foundation to establish my own brand, RockLove. From the outset, the use of nickel-free sterling silver and the highest quality precious metals became a cornerstone of the brand—enabling me to create stunning pieces that are both fashionable and safe for a wide audience to wear.
D23: How do you integrate storytelling into your jewelry designs?
AC: I believe that jewelry has the ability to tell stories and evoke emotions. My design process draws inspiration from diverse sources, including historical styles and craftsmanship techniques, as well as the imaginative worlds of sci-fi and fantasy pop culture. I aim to seamlessly interweave these narratives into my designs, utilizing various techniques such as enamelwork, engraving, filigree, articulations, and custom crystal shapes to tell each chapter of the story.
As a lifelong fan of Disney's storytelling and world-building, I have always been enamored by the brand's iconic characters, magical lands, and engaging narratives that have captivated and inspired generations. With each Disney X RockLove piece, I strive to infuse the tangible piece of jewelry with a similar sense of wonder and imagination, creating glittering sculptures that act as talismans designed to transport the wearer to another world—and help them express their own unique story.
D23: How do you approach creating Disney-inspired RockLove designs?
AC: My approach is always to stay true to the spirit of the characters and stories while also bringing my own artistic vision and style to the pieces. I draw inspiration from everything—from memorable quotes to the intricate details of the costumes and props—and I work closely with the Disney team to ensure that each piece is an authentic representation of the beloved characters and their worlds.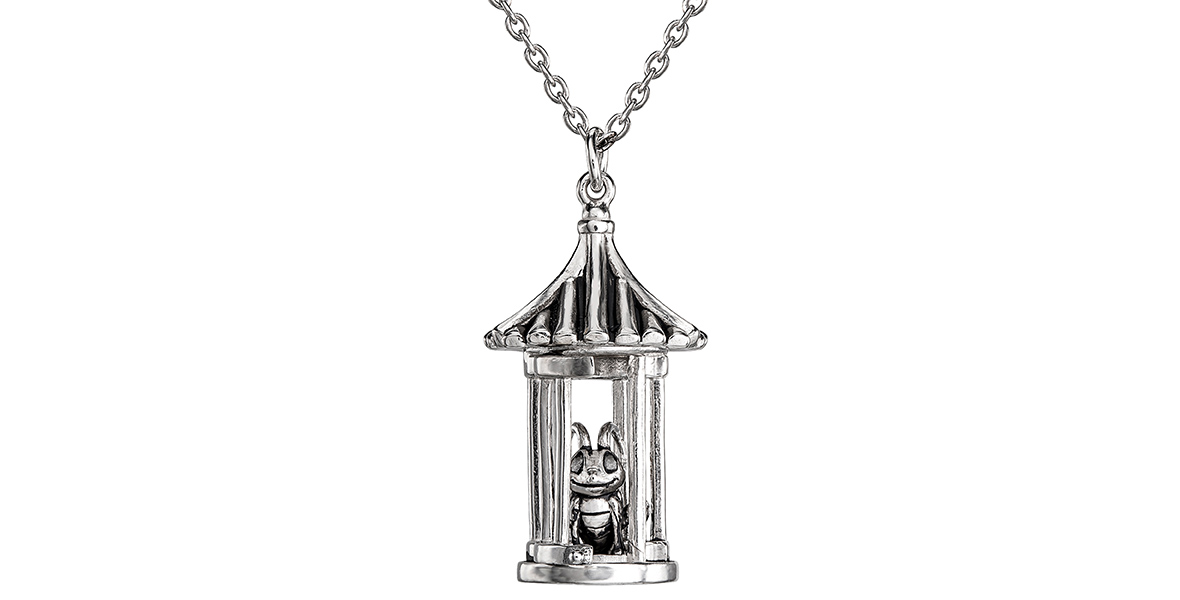 D23: Which Disney character were you most excited to design jewelry for?
AC: I couldn't wait to design for my favorite characters, so the first Disney Princess collections were homages to my deep admiration for Disney's Mulan and Tiana. They are two inspiring princesses who embodied the values of hard work, perseverance, and courage. Mulan, a warrior who fought both for her country as well as the safety of her father, and Tiana, a determined entrepreneur who worked hard every day to achieve her dreams, both served as powerful role models for women everywhere.
For Mulan, I created pieces that evoke the strength and honor of a warrior with motifs of plum blossoms and swords, joined by adorable three-dimensional sculpted pieces of her comic-relief sidekicks Mushu and Cri-Kee. For Tiana, I designed an elegant series of sculpted water lilies set with soft white pearls, along with a joyful beignet earring and necklace set (complete with crystal pavé powdered sugar!) that reflect her passion for cooking and her love for her hometown of New Orleans.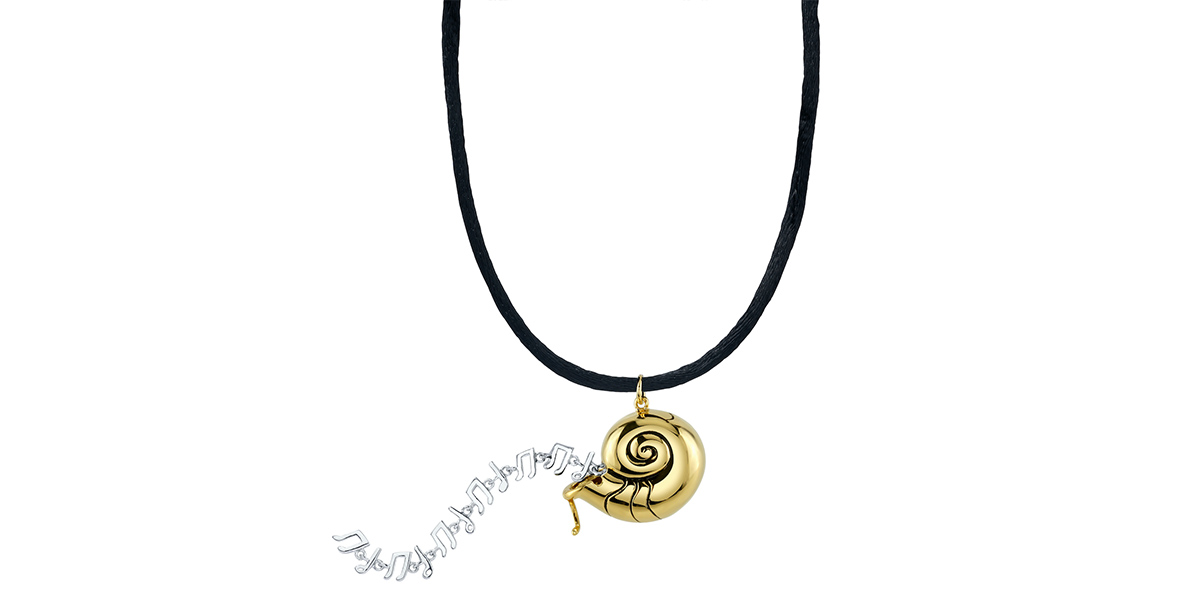 D23: Is there a Disney X RockLove jewelry piece you're most fond of?
AC: The inaugural launch of the Disney X RockLove line featured multiple Disney Villains, and among them was the incomparable Ursula. Even today, the Ursula Shell Locket remains one of my all-time favorite designs across any fandom, embodying the RockLove brand and exemplifying the level of storytelling I strive to achieve.
Crafted in sterling silver and plated with 14K yellow gold, Ursula's iconic nautilus shell necklace holds a special secret: it is three-dimensional and double-sided, with a hinged door that releases Ariel's voice, which was trapped inside! The necklace features a chain of nine linked sterling silver music notes that pour out in succession—an accurate transcription of Ariel's vocal progression.
Beautiful, high quality, articulated, and capturing an iconic moment from the film, the most magical part about this necklace is the connection the wearer makes when showing off the hidden music notes to another, uniting them in their shared love of Disney.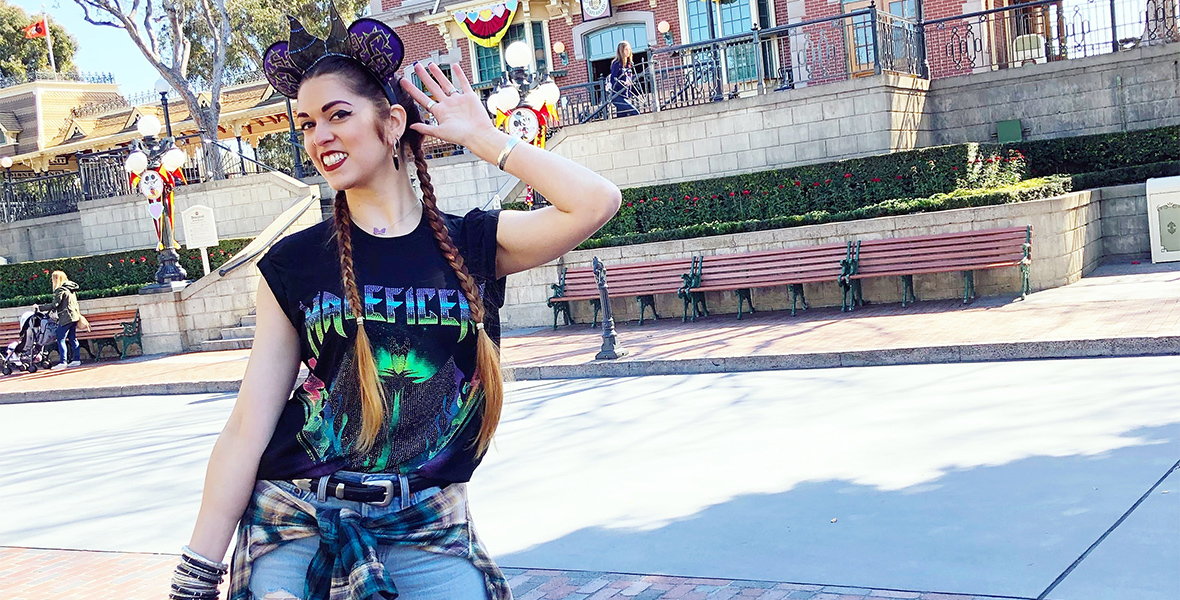 D23: What's your most "I can't believe this is my job!" moment from your RockLove work with Disney, thus far?
AC: Although I watched every animated Disney film on loop and had each lyric committed to memory, the only time I had the chance to visit Disneyland or Walt Disney World was a single time as a stroller-size child too young to remember. And apparently, I was terrified of the characters—the irony! It wasn't until after I began the official collaboration with Disney that I finally had the opportunity to truly experience the Walt Disney Studio Lot and Disneyland. For my day at Disneyland, I dressed up in a Maleficent meets '80s classic rocker Disneybound, complete with custom ears, and spent the day in equal parts wonderment and happy tears—thinking to myself, "Oh my gosh, I'm making Disney magic!" It was a surreal and unforgettable experience, and I felt incredibly fortunate to be able to play a part in the beloved Disney universe.
D23: What advice do you have for Disney fans who want to make their own jewelry?
AC: If you're new to jewelry making or any other craft, it's essential to start with the basics and gradually build your skills. Take a local class or follow online tutorials to master simple techniques like wire wrapping and beading before moving on to more complex methods such as fabrication and soldering.
Jewelry making is a creative process that offers an opportunity to construct something new. Instead of making designs that you think others will like, experiment with new ideas that excite you. Your passion and uniqueness will shine through in your work if you follow your own voice.
Like any skill, jewelry making takes practice to master. It's essential not to get discouraged if your designs don't turn out exactly as you hoped; your hands need time to catch up to your imagination. Don't abandon a project just because it's not perfect; finish it and move on to the next. With time and practice, you'll develop your own unique style and hone your techniques.
Question for each of RockLove's team members: Which Disney character would you love to see wearing RockLove jewelry?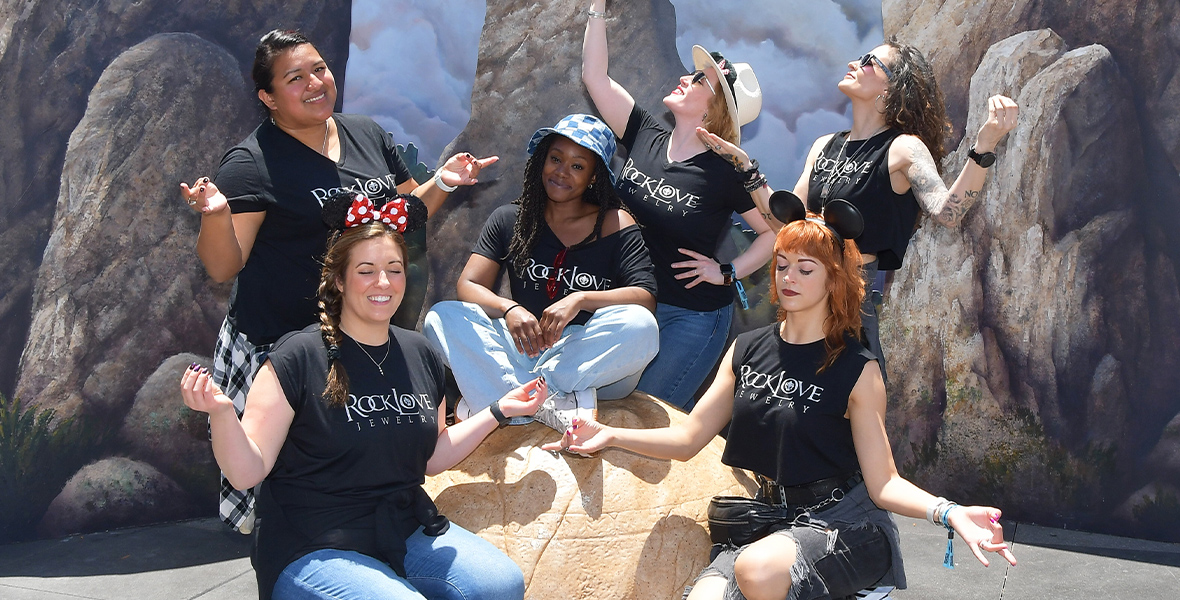 Allison Lazar, Chief Experiential Officer: While Jeff Goldblum is not a "Disney character," but rather a host/personality of The World According to Jeff Goldblum on NatGeo, I think with such a wide range of franchises, jewelry styles, and finishes across our brand, RockLove could be effortlessly incorporated into his unique style and bring a new sophisticated "Disneyverse" synergy to every outfit. His adventurous approach to fashion and untamed curious spirit is what RockLove is all about.
Carla Roque, Customer Service Manager: Growing up in Southern California, I spent a lot of time in the water. Between swim lessons, trips to the beach, and a very short-lived dream of becoming a marine biologist, it should be no surprise that The Little Mermaid was my favorite movie. I could definitely see Ariel wearing RockLove Jewelry. She's one of the few princesses we see wearing multiple outfits, and we've got pieces that go with it all! The Keepsake Necklace is a perfectly dainty reminder of where she came from now that she's part of our world; the Shell Locket proving she's strong enough to use her voice; and the Bubble collection is super sparkly thingamabob-perfect for any outfit.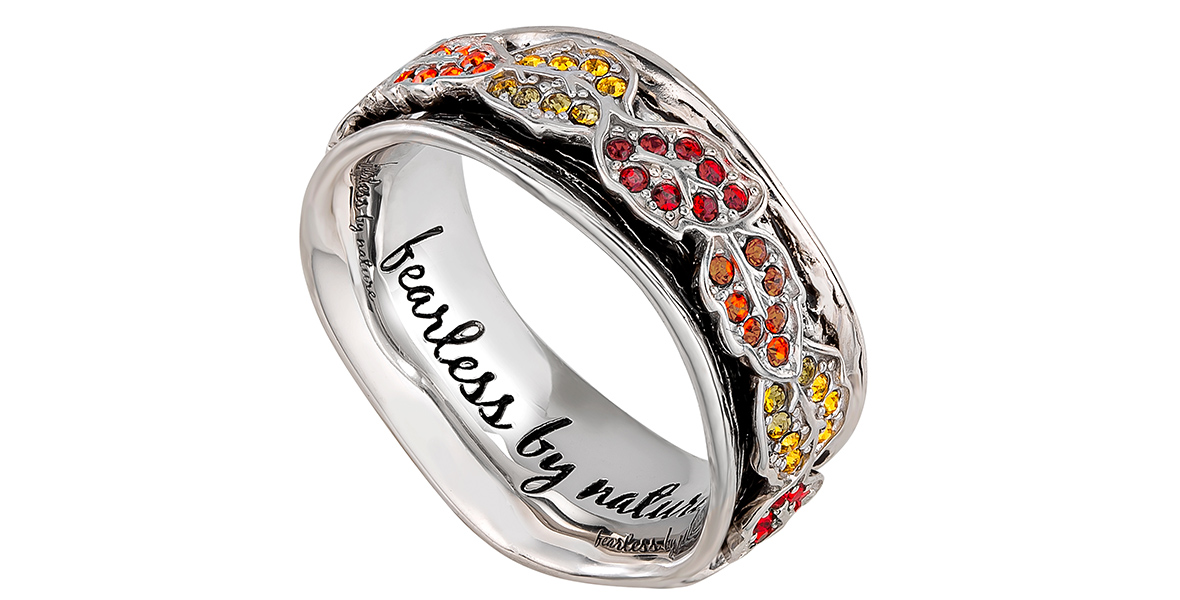 Jessica Lazar, Image Manager: The character I would love to see wearing RockLove Jewelry is Te Fiti, the Earth Goddess, from Moana. I would love to see the Goddess wearing the Disney X RockLove Frozen Gale Wind Spirit Spinner Ring. I am very passionate about respecting and taking care of nature, including oceans, plants, animals, etc. Te Fiti shows her passion and frustration for how we treat the Earth when she transforms into Ta Ka—and some could say I do the same when I see a neglected plant in a trendy restaurant. I want her to wear the Gale Wind Spirit ring because she is "fearless by nature" for nature, and I'd like to think I am as well.
Jeannelle Joseph, Licensing Manager: Mulan! I always loved her character as a kid—courageous, strong, and determined. She broke barriers for many and cared deeply for her family and culture. I would love to see Mulan wearing our Disney X RockLove Mulan Sword Earrings, and think they would be a cool extra weapon in battle!
Katie Weddle, Purchasing Manager: As a lifelong Disney fan with a serious love of the fairytales and classic stories, my final answer surprised me a bit. My first inclination was to choose Mary Poppins—seeing her wear RockLove Jewelry would be practically perfect in every way! But the more I thought about it and thought about what RockLove represents and the amazing women on our RockLove Team, I think that the character I would LOVE to see wearing RockLove jewelry most is the one, the only, the inimitable Edna Mode! Edna is an icon of fashion herself, but also a strong, creative, artistic woman with ambitions to change the world through innovation and imagination—all while being a friend who tells the truth and support to those she works with and serves. Seeing her wear RockLove would be "absolutely fabulous, dahling!"
About RockLove:


RockLove is toasting their 15th anniversary with a yearlong RockLove XV blowout celebration! RockLove branded merchandise, exclusive 15th anniversary commemorative jewelry drops, themed sales events, and more… they have so much planned for this milestone year!
And the first step to prep for any soirée: clear out the space and make room to party.
For RockLove's annual March 30th Birthday Sale, they will be retiring tons of select styles. This will be your last chance before these older favorites to return to the vault... but not before you get one last chance to snag them at 30% discount!
For their first RockLove XV anniversary event, join us for 30% off on March 30, a one-day-only sale exclusively on RockLove.com.