The Good Dinosaur: New Trailer & Disney Parks Sneak
Y'know how that giant asteroid hit Earth and rendered dinosaurs extinct? Well, imagine if it had bypassed our little blue planet altogether. What would life be like? That's the question Disney•Pixar's next animated film, The Good Dinosaur, aims to answer. And a brand-new trailer, above, clues us into the big adventures awaiting Arlo the Apatosaurus and his human pal, Spot.
Plus, if you're planning on visiting Disneyland Resort or Walt Disney World Resort soon, you'll be able to catch an exclusive The Good Dinosaur sneak peek—beginning October 16. At Disney California Adventure park, the prehistoric preview will be shown at the Bug's Life Theater, with cool in-theater effects. And guests at Disney's Hollywood Studios will check out this early look at clips from the film as part of the One Man's Dream attraction on Mickey Avenue.
The Good Dinosaur, directed by Peter Sohn, charges into theaters on November 25!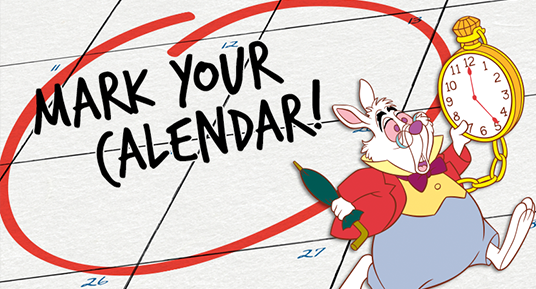 Save the Date!
Be sure to mark these upcoming Disney events on your calendar:
D23 and Walt Disney Archives


Fall 2015


D23 Member VIP Nights at The Lion King


October 9


Lunch with a Disney Legend: Kathryn Beaumont


October 25


Haunted Gingerbread House Building Workshop


November 6


VIP Studio Experience with Disney Legend Andreas Deja


November 7


D23 Day at the Walt Disney Studios and Archives


November 14


Pinocchio: 75 Years of a Disney Classic


November 14


Mickey's of Glendale Orlando Shopping Event


December 13


Holiday Gingerbread House Building Workshop


Studios




November 25


The Good Dinosaur opens in theaters.


December 18


Star Wars: The Force Awakens opens in theaters.


January 29


The Finest Hours opens in theaters.


March 4


Zootopia opens in theaters.


April 15


The Jungle Book opens in theaters.

Parks


September 15, 18, 20, 22, 25, 27; October 1, 2, 4, 6, 8, 9, 12, 13, 15, 16, 18, 20, 22, 23, 25, 27, 29, 31; and November 1


Mickey's Not-So-Scary Halloween Party at Magic Kingdom Park


September 25, 28, 30; October 2, 5, 7, 9, 12, 14, 16, 19, 22, 23, 25, 27, 29, 31


Mickey's Halloween Party 2015 at Disneyland


September 25-November 16




Epcot International Food & Wine Festival




November 8, 10, 12, 13, 15, 17, 19, 20, 29; and December 1, 3, 4, 6, 8, 10, 11, 13, 15, 17, 18


Mickey's Very Merry Christmas Party at Magic Kingdom Park


Television




November 30


It's Your 50th Christmas, Charlie Brown airs at 9 p.m. ET/PT on ABC.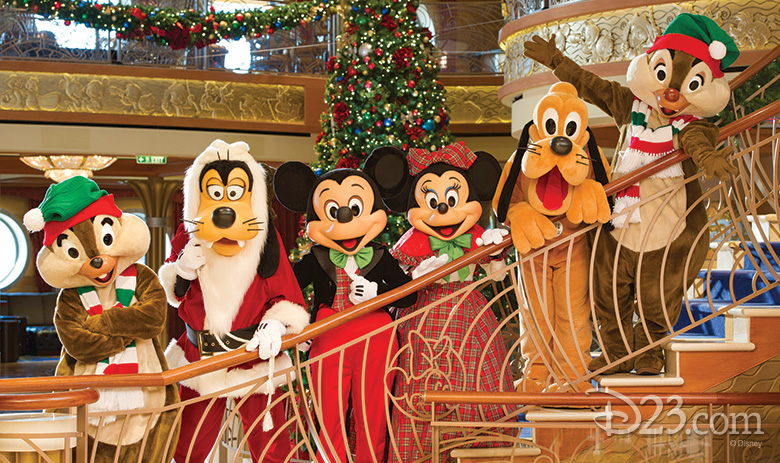 Disney Cruise Line's "Merrytime" Holiday Fun
Halloween may still be around the corner, but that doesn't mean we can't start planning some holiday vacation fun—and Disney Cruise Line has got us covered with their "Very Merrytime Cruises," starting this November aboard their Disney Magic, Disney Wonder, Disney Dream, and Disney Fantasy ships.
Besides fabulous turkey-dinner feasts, fun "snow flurries," and special New Year's Eve galas, the "Very Merrytime" cruises will also feature jolly "stem-to-stern" events like "Mickey's Tree-Lighting Magic" in the atrium lobby on the first night of the cruise (where Disney characters lead a holiday music sing-a-long) and "Santa's Winter Wonderland Ball," where cruisers will welcome guests of honor Santa and Mrs. Claus with a huge celebration featuring Broadway-style entertainment, favorite Disney characters, and classic yuletide tunes.
Sail over to Disney Cruise Line's website for more information on all the oceanic merriment (including destinations and sail dates)!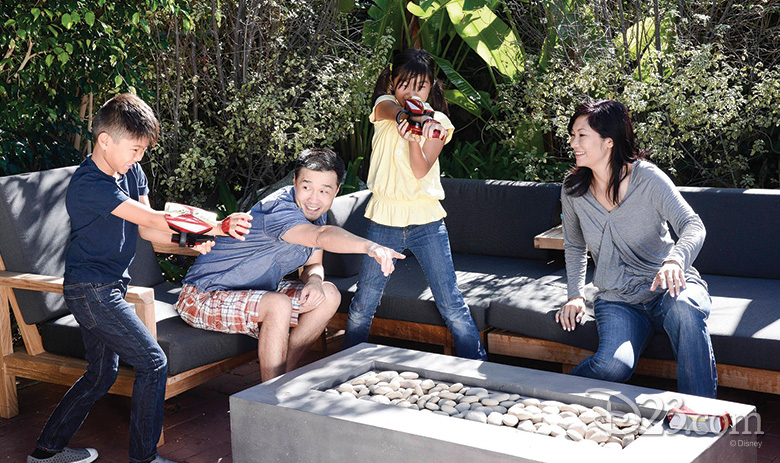 Assemble the Fun with Playmation Marvel's Avengers
Big doings over the weekend for Disney Consumer Products and Interactive Media (DCPI): their fantastic new Playmation Marvel's Avengers—called "the next step in the evolution of play"—rocketed into toy stores across the United States and Canada! The cutting edge system of connected toys and "wearables" fuses technology with imagination to create a totally new category of play, which aims to inspire both kids and their parents to get active (not to mention creative!) at playtime.
Created by a team of Imagineers, tech experts, and storytellers from across Disney, Playmation uses familiar technologies including smart toys, wireless technology, and motion sensors—but applies them in completely new ways. The Playmation Marvel's Avengers Starter Park includes five connected toys (there's also a free downloadable app), and getting started is easy; Iron Man's JARVIS himself takes you through a tutorial once you fit the first piece of gear on your arm. (Yes, it fits adults too… and yes, we already have this on our Christmas wish list.) Look for the next installments of Playmation in 2016 and '17.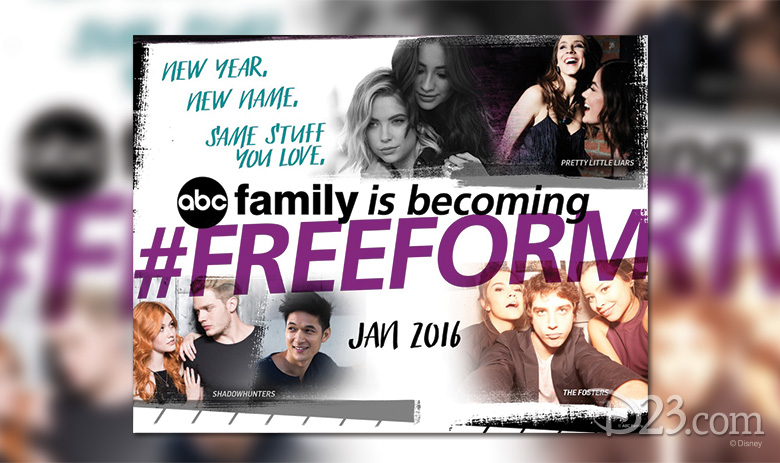 ABC Family Becomes Freeform in 2016
As far as "New Year's resolutions" go, ABC Family is making a big one. Resolving to better represent their target audience of "Becomers" (those of us between the ages of 14 and 34, who are learning both who we are and who we want to become), the network is changing its name, its look, and its feel—and starting in January 2016, it'll debut to all and sundry as (drum roll, please… ) Freeform!
But don't worry: All your favorite shows—like Pretty Little Liars, The Fosters, Young & Hungry, and Baby Daddy—are returning (offering up their big winter premieres in early '16), and the name change also heralds the launch of new original series Shadowhunters and Recovery Road.
To celebrate the announcement, fans can submit photos and videos to Freeformfan.com that imaginatively express the word "freeform" in a way that's inspired by their own lives and what they're passionate about. And the best part? The submissions might be used as part of Freeform's upcoming launch. So start creating!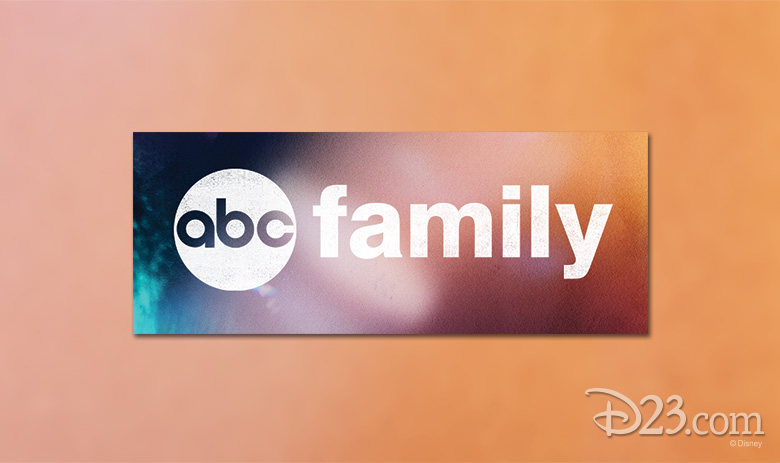 "Check It Out": Nicki Minaj Joins ABC Family
She's a Grammy®-nominated rapper… a multi-platinum superstar… and now an executive producer! Nicki Minaj—she of the brightly colored, ever-changing hair—is bringing the story of her early family life to ABC Family. Nicki will executive produce and appear in the new half-hour comedy series, which will shoot in her hometown of Queens, New York, later this year.
The single-camera scripted series is based on Nicki's immigration from Trinidad in the early 1990s, focusing on her childhood in Queens with her vibrant family—and the personal (and musical) evolution that led to her eventual fame.
Stay "right by [our] side" here at D23 for more information as it becomes available.
Sarah Michelle Gellar Joins the Dark Side on Star Wars Rebels
As if the return of Star Wars Rebels to Disney XD (the second season begins Wednesday, October 14) wasn't cool enough… Buffy the Vampire Slayer star (and wife of series regular Freddie Prinze Jr.) Sarah Michelle Gellar will be featured this season as the cunning and crafty Seventh Sister Inquisitor! A master of deception, she is tasked by Darth Vader to track down the rebels and capture any surviving Jedi. She's deceitful, manipulative, and deadly with a Lightsaber. (Sounds cool, right?)
East Coast fans, take note: Sarah will make an appearance at the Star Wars Rebels Panel at New York Comic-Con on Thursday, October 8! See her in person with several of the show's other stars, including Ashley Eckstein (Ahsoka Tano) and Taylor Gray (Ezra Bridger).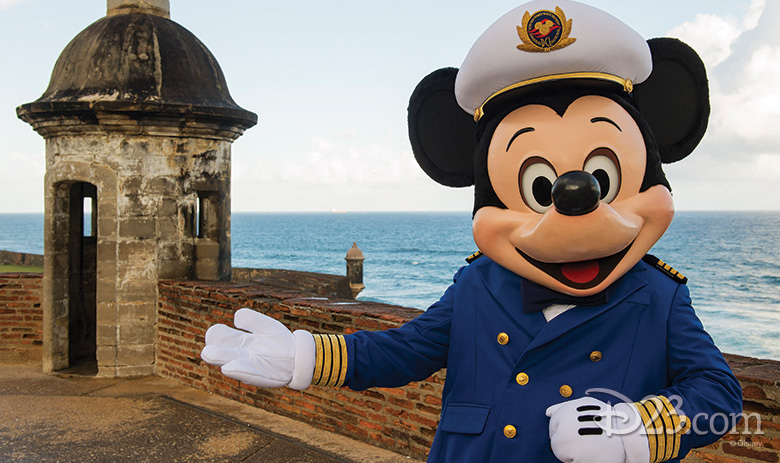 Sail Into 2017 with Disney Cruise Line
Imagine setting sail on a state-of-the-art ship, with big Disney fun around ever corner. That's what a Disney Cruise Line vacation is like—and they've just announced new itineraries and destinations for early 2017!
Disney Cruise Line (DCL) returns to favorite destinations in the Caribbean and Bahamas on a variety of itineraries, most from über-popular Florida ports. Limited-time engagements in San Juan, Puerto Rico, and Galveston, Texas, complete the lineup for the first part of the year. During these sailings, DCL guests will visit gorgeous tropical locales, sunbathe on beautiful sandy beaches, and explore local marketplaces. Plus, most cruises will include a stop at Castaway Cay, Disney's private island paradise reserved exclusively for lucky DCL guests.
Bookings open to the public on Thursday, October 8. For more information on these early '17 itineraries (and on DCL in general), check out their website here.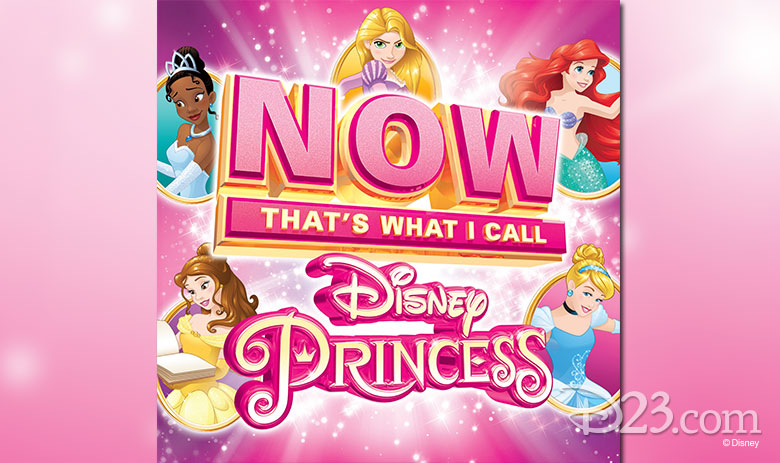 Now That's What We Call an Amazing New Disney Music Collection
Everyone loves those "NOW That's What I Call Music!" Collections (we've bought our fair share over the years), and the three previously released "NOW That's What I Call Disney" volumes were particularly awesome. So color us excited for the newest collaboration between "NOW…" and Walt Disney Records! "NOW That's What I Call Disney Princess" features 20 favorite musical moments that have been enchanting and entertaining audiences for generations, including "Part of Your World" from The Little Mermaid, "A Whole New World" from Aladdin, "Someday My Prince Will Come" from Snow White and the Seven Dwarfs, "Colors of the Wind" from Pocahontas, "Beauty and the Beast" from Beauty and the Beast, "Reflection" from Mulan, and many more!
"NOW That's What I Call Disney Princess" will be released on CD, and as a digital download, on October 30. (Particularly good timing if you're dressing as a Disney Princess this Halloween!)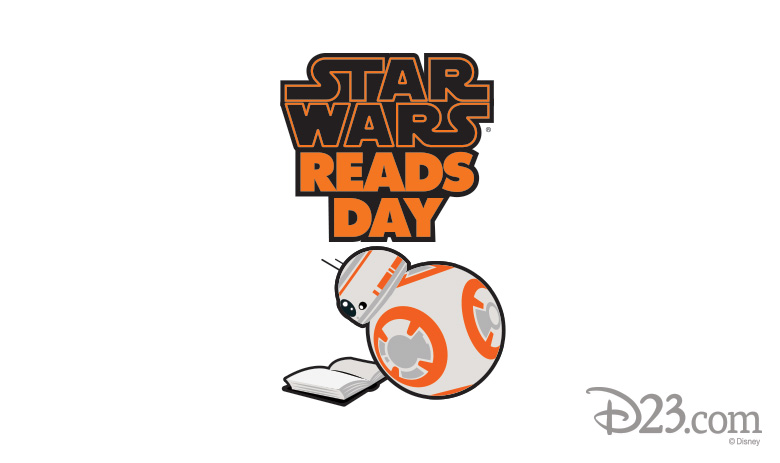 Light Speed to the Library: Star Wars Reads Day Goes Galactic
Calling all Jedis! Lucasfilm and Disney Worldwide Publishing just announced full details for the fourth annual Star Wars Reads Day, which will delight readers across the galaxy on Saturday, October 10. Since the inaugural Star Wars Reads Day in 2012, more than 2,500 events have encouraged fans to read timeless stories based on the films—and for the first time, this year's festivities will also feature titles from the recently released "Journey to Star Wars: The Force Awakens" Initiative, which includes more than 20 print and digital books and comics for readers of all ages.
Participants in this year's events include Disney, Marvel, DK Books, Scholastic, Abrams, Chronicle Books, and more—and the lineup of events will feature Star Wars-themed games and activities, signings, meet-and-greets, and readings at bookstores, libraries, and other venues… all in an effort to promote literacy and unite fans of the iconic film franchise. May the force (of knowledge) be with you!