With the film's opening a little more than two months away, we were treated this week to visions of Tomorrowland that are almost as exciting as the ones that Casey (Britt Robertson) has when she holds the magical pin in the latest trailer. Walt Disney Studios released a new poster and a new trailer—plus director Brad Bird and screenwriter Damon Lindelof took part in a live Q&A with fans on Facebook and revealed a few details that have us even more eager to watch the film. Lindelof revealed that he and Bird were inspired by the concept of Hidden Mickeys in the Disney parks, saying, "The idea that the Imagineers themselves want to reward the super fans is something we really plugged into." As "super fans," we can absolutely relate! Lindelof also explained that the filmmakers took inspiration from some of the classic Tomorrowland attractions like Carousel of Progress, saying, "The way the future was viewed from the PAST was really intriguing to us."
the Imagineers themselves want to reward the super fans
Brad Bird, no doubt, made many Disney fans happy with his praise for Disney Legend Richard Sherman when he said, "Both Michael Giacchino and I are huge fans of his and you might even hear some Sherman Brothers work the movie."
We were hoping that Bird and Lindelof might let fans in on a few more secrets in the Q&A, but when asked whether Disney fans should try to avoid spoilers in advance of the film, Bird's response was, "Key word is 'careful.' Don't let anyone unwrap presents before Christmas." We'd never be able to wait until Christmas, but we'll try to hang on until the film hits theaters May 22!
Enjoy the Tomorrowland trailer. We sure did!
---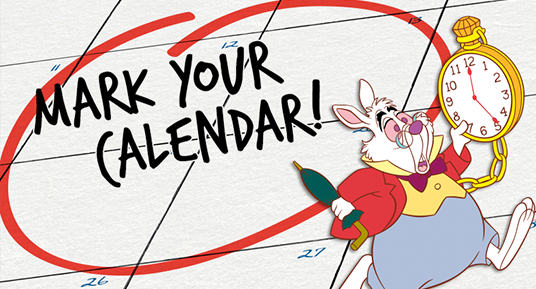 Save the Date!
Be sure to mark these upcoming Disney events on your calendar:
D23 and Walt Disney Archives
Fall 2014-2015
D23 Member Nights at Newsies—On Tour
March 12
Cinderella Lights Up the Palace of Fine Arts
March 13
A Taste of Disney at Silverado Vineyards
March 15
The Hunchback of Notre Dame VIP Experience
March 27
Lunch with a Disney Legend: Orlando Ferrante
April 25
D23 Day at Walt Disney Studios and Archives
August 14-16
D23 Expo 2015 returns to Anaheim, California
Television
Parks
March 4–May 17
22nd Epcot International Flower & Garden Festival.
May 15–June 14
Star Wars Weekends Returns to Disney's Hollywood Studios.
September 15, 18, 20, 22, 25, 27; October 1, 2, 4, 6, 8, 9, 12, 13, 15, 16, 18, 20, 22, 23, 25, 27, 29, 31; and November 1
Mickey's Not-So-Scary Halloween Party at Magic Kingdom Park
November 8, 10, 12, 13, 15, 17, 19, 20, 29; and December 1, 3, 4, 6, 8, 10, 11, 13, 15, 17, 18
Mickey's Very Merry Christmas Party at Magic Kingdom Park
Studios
March 13
Cinderella opens in theaters.
April 17
Disneynature's Monkey Kingdom opens in theaters.
May 1
Avengers: Age of Ultron opens in theaters.
May 22
Tomorrowland opens in theaters.
June 19
Inside Out opens in theaters (along with the short Lava).
July 17
Ant Man opens in theaters.
---
Watch a New Trailer for Inside Out
Tomorrowland isn't the only new trailer this week—we invite you to check out the latest trailer for Disney•Pixar's Inside Out, which is making its broadcast debut on ELLEN today. Directed by Pete Docter (Up, Monsters, Inc.), Inside Out (which opens June 19) takes us inside the mind, and the latest trailer shows us a lot more of what we might find there! And to see whom we might find there, meet the Inside Out cast in this video from Disney•Pixar:
---
The New Avengers: Age of Ultron Trailer is Full of Suspense!
It's truly shaping up to be a phenomenal summer for Disney fans. From Marvel Entertainment's latest trailer for Avengers: Age of Ultron, it's evident that this movie is going to be full of action, suspense, drama, and wit—everything fans of the Marvel Cinematic Universe have come to expect! We're already sitting on the edge of our seats to see whether or not our beloved Avengers will defeat Ultron. The film's May 1 opening date can't come soon enough!
---

Kick off Your Star Wars Weekends by Attending Galactic Gathering
Friday, May 15, marks the beginning of Star Wars Weekends at Disney's Hollywood Studios. But you can start celebrating all things Star Wars one day early, Thursday, May 14, at Galactic Gathering, a special ticketed event taking place from 10 a.m. until 3 p.m. At Galactic Gathering, guests will have the first opportunity to purchase new Star Wars-themed merchandise created specifically for Star Wars Weekends and will also be able to meet Disney characters, Disney Design Group artists, and Ashley Eckstein from Her Universe. The Galactic Gathering package includes a special MagicBand—Empire or Rebel, you get to choose!—a commemorative pin, a Darth's Mall Light Speed Pass that gives expedited entry to Darth's Mall for all five Star Wars Weekends, a Han Solo-inspired popcorn bucket, and more. Registration is now open at www.DisneyParksMerchandise.com. May the force be with you!
---

Disney Unveils a First Look at Zootopia
One of the wonderful things about being a Disney fan is that after what promises to be an amazing year for Disney movies in 2015, we get to look forward to another amazing year in 2016! Zootopia is scheduled to open on March 4, 2016, and our friends at Walt Disney Animation Studios released this piece of concept art, as well as a synopsis for the film: The modern mammal metropolis of Zootopia is a city like no other. Comprised of habitat neighborhoods like ritzy Sahara Square and frigid Tundratown, it's a melting pot where animals from every environment live together—a place where no matter what you are, from the biggest elephant to the smallest shrew, you can be anything. But when optimistic Officer Judy Hopps arrives, she discovers that being the first bunny on a police force of big, tough animals isn't so easy. Determined to prove herself, she jumps at the opportunity to crack a case, even if it means partnering with a fast-talking, scam-artist fox, Nick Wilde, to solve the mystery. Walt Disney Animation Studios' Zootopia, a comedy-adventure directed by Byron Howard (Tangled, Bolt) and Rich Moore (Wreck-It Ralph, The Simpsons) and co-directed by Jared Bush (Penn Zero: Part-Time Hero), opens in theaters on March 4, 2016.
---

Soarin' and Toy Story Mania! Updates from Walt Disney World Resort
Two popular attractions at Walt Disney World Resort are expanding: Epcot's Soarin' will add another theater and will also offer a visually enhanced experience through an update to the screens and projection system. And at Disney's Hollywood Studios, Toy Story Mania! will get even more midway track. The Disney Parks Blog reports that these expansions will be complete by late 2016 and will offer more opportunities to enjoy these beloved attractions.
---

Tsum-thing New at Disney Store
Are you collecting Tsum Tsums? If so, your collection is getting bigger—and cuter—this month with the introduction of the Frozen collection and a Winnie the Pooh Easter collection. Visit the Disney Store Blog to see the adorable stackable plushes.
---

Sarah Michelle Gellar Will Star in Star Wars Rebels' Season Two
Star Wars Rebels' first season finale aired last week on Disney XD, but we—and the series' creative team—are already looking ahead to season two. Disney XD and Lucasfilm Animation announced last week that Sarah Michelle Gellar (Buffy the Vampire Slayer) will join the voice cast in a recurring role for season two of the animated series. Executive producer/supervising director Dave Filoni said that Gellar is "a true Star Wars Rebels fan and her passion undoubtedly comes through in the voice recording sessions." Continuing the epic tradition of the legendary Star Wars saga, Star Wars Rebels unfolds between the events of Star Wars Episodes III and IV and tells the story of the motley but clever crew of the starship Ghost, who together face threatening new villains, encounter colorful adversaries, and embark on thrilling adventures. In its second season, Star Wars Rebels will feature recurring appearances by fan-favorite characters including Darth Vader and Ahsoka Tano.
---

Marvel's Agents of S.H.I.E.L.D. Has a Double Agent
If you've always dreamed of going undercover on the set of Marvel's Agents of S.H.I.E.L.D., the new original web series, Marvel's Agents of S.H.I.E.L.D.: Double Agent will give you a taste of what that could be like. The five-part series debuted last week on MarvelsDoubleAgent.com, ABC.com, and the WATCH ABC app. Marvel's Agents of S.H.I.E.L.D.: Double Agent follows the actions of a newly hired production assistant who is actually working as a double agent on behalf of an unknown enemy known only as the Mastermind. In each episode, the Mastermind orders the Double Agent to infiltrate different restricted areas on the Marvel's Agents of S.H.I.E.L.D. set, including executive offices, wardrobe, and soundstages, among others. Through hidden cameras, the Mastermind can see everything, providing viewers with an inside look at the secretive world of the show; often uncovering critical story elements to future episodes. Viewers can cast their votes in polls and help influence where the Mastermind will send the Double Agent next, and enter sweepstakes to win prizes from the sets of both Marvel's Agents of S.H.I.E.L.D. and the web series. Visit Marvel.com to learn more.