Taking on the World Again—New Season Begins May 11
Calling all Girl Meets World fans! You've been waiting patiently for the second season to start, and now it's just around the corner… The continuing adventures of Riley Matthews (Rowan Blanchard) and all her John Quincy Adams Middle School cohorts kick off with five crazy new episodes over five days—starting on Monday, May 11, at 8:30 p.m. on Disney Channel!
The spinoff to the popular '90s sitcom Boy Meets World stars Blanchard as the tween daughter of original lovebirds Corey (Ben Savage) and Topanga (Danielle Fishel) and finds her attending the very middle school where her father now teaches. Season 2 will not only catch back up with Riley, best friend Maya (Sabrina Carpenter) and perpetually smitten Farkle (Corey Fogelmanis)… but it'll also feature some much-anticipated BMW reunions! Girl Meets World has already featured an appearance by Corey's best friend Shawn (Rider Strong)—and, as seen in the show's brand-new trailer above, he'll be back for more fun and frolic alongside Mr. Feeney (William Daniels) himself! Also keep an eye out for Will Friedle as Corey's big brother Eric, and the return of Corey and Topanga's former English teacher Mr. Turner (Anthony Tyler Quinn).
Don't miss the big "What in the World is Happening" Season Premiere on Monday, May 11—and then stay tuned for four more brand-new episodes each night through May 15! It's truly an embarrassment of Girl Meets World riches…
Save the Date!
Be sure to mark these upcoming Disney events on your calendar:
D23 and Walt Disney Archives


Fall 2014-2015


D23 Member Nights at Newsies—On Tour


May 9


The Parent Trap Party at Camp Inch


May 29


VIP Studio Tour with Disney Legend Dave Smith


June 20


D23 Day at The Walt Disney Studios and Archives


August 14-16


D23 Expo 2015 returns to Anaheim, California


Studios




May 1


Avengers: Age of Ultron opens in theaters.


May 22


Tomorrowland opens in theaters.


June 19


Inside Out opens in theaters (along with the short Lava).


July 17


Ant Man opens in theaters.


December 18


Star Wars: The Force Awakens opens in theaters.
Parks


March 4–May 17




22nd Epcot International Flower & Garden Festival.




May 15–June 14


Star Wars Weekends Returns to Disney's Hollywood Studios.


May 22–23




24-hour event kicking off Disneyland Resort Diamond Celebration at Disneyland Resort




May 22–23




24-hour event kicking off "Coolest Summer Ever" at Walt Disney World Resort




September 15, 18, 20, 22, 25, 27; October 1, 2, 4, 6, 8, 9, 12, 13, 15, 16, 18, 20, 22, 23, 25, 27, 29, 31; and November 1

Mickey's Not-So-Scary Halloween Party at Magic Kingdom Park


November 8, 10, 12, 13, 15, 17, 19, 20, 29; and December 1, 3, 4, 6, 8, 10, 11, 13, 15, 17, 18


Mickey's Very Merry Christmas Party at Magic Kingdom Park


TV




April 28


Dancing with the Stars 10th Anniversary Special airs on ABC (8–9 p.m. ET/PT)


May 9


Doctor Who Debuts on Disney XD (9 p.m. ET/PT)
---
The Legacy Continues with Walt Disney Records The Legacy Collection Disneyland
Sure, Disneyland is filled to the brim with iconic images: the Matterhorn, Space Mountain, walking down Main Street, U.S.A. towards Sleeping Beauty Castle… but let's not forget the music. It's the evocative musical themes of the Disneyland Resort that make up the eighth release from Walt Disney Records' "The Legacy Collection"—and just in time for Disneyland's 60th anniversary!
The three-disc The Legacy Collection Disneyland will be available exclusively at Disneyland Resort beginning on May 20, with a wider release set for August 21. The compilation explores the rich history behind songs and attractions past and present. Beginning with the recordings from the opening day of Disneyland in 1955, it guides the listener down Main Street, U.S.A. and through the greatest attractions, shows, and lands that exist today and those that are now only a "happy memory." Discs One and Two cover lands including Adventureland, New Orleans Square, Fantasyland, and Tomorrowland, plus five songs from Disney California Adventure Park (DCA). Disc Three features an additional 12 songs from DCA, plus music from the beloved Main Street Electrical Parade and Fantasmic! And fans will love the extensive liner notes provided by Stacia Martin, a 37-year veteran of The Walt Disney Company and Disney historian. Don't miss your chance to hear Disneyland's musical history!
---
Meet the Next Generation of Villains in Disney Descendants
Ever found yourself wondering what happened to your favorite Disney villains once the heroes got their "happily ever after"? Well you're in luck: Disney Channel is set to answer that very question with their original movie Disney Descendants, directed by Emmy® winner Kenny Ortega (High School Musical, Newsies).
Wanna see what all the evil-esque fuss is about? Then take a gander at this brand-new trailer. Seems that all those villains we love to hate—including Snow White and the Seven Dwarfs' Evil Queen and Sleeping Beauty's Maleficent—have been relegated to a present-day, prison-like island, where they've raised their children without magic… but with plenty of mischief. In a nearby peaceful kingdom, the son of the King and Queen (Beast and Belle from Disney's Beauty and the Beast, natch) shocks his folks with his first proclamation: a chance at redemption for Carlos (Cruella De Vil's son), Mal (Maleficent's daughter), Evvie (the Evil Queen's daughter), and Jay (Jafar's son). They're allowed into the kingdom to attend prep school with the kids of iconic Disney heroes like Cinderella, Rapunzel, and Mulan. But now they face a big dilemma. Should they go into the "family business" and help their diabolical parentals regain power? Or is time to embrace their—dare we say—inner goodness?
Find out when Disney Descendants premieres this summer on Disney Channel!
---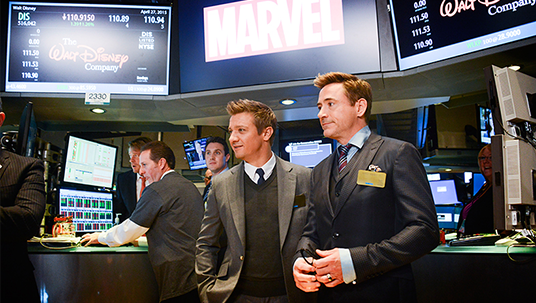 Avengers Assemble at New York Stock Exchange
Don't worry, investors of the world: There are Super Heroes looking after your money! Well, at least for one morning… On Friday, April 24, Marvel's Avengers: Age of Ultron stars Robert Downey Jr. (Iron Man) and Jeremy Renner (Hawkeye) ventured to Wall Street to ring the famous "opening bell" at the New York Stock Exchange! Joining them were Marvel executives George Beliard, David Booinger, Irving de la Concha, Blake Garris, Nancy Lee, Michael Jerchower, Kate Hayes, Mark Plotkin, Doris Hernandez-Colon and Alex Gomez. You can watch the pair in action over at Marvel.com. (Thankfully, the real New York is still standing after their visit. The fictional one from the first Avengers? Not so much… )
---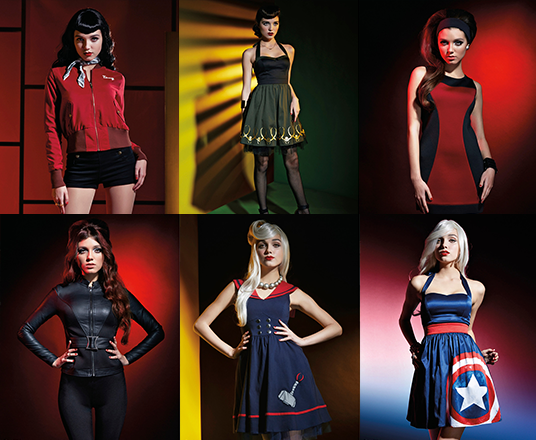 Dress Like a Stylish Super Hero with New Avengers Fashion Collection
Fangirls, this one's for you: In celebration of the release of Marvel's Avengers: Age of Ultron, Her Universe—the popular "geek girl" apparel company—and Disney Consumer Products recently announced a new fashion line inspired by all your favorite heroes from the Avengers films! The "Marvel by Her Universe" collection will be available mid-May exclusively at select Hot Topic stores and hottopic.com, with an online pre-sale going on right now! The collection features designs by winners from the first-ever Her Universe "Geek Couture" Fashion Show held at last year's Comic-Con International in San Diego, where attendees Amy Beth Christenson and Andrew MacLaine took top honors with their amazing original creations. As part of their grand prize, Amy and Andrew were rewarded the opportunity to design an exclusive fashion collection with Her Universe founder Ashley Eckstein. The six-piece line includes fashion-forward dresses and jackets, available in both regular and extended sizes. And that's not all: From now through May 5, fans can post a photo of what they'll be wearing to see Marvel's Avengers: Age of Ultron (tagging their pics #HTAvengersSweeps) to Instagram for a chance to win the entire collection! More info (and official rules) can be found at HotTopic.com. Marvel's Avengers: Age of Ultron hits theaters on May 1!
---
Newsies on Tour: Exclusive Song from the "Refuge"
Our friends over at Disney Playlist premiered a very cool video last week as part of their "Playlist Sessions"… Did you know there's a song from Newsies that you haven't heard in the film, or even in the Broadway version of the show? This song, called "Letter From the Refuge," was written by Alan Menken and Jack Feldman just for the touring production, and is sung by Crutchie, Jack Kelly's lovable sidekick. At this point in the show, Crutchie has just been captured and is writing to Jack to detail his escape plan, and to remind the fellas to look out for each other. "Crutchie as a character would never be self-pitying, and he's not used to writing letters, so that defined the pace and the tone of the song," said Alan in a recent interview for Variety. "It's tentative, emotional but guarded, with a sense of false bravado and a tenderness underneath." Check out the clip above to see Zachary Sayle, who plays Crutchie in the touring cast of Newsies, sing "Letter From the Refuge" for Disney Playlist.
---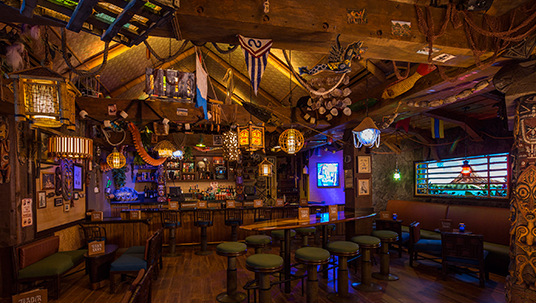 Get Your Tiki On at Trader Sam's Grog Grotto—Now Officially Open!
"Drink up, me hearties, yo ho!" The doors to Trader Sam's Grog Grotto at Disney's Polynesian Village Resort at Walt Disney World officially opened on Monday, April 27, and not a moment too soon for tiki-heads across the nation! Sail on in for one of their famous drinks (like the Shrunken Zombie Head) available in fun collectible mugs. And don't worry, the already-popular lounge is worth the wait; look for over 1,200 pieces of tiki-related memorabilia once inside, and get ready to have a tropically terrific time with the staff. The lounge is open daily from 4:30 p.m. until midnight (it's "all ages" until 8 p.m.), and is located right off the main lobby of the hotel.
---
Surf's Up with Teen Beach 2: Beach Party at Disney's Typhoon Lagoon
Grab your surfboards and your suntan lotion! As part of Walt Disney World's Coolest Summer Ever, a new summertime dance party inspired by Teen Beach 2 (the upcoming sequel to Disney Channel's Teen Beach Party) is coming to Disney's Typhoon Lagoon water park. From May 22 through July 5, folks can join in the Beach Party at various times throughout day. The fun includes "bikers" and "surfers" who dance and play beach-themed games with guests as a DJ spins remixes of retro tunes. Taking over part of Typhoon Lagoon's main beach area, guests of all ages can participate in relays on the sand; hula-hoop spinning; water balloon and beach ball tossing; and even some of the grooviest dance moves this side of Mt. Mayday!
And get ready to party at Typhoon Lagoon by watching this new clip from the music video for "Gotta Be Me," a song from Teen Beach 2, which, of course, stars R5's Ross Lynch and Maia Mitchell (ABC Family's The Fosters) as surfing sweethearts Brady and Mack. The sequel is set a few months after the pair returns from a summer adventure that transported them into Brady's favorite 1960s beach party movie, Wet Side Story—only now, they're surprised to receive a real-world visit from Lela, Tanner, Butchy and all their other newfound surfer and biker buddies. Catch the Teen Beach 2 wave when it premieres on Disney Channel this summer!
---
The Doctor is In: Doc McStuffins Wins Peabody Award
Disney Junior's popular Doc McStuffins has won the prestigious Peabody Award in the Children/Youth category. The award, which recognizes outstanding storytelling in electronic media, is honoring the animated series for its "disarming, inspiring" tales for children ages 2–7. The 2015 Peabody Awards Ceremony will take place May 31 in New York City. Doc McStuffins centers on 6-year-old Doc, who wants to be a doctor—just like her mom—and runs a clinic for stuffed animals and toys in her backyard playhouse. Created and executive-produced by Humanitas Prize and Emmy® Award-winner Chris Nee, the series was just awarded an NAACP Image Award for Outstanding Children's Program, and was also recently nominated for a NAMIC (National Association for Multi-Ethnicity in Communications) and Emmy Award.