By Courtney Potter
Mira, Royal Detective Celebrates Diwali with New Episode

Here's some great news from our pals over at Disney Junior: They've got a totally tuneful, completely colorful, mega-meaningful new episode of Mira, Royal Detective all about the celebration of Diwali premiering today—Friday, November 6—and airing all through next week, leading up to the official beginning of Diwali on Saturday, November 14.
In the episode, entitled "The Great Diwali Mystery," Mira must track down the missing oil used to light traditional lamps throughout the town in order to save the Diwali celebration. Plus, the episode features a new "Diwali" song written and produced by Matthew Tishler and Jeannie Lurie (who write the series' fabulous songs), and the dance routine was choreographed by So You Think You Can Dance's Nakul Dev Mahajan (series choreographer/dance consultant).
Hear from many members of the show's voice cast—including Kal Penn (Mikku), Utkarsh Ambudkar (Chikku), Aasif Mandvi (Sahil), Karen David (Shilpa; Ashima; Rubi), Parvesh Cheena (Manish), Sonal Shah (Poonam) and Leela Ladnier (voice of Mira)—all about what Diwali means to them, in the brand-new featurette, above. Happy Diwali, everyone!
5 Fantastic Things to Watch This Weekend
Looking for some "comfort food" in the form of fabulously fun things to watch this weekend from around the worlds of Disney? You're in early-November luck—make sure to tune in for a brand-new episode of ABC's Shark Tank, the network premiere of A Wrinkle in Time on Freeform, and more!
First Trailer for Disney+'s LEGO Star Wars Holiday Special

If you're ready to feel a smidge of that good ol' holiday spirit, might we suggest checking out the brand-new trailer—just released this week—for Disney+'s upcoming LEGO Star Wars Holiday Special? It's chock-full of galactic good cheer…
This new animated special from LEGO (the first to debut on Disney+) directly follows the events of Star Wars: The Rise of Skywalker—and finds Rey leaving her friends to prepare for Life Day, setting off on a new adventure with BB-8 to gain a deeper knowledge of the Force. At a mysterious Jedi Temple, she's hurled into a cross-timeline adventure through iconic moments in Star Wars cinematic history, coming into contact with the likes of Luke Skywalker, Darth Vader, Yoda, Obi-Wan, and other legendary heroes and villains from all nine Skywalker saga films. But will she make it back in time for the Life Day feast and learn the true meaning of the holiday?
Featuring the voices of Kelly Marie Tran (Rose Tico), Billy Dee Williams (Lando Calrissian), and Anthony Daniels (C-3PO), as well as Star Wars: The Clone Wars vets Matt Lanter (Anakin Skywalker), Tom Kane (Yoda, Qui-Gon Jinn), James Arnold Taylor (Obi-Wan Kenobi), and Dee Bradley Baker (clone troopers), the LEGO Star Wars Holiday Special premieres exclusively on Disney+ this November 17!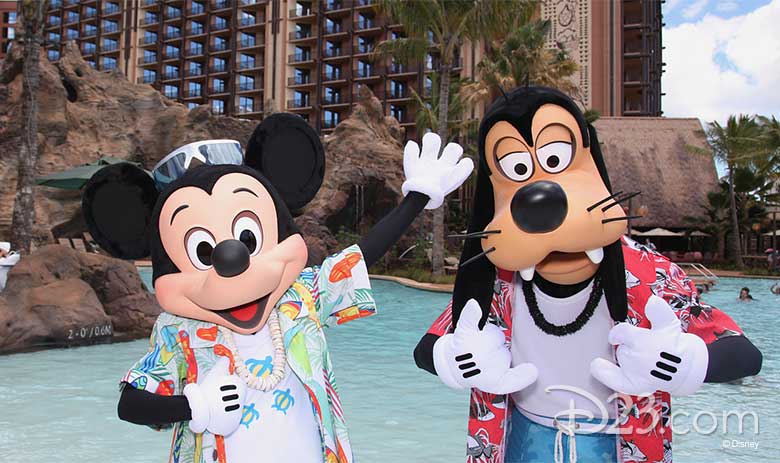 New Aulani Mobile App Offers All Manner of Aloha to Guests
Aulani, A Disney Resort & Spa, recently began its phased reopening—and to help guests maximize all that fabulous vacation time, while safely enjoying all that Aulani Resort has to offer, the Disney Parks Blog announced that a brand-new Aulani Resort mobile app has launched!
Before guests arrive, they can use the app to explore all the magic of Aulani Resort, including the Waikolohe Valley pool area. Whether guests prefer admiring the view from a romantic infinity-edge pool, floating along a lazy river, or splashing down the water slides, there are plenty of magical opportunities for family fun. Other app features allow guests to manage their reservation details; begin the check-in process in advance; search for daily activities on the "Daily 'Iwa" calendar; and find places of interest on the resort map.
Available for iPhone and Android smartphones (message, data, and roaming rates may apply), guests can find the app in the app store by searching for terms like Aulani, Hawaii, Disney, resort, vacation, and Ko Olina.
ICYMI: Must-See Adorable Baby Animals at Disney's Animal Kingdom
Yes, we fully realize we've been clueing you into all the adorable baby animals arriving at Disney's Animal Kingdom lately—but honestly, how could we not? They are all so ridiculously adorable… plus, many of these births are for endangered species, and are therefore super meaningful to the park's conservation mission. If you missed D23's recent rundown of the latest "animals of the cutie-patootie variety," click here and enjoy!