By Courtney Potter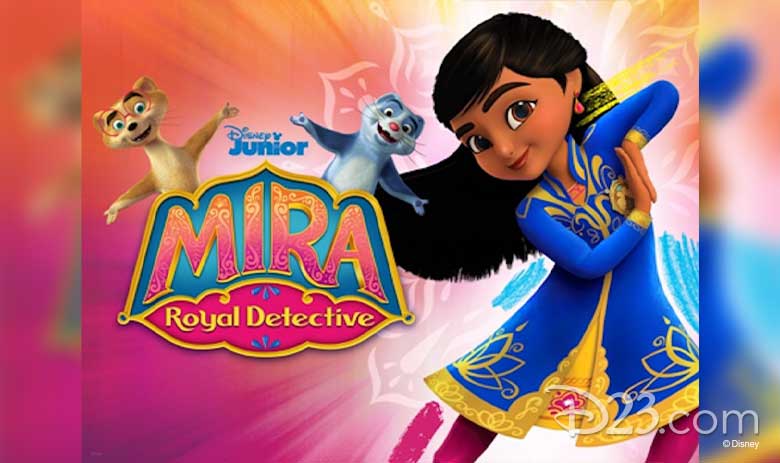 Tune In for Season Two of Disney Junior's Mira, Royal Detective
We're big fans of Disney Junior's Mira, Royal Detective around here—so we're positively thrilled that season two of the animated mystery adventure will debut this Monday, April 5, at 5 p.m. EDT on Disney Junior and DisneyNOW… with new episodes every Monday for eight consecutive weeks.
Inspired by the cultures and customs of India, this tuneful series follows the brave and resourceful Mira, a young girl who travels throughout the fictional land of Jalpur solving mysteries for her friends, family, and extended community. Season two will include an episode highlighting the Eid al-Fitr holiday debuting Monday, May 3 (5 p.m. EDT), and episodes celebrating the festivals of Teej and Dasara—as well as four extended-length music- and dance-filled specials! But that's not all: Season one of the series will begin streaming on Disney+ on Friday, April 30.
Mira, Royal Detective celebrates authentic Indian music, dance, food, fashion, language, and art by incorporating the diversity of the culture into entertaining, mystery-laden storylines. The series' voice cast includes Leela Ladnier, Freida Pinto, Kal Penn, Utkarsh Ambudkar, Hannah Simone, Jameela Jamil, Aparna Nancherla, and Aasif Mandvi; recurring guest stars include Danny Pudi, Kunal Nayyar, Hari Kondabolu, Karen David, and Aarti Sequeira. Guest stars for this season's special Eid al-Fitr episode include Schitt's Creek costar Rizwan Manji and his real-life daughter Ayana.
Don't miss the fun!
5 Fantastic Things to Watch This Weekend
Much like April showers, this weekend's viewing enjoyment from around the worlds of Disney will definitely make your proverbial mind-garden grow. (Or something like that; we may need more caffeine.) Look for two brand-new, sure-to-be-thought-provoking documentaries to premiere on FX and Hulu, respectively; adventures from a galaxy far, far away on Disney+; and so much more.
Disney+ Reveals New Trailer for Star Wars: The Bad Batch
As we soar ever closer to Star Wars Day next month, that means that the debut of Star Wars: The Bad Batch is approaching at light speed as well! To celebrate all that impending adventure, our pals at Lucasfilm just released a brand-new trailer for the original animated series launching exclusively on Disney+ on Tuesday, May 4 (the aforementioned Star Wars Day), with a special 70-minute premiere—followed by new episodes every Friday starting on May 7.
Star Wars: The Bad Batch follows the elite and experimental clones of the Bad Batch (first introduced in The Clone Wars) as they find their way in a rapidly changing galaxy in the immediate aftermath of the Clone War. Members of Bad Batch—a unique squad of clones who vary genetically from their brothers in the Clone Army—each possess a singular exceptional skill that makes them extraordinarily effective soldiers and a formidable crew.
Star Wars: The Bad Batch is executive produced by Dave Filoni, Athena Portillo, Brad Rau, and Jennifer Corbett, with Carrie Beck serving as co-executive producer and Josh Rimes serving as producer. For more info on all things The Bad Batch, check out StarWars.com.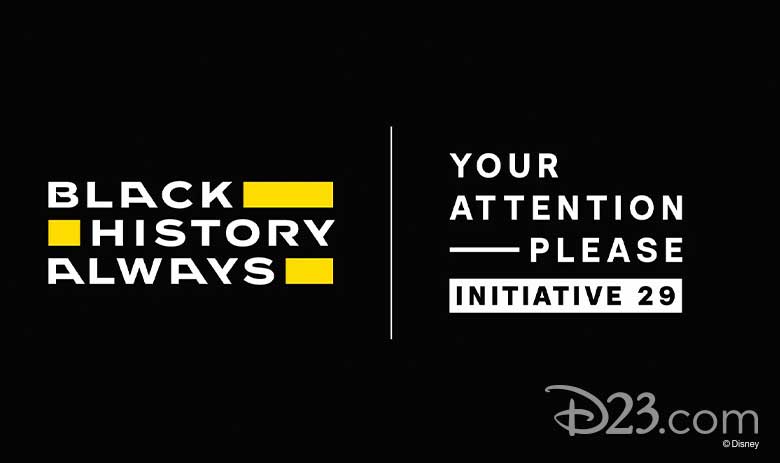 Disney+, ESPN+, and Hulu Launch Black History Always and Initiative 29
Amplifying Black voices all year long… that's the idea behind two new initiatives from several of Disney's streaming platforms. Black History Always, available on Disney+ and ESPN+, and Initiative 29, available on Hulu, will debut new content on the 29th of each month throughout the year with pieces that are unique to each.
Hulu's Initiative 29 will feature socially conscious short-form content available to view in Hulu's Black Stories hub on Hulu's YouTube Channel and via the Hulu Facebook page. Plus, each month Hulu will add new classic films, nostalgic TV shows, and documentaries to the growing library of Black programming featured in the permanent Black Stories Hub. Recent additions include All of Us, RuPaul's Drag Race, Malcom X, and Brooklyn's Finest.
Over on Disney+, Black History Always content will include new YouTube episodes, with the first installment focusing on The Proud Family—and the Disney+ "Celebrate Black Stories" collection will be featured on the streamer's homepage all year and include recent titles like Soul and Black Is King; fan-favorites like Rodgers & Hammerstein's Cinderella and Black Panther; and newer stories like The Falcon and The Winter Soldier. Meanwhile, on ESPN+: A Love Letter to Black Women, presented by The Undefeated, honors and celebrates the Black women who positively impact all of our lives.
Keep your eyes peeled for more Black History Always and Initiative 29 content in the coming months…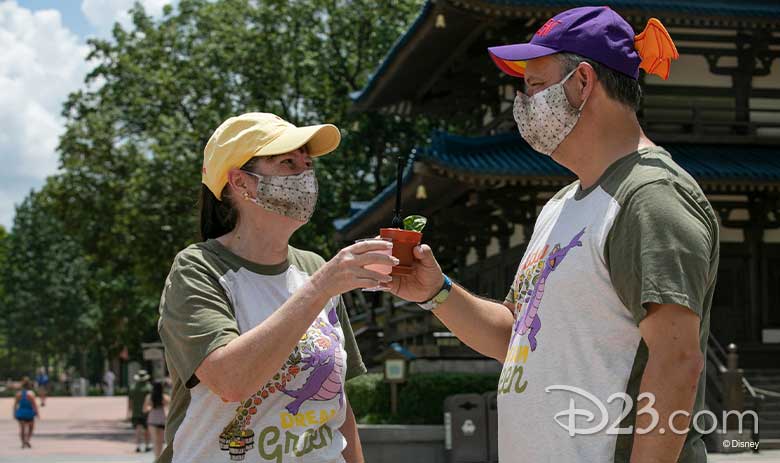 2021 EPCOT International Food & Wine Festival Kicks Off This July
This news should tickle your taste buds: Our good pals over at the Disney Parks Blog recently announced that the EPCOT International Food & Wine Festival will run from July 15 to November 20 at Walt Disney World Resort! This year's event will kick off with Global Marketplaces, featuring the returns of favorites such as Canada, Greece, Germany, Hops and Barley, Appleseed Orchard, and more. Additional marketplaces will join the international smorgasbord as the festival continues into the fall.
Families will be able to have a veritable "charcuterie plate" of fun, by way of sampling delicious cheeses served in fun ways as part of Emile's Fromage Montage (and if you collect a stamp from five different Global Marketplaces, you'll also earn a prize!); scavenger-hunting with Remy's Ratatouille Hide & Squeak all over the park; listening to musical favorites performed by Voices of Liberty, Mariachi Cobre, and the Jammin' Chefs; and taking tasty souvenirs home, courtesy the festival's new merchandise collections.
Look out for more delicious deets as we get closer to July, and do check out TasteEPCOT.com for further dish.
ICYMI: New Food and Drinks Arriving at Disneyland and Walt Disney World Resorts
Speaking of delectable delights, this news just about broke the "interwebs" earlier this week: There's a ton of amazing new food and beverage options coming to both Disneyland Resort in California and Walt Disney World Resort in Florida—including a whole new way to be refreshed at Disneyland's iconic Blue Bayou Restaurant. Read all about it right here at D23.com.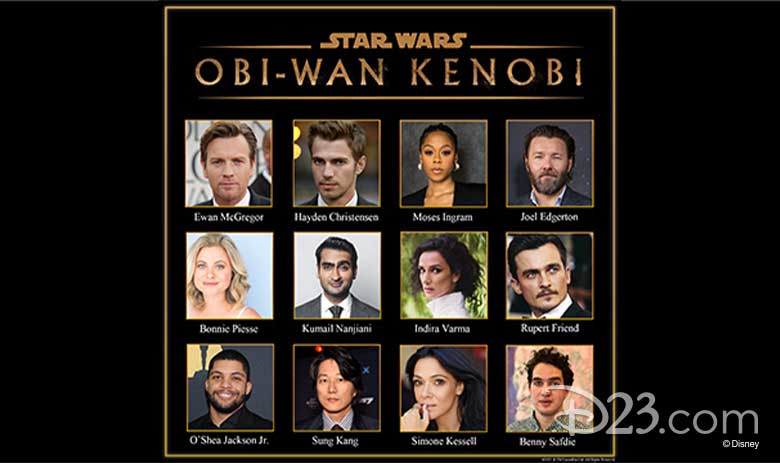 Cast Announced for Disney+'s Obi-Wan Kenobi
Thrilled, this scoop makes us: Mere days ago, Disney+ and Lucasfilm Ltd. announced that Obi-Wan Kenobi, the new Disney+ special event series starring Ewan McGregor as the iconic Jedi Master, has its full cast… and will begin shooting this very month!
The story begins 10 years after the dramatic events of Star Wars: Revenge of the Sith, where Kenobi faced his greatest defeat: the downfall and corruption of his best friend and Jedi apprentice, Anakin Skywalker, who became the evil Sith Lord Darth Vader.
Obi-Wan Kenobi marks the return of Hayden Christensen in the role of Darth Vader. Also joining McGregor in the series are Moses Ingram, Joel Edgerton, Bonnie Piesse, Kumail Nanjiani, Indira Varma, Rupert Friend, O'Shea Jackson Jr., Sung Kang, Simone Kessell, and Benny Safdie.
Kathleen Kennedy, Michelle Rejwan, Chow, McGregor, and writer Joby Harold are the series' executive producers, and it'll be directed by Deborah Chow—director of two critically acclaimed episodes of The Mandalorian, Season 1.