By Beth Deitchman
For years, he's shocked audiences with his inimitable on-stage theatrics, but now Alice Cooper might have an even bigger surprise for fans. The legendary rock star is lending his voice to a character created just for him. Fans can meet Alistair Coop De Ville in a new episode of Mickey and the Roadster Racers airing Friday, July 5 (8–8:30 a.m. ET/PT) on Disney Channel and DisneyNOW.
Alistair, an old family friend of Goofy, joins forces with Goofy, his Uncle Goof, and Donald for an adventure set in the jungles of Peru, where they go in search of a legendary treasure. In creating the guest role, the artists looked to Cooper's real-life rock persona for animation inspiration. "It's so funny that they have a snake coming out of my top hat, the two things that Alice is known for," shares Cooper, who is thrilled to play a character that's so endearing. "Generally when I play parts in movies or TV, I'm always the villain," he explains. "It's kind of nice to not be the villain for once."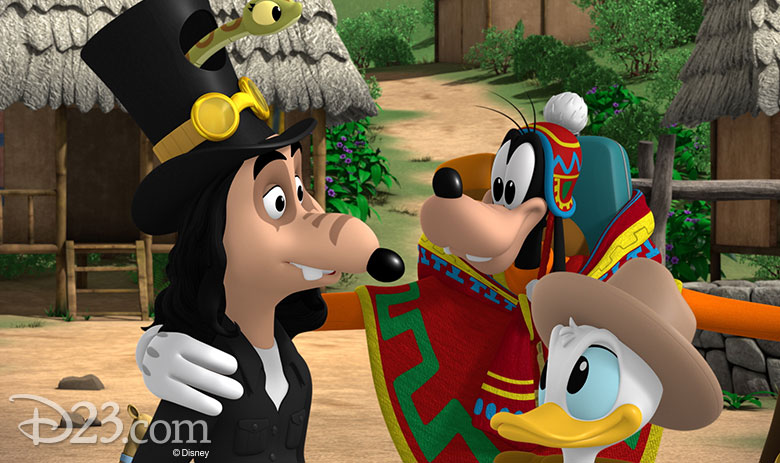 It might surprise Disney fans to discover that Cooper is a longtime Disney fan. The movies and TV series were—and continue to be—an important part of his life. "Sunday was, when it was time for Disney, it was Davy Crockett," he recalls. "I couldn't wait for that theme song. You never grow out of that. Now that I have grandsons, when they come over, we sit and we watch Mickey Mouse and Disney and all the different offshoots of it. The themes are always really wholesome,1 which is great."
Goofy holds a special place in the rocker's heart, and he was over the moon to find himself acting alongside Disney Legend Bill Farmer, who voices Goofy. "When we were kids, the funniest thing in the world was [Goofy yelling] 'WA-HA-HOOEY.' I would laugh so hard at that," Cooper says. "Even into my teens, when the band was on the road, every once in a while something would happen and someone would say 'WA-HA-HOOEY.' It was something that never grew old. I'm going to have Bill make that my ringtone." You can see Alistair Coop De Ville in action—and hear a dream-come-true moment for Alice Cooper, in this exclusive clip:
There's another Mickey and the Roadster Racers character that Cooper thinks could have a future in rock 'n' roll. When asked which Disney character he'd like to have in his band, Cooper revealed that Donald Duck just might have what it takes. "He's more of a troublemaker. He doesn't just sit back, he has a fast temper. Mickey is always calming things down, but Donald Duck is a reactionist," Cooper said.
How will Donald react to Alistair Coop De Ville? Tune in to Mickey and the Roadster Racers this Friday for the newest adventure.