By Bruce C. Steele
In a nondescript building not far from the freeway in Burbank, California, Mickey Mouse and friends are hard at work, acting out Halloween antics in a studio where 10 or 11 scenes can be shot at the same time. Fortunately, there are four or more Mickeys to go around, each one just 6 or 7 inches tall with replaceable faces and detachable ears.
Mickey Mouse with no face? It sounds a little like a horror movie, but really it's just a normal, crazy-busy day at Stoopid Buddy Stoodios, the stop-motion animation company behind last year's Mickey Saves Christmas and the new Mickey and Friends Trick or Treats, coming October 1 to Disney Channel, Disney Junior, and Disney XD and the next day on Disney+ and Hulu.
"We're all just stop-motion nerds here," says David Brooks, the director and producer of these distinctly delightful Disney specials. With so much animation going on at the same time, he adds, "it's a well-oiled circus."
Mickey and Friends Trick or Treats begins early on Halloween night, when Mickey Mouse, Minnie Mouse, Goofy, Donald Duck, and Daisy Duck are already in their costumes, ringing doorbells and collecting treats. When Donald insists that the gang also knock on the door of Witch Hazel's spooky mansion, the trick turns out to be on them, as the irritated witch transforms them into the creatures depicted by their costumes. Lucky Daisy (voiced by Debra Wilson) gets to be a princess, but Mickey (voiced by Bret Iwan) becomes a three-eyed, blue-furred (and kind of cute) Mickey monster. Donald (voiced by Disney Legend Tony Anselmo) keeps his beak but otherwise becomes a frog prince, while Goofy (voiced by Disney Legend Bill Farmer) transforms into a floating, transparent ghost.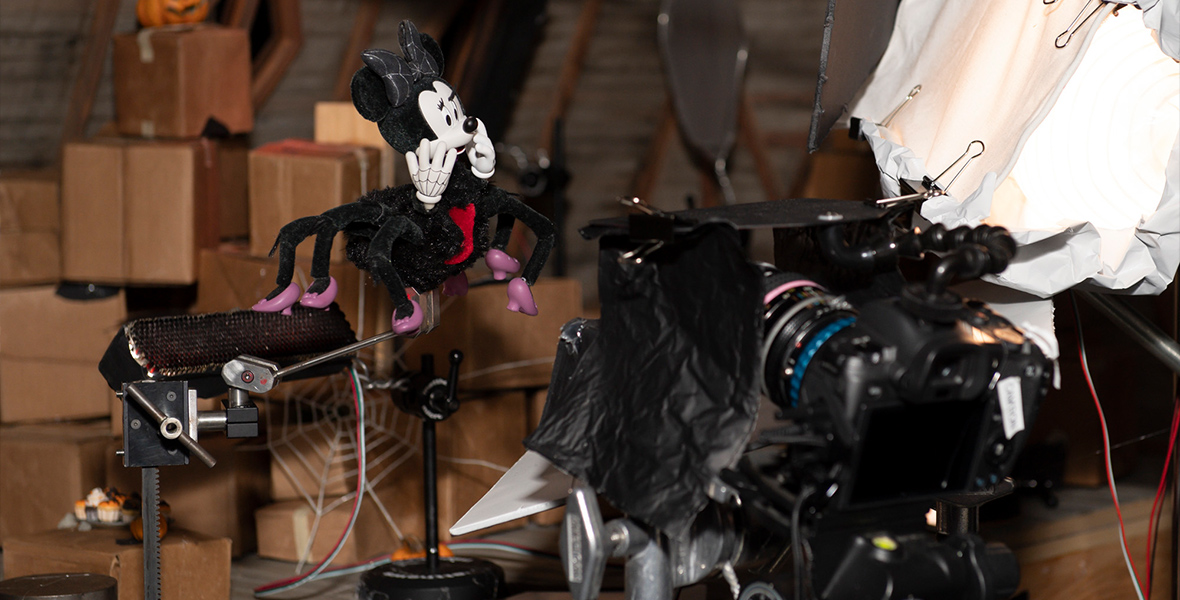 On one set at Stoopid Buddy Stoodios, animator Sarah Tejeda is working with the fifth member of the gang, affectionately referred to as "Spider Minnie," an adorable arachnid with Minnie's head and six high-heeled shoes on her spindly legs. In this scene, Minnie (voiced by Kaitlyn Robrock) is hovering above the floor of Witch Hazel's attic, looking at another not-too-scary monster outside the window. "Our characters are always defying gravity," Brooks quips.
To finish that one shot of "Spider Minnie" could take two or three days, assuming it's about six or seven seconds long, Brooks explains later. That's how long it takes to prep the dollhouse-like scale-model scenery—built in the several months before production—and to set up the many lights, then animate the characters performing—each movement created a few millimeters at a time, 12 frames per second. (This is called animating "on twos," since film speed is typically 24 frames a second.)
It's a patience-testing, painstaking process, but it generates a dimensional, tactile storytelling unlike any other kind of animation. "There is an intangible, magical quality to stop-motion that's hard to describe," Brooks says. "We talk a lot about how it shows the artists' fingerprint—not a physical fingerprint, like we might see in clay, but the craftsmanship of everything that's handmade."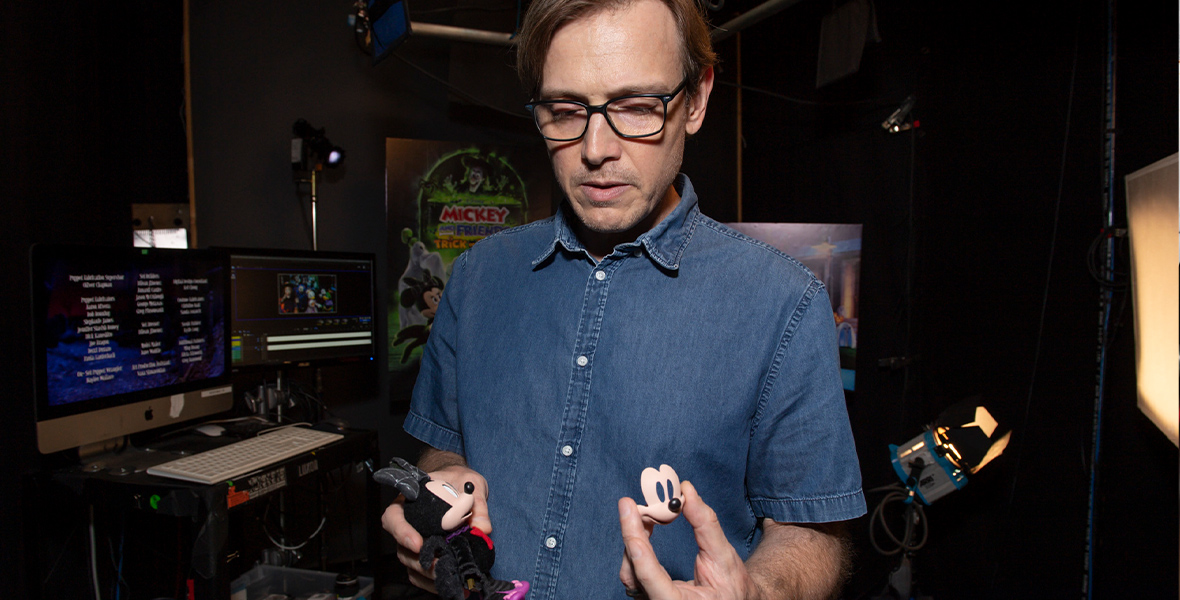 Almost everything seen on set is modeled virtually with 3-D computer graphics during a development phase, but while some elements of the sets and parts of the puppets are 3-D printed, everything has to be hand-painted and some puppets and set pieces are hand-fabricated. Minuscule costumes have to be sewn—and in the case of Daisy's princess gown, for example, each teeny crystal is glued on by hand. For the mouth positions and eye shapes necessary to allow the puppets to speak and express emotions, "face kits" are put together: boxes that look like fishing tackle containers, each containing about a dozen replacement faces that are used again and again, held in place on the puppets' heads by tiny magnets. (In the photo above, animation director Ethan Marak demonstrates how to change the face on the "Spider Minnie" puppet.)
Jenny Hogan, the lead supervisor of the puppet department, works out of a small room with a sign over the door reading "Puppet Hospital." Inside are two worktables and metal shelves lined with boxes labeled with character names: "Daisy Princess #2," "Donald Costume #3," and so on. Hogan pulls out one of the Donald-as-frog-prince puppets to demonstrate its poseable fingers, as opposed to having rigid fingers animated by subbing in replacement hands, like most of the other puppets. But something about the puppet looks… off. "He looks a little creepy without his face on," Hogan explains, since Donald's "face kit" is stored separately.
Should a puppet break during a shoot, Hogan sends out Baylee Wallace, whose title is "puppet wrangler" but whom everyone just calls the "puppet doctor." In most cases, Wallace can have a character repaired and back in action in short order.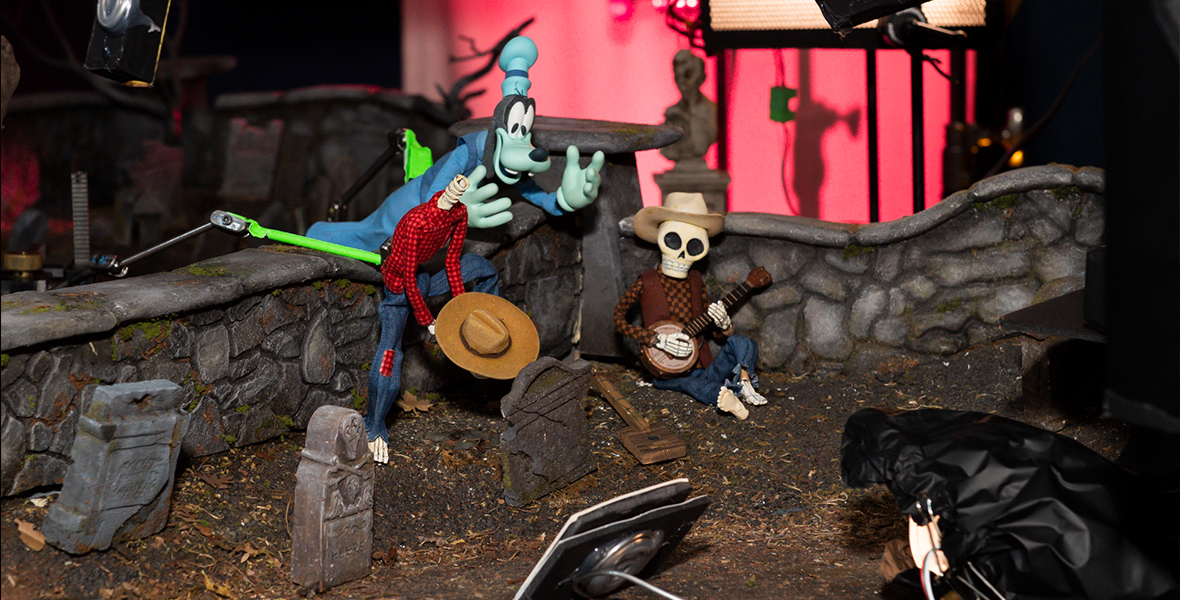 Every character in Mickey and Friends Trick or Treats is a physical puppet, animated frame by frame on the sets at Stoopid Buddy Stoodios—even the glowing, transparent "Ghost Goofy," who floats around his more-solid friends. The visual trick was accomplished by painting the character with a bluish fluorescent paint and shooting duplicate images of each frame in which he appears, one with regular lighting and one lit with just UV light, which makes Goofy glow in the surrounding darkness. In post-production, the shimmering Goofy is overlaid on top of the Goofy in the normally lit shot, then a third image of the background behind Goofy is added to make him appear transparent. It's a trick, certainly—one of many in this hauntingly hilarious Halloween tale—but it's still stop-motion animation. That's also true of the green smoke that Witch Hazel conjures more than once: It's basically fiber fill—aka, pillow stuffing—painted green and rigged for frame-by-frame animation.
Like Mickey Saves Christmas, this holiday special thrums with original songs, this time composed by Beau Black, a regular contributor of tunes for Disney Junior shows. Parents should be ready for their kids to adopt the catchy hooks from "Fright Night," "Alone on Halloween," and "Friends Like You Make Halloween" as their theme songs for the rest of the autumn.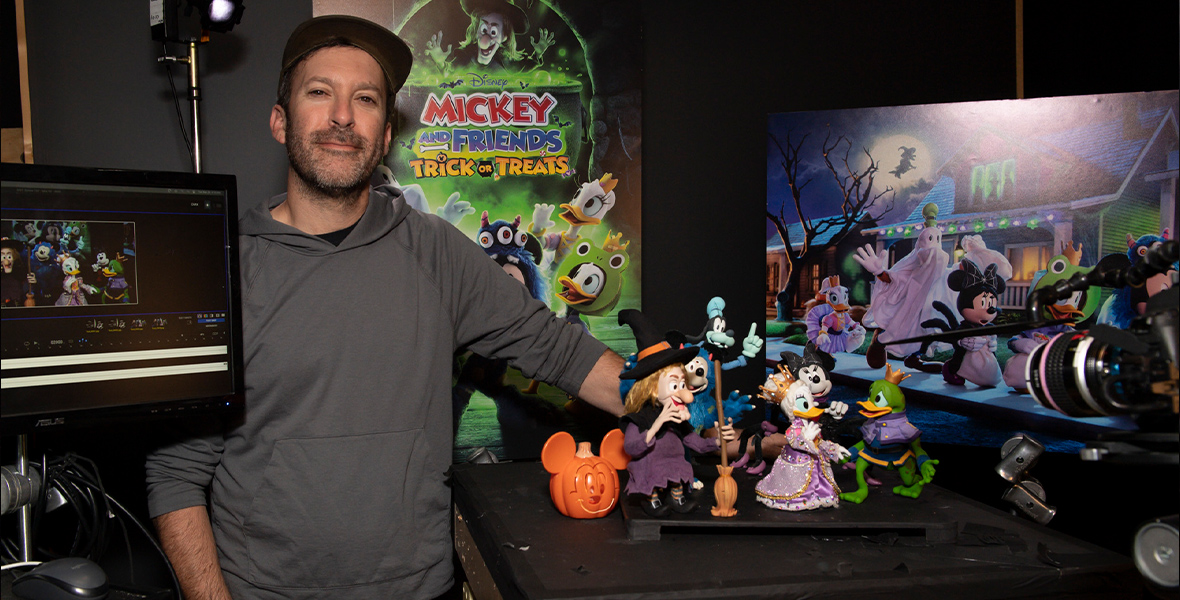 After touring the many stages with a group of journalists—with stops in a couple of graveyards, a "cauldron room" (every witch needs one!), a library, and other frightful locations, each set seemingly more elaborate and more impossibly detailed than the last—Brooks addresses the obvious question: Why go through so much trouble for 20-some minutes of family fun? "It's difficult and challenging work," he says, "but it's a fun challenge. It all comes down to the story and finding the best way—not the most efficient way—to tell it. It's the best way to tell this story with the talents that we have."