By Jocelyn Buhlman
Black Panther: Wakanda Forever returns us to the world fans adored in 2018's Black Panther, but also brings us to a world shaken by tragedy and threatened by outside forces. The characters we know and love— Queen Ramonda, Shuri, M'Baku, Nakia, Okoye and the Dora Milaje—are mourning the loss of King T'Challa. However, new forces (and new faces) quickly come into play, and our heroes must band together to protect Wakanda again. Who are these new faces, both friend and foe, stirring up change? Get to know the new characters you'll be meeting in Black Panther: Wakanda Forever.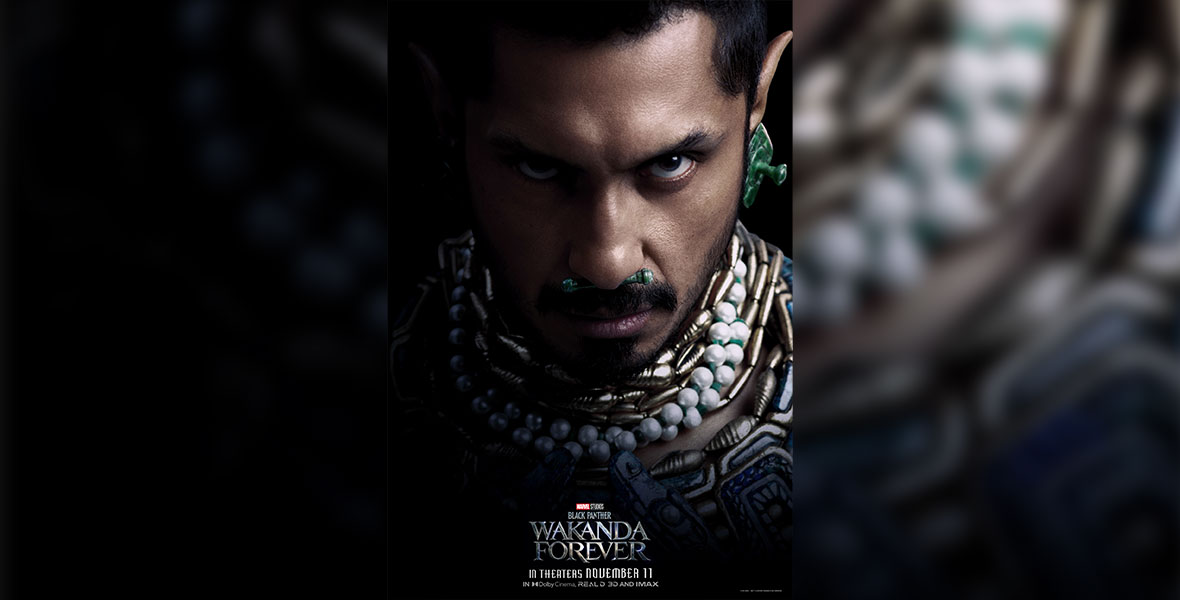 Namor (Tenoch Huerta Mejía)
Fans of Marvel comics are very familiar with this aquatic ruler—Namor is one of Marvel's oldest characters, first appearing in Marvel Comics #1 in 1939 under the moniker "the Sub-Mariner." Tenoch Huerta Mejía dives into Namor's big screen debut as the ruler of Talokan, a hidden undersea nation descended from an ancient Mayan community—that is also a reimagining of Atlantis from Marvel comics. Much like the Wakandans, the people of Talokan remain hidden from society to survive, distrusting outsiders in the name of survival.
Director Ryan Coogler explains, "[Namor has] lived a really long time and knows no equal in terms of his capabilities, being able to fly and breathe underwater, and breathe at high altitudes and walk around on land. He's incredibly strong." He alerts Queen Ramonda and Princess Shuri to a global threat—but also shares with them his disturbing plan to thwart it.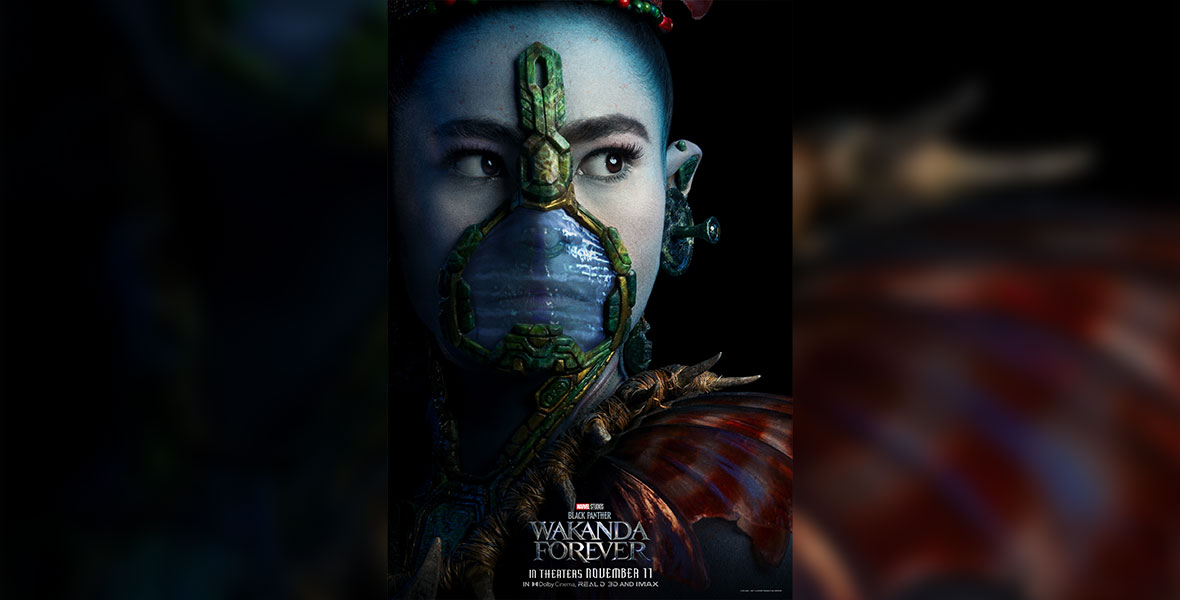 Namora (Mabel Cadena)
Namor's cousin (the name might have given it away), Namora is a fierce Talokanil warrior who serves as his right-hand woman. Mabel Cadena explains, "She's ready to protect Namor and protect his people and fight to the death for all of them." She looks up to her cousin, viewing him as a father figure. "Namora is a strong woman," continues Cadena. "She can be a warrior. She can be a princess. She can be different things."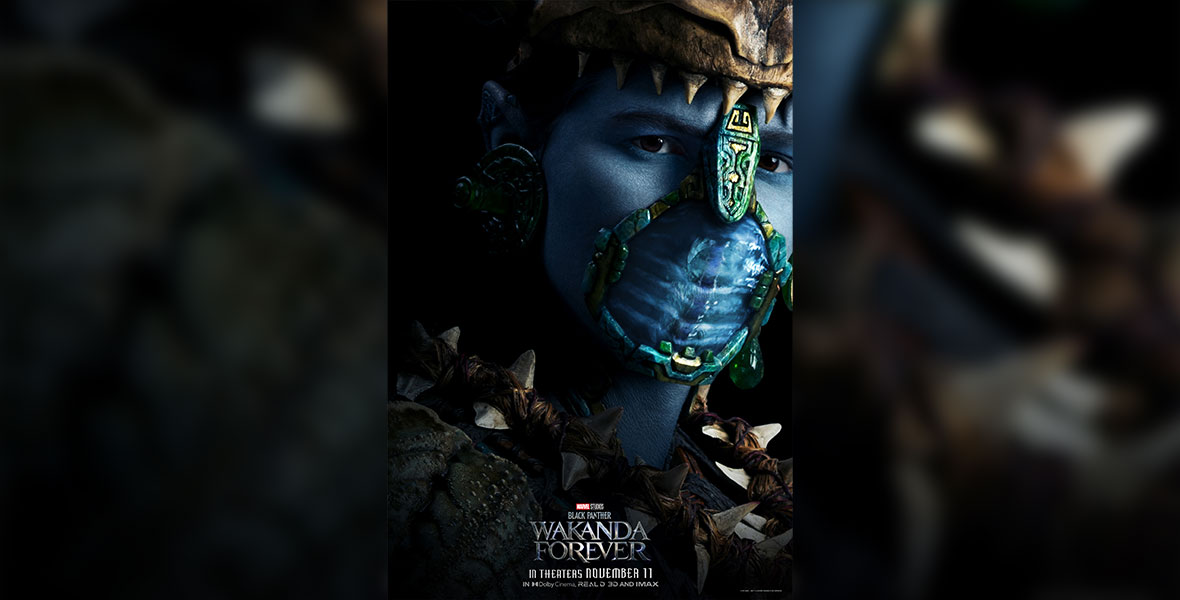 Attuma (Alex Livinalli)
Unbelievably skilled, Attuma is one of the strongest and fastest warriors in Talokan. Narratively, he serves as a counterpart to the Dora Milaje, acting as a foil to Okoye. Producer Nate Moore explains, "Okoye's a powerful character in that she's charismatic without saying a lot. In finding our Attuma, who ends up being a foil to Okoye through most of the film, we needed to find an actor who had a similar skill set—someone who wouldn't necessarily need a lot of dialogue, who had a physicality that was very obvious, who looked iconic." Alex Livinalli was perfect for the role.
"Yes, he's a fighter," Livinalli explains, "But the way I see him, he's just a very lovable person. He has love for his people, for Namor, for Namora, for his way of life—he's kind of like a father protecting his family. That's who Attuma is: 'If you compromise our way of life, you're gonna see how much I love fighting.'"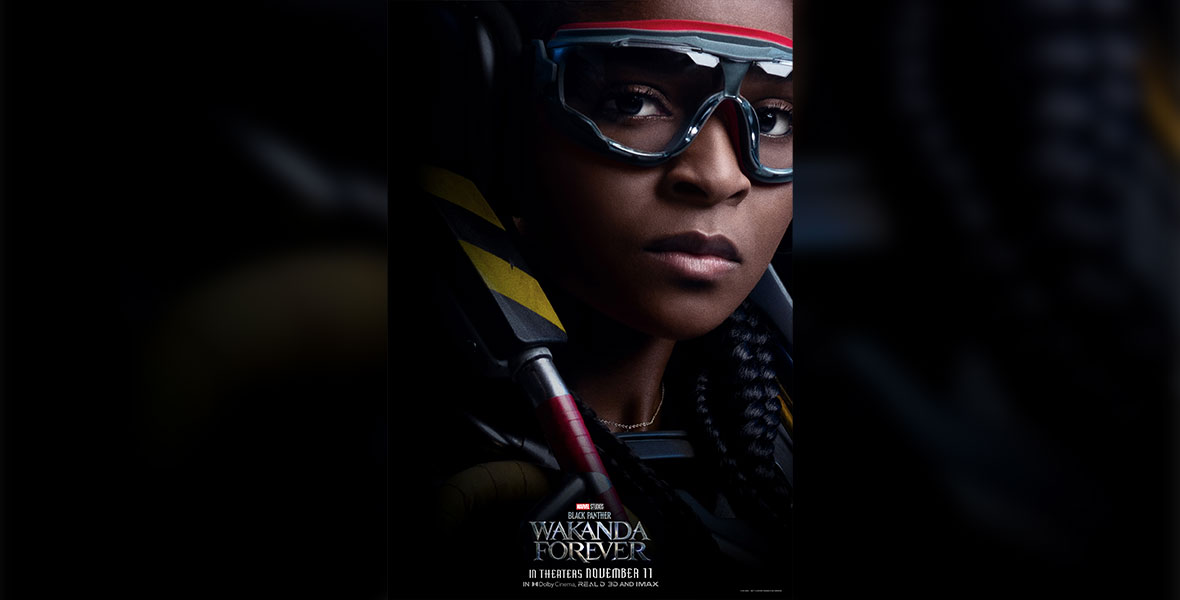 Riri Williams (Dominique Thorne)
While Shuri has always been Wakanda's resident whiz kid, she may have finally met her match in Riri Williams; a 19-year-old MIT student with a genius-level intellect, Riri brings an outsider's perspective to the high-tech world of Wakanda. "It was great to have this young college student from Chicago running circles around everybody in school but now thrust into this crazy world with the Wakandans and the Talokanil," says director Ryan Coogler.
"Shuri's at a turning point," says Coogler. "Shuri's at a point where she's vacillating between optimism and pessimism, and she meets Riri, who is like a version of herself. She ends up taking on kind of a big sister role with Riri, which is really interesting because Shuri was the youngest character in the first film."
Coogler recalls being the youngest person on the crew, and how strange it can feel to now be in a leadership position—to be older and wiser. "That's the idea of time and change, and we wanted to highlight that," he explains. "With Riri, it was somebody for Shuri to help be responsible for and to look out for and advise."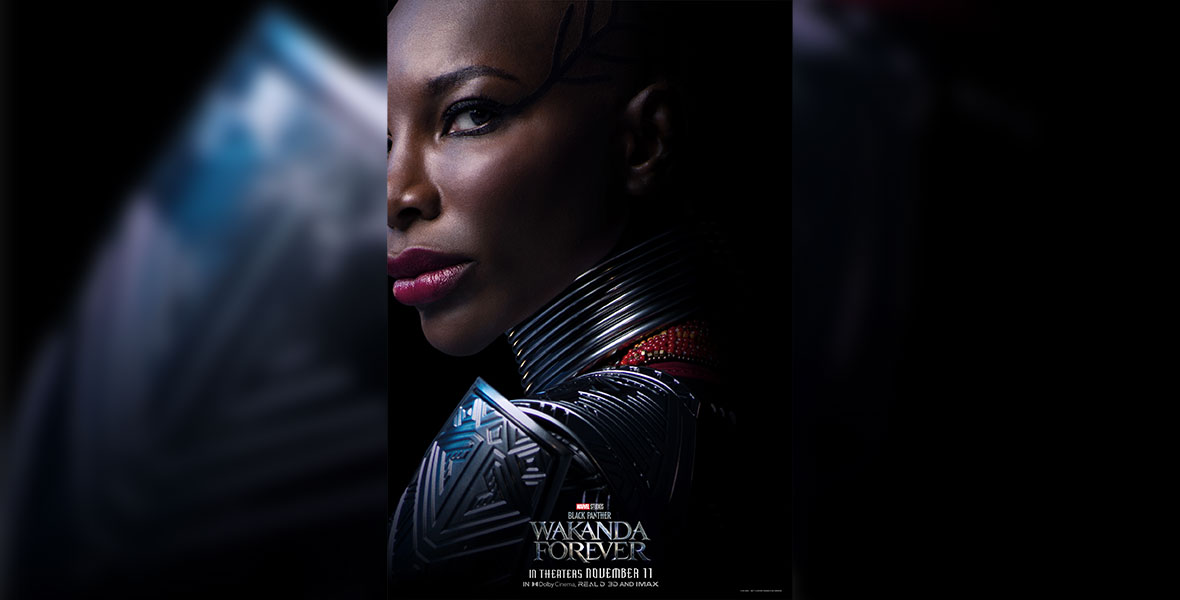 Aneka (Michaela Coel)
Aneka is a high-ranking leader of the Dora Milaje, a group of warriors expertly trained to protect Wakanda. While she is highly skilled, Aneka also has a rebellious steak and a love for trying new things. In Black Panther: Wakanda Forever, Aneka teams up with Dora Milaje member Ayo to take on a bigger role in the group. "It's a really interesting dynamic that we haven't seen before," explains screenwriter Joe Robert Cole. "Seeing Ayo and Aneka fighting back-to-back is really exciting."
Black Panther: Wakanda Forever roars into theaters November 11, 2022.