By Jocelyn Buhlman
This month, D23 is celebrating 50 blockbuster years of Lucasfilm's movie magic—but now we're taking the movie magic beyond the silver screen and into Disney Parks! Some of Lucasfilm's most iconic movies have continued their stories with beloved theme park attractions—and even epic lands. While we're sure you've found all the Star Wars Easter eggs in Star Wars: Galaxy's Edge and decoded the mysterious writings in the Temple of the Forbidden Eye, we wanted to showcase some secrets and details that shout out both Lucasfilm and their movies that we love. Check out the list below, and make sure to keep an eye out next time you're at the parks to see if you can find any of these details for yourself.
Star Tours – The Adventures Continue (Disneyland, Disney's Hollywood Studios, Disneyland Paris, and Tokyo Disneyland)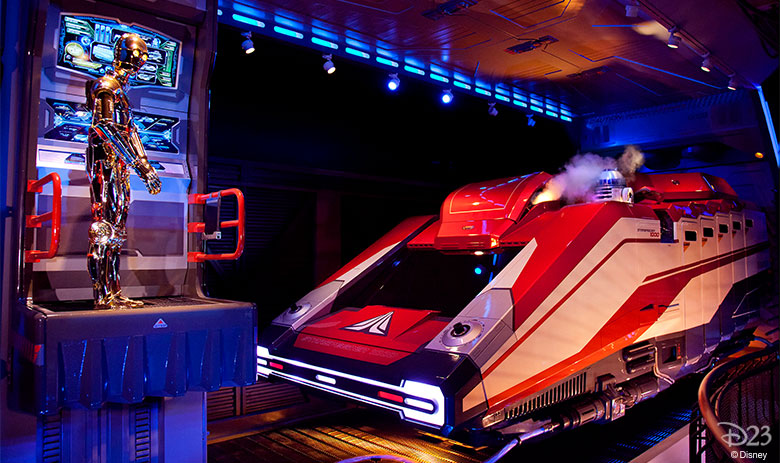 Thank the Maker!
Sharp-eared Lucasfilm fans might hear a strange-named fellow being paged over the intercom while waiting in the Star Tours terminal. No, Mr. Egroeg Sacul isn't an alien name unfamiliar to our human ears—it's actually George Lucas' name backwards. That's not the only (literal) shout-out to the namesake of Lucasfilm. Another announcement identifies a land speeder with the license plate THX 1138, which is the title of Lucas' debut film.
Tokyo's THX
Next time you land your X-wing starfighter at Tokyo Disneyland's Star Tours terminal, make sure to take note of some Easter eggs unique to the park's Star Tours attraction. Here, the spaceport is named THX 1138, and ads in the queue reveal that the Starspeeder 1000 you travel in is created by none other than The Sacul Industries Group, once again using a backwards version of Lucas' name in a creative and sneaky shout-out.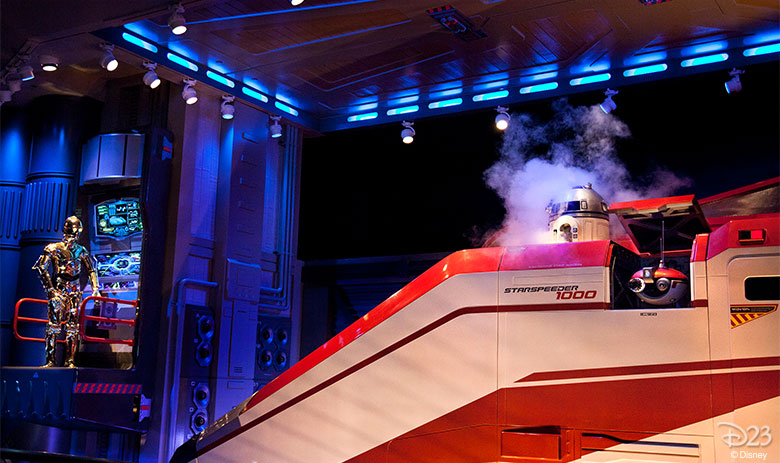 Not bad… for tourists
If you're a Lucasfilm fan looking for a flight in the Star Wars galaxy, one of the ads running in the Star Tours terminal may capture your attention. The ad for the desert planet Tatooine begins with the tagline, "If adventure had a name, it must be Tatooine!" If that pithy introduction sounds familiar, that's because it's almost word-for-word the tagline for Indiana Jones and the Temple of Doom: "If adventure has a name, it must be Indiana Jones!"
Keep scanning for Easter Eggs
In the queue for Star Tours – The Adventures Continues, you'll encounter a G2 droid in charge of scanning luggage for anything suspicious… and boy, does the luggage there have some questionable contents! In addition to shout-outs to movies such as The Black Hole and Toy Story there are also some shout-outs to other Lucasfilm properties. One piece of luggage contains a fedora and whip that look like they belong to a certain adventurous archeologist (hey, maybe he's going to Tatooine!) and another contains Major Domo, a character from the 3-D film Captain EO, which was written and executive produced by George Lucas for Disney parks around the world.
If you want to learn about even more Easter eggs and details in Star Tours: The Adventure Continues, make the lightspeed jump to this article featuring more things to spot!
Indiana Jones Adventure (Disneyland Park)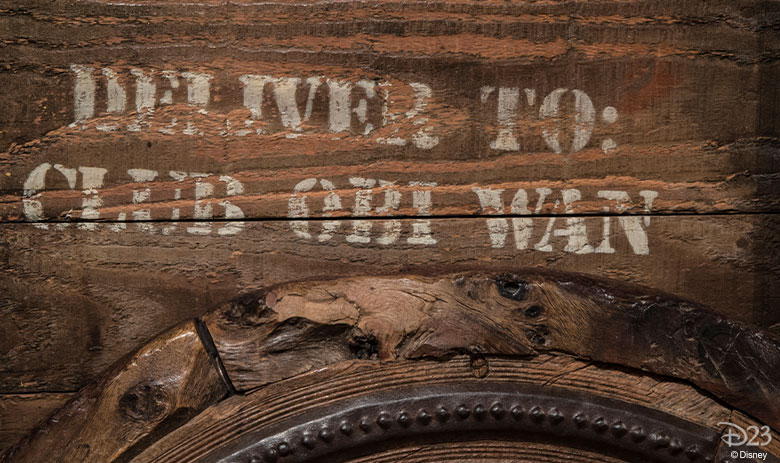 One of the most iconic shout-outs to another Lucasfilm movie in Indiana Jones Adventure is actually a double shout-out, referencing both an in-universe moment from Indiana Jones and the Temple of Doom and Star Wars. In the queue, once you exit the projector room you'll find Indiana Jones' office. It seems like his office was created in a hurry—it's made out of wooden crates, including some from a place called "Club Obi Wan." This nightclub is featured in the opening of Indiana Jones and the Temple of Doom and serves as a shoutout to Jedi Master Obi-Wan Kenobi from the Star Wars films.
Film buffs will also want to check out the truck and mine car featured in the attraction's queue—they are both props from Indiana Jones films! You can read more about these props—plus more fun details to spot—here.
Lost River Delta (Tokyo DisneySea)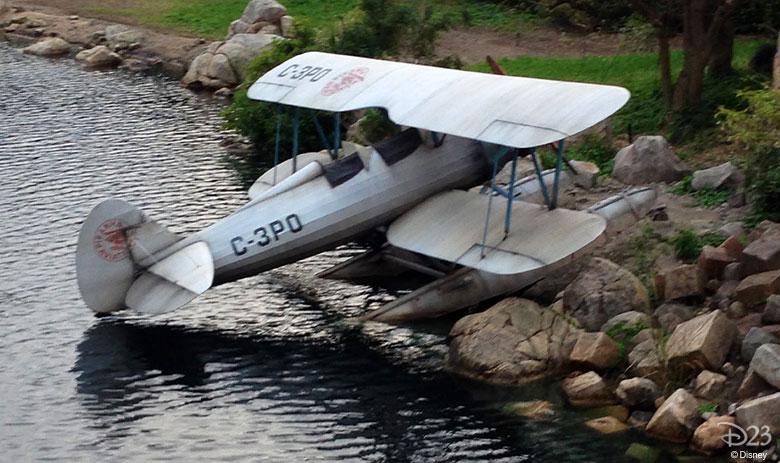 Adventurers who visit the port-of-call Lost River Delta at Tokyo DisneySea are probably planning on making a beeline to the rollicking rollercoaster Raging Spirits or gearing up for their expedition on Indiana Jones and the Temple of the Crystal Skull. Before you head over to the attractions, make sure to stop… not to smell the flowers (although, that's nice, too) but to look along the river for a parked airplane. The plane bears a name familiar to any Lucasfilm fan: C-3PO! Besides being the name of our favorite protocol droid, it also reminds us of Jock Lindsey's plane from Raiders of the Lost Ark, which bears "OB-CPO" on its side, a shout out to both Obi-Wan Kenobi and our pal Threepio.
Jock Lindsey's Hangar Bar (Disney Springs)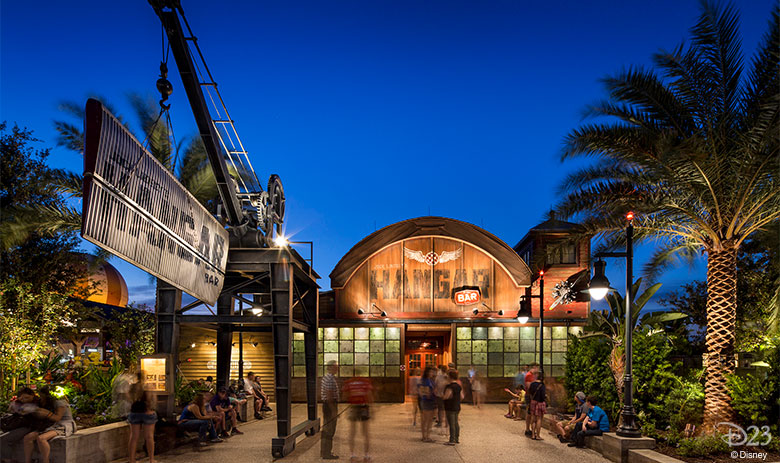 Don't let these details fly under the radar
This bar for adventurous spirits is inspired by the character Jock Lindsey, who helped Indy make a daring escape by plane in the beginning of Raiders of the Lost Ark. Naturally, his plane-themed bar is chock full of Indiana Jones references, but film buffs with an eye for details and a cargo full of patience can find shout-outs to other movies, including some Lucasfilm favorites. One of the first ones you'll spot is the bar's address—1138 Seaten Ave. is another reference to the film THX 1138! The bar also has references to Star Wars shout outs from Raiders of the Lost Ark and Indiana Jones and the Temple of Doom—namely, Lindsey's plane (OB-CPO) and Club Obi Wan.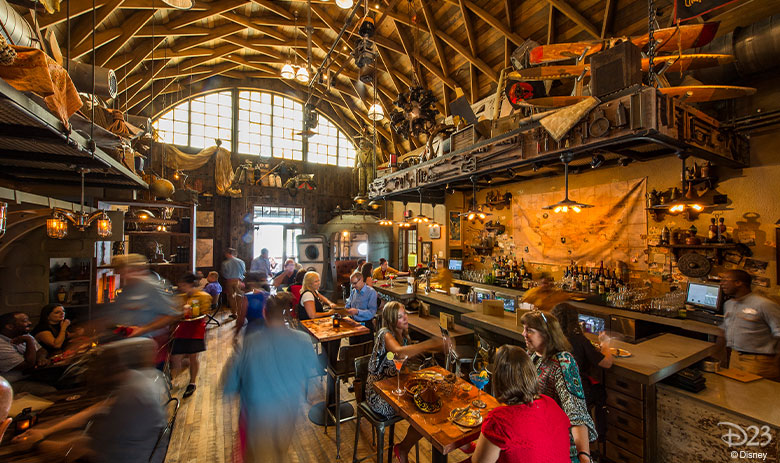 The droids you're looking for
If you're seated in or near the bar's booths, there are two unique Easter eggs you'll need to spot—just remember to look up! Printed on one of the walls are "RTO-D2" and "RXE 2-4," which are nods to two Star Wars droids we know and love: R2-D2 and RX-24, the captain of the original Star Tours attraction.
BONUS
Guardians of the Galaxy – Mission: Breakout! (Disney California Adventure)
This one isn't a direct Lucasfilm reference, but it still quacks us up anyway. During the attraction's pre-show video, when The Collector introduces his newest exhibit, keep an eye out in the background for Howard the Duck on display! This feathered Marvel Comics fellow was also an Easter egg in the first Guardians of the Galaxy film, but that wasn't the character's big screen debut—Howard was first adapted to film in 1986 for Lucasfilm's own Howard the Duck movie. The one-sheet for that film—plus every other film Lucasfilm has made—is featured in a collage poster that will be sent out to D23 Gold Members as a gift with their summer 2021 issue of Disney twenty-three. You can get more info on the publication and poster here.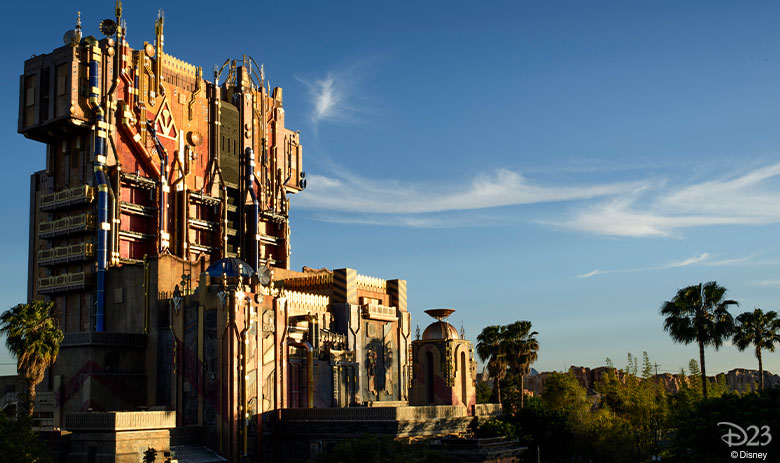 Want make the lightspeed jump to even more epic celebration for Lucasfilm's 50th? D23 Gold Members get an exclusive Lucasfilm poster with their copy of the summer 2021 issue of Disney twenty-three. Plus, check out our exclusive Lucasfilm pin set, which will go on sale May 24, exclusively to D23 Gold Members.