Bright suns, everyone!
Today is, of course, May the 4th—the annual celebration of all things Star Wars, when fans around the galaxy celebrate the iconic stories and characters we've come to know and love over generations. There are many ways to join the fun wherever you may be today—from screening favorite Star Wars films and series on Disney+, such as the brand-new original animated series Star Wars: The Bad Batch, to taking a thrilling ride on Star Wars: Rise of the Resistance at Disneyland Resort and Walt Disney World Resort. Our friends at Disney Parks, Experiences and Products have so many more out-of-this-galaxy offerings in the works that are sure to excite Padawan, Jedi, and Disney fans alike. Here's the latest information on what's to come:
Walt Disney World Resort—Star Wars: Galactic Starcruiser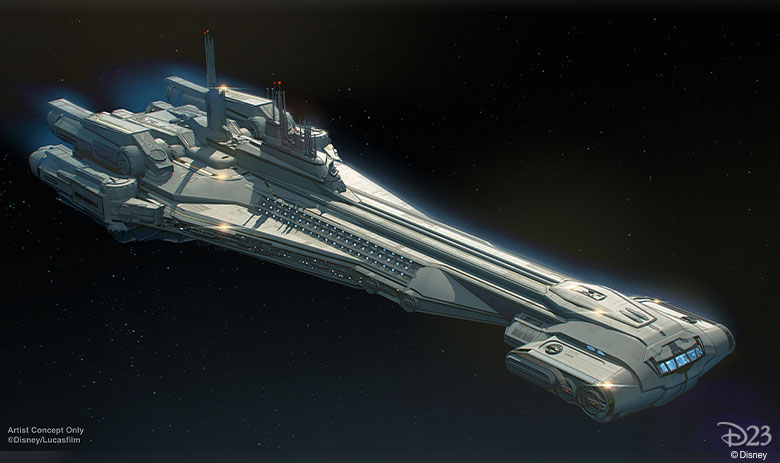 Star Wars: Galactic Starcruiser will fully immerse guests in a galaxy far, far away when it debuts in 2022 at Walt Disney World Resort in Florida, going beyond anything Disney has ever created before. As part of this first-of-its-kind vacation experience, guests become the heroes of their own stories during a two-day, two-night adventure where they see, feel, and live Star Wars. Over the course of their stay onboard the Halcyon starcruiser, guests will make choices that determine their personal adventure through unique interactions with characters, crew, and other passengers they meet during their journey—and those decisions just might impact the fate of the galaxy!
During their Star Wars: Galactic Starcruiser experience, guests will choose alliances and chart their courses. They'll be immersed in Star Wars "storyliving" through an array of enthralling onboard activities, including an opportunity for guests to discover their own connection with the Force as they learn the ancient ways of the lightsaber and face off against a training remote. They'll also visit the Starcruiser's bridge to learn about its systems and how to operate them, including navigation and defense—skills that may come in handy later during this incredible galactic adventure.
Star Wars: Galactic Starcruiser guests will also be the first to see characters such as Rey wield a brand-new, more realistic lightsaber developed by Walt Disney Imagineering Research and Development to create dramatic in-person moments previously only seen in films or shows.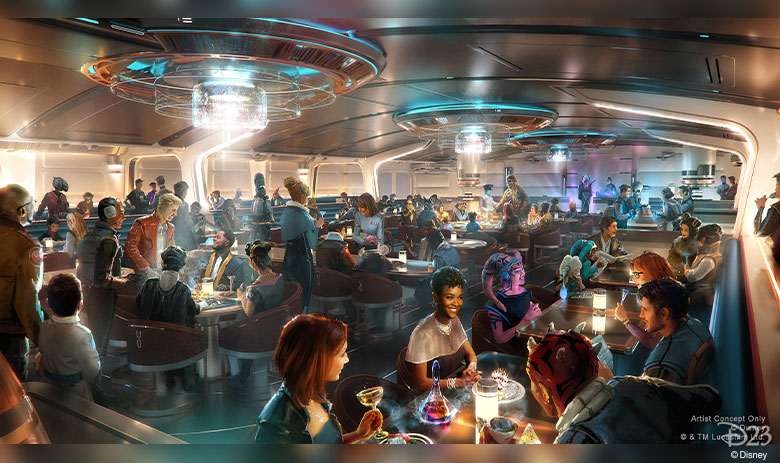 Guests will be transported from the starcruiser for an excursion to Batuu, where they may explore the winding pathways of Black Spire Outpost and seek out a hidden Resistance base. On board the ship, the Crown of Corellia Dining Room will offer dining options throughout the day, with breakfast and lunch fare available daily, while at night the bright and welcoming hall transitions into an enticing supper club with a lavish multi-course menu of both otherworldly and familiar origins. One night's dinner in the Crown of Corellia Dining Room—named for the planet that's home to the shipyards that created both the Halcyon and the famed Millennium Falcon—will feature a live performance from a galactic superstar who can captivate an entire room with the crook of her jewel-encrusted purple Twi'lek finger.
Beginning today, a model of the Halcyon starcruiser will be on display inside Walt Disney Presents at Disney's Hollywood Studios for a limited time. Be sure to check it out on while you're in the park, and visit StarWarsGalacticStarcruiser.com for more information and to register for updates about this vacation experience.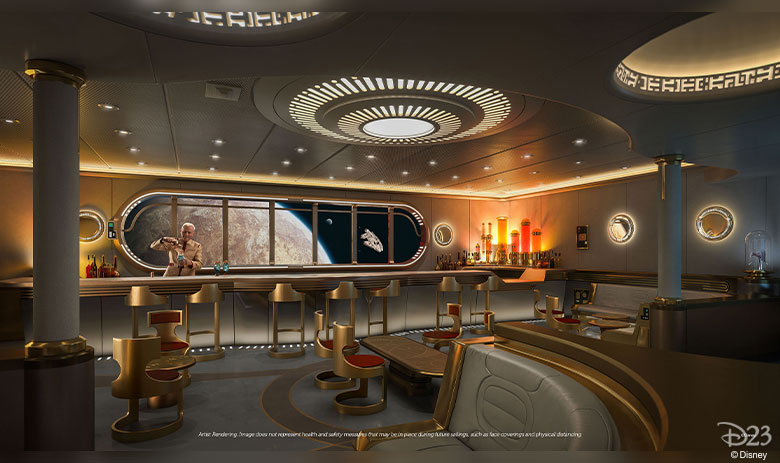 Disney Cruise Line—Star Wars: Hyperspace Lounge and Star Wars Day at Sea
Among the incredible experiences announced during Once Upon a Disney Wish, last week's grand reveal of the newest ship in the Disney Cruise Line fleet, is Star Wars: Hyperspace Lounge. Guests will embark on a space-jumping tour of the Star Wars galaxy when they visit this high-end bar styled as a luxurious yacht-class experience. This richly themed, immersive experience will be reserved for adults every evening, offering interactive tasting experiences and signature beverages inspired by destinations such as Batuu, Tatooine, and Mustafar. Star Wars: Hyperspace Lounge is just the latest in the collection of Star Wars experiences that are available onboard Disney Cruise Line, including Star Wars Day at Sea, which features an action-packed day filled with characters, movie screenings, a deck show, and more. Star Wars Day at Sea returns to the Disney Fantasy in 2022. Visit DisneyCruise.com for more information about this and other sailings.
New Star Wars Products
May the 4th also marks a perfect occasion to add to your ever-growing assortment of must-have merch, with brand-new collections from the likes of Adidas, Herschel, RSVLTS, and more debuting at retailers worldwide in honor of Star Wars Day. Dozens of new products are also available for fans to discover today at Walt Disney World Resort, Disneyland Resort, and online at shopDisney.com. Video game fans can look forward to the Next-Gen release of Star Wars Jedi: Fallen Order, which will bring a number of technical improvements to the PlayStation 5 and Xbox Series X|S console versions of the game this summer. Gamers can also save today on fan-favorite Star Wars games like Star Wars: Knights of the Old Republic.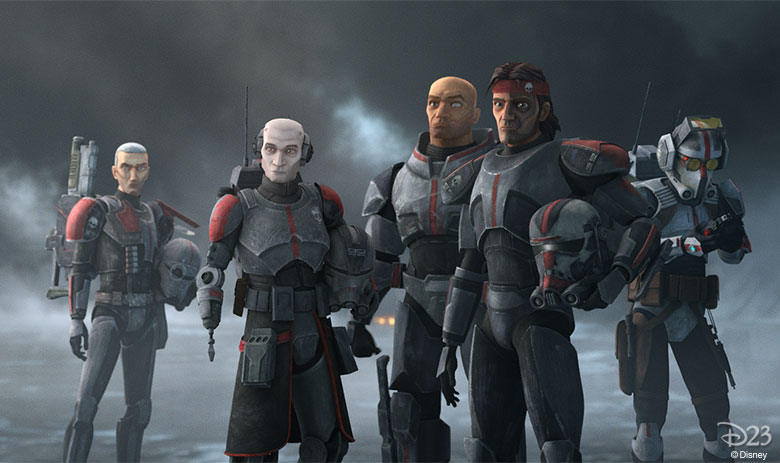 We'll sharing new details about all of these experiences (at lightspeed) as they're revealed. Stay tuned to D23.com for all the news, and be sure to visit Disney+ today for the premiere of Star Wars: The Bad Batch. The original animated series follows the elite and experimental clones of the Bad Batch (first introduced in The Clone Wars) as they find their way in a rapidly changing galaxy in the immediate aftermath of the Clone Wars. Members of Bad Batch—a unique squad of clones who vary genetically from their brothers in the Clone Army—each possess a singular exceptional skill that makes them extraordinarily effective soldiers and a formidable crew.
We've got a good feeling about this—all of it!