By Courtney Potter
Need s'more reasons to watch season three of High School Musical: The Musical: The Series?
Fans of the popular Disney+ Original series will recall that, when we last saw our East High Wildcats, they'd just taken the stage in a memorable version of Disney's Beauty and the Beast. With summer now officially upon them, it's time for that treasured break from school known as sleepaway camp! The majority of our faves will soon find themselves at Camp Shallow Lake in California, where campers will stage a high-stakes production of Frozen to determine who is "best in snow" without leaving anyone out in the cold…
Joining series regulars Joshua Bassett (Ricky), Matt Cornett (E.J.), Sofia Wylie (Gina), Julia Lester (Ashlyn), Dara Reneé (Kourtney), and Frankie Rodriguez (Carlos) are two new series regulars, Adrian Lyles (Jet) and Saylor Bell Curda (Maddox)—as well as recurring guest stars Meg Donnelly (Disney's ZOMBIES franchise) as Val, a counselor-in-training; Jason Earles (Hannah Montana) as Dewey, the killjoy of a camp director; and original High School Musical star Corbin Bleu as, well, himself! Other guest stars for the season include Jesse Tyler Ferguson and JoJo Siwa… and viewers can not only look forward to songs from Frozen, but they'll also hear tunes from the original High School Musical trilogy and Disney's Camp Rock.
D23 was lucky enough to hear exclusively from several members of the cast—as well as creator and executive producer Tim Federle—about the making of the season, and what viewers can expect when they gather 'round the campfire: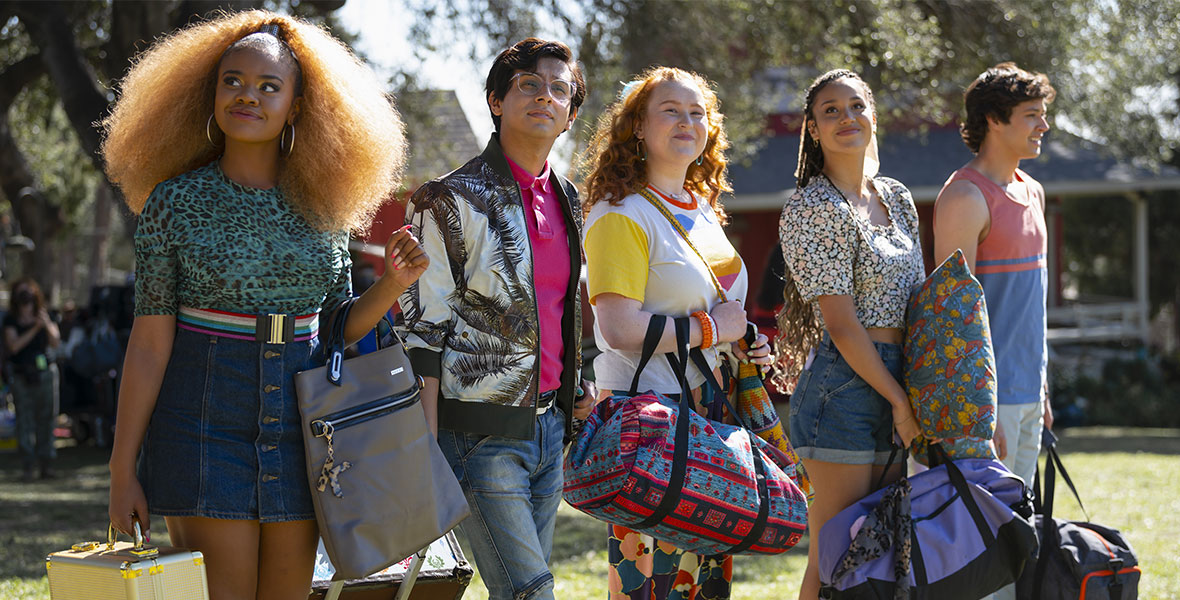 Reneé and Rodriguez on how their characters are approaching this new summertime adventure:
"I do think this summer at camp is gonna relate to a lot of what teenagers are going through," explains Reneé. "Dealing with relationships, and dealing with friends in different locations and settings. We're not at school—it's a whole different vibe. People act very different when you're at camp and not at school and learning and everything; when you're just having fun and being yourself. It's a new atmosphere… [and] I'm very happy with the person that Kourtney is becoming at this camp!"
Rodriguez feels similarly about Carlos, adding, "We really saw him step into the spotlight for the first time [last season], and that transfers over to this season. So, he comes into this summer camp with [big] expectations—and we really get to see him handle the fact that, y'know, things don't always work out the way you think they will."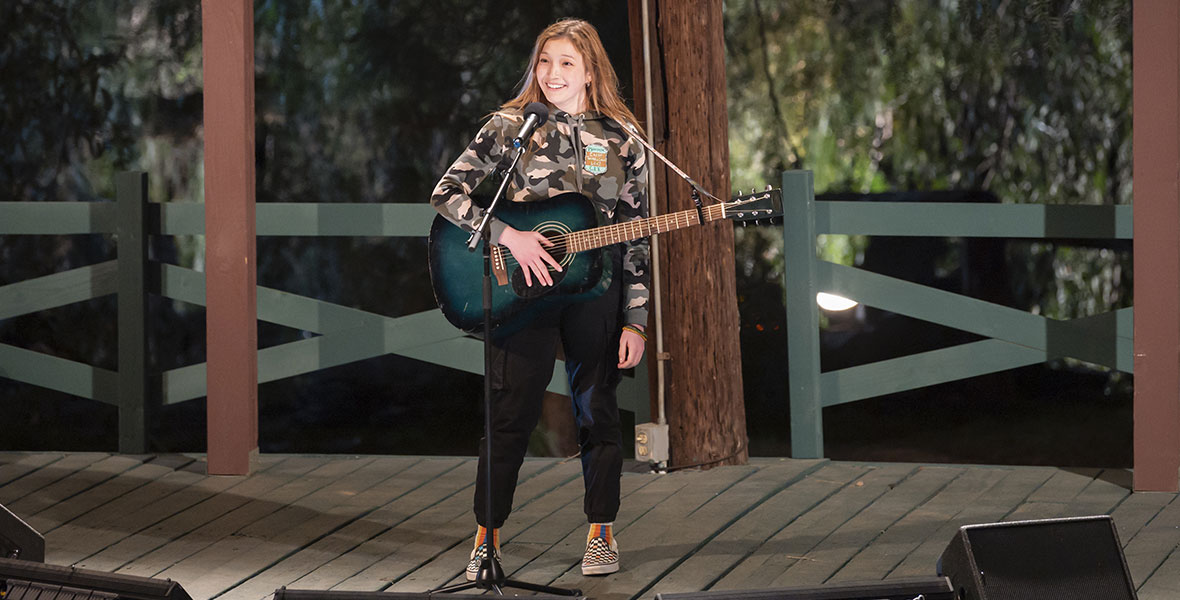 Curda—who's joining the series as Camp Shallow Lake "techie" Maddox—on a memorable moment from shooting this season:
"I have such an absolute blast with the cast," she admits. "They're hilarious. Every single one of them is kind, down to their core—and so funny! One time I specifically remember on set was when I was doing a scene that was just a close-up of me, and all I had to do was something active, then say one quick line, and then wave 'hi' to somebody. And I was so in the moment of doing this active thing that every single time we did this scene, I would just skip straight to the waving and completely forget my line! I think it might've happened three or four times in a row! It wasn't me forgetting; I was just so caught up in the moment. Finally, Kim [McCullough], our director, laughed and said, 'Uh, Saylor, you have a line!' And it wasn't even embarrassing, it was just funny because I was so lost in it. It's just so much fun, and everyone is so, so supportive."
Earles on going from behind the scenes—he was the dialogue coach on seasons one and two of High School Musical: The Musical: The Series—to now appearing on camera with the cast… and what it was like shooting with guest star Bleu:
"It's even more fun than I would've imagined it would be," he explains. "I've gotten to know all of them really well over the last couple of years, so I think there's already a really high level of trust and comfortability with each other… I've watched them work for two years—and everybody in the cast grew up watching me on Hannah Montana and Kicking It—so to finally have something on film together, with all of us, has been exceptionally fun for me."
He continues, "And working with my pal Corbin—there was one time late at night, and there were all sorts of shenanigans going on in the scene, and we just kept making each other laugh. And all of a sudden we both stopped and thought, wait a minute—how did we become the 'grizzled vets' on set?'" he adds, laughing. "It feels like just yesterday we were the bright-eyed kids on our show or our movie and we were goofing off—and now everybody looks to us to be an example. We were both just struck with how wild that feeling was."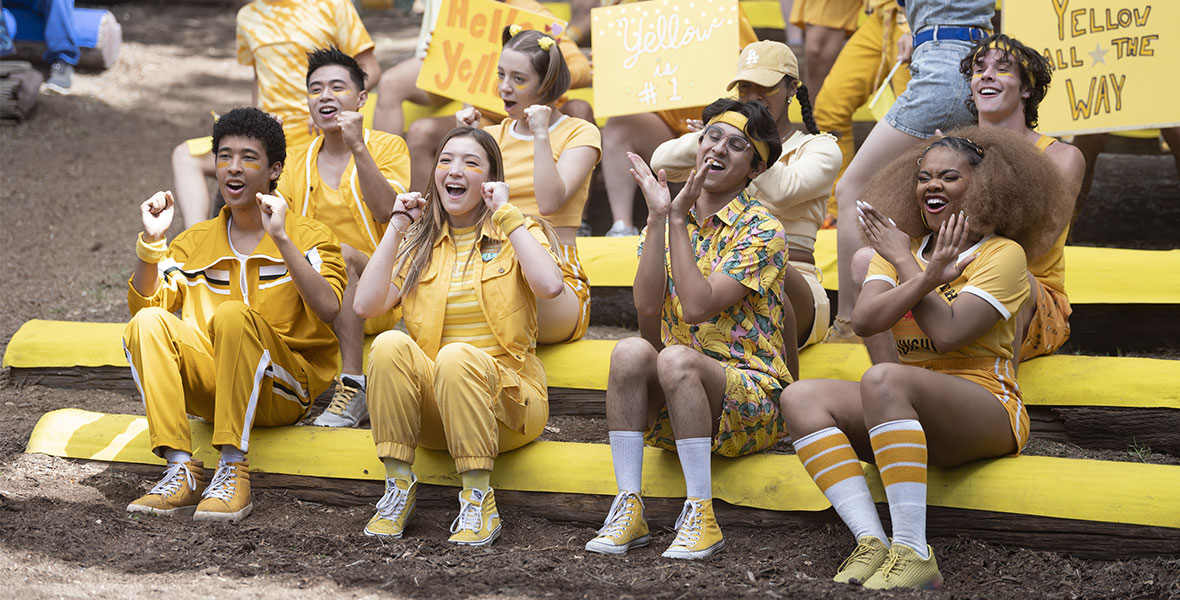 Federle on making sure audiences feel cared for—and what they can expect this season:
"The attachment to the characters that the audience has is something we take really seriously," he explains. "And because previously I'd worked in theater and film—which are these discreet 90 minute to two-and-a-half-hour experiences that have a beginning and middle and end—I think the incredible thing about TV storytelling is, if you're lucky, it goes on and on. I guess an unforeseen element of creating a TV show for me was recognizing how wonderfully attached the audience is about what happens with these stories and with these characters."
"There's so much good music in this season," he adds. "We lean into the 'meta' nature of Camp Rock and High School Musical with some of the greatest songs of those franchises, along with Frozen—I mean, who doesn't like Frozen? There's a reason Frozen resonated with an international audience! And I'm excited about some new characters we're introducing who really shake up the dynamic… For a Disney fan, there's a lot here to love!"