By Bruce C. Steele
In this special series of intimate interviews, D23.com speaks with the most talented, prolific, and articulate storytellers from across The Walt Disney Company.
It's graduation time for Wendi McLendon-Covey. After 10 hilarious seasons of the ABC hit series The Goldbergs—where McLendon-Covey has played lovably over-protective mom Beverly from the beginning—the network recently announced the sitcom will be wrapping up its run with a finale episode on May 3. Meanwhile, McLendon-Covey is also starring in the Disney Channel original movie Prom Pact, debuting March 30 and streaming on Disney+ beginning March 31.
Such a busy schedule is typical for McLendon-Covey, who also serves as executive producer of The Goldbergs. She's spent three seasons as mom Nancy on Disney Channel's fan-favorite animated series Big City Greens and has made guest appearances on Hulu's animated hit Solar Opposites and on ABC's beloved Modern Family. And that's all in addition to her busy feature film career.
Since McLendon-Covey's portrayal of Beverly on The Goldbergs popularized the term "smother"—signifying a mom without a lot of boundaries when it comes to looking after her kids—it's not surprising that the stories she's most connected with are about families.
D23: In recent years, you've become a real pillar of Disney storytelling. What keeps you coming back?
Wendi McLendon-Covey (WMC): What I love that Disney is doing really well is that they celebrate all types of families. I like that because your family is not necessarily who you were born to, right? Sometimes you make your soul family with people that you're not blood-related to. Sometimes your family gets fractured and you bring in new people. Sometimes people can co-parent, and it's actually better. I just really appreciate that Disney takes all families into consideration.
D23: How does that work behind the scenes?
WMC: It's everywhere. It's in the marketing. You can tell when you go to the parks. You can tell from the different types of content that Disney releases that they're trying to be inclusive and live in reality. Families aren't just mom and dad and kids anymore—sometimes families are blended. Sometimes you lose somebody and they're irreplaceable. I really appreciate that.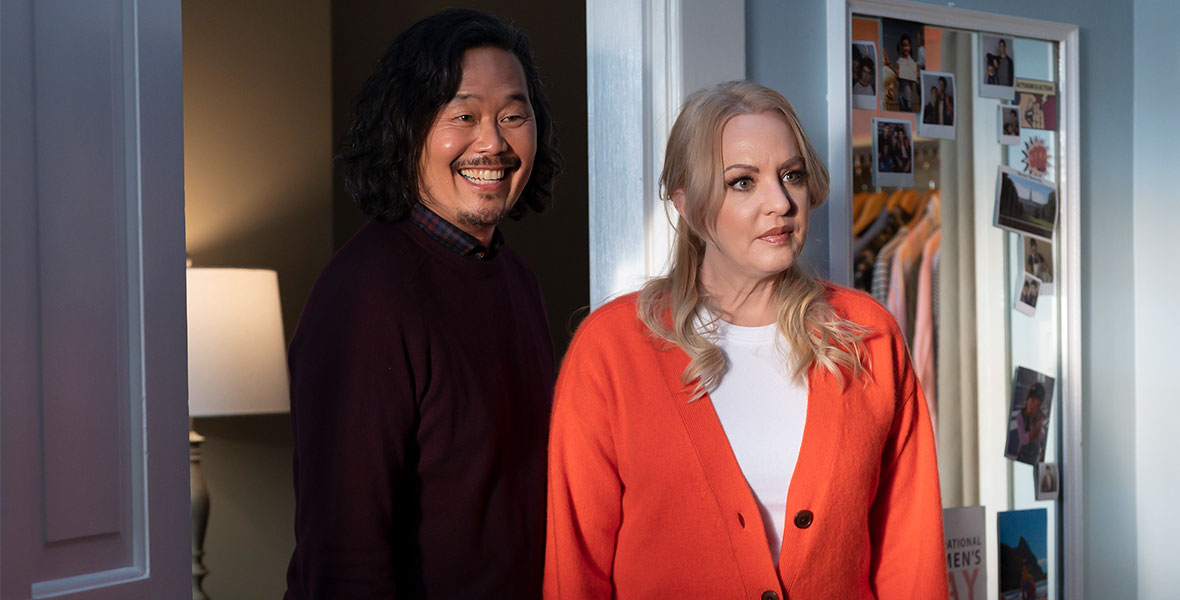 D23: How does Prom Pact continue that tradition?
WMC: I really liked Prom Pact [when I read it] because the main female character [high school senior Mandy Yang, played by Peyton Elizabeth Lee] is just not that into all this prom nonsense. I've got to tell you, my own prom was so disappointing that I was irritated that I spent so much time dreaming about it. But I love that Mandy's a studious girl and she's just like, "This is supposed to be the greatest thing that's going to happen to me in my school career?" But then her parents [played by McLendon-Covey and David S. Jung] are saying, "Look, it's OK for you to have a little fun! You're not selling yourself out by wanting to put on a pretty dress." It's about celebrating both sides of yourself. You can meet in the middle.
D23: Looking at your career before and after the start of The Goldbergs, have Disney and ABC helped you to touch hearts in ways you didn't expect?
WMC: I'm not sure how to answer that, but I will say that [before The Goldbergs], I always thought that I was just too weird to be on a network show. I'm not a mother in real life and I will never be one. I don't know how anybody does it. So, when I go to fan events or when I'm just out in the world—to have people come up to me and say, "I wish you were my mom," or "I wish my mom fought for me the way you fought for your kids," I think, "Oh, my God. This is a lot." Going into [acting], I never considered that anyone would ever say that to me. I never thought about, "Wow, there are people out there who didn't have the luxury of being raised by a 'smother,' you know?" It's not the worst thing in the world to have a mom that will fight for you fiercely and make a fool of herself. I was raised by a "smother" myself, and now I think back on it, [and I think,] "Well, good. She really loved me, didn't she?"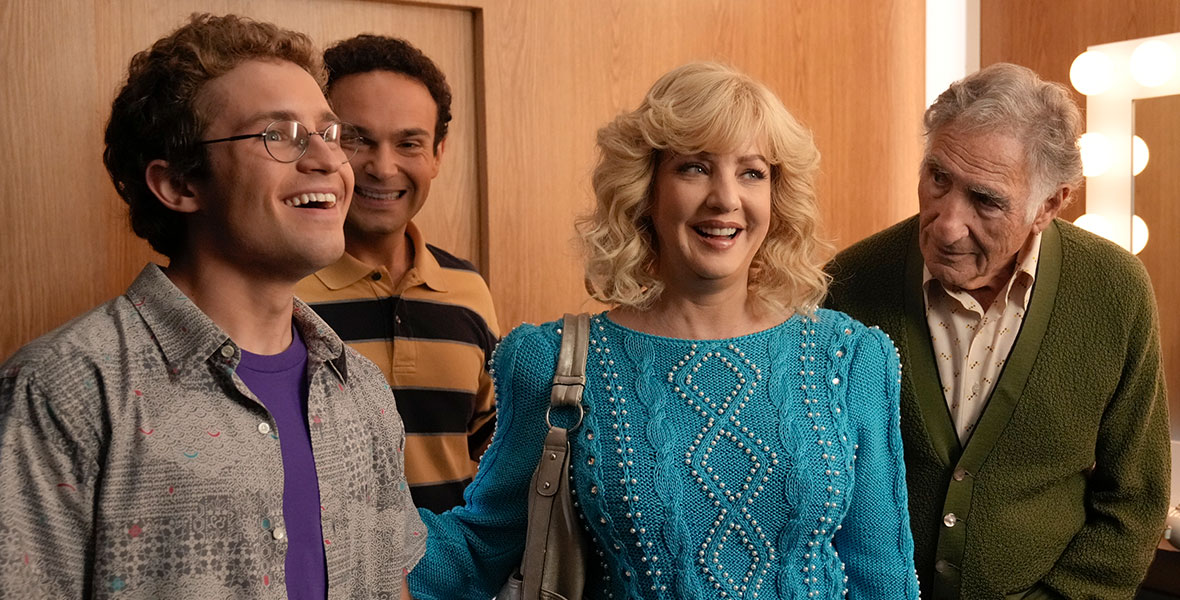 D23: Is there a special bond between your viewers and the series you've worked on?
WMC: Oh, yes. At D23 Expo [last September], I was being stopped by people who were crying and saying things like, "You got me through chemotherapy; I binged The Goldbergs." "You got me through the pandemic," or "It's something my kids and I can watch together." I'm just there on set having the time of my life with my friends—my work family—and to hear that people respond to it like that, you can't give me a better present. You really can't. For Big City Greens, I'd go into my [recording] booth and do my thing and never see anybody. So, then to go online or hear that at Comic-Con people are dressing like those characters—I mean, wow, that's incredible to me. And I know that their fan art game is just completely on point.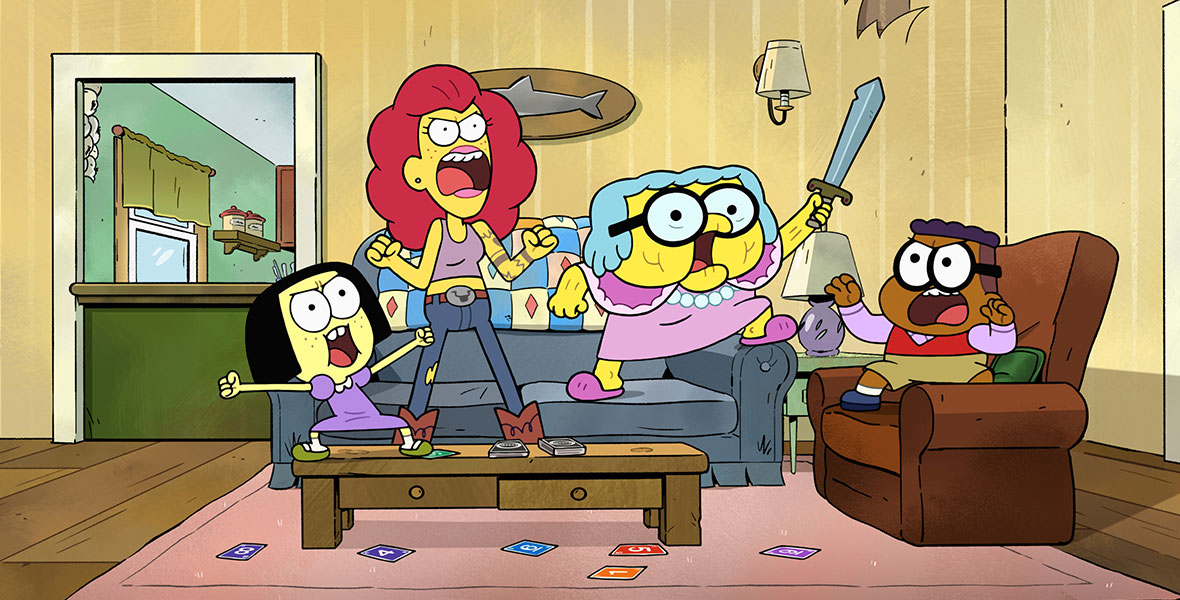 D23: What do you think is the lasting appeal of Big City Greens?
WMC: I love that the Green family all embrace each other's idiosyncrasies. And Mom has been in jail! She's a motorcycle mama who's been in jail for releasing a cow into the wild. That's as close to a superhero as I'm ever going to play.
D23: Tell me about your behind-the-scenes collaborations. What have you learned?
WMC: I've learned that as an actor it is an absolute joy to watch your castmates get their moments. Like when I see one of my TV children just killing it, all I want to do is just praise them and inspire them to keep going. And it's been a joy collaborating with so many amazing guest actors who have come through. I just have to say what an amazing job this has been for all of us.
D23: How does what you do connect you and your audiences to the legacy of Disney storytelling?
WMC: Disney storytelling at its core is actually pretty simple, and there's always an emotional component. So, you think of all the iconic Disney films... at the core, it's always [about] someone trying to find what their soul needs. There's always a grounded emotional core to every story—especially Coco. I have to tell you, I absolutely sobbed during Coco, which I watched many times. But I don't care how old you are, I don't care how cynical you are, you watch these Disney films and you leave transformed.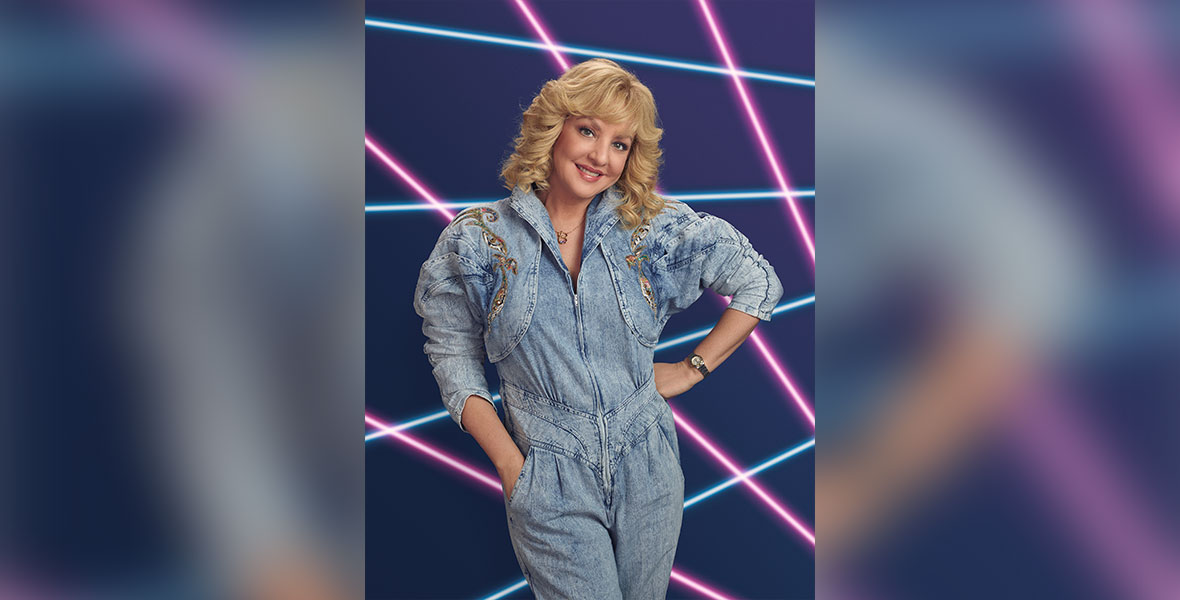 D23: Did you watch Disney films growing up?
WMC: Oh, yeah! And we had The Wonderful World of Disney on Sunday nights. It was a great way to combat the Sunday scaries, [the anxiety about] having to go back to school the next day. You watched The Wonderful World of Disney and it was like a soothing balm... And the parks—especially Disneyland [Resort] in Anaheim, because I grew up right next to it—that's always been my touchstone, ever since I was a little kid. My great-grandpa was a groundskeeper at Disneyland, so he would take us there a lot. What was great is that the whole world of Disney transports you out of your reality—and that's what I've always wanted to do. With whatever project I take on, [I want people to] forget you're watching me, just get absorbed into this story. Forget my social media, forget your social media, put down your phone, just let yourself get absorbed into a really good story and have that escape. And that's what I've always tried to do with whatever I take on, just [send viewers] on a mental vacation with this story.
D23: Is there an essential quality to Disney that you can't find anywhere else?
WMC: Absolutely, because there is a heart to all of it. There's a heart and a method and a formula of "you're safe here. It's safe to dream your dreams here."